CHICAGO — The City Council signed off on new zoning rules proponents say will improve air quality in industrial areas, but environmental groups and a dozen aldermen refused to support the legislation they say was watered down at the last minute.
The ordinance expands the city's role for approving permits to open industrial businesses, including large recycling plants, warehouses and other manufacturing facilities that emit air pollution.
The effort was deferred for months because of opposition from aldermen who said it would drive industrial developers away from the city. An earlier version of the bill would have required such companies to get approval from the Zoning Board of Appeals. The final ordinance eliminates that provision in some cases and requires some developers to instead submit their plans to the city's health and transportation departments.
The ordinance was approved 38-12 during Wednesday's City Council meeting after a fierce debate on whether the provisions went far enough to combat air pollution, especially on the city's South and West Sides.
Ald. George Cardenas (12th), a co-sponsor, defended the revised measure, saying it provided "accountability" and "transparency."
"This ordinance requires intensive public hearings, and it requires air monitoring, it requires environmental assessments and traffic studies, I mean it's a huge deal," he said. "…Don't let the perfect be the enemy of the good, this is good legislation."
Ald. Susan Sadlowski Garza (10th), another co-sponsor, said, "We found a compromise."
"Is it perfect? No. Do the developers like it? No, because now they all have to build to the green sustainability policy. These mitigations were never in place before, and I'm proud of what we've done here," said Sadlowski Garza, whose Southeast Side ward is home to a lot of heavy industry.
Ald. Michael Rodriguez (22nd) withdrew support for the ordinance after a last-minute change to exempt warehouses smaller than 10 acres from being required to seek approval from the Zoning Board of Appeals. 
"Those concessions to industry were at the expense of the months of conversations with environmentalists, who at the end of this, not a single one chose to support this ordinance," said Rodriguez, whose ward includes Little Village.
"Whenever we go after industry to be more accountable to the community, to be more engaging, the sky falls. We sometimes, at the expense of better policy, wilt to their wishes. I think that's what happened here."
Ald. Carlos Ramirez-Rosa (35th) said he was "disappointed that this does not have the support of any environmental group."
"We had an opportunity here to do something to really address environmental justice," he said.
In addition to Rodriguez and Ramirez-Rosa, :Alds. Daniel La Spata (1st); Sophia King (4th); Leslie Hairston (5th); Anthony Beale (9th); Jeanette Taylor (20th), Byron Sigcho Lopez (25th); Rosanna Rodriguez Sanchez (33rd); Andre Vasquez (40th); Matt Martin (47th); and Maria Hadden (49th) all voted against the ordinance.
Mayor Lori Lightfoot touted the ordinance, saying "to establish an economy that works for all Chicagoans and puts us on a path to equitable growth, we must ensure polluting industries do not unfairly burden certain neighborhoods with the false choice of jobs or dirty air.
"I am confident that the City of Chicago can partner with residents, environmental advocates and the business community to ensure that we can create good, high-paying jobs while also mitigating the effects of air pollution on our neighborhoods," the mayor said in a statement.
Lightfoot and her administration have faced intense criticism about the lack of environmental regulation of heavy industry in certain neighborhoods, particularly the Hilco site in Little Village and Reserve Management Group's ongoing efforts to transfer equipment and employees from the closed General Iron scrapper site to start Southside Recycling in East Side.
Southeast Side residents and environmental activists have protested city and state officials who green lit Southside Recycling's plans, which has prompted a federal lawsuit and investigation into allegations of environmental racism.
Separately, city leaders delayed a decision on a key operating permit for Southside Recycling, which would open alongside four other metal scrappers at the proposed Burley Avenue site and in an area of "environmental justice concern."
RELATED: City Repeatedly Breaks Promises To South Siders When Approving Polluters And Demolitions
The additional layers to the approval process are meant to reduce air pollution near residential neighborhoods, particularly on the South and West Sides, where air quality is worse than the rest of the city. 
Industrial developers would be required to submit a traffic study and an air quality impact evaluation that would be reviewed by the city's Department of Transportation and Department of Public Health.
Developers would also be required to hold at least one community meeting before filing an application with the city.
All sites with "intensive" industrial uses would have to follow the updated approval process. Projects on sites larger than 10 acres, or within 660 feet of certain residential districts, including schools or day cares, would be forced to apply for Planned Development zoning districts, which sends the application through the city's Plan Commission and City Council for approval.
Any residential building, school, day care, hospital, park, bar or restaurant seeking to open within 660 feet of the large industrial sites would be required to obtain a special use permit from the city's Zoning Board of Appeals.
The review process could include suggesting traffic controls to limit the routes or hours of operation for heavy trucks in and out of a facility, and mitigation strategies to control harmful pollutants from escaping a site, such as increasing street sweeping, installing screens around entrances or eventually enclosing some sites, officials said.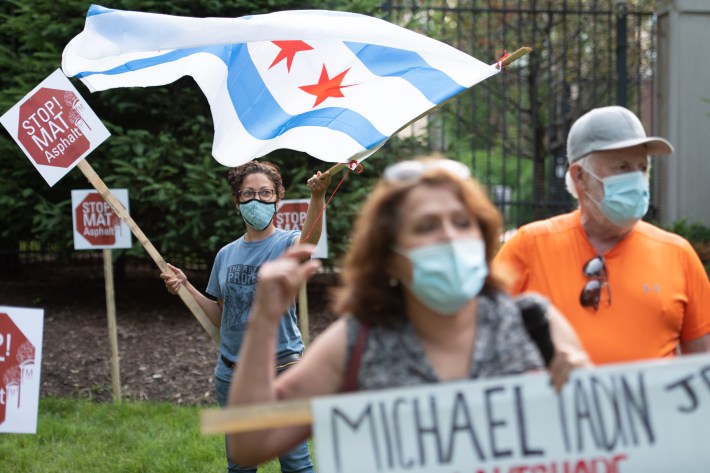 Colleen Smith, deputy director of the Illinois Environmental Council, told Block Club last week the measure lacks teeth.
"What we've seen over the last two months is a weakening of an ordinance that, to begin with, was never developed with very meaningful input from most impacted communities," Smith said.
"We're really relying on agencies that have failed in some of these decisions historically … to be the backstop to industrial polluters coming into more neighborhoods without having a really clear, meaningful public process and without having the ability for citizen appeal of permitting decisions."
Smith's group filed a letter of opposition against the bill signed by other environmental groups, including: the Environmental groups Respiratory Health Association; the National Resources Defense Council; Center for Neighborhood Technology; The Nature Conservancy; and the Chicago Environmental Justice Network.
"Instead of developing a comprehensive air quality ordinance that seeks to truly address zoning's impacts on communities or take into consideration the cumulative effects of industrial sites on air pollution and public health, the mayor's ordinance falls far short of what our communities deserve," the group said in a letter.
Subscribe to Block Club Chicago. Every dime we make funds reporting from Chicago's neighborhoods.
Already subscribe? Click here to support Block Club with a tax-deductible donation.