CHICAGO — Loretto Hospital vaccinated ineligible people at a luxury Gold Coast watch and jewelry shop where the hospital's chief operating officer is a high-spending and frequent customer.
Loretto Hospital and its executives, including Chief Operating Officer Dr. Anosh Ahmed and Chief Executive Officer George Miller, are already embroiled in controversy for steering doses toward organizations with which they have ties. Ahmed was heavily criticized after Loretto held a vaccination event at Trump Tower — where Ahmed and another hospital leader live — and after Ahmed told people he vaccinated millionaire Eric Trump.
Block Club has learned Loretto Hospital also held a March 3 vaccination event at a Gold Coast shop called Geneva Seal, which sells jewelry and designer watches worth $20,000 — and more. Ahmed is a frequent customer there and has spent hundreds of thousands of dollars at the shop, a source said.
The shop at 112 E. Oak St. is far from Loretto Hospital — and the vaccinations were offered to ineligible people who own and work at the high-end boutiques along the Gold Coast, as well as their family and friends, sources said. The Austin hospital is meant to serve and vaccinate people on the West Side, where coronavirus has devastated communities of color.
A woman who is close to someone who works at an Oak Street boutique said Ahmed is a client of Geneva Seal. The Oak Street boutique employee was told about the event and was allowed to invite family and friends — including the source — to come get shots, the woman said.
"I think it's just … perhaps similar to the Trump Tower atmosphere where these are sort of bros who are just friendly through [being] the upper class of Chicago," the woman said.
On March 3, the woman went to Geneva Seal and was escorted to the second floor, she said. Three or four nurses were working among the jewelry displays, helping people fill out paperwork and then administering their shots, she said.
People who came in to get vaccinated were encouraged to put down the boutique's address rather than their home address on the paperwork, she said.
The woman said vaccinations were administered to people who work in the Gold Coast, as well as their family and friends. She saw people going in and out of the shop for the vaccinations for several hours; they did not appear to fit the city's eligibility rules, and everyone she saw getting a shot was "white and privileged," she said.
The city's eligibility rules make it so only frontline workers and people 65 and older are broadly eligible.
People took photos at the March 3 event and "Oak Street boss-types" walked around during the vaccinations, though the woman did not see Ahmed, she said.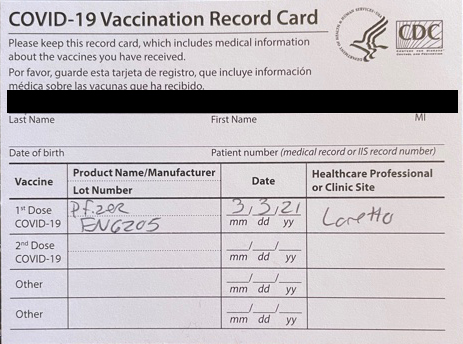 The woman provided a photo of herself getting a shot in Geneva Seal — with the shot still in her arm as a health care worker administers the dose. Block Club is not publishing the photo to protect the woman's identity, but metadata shows it was taken March 3 and the photo matches the interior of Geneva Seal.
The woman also provided Block Club with her vaccination card, which says Loretto Hospital was the provider and the dose was administered March 3.
A spokeswoman for Loretto Hospital denied the event happened, saying, "No one was vaccinated by the Loretto Hospital at Geneva Seal … ."
The woman said she deeply regrets participating in the vaccination event.
"I just knew in my gut that I wasn't eligible," she said. "I just take personal responsibility that I was given an invitation, I knew I wasn't eligible and I went anyway."
People who got shots at the event were told they could go to Loretto Hospital this Wednesday for their second dose, the woman said.
"I'm not comfortable with this and realizing that I made a mistake," the woman said. "And, of course, when I read the stories, I literally took a shot away from someone in the vulnerable space — it kind of became clear to me I had done something really wrong."
Another woman, who formerly had a romantic relationship with Ahmed, told Block Club she was at the shop with him when the owner thanked Ahmed in front of her for getting him vaccinated. The woman said the incident happened in late December or early January, when vaccine doses were extremely hard to come by.
"I heard [Ahmed] say, 'I will vaccinate your entire staff. I'll bring the vaccinations here, to Geneva Seal,'" the woman said.
During the same visit, a security guard thanked Ahmed for arranging for him to be vaccinated, Ahmed's ex-partner said. She asked Ahmed why the guard was thanking him and Ahmed told her he'd vaccinated the guard and his girlfriend, she said.
Ahmed has spent "hundreds of thousands" of dollars at the store and has "a relationship" with Geneva Seal, the woman said. He'd frequently bring her there to shop for watches and jewelry, she said.
The woman provided appraisal documents from Geneva Seal for Ahmed to Block Club. The documents show Ahmed had Geneva Seal appraise a watch, pair of earrings, bracelet and ring for a value of $68,000 — but the woman said that's only a fraction of the purchases he made at the store that she knows of.
The woman also showed Block Club text messages where she and Ahmed talked about purchases he'd made at Geneva Seal and his relationship with the business, including a message where he said he'd spent more than $300,000 at the shop.
Geneva Seal did not respond to requests for comment.
Loretto Hospital has not answered a question about if Loretto has a trend of vaccinating organizations close to its executives.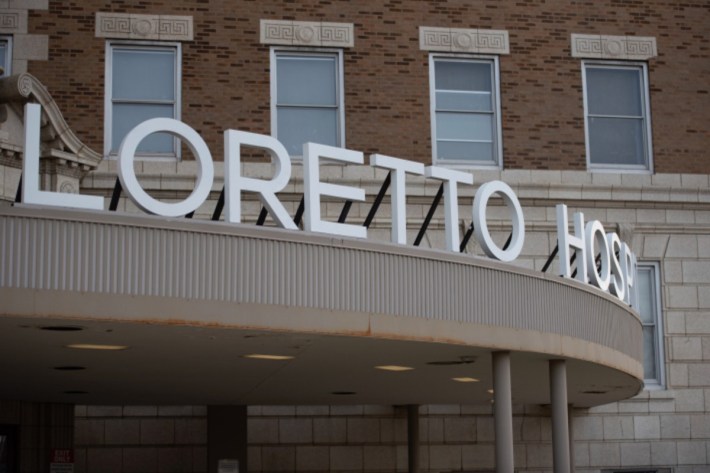 Controversy At Loretto Hospital
Loretto Hospital has had its supply of coronavirus vaccine doses cut off by the city as officials investigate whether it's been properly vaccinating people and reporting vaccinations. That came after Block Club reported on ineligible workers getting shots at Trump Tower, where multiple hospital leaders live. Ineligible Cook County judges were also offered shots at Loretto, according to a WBEZ report.
And shots were also administered to more than 200 members of the suburban church attended by Loretto CEO George Miller, who is also longtime friends with the church's leader.
Ahmed came under scrutiny last week for the vaccinations at Trump Tower, where he lives. The criticism intensified after Block Club reported he'd told people he vaccinated millionaire Eric Trump.
Ahmed — who later said he was joking about vaccinating Trump — owns a condo in Trump Tower and has told people he's friends with Trump, who wouldn't have been eligible for a vaccine in Chicago.
The city's health department does not feel comfortable providing doses to Loretto given the controversies, its commissioner, Dr. Allison Arwady, told reporters Friday. She said her "biggest concern" is the hospital was vaccinating people who aren't eligible — but she is also concerned officials prioritizes vaccines for people "who were well-connected, really letting them jump the line."
"It's disappointing where providers that we are prioritizing are not choosing to really live by the mission [of] their organization, and I think it seems that was the case here," Arwady said.
The hospital's board said Friday it had taken "appropriate actions of reprimand against Miller and Ahmed for their role in the mistakes of judgment" — but members of the board state Rep. LaShawn Ford and state Sen. Kimberly Lightford declined to comment on how Miller and Ahmed were punished.
The Loretto Board of Directors is conducting an audit of all off-site vaccination events, and it will share its findings with the Mayor's Office and Chicago Department of Public Health, the hospital's spokeswoman said. 
Loretto Hospital is a small, 122-bed hospital that operates on the underserved West Side, where people of color have been hit hard by coronavirus and few people have been vaccinated. Trump Tower and Geneva Seal are in the Downtown area, where the virus's impact has not been felt as much — but where more vaccinations have been done.
The city has highlighted Loretto's work as an example of its goal of equitably vaccinating people — even insisting on having the city's first vaccine doses administered there to show how Chicago would prioritize West and South side communities that are often ignored.
But the hospital is now shrouded in controversy.
A Loretto Hospital staff member — who asked to remain anonymous because they fear retaliation — said the controversies are "infuriating" because "people are calling every day, waiting in line to get vaccinated" on the West Side.
The staff member said West Side residents — already under-vaccinated but disproportionately affected by COVID-19 compared to the rest of the city — are effectively being punished by having their supply of vaccine doses cut off because the hospital's leaders broke vaccination rules by steering doses to ineligible people who don't live in the area.
"Helping to alleviate the health disparities that exist in Chicago is part of our mission and something that Mr. Miller harps on all the time," the staff member said. "If you ever look up his speeches or whenever he talks, he always talks about those things.
"And to see that we are going against that mission to the detriment of our own community, it's infuriating to me."
RELATED COVERAGE
Loretto Hospital Execs Reprimanded For Going Rogue After Letting 'Well-Connected' People Skip Vaccine Line
Loretto Hospital Vaccinated CEO's Suburban Church — While West Siders Were Calling Daily For Shots
Vaccine Doses Not Being Sent To Loretto Until City Can 'Confirm' It's Vaccinating, Reporting People Properly
City Won't Give Vaccines To Hospitals That Let People Cut In Line, Lightfoot Warns After Trump Tower Controversy
Cook County Judges, Spouses Were Given Chance To Be Vaccinated At Loretto Hospital, Report Says
Chicago Hospital Executive Bragged About Vaccinating Eric Trump On Day His Hospital Vaccinated Workers At Trump Tower
Improper Vaccinations At Trump Tower Disappointing, Mayor Says As She Vows City Will 'Dig Deeper' To Verify West Side Hospital's Story
Chicago Hospital Executive Bragged About Vaccinating Eric Trump On Day His Hospital Vaccinated Workers At Trump Tower
Trump Tower Workers Got Vaccines From West Side Hospital — Whose COO Owns A Condo In Luxury Highrise
Trump Tower Vaccinated Staff At Luxury Hotel, Saying It Was Part Of Program Meant To Help Hard-Hit South And West Sides
Block Club Chicago's coronavirus coverage is free for all readers. Block Club is an independent, 501(c)(3), journalist-run newsroom.
Subscribe to Block Club Chicago. Every dime we make funds reporting from Chicago's neighborhoods.
Already subscribe? Click here to support Block Club with a tax-deductible donation.