CHICAGO — Loretto Hospital's board said it has reprimanded two of its chief executives the same day Chicago's health chief said the hospital let "well-connected" people jump the vaccination line.
Board members would not say what punishments will be doled out to Loretto Hospital CEO George Miller and COO Dr. Anosh Ahmed — but the hospital already has had its supply of coronavirus vaccine doses cut off by the city. Dr. Allison Arwady, chief of the city's health department, said officials are investigating events where the hospital vaccinated ineligible people and gave shots outside of the West Side community.
Arwady expressed serious concerns about Loretto's vaccination program during a Friday call with reporters, saying the hospital has lost community trust and officials don't feel comfortable sending precious vaccine doses there for the time being. The accusations against the hospital are particularly "unacceptable" because Loretto is in Austin, a Protect Chicago Plus neighborhood that has been hit hard by COVID-19 and where the city has been trying to boost vaccinations, Arwady said.
The hospital's board has taken "appropriate actions of reprimand against Miller and Ahmed for their role in the mistakes of judgment," Rep. LaShawn Ford, who sits on Loretto's board and represents the area in the state Legislature, said in a statement.
State Sen. Kimberly Lightford, another board member, hung up on a Block Club reporter who contacted her to ask about the reprimand. Reached later, she declined comment.
Vaccine doses aren't being sent to Loretto as city officials investigate whether the hospital has been properly vaccinating people and reporting shots. That came after Block Club reported on ineligible workers getting shots at Trump Tower, where multiple hospital leaders live. Ineligible Cook County judges were also offered shots at Loretto, according to a WBEZ report.
Shots were also administered to more than 200 members of the suburban church attended by Miller, who is longtime friends with the church's leader, according to videos and documents obtained by Block Club. The first event was held in early February, soon after after eligibility expanded to people 65 and older and when demand for doses was sky-high in the city.
Hospital spokespeople have twice said this week the improper vaccinations occurred because Loretto officials were confused about who was eligible to be vaccinated, despite that information being publicly available through the city's health department.
A spokeswoman for Loretto did not answer a question about if the hospital has a trend of vaccinating organizations close to its executives, like the church and workers at Trump Tower.
"The biggest concern here is that they was vaccinating people, first and foremost, who were not eligible for the phase," Arwady said Friday. "That's actually the biggest breach here," but it's also concerning the hospital prioritized vaccines for people "who were well-connected, really letting them jump the line."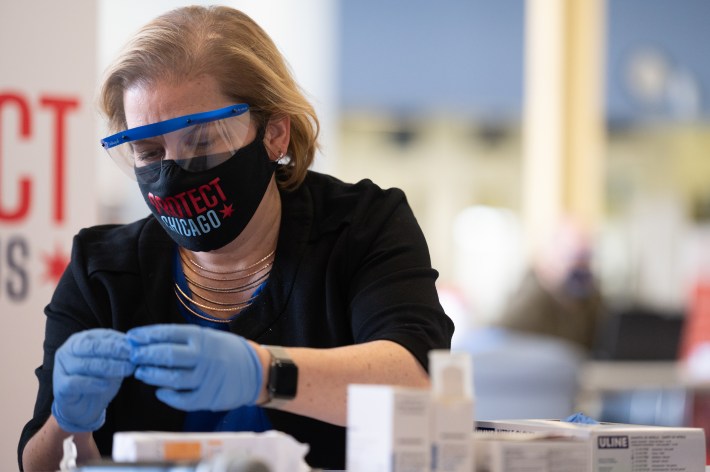 Arwady said Loretto used some of its vaccine "in ways that are not in line with our goals and with our values in the program." Because of that, officials are "not so sure" Loretto is doing everything it can to vaccinate the West Side community it's supposed to serve, Arwady said. She said she's not yet certain how many ineligible people were vaccinated through the hospital.
"It's disappointing where providers that we are prioritizing are not choosing to really live by the mission [of] their organization, and I think it seems that was the case here," Arwady said.
Arwady also rejected a claim from a Cook County courts spokesperson, who said the doses being offered to judges and their spouses were vaccines that otherwise would have been wasted.
"That is a rumor of all rumors that I am most interested in not perpetuating — this idea that somehow there is all of this vaccine that is being thrown out and that, if I don't take this vaccine, it won't be used for others. Cannot reiterate strongly enough that there is not vaccine that is being thrown out," Arwady said.
"There is no excuse for a provider to not stick to people in the current eligibility criteria when they are using those last doses at the end of the day," she said.
Later Friday afternoon, within hours of Arwady's comments and as news media swarmed the hospital, Loretto posted on its Facebook page they had "expiring" vaccines available to anyone in Chicago.
One of the people who showed up was Julian Gonzalez of Belmont Cragin. He said he and his dad were picking up his sister from school when a friend alerted them to the Facebook post. They hustled over to Loretto and were able to get their first dose in a half hour.
Belmont Cragin has been among the most impacted neighborhoods during the pandemic and struggled for months with inadequate testing and resources. The city established a Protect Chicago Plus location in the area but appointments have been fully booked.
"I've been having a lot of trouble trying to find out how to get vaccinated, especially since my area has been really hard hit," Gonzalez said. "Just being able to come in here right off a whim is honestly really crazy and shows the power of social media."
Though he was grateful for the vaccinations, Gonzalez said the scandal at Loretto over the past week has been "disheartening."
"These people have the power to help communities and they're abusing that power by choosing to help the judges, the people at Trump Tower," he said. "Politics have a lot of influence over medicine and that's not really how it should be."
Patricia O'Keefe heard about the open vaccines through word of mouth and hustled to the West Side from Lakeview with her husband and son. She also said she felt ambivalent about being able to get the vaccine and she supported the city's efforts to make sure people with the most need were getting shots first.
"You hear about people taking back door routes. But at the same time, if you have an opportunity, you are helping the herd immunity. Better to have it in an arm than to go to waste," she said.
'We have to put them on hold for now'
Arwady said the city will not send doses to Loretto until officials are confident the hospital is following city rules — an action it "saddens" her to take.
"I can only speak to the [health department's] role in decision making there, not Loretto's," Arwady said. "But certainly it was a disappointment to see a provider that obviously is in a very high-need part of the city from a vaccination standpoint be using vaccine for people who are not eligible and not working to prioritize vaccinations for its own patients and its own community.
"We are obviously looking in a lot of detail at all things happening in Loretto."
But the city is not "abandoning" the West Side, Arwady said. People who had already gotten their first shot at Loretto will be able to get their second shot there.
And the city will "make sure that residents are not left in the lurch" and can still get vaccinated if the city cuts off doses to any providers, Mayor Lori Lightfoot said in a statement Thursday.
Protect Chicago Plus events for all Austin residents and Senior Week events for neighbors 65 and older will go on as usual, Arwady said. Residents can also sign up to get a spot at the United Center mass vaccination site and can call the city's hotline at 312-746-4835 to get help making an appointment.
The health department will also bring in "additional vaccine resources as it is necessary," Arwady said, and officials will consider hosting additional events in the area.
"This action at Loretto will not limit the ability of West Side residents and Austin residents to get vaccinated," she said.
Arwady said she wants to see doses sent to Loretto again in the future — once officials are sure it's following rules — because supply of vaccines will soon rise and people do need to get the shots. But she couldn't say when city leaders will feel comfortable providing those doses.
"Right now, where vaccine supply remains so limited, I want to make sure that we are prioritizing providers who are doing a good job of vaccinating their own patients and their communities, and there a lot of questions around some of these decisions Loretto has made," Arwady said.
Loretto Hospital is a small, 122-bed hospital that operates on the underserved West Side, where people of color have been hit hard by coronavirus and few people have been vaccinated. Trump Tower is Downtown, where the virus's impact has not been felt as much — but where more vaccinations have been done.
The city has highlighted Loretto's work as an example of its goal of equitably vaccinating people — even insisting on having the city's first vaccine doses administered there to show how Chicago would prioritize West and South side communities that are often ignored.
But the hospital is now shrouded in controversy.
"I think there's been some loss of community trust here, which is also unfortunate and disappointing," Arwady said. "It's not a situation that we ever wanted to see, and I'm sure that they are wishing that they had made more appropriate decisions so these actions didn't overshadow a lot of the good work they have done. But, unfortunately, we have no choice with this vaccine being in as limited supply as it is, we have to put them on hold for now."
RELATED COVERAGE
Loretto Hospital Vaccinated CEO's Suburban Church — While West Siders Were Calling Daily For Shots
Vaccine Doses Not Being Sent To Loretto Until City Can 'Confirm' It's Vaccinating, Reporting People Properly
City Won't Give Vaccines To Hospitals That Let People Cut In Line, Lightfoot Warns After Trump Tower Controversy
Cook County Judges, Spouses Were Given Chance To Be Vaccinated At Loretto Hospital, Report Says
Chicago Hospital Executive Bragged About Vaccinating Eric Trump On Day His Hospital Vaccinated Workers At Trump Tower
Improper Vaccinations At Trump Tower Disappointing, Mayor Says As She Vows City Will 'Dig Deeper' To Verify West Side Hospital's Story
Chicago Hospital Executive Bragged About Vaccinating Eric Trump On Day His Hospital Vaccinated Workers At Trump Tower
Trump Tower Workers Got Vaccines From West Side Hospital — Whose COO Owns A Condo In Luxury Highrise
Trump Tower Vaccinated Staff At Luxury Hotel, Saying It Was Part Of Program Meant To Help Hard-Hit South And West Sides
Block Club Chicago's coronavirus coverage is free for all readers. Block Club is an independent, 501(c)(3), journalist-run newsroom.
Subscribe to Block Club Chicago. Every dime we make funds reporting from Chicago's neighborhoods.
Already subscribe? Click here to support Block Club with a tax-deductible donation.