CHICAGO — Two popular programs started last year to close off streets for expanded outdoor dining or as pedestrian-friendly "shared streets" will be expanded in 2021.
The outdoor dining program was seen as a lifeline to struggling restaurants when indoor service was closed during the spring surge of the coronavirus pandemic. Streets were closed off so restaurants could put tables and chairs in the road so they could serve more customers outdoors, and the city made it easier for restaurants to get patio permits.
Neighborhoods like the West Loop, Lakeview and Rogers Park rolled out popular outdoor dining programs while other areas, like Little Village, opted out of the program, arguing closing down a major street would have hurt businesses more than it helped. In other parts of the city, restaurateurs struggled to get permits for outdoor spaces or simply had little option to expand outside.
To help, the city will provide grants of up to $5,000 to 400 restaurants. Restaurants will be able to use the grants to buy dining furniture, signs and protective equipment, city officials said at a budget hearing this week. The grants are part of an effort to expand outdoor dining to low-to-moderate-income neighborhoods throughout Chicago, officials said.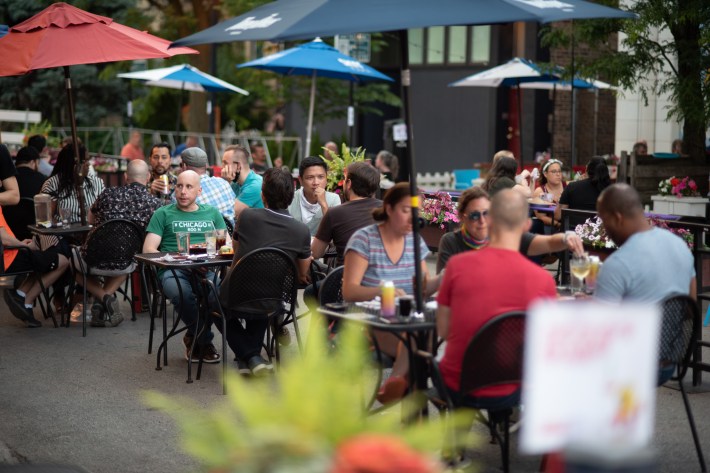 More than 13 miles of residential roads were closed off last year as part of the shared streets pilot — banning through-traffic to drivers to make the street safer for pedestrians and bicyclists. In 2021, the city's Department of Transportation will allocate $500,000 to create another 12 to 13 miles of shared streets, project manager Lubka Benak said. The locations have yet to be determined.
Another $3.6 million will be used to transform eight to 12 "sections of the public way into community places." The full list of locations has not been determined, but city officials said they would include a stretch of Ogden Avenue between Kedzie and Pulaski as well as near 47th Street, South McDowell Avenue and Ashland Avenue in Back of the Yards.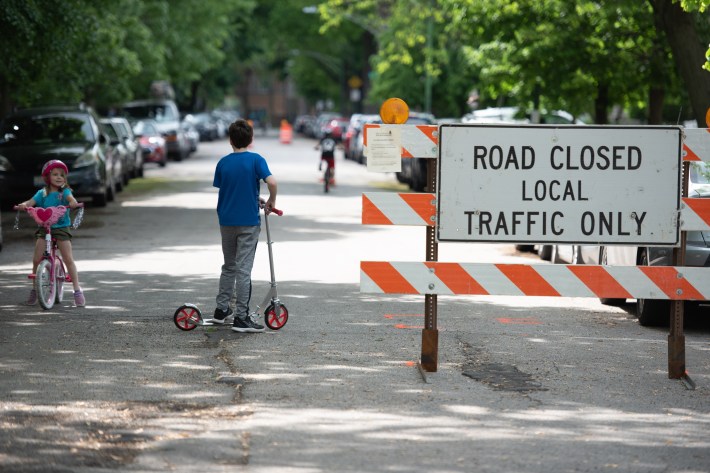 The funds were part of a larger re-allocation of more than $100 million in COVID-19 federal relief grants, including roughly $87 million in airport grants and more than $20 million in other grants approved during a Wednesday meeting of the city's Budget Committee. The total package was approved unanimously and is expected to pass at next week's City Council meeting.
Ald. Brendan Reilly (42nd) said he is concerned over which businesses will be targeted for the assistance, noting "the economic devastation knows no ward boundary or neighborhood boundary."
Reilly's Downtown ward, which encompasses much of the Loop and portions of River North and the West Loop, is unlikely to qualify for assistance due to its wealth comparative to the rest of the city.
"I'm concerned that just because a business may be located in a higher-income neighborhood does not mean it's not a minority-owned business or a business that employs 80 percent of its employees that are minority," he said.
Reilly also said the city could do more to offset the costs to restaurants of closing down a street for outdoor dining.
"I think as a matter of policy we should be discussing … waiving all of the fees to close down the streets," he said.
O'Reilly suggested the city donate its unused stock of jersey barriers to close streets.
"We have hundreds, I've confirmed this with CDOT, unused jersey barricades just sitting in lots, yet businesses that want to shut down a block to provide outdoor dining have to rent those from private operators for lots and lots of money," he said. "My goodness, that would provide an incredible leg up to all of our hospitality businesses, no matter where they're located."
Benak told Reilly his request would be taken into consideration.
The largest portion of the relief package included $68 million to O'Hare and $18 million to Midway Airport to pay off debt and other shortfalls due to the pandemic. About $8 million is set aside to offer relief to minority-owned concessionaires at the airports, although Aviation Commissioner Jamie Rhee said federal authorities have yet to provide the full guidelines on who qualifies.
The Department of Planning and Development is set to receive $5 million to kickstart the redevelopment of the Gift of Hope project in Chatham, 7914 S. Cottage Grove Ave.
Alds. Michelle Harris (8th) and Roderick Sawyer (6th) spoke in support of the project, with Harris saying it could "transform" development in the area.
Two community health centers at 641 W. 63rd St. in Englewood and 4314 S. Cottage Grove Ave. in Bronzeville will receive upgrades through a $4 million allocation to the Department of Assets, Information and Services. Other health centers will be upgraded if funds are available.
The Department of Family and Support Services will be allocated a total of $5 million, including $2 million to domestic violence programs and $1.9 million toward transitional employment opportunities.
Subscribe to Block Club Chicago. Every dime we make funds reporting from Chicago's neighborhoods.
Already subscribe? Click here to support Block Club with a tax-deductible donation.