WOODLAWN — A wellness center providing health care and connecting residents to social services is preparing to open in Woodlawn, marking the first step in its backers' effort to redevelop a 67th Street block into a complex for holistic health and economic development.
The Salaam Community Wellness Center is getting ready to open at 613 E. 67th St. A virtual grand opening and fundraiser will be held 3 p.m. Sunday ahead of the planned launch of health care services, alternative medicine options and community programs in May.
The health center will offer adult primary care services and non-Western practices like meditation, mindfulness therapies, yoga, qi gong, acupuncture and traditional Chinese medicine. Organizers plan to roll out pediatric primary care once they build up their network of physicians.
The center will also connect neighbors with organizations offering support around housing, education, transportation and more, said founder Dr. Constance Shabazz, physician and health care administrator.
"People in our communities are so used to somebody telling them no" when they reach out for help about their holistic health needs, Shabazz said. "We want to do that work for them, forge that relationship and decrease those barriers to access."
The project is funded by Neighborhood Laundries, which also owns the shopping center at 71st Street and Yates Boulevard in South Shore, and a grant from the Bridgeview-based Zakat Foundation of America.
The wellness center is just one aspect of the plan to redevelop the 600 block of East 67th Street, Neighborhood Laundries owner Abdul Akbar Muhammad said. His vision includes a healthy restaurant, community garden, real estate brokerage and opportunities for entrepreneurship education — all neighboring the company's existing laundromat.
Muhammad estimates the restaurant will open in August, with the community garden and other programs kicking off shortly afterward.
"I would love to see this be a model and an example of what can be done throughout the entire city of Chicago as well as throughout the country," Muhammad said. "It is a must that we control the economics and the resources that flow in and out of our own community."
The Salaam Community Wellness Center will occupy a vacant building, while the organizers are working on acquiring two adjacent, city-owned vacant lots for the garden.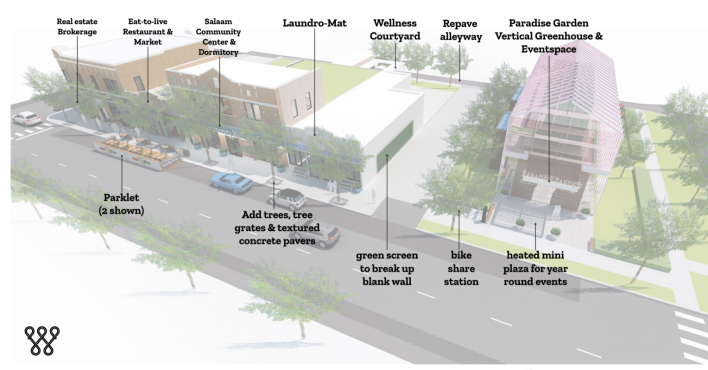 The community programs and holistic approach to wellness will be welcomed in a community struggling with "COVID, racial tensions and crime," said Elaine Singh, an organizer with We Are Woodlawn and the AKARama Foundation.
Singh wants to see the center "stretching out throughout the community to wherever the help is needed," allowing residents to guide the center's mission.
"I think [residents] will be very pleased that they have something where they don't have to travel," Singh said. "Sometimes these services are needed very quickly, and [the center will be] right there in the middle of Woodlawn. They don't have to go outside of their community to look for something."
With the failed consolidation of four struggling South Side hospitals last year, and the subsequent uncertainty around the future of Mercy Hospital in Bronzeville, the possibility of South Side communities losing their already-limited access to health care is "horribly alarming," Donna Neil-Demir said. She's a registered nurse and health adviser to the Zakat Foundation.
"You can't be healthy if you don't know how, and then — once you learn — you don't have access to the things that create health," Neil-Demir said.
The center can fill gaps in access to basic services like diagnosis, disease screenings and counseling, Neil-Demir said. Then, the center's Eastern healing practices, healthy food options and connections to social services can empower neighbors to build on that basic level of care.
It all adds up to a neighborhood-focused complex that can help meet residents' physical, spiritual and emotional needs, Neil-Demir said.
"We've made great advancements from the West in terms of science, but we bypass the wholeness of the human being," Neil-Demir said. "We've had to come full circle, to get back into our own head in the right way. A place like the Salaam Center is going to try … to look at each one of us as a whole human."
To contact the Salaam Community Wellness Center about programs or opportunities to get involved, call 773-207-3540 or email info@salaamcwc.org.
Subscribe to Block Club Chicago. Every dime we make funds reporting from Chicago's neighborhoods.
Already subscribe? Click here to support Block Club with a tax-deductible donation.