CHICAGO — Half of all Chicagoans who got their first shot of vaccine during the past week were Black or Latino, officials announced Friday morning.
Chicago's coronavirus vaccination campaign has been criticized as inequitable because, at its start, most people getting vaccinated were white and lived on the North Side — even though Black and Latino Chicagoans have faced disproportionate losses from the pandemic. White people continue to be vaccinated more than others.
But the number of people of color being vaccinated has started to improve as the city "doubled down" on efforts to get vaccines to communities that need them most, Mayor Lori Lightfoot said in a statement Friday.
In December — when the vaccinations started — officials estimated about 53 percent of vaccinated Chicagoans were white, 14 percent Asian, 15 percent Black and 17 percent Latino.
But during the past week, 41.4 percent of vaccinated people were white, 5.6 percent Asian, 23.6 percent Black and 26.2 percent Latino.
"I'm confident that number will only continue to grow," Lightfoot said at a news conference. "It tells me that all the outreach and education is finally breaking through. We will certainly not rest on our laurels, but this is another important milestone … ."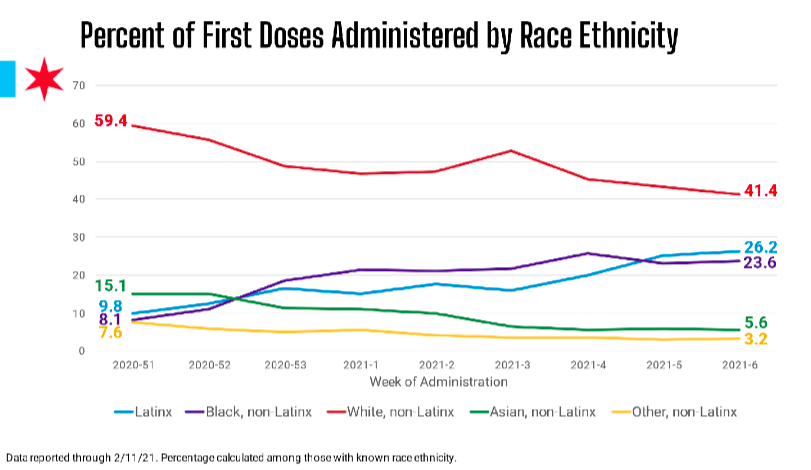 Despite the improvement this week, there is a ways to go: Vaccinations are still lagging in communities of color overall. Since the start of the campaign, just 18.1 percent of people being vaccinated were Black, 19.1 percent Latino, 40.8 percent white and 6.7 percent Asian.
In comparison, about 30 percent of Chicago's residents are Latino and 30 percent Black.
"We still have a long way to go," Lightfoot said. "But this incredible progress is a direct result of our equity-based approach to responding to COVID-19 since Day 1, which we have carried forward throughout our vaccination strategy."
Dr. Allison Arwady, head of the Chicago Department of Public Health, said vaccinating people in the communities hit hardest is not just the right thing to do — it's also the thing that's lowering everyone's risk for getting COVID-19 in Chicago. The city's already seeing decreases of cases reported out of settings like long-term care facilities, which have been hot spots for the virus, she said.
"With less than a month into 1B, we've managed to move the needle without sacrificing efficiency or equity. We are not done," Arwady said.
Officials blamed the early racial gap in vaccinations on a variety of factors: The first vaccines were only open to health care workers, who are more often white; and among health care workers, people who were white were more likely to volunteer to get a shot. Communities of color have also had historical reasons to be skeptical of the government and medical communities.
Officials said they thought more people of color would be vaccinated once the city moved into Phase 1B on Jan. 25, since shots would be available to frontline workers and people 65 and older.
But to speed up vaccinations among people of color, the city launched the Protect Chicago Plus program. The program focuses on getting vaccine doses and educational information into 15 communities hit hard by coronavirus.
While it's been difficult to find open appointments throughout Chicago, medical providers and the city's health department are trying to make it easier in those 15 communities by reaching out to residents to provide them information about vaccines and how they can set up appointments.
Workers who are part of the city's Racial Equity Rapid Response Team have gone door to door and spent time in highly visited areas, like laundromats and grocery stores, in hard-hit communities so they can tell residents about vaccinations and help them make appointments, Lightfoot said.
The program's started in Belmont Cragin, where there have already been clinics and vaccination drives. And Gage Park, one of the communities hit hardest by COVID-19, just got a vaccination site that is open to any resident.
In the communities that are part of the program — which have larger populations of Black and Latino people — any resident is eligible to get vaccinated. Residents are not asked to show things like ID, because officials feared that would dissuade people who are undocumented; however, they are asked to show proof they live in the area, like through providing a bill.
The program will expand to more areas in coming weeks, making it easier for their residents to get vaccinated.
Neighborhoods in Protect Chicago Plus:
West Englewood
New City
Gage Park
North Lawndale
South Lawndale
Chicago Lawn
Englewood
Roseland
Archer Heights
Washington Heights
Austin
Montclare
South Deering
Belmont Cragin
Humboldt Park
Block Club Chicago's coronavirus coverage is free for all readers. Block Club is an independent, 501(c)(3), journalist-run newsroom.
Subscribe to Block Club Chicago. Every dime we make funds reporting from Chicago's neighborhoods.
Already subscribe? Click here to support Block Club with a tax-deductible donation.