AVONDALE — The driver who hit and seriously injured 31-year-old cyclist Alex Betzel in Avondale last week was driving a carjacked SUV, police said.
It's the latest information to come out of an ongoing investigation into the near-fatal hit-and-run. Police on Wednesday also released a clearer photo of the SUV in hopes the public can help detectives find the SUV and arrest the driver.
Betzel was riding to Home Depot to run a "quick errand" around 2:20 p.m. Feb. 10 when the driver of a black Buick Enclave hit her while trying to turn right onto Addison Street, police and family said. The driver then ran over Betzel and drove off, leaving her critically injured, police said.
Police have since determined the Buick Enclave was stolen from a woman and a child Feb. 6, four days prior to the hit-and-run, police said.
RELATED: Family Of Cyclist Critically Injured In Avondale Hit-And-Run Launch Fundraiser To Pay For Costly Medical Bills As Police Search For Driver
That incident happened just before 1:30 p.m. in the 3300 block of West Belmont Avenue, also in Avondale. The victims — a 36-year-old woman and an 8-year-old boy — were in a parking lot when another woman got into the car on the driver's side and drove off with the boy still in the car. A struggle ensued between the 36-year-old victim and the woman who got into the car. The boy jumped out of the car at Belmont and Kimball avenues.
The boy was not injured, but the woman was taken to Illinois Masonic Hospital, where her condition was not made available to police.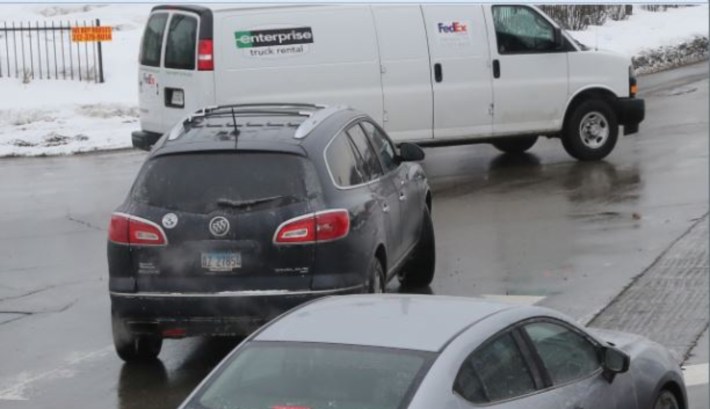 Betzel is expected to survive, but is facing a long road to recovery after suffering severe injuries. Her family said she is undergoing tracheotomy surgery on Friday so she can breathe on her own again. Over the last few days, she's been on a ventilator and communicating via written messages and gestures, they said.
Betzel has received an outpouring of support from family, friends and strangers since the crash. A GoFundMe launched to help her pay for costly medical bills had raised more than $40,000 Friday afternoon.
"We were super amazed and floored," Betzel's sister, Joanna Blazek, said. "There's tons of anonymous people and people we don't even know who are hearing her story and are feeling compelled to donate some money, which we're really appreciative of, especially now finding out the nature of the incident, that the person now very likely is not insured."
Betzel's family said the carjacking connection seemed like a breakthrough at first, but now they're worried it could make it more difficult for police to find and arrest the driver.
Police told the family that carjacked cars often get passed around between a group of people, which could make pinning down the driver who hit Betzel more complicated, Blazek said. Still, the investigation is ongoing.
RELATED: Cyclist Critically Injured In Avondale Hit-And-Run On Track To Recover: 'She's Very, Very Strong,' Brother Says
"Obviously we really hope to still find the person and even more so now that there is another person who was potentially hurt by the same person or the same group of people. I think it's even more important now," Blazek said.
The family is offering a reward of $5,000 to anyone who has information that leads to an arrest.
While they're grateful to the police for their work on the case, the family said they won't be satisfied until the driver is brought to justice.
Betzel's mother, Lisa, said she was "super frustrated" to learn the SUV that hit her daughter had been carjacked days earlier — and the case was known to police. Carjackings have skyrocketed in Chicago, with has city and state leaders scrambling for solutions and citizens fighting back.
Police "had the make of the car, the plate number, yet the car was still driving around the city recklessly," Lisa Betzel said. "I don't want to disparage the police, but that's where my heart went initially."
Subscribe to Block Club Chicago. Every dime we make funds reporting from Chicago's neighborhoods.
Already subscribe? Click here to support Block Club with a tax-deductible donation.