CHICAGO — Mayor Lori Lightfoot refused to commit to not raising Downtown bridges to control crowds again — even though a scathing watchdog report released this week highlighted the many failures around that action this summer.
And the mayor defended her highly controversial choice to raise the bridges over the Chicago River this summer, saying it was "the right decision."
Officials raised the bridges to try to control crowds as people protested and others later looted in the Loop — but many saw the move as elitist and divisive, with the city prioritizing big-money businesses Downtown over the concerns and rights of everyday residents.
A report released Thursday from the Inspector General's Office details just how calamitous a decision it was.
RELATED: Even Police Thought Raising Chicago's Bridges Was A Bad Idea During Unrest, Watchdog Finds
Investigators found little to no planning for raising the bridges, forcing police into a standoff with protesters on one bridge. Violence erupted between the two sides.
And, ultimately, officers told investigators they didn't think the move was effective, with Supt. David Brown saying it took too long and took time away from officers responding to looting. In fact, officials had previously decided not to raise the bridges as a form of crowd control because they thought it would be "ineffective," according to the report.
But Lightfoot doubled down on her actions when speaking during a Friday morning news conference.
"Whatever you do something that disrupts transportation, it's a very big deal. And I don't take that lightly," she said. "But in that circumstance … raising the bridges was absolutely the right decision."
RELATED: In Lori Lightfoot's Chicago, Bridges Have Become Barricades
The mayor also refused to say she wouldn't raise the bridges again in the future.
"If there is a need, and that need is justified, I'm not going to hesitate to use any tool that is necessary to keep our residents and our businesses safe," she said.
Whether raising the bridges did protect people and businesses is in question.
The report found raising the bridges forced police and protesters into violent conflicts.
Protesters said the raised bridges effectively trapped them just as Lightfoot imposed a curfew, especially because the city also shut down CTA service.
And efforts to keep people from the Downtown area pushed people looting and vandalizing into more residential neighborhoods, where many locally-owned businesses were burglarized and damaged.
Despite the violence and chaos that came from raising the bridges during that period, Lightfoot raised the bridges a second time later in the summer during further unrest.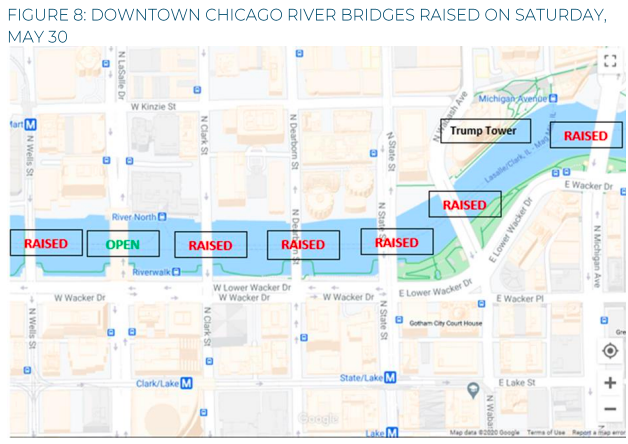 Findings From The Report
The report analyzed police and city activity in response to unrest May 29-June 7.
In late May, protesters marched and chanted Downtown to call for an end to police violence after officers in Minneapolis killed George Floyd. At the same time, officials have said, other groups of people looted and vandalized businesses in the Loop.
Someone from the city's Office of Emergency Management and Communications contacted the Chicago Department of Transportation on May 28 or 29 to discuss if the Downtown bridges could be raised during the weekend — but CDOT was not definitively told the bridges would be raised or to told have crews on call in case they were needed, according to the Office of the Inspector General's report.
On May 30, Lightfoot decided to raise the bridges, and one of her staff members contacted a "senior member of CDOT" and said the agency had to begin raising the bridges, according to the report.
The decision itself was unusual, as raising the bridges in response to an emergency hadn't been done in at least a decade, a senior CDOT official told the Office of the Inspector General. During protests in Chicago during the 2012 NATO summit, officials discussed raising the bridges — and rejected the idea because it would be an ineffective tool for emergency crowd control, according to the report.
Raising the bridges was "challenging" for the agency, according to the report. Recent rains had flooded parts of their mechanisms, and they hadn't been tested — as is normally done before they're raised — to ensure they were working properly, according to the report.
And CDOT had to call in off-duty workers, who were fearful that they'd be targeted by protesters since they had to wear city of Chicago safety vests. One of the crew's cars was "overtaken, graffitied and had its windows broken," according to the report.
CDOT was only able to assemble two crews given the short notice, and they could only raise two bridges at a time. Starting about 4:30 p.m. May 30, they raised the Michigan Avenue Bridge.
But protesters were on the Wabash Avenue Bridge near Trump Tower. To force them off and keep them from Trump Tower, police leaders instructed officers to form "a skirmish line of around 150 officers and horse-mounted units" and push the crowd off the bridge, according to the report.
The officers used batons to push protesters off the bridge. Activists told the Office of the Inspector General they were not ordered to disperse before officers began pushing them, and officers punched them, kicked them and beat them with batons.
One activist told the Inspector General's Office he was on the bridge, not fighting police but trying to hold his ground, when an officer attacked him and others nearby.
"I put my hands up. I thought he would stop if I was protecting myself, but he shoved the baton into the fingers of my bone and was pushing with his body weight," the protester told the office. "And so I screamed and I said, 'Stop. Please stop.' So he gave me a look, and he jumped to a person next to me, which was a Black person, and started shoving him even harder.
"And I said, 'Stop. Stop. Please stop.' And the police officer next to him looked at me and said, 'You want to be in it. Now you're in it.' And he grabbed me by my neck and he lifted me up, and I flew. I went airborne by my neck.
"He dragged me backwards so quickly that my shoe flew off and my hat flew off. He dragged me down the street through horse poop so hard that my back was scraped up and bleeding. And then two other officers jumped on me and I was screaming, 'Stop. You got me. You got me. You won.'"
Another protester told the office they saw activists covered in blood after police hit them with batons and saw officers pepper spray individual people.
And a third protester told the office he was pushed and beaten with a baton by police.
"On that day, police participated in reckless endangerment," that protester said. "They put the lives of so many people in jeopardy … . Police presence escalated tensions and created a dangerous space for everyone near or around the protest."
At the same time, officers said over the radio they were being hit with thrown objects, like bottles and fireworks, according to the report.
A police commander who was near Trump Tower at the time told the Inspector General's Office police did give a dispersal order and peaceful protesters left, but some remained and threw paint cans, peanut butter jars and other items at officers.
None of his superiors informed him the Wabash Avenue Bridge was going to be raised — he learned it from a CDOT worker, he told the office. He became separated from his tactical officers when the bridge went up.
A police director also told the Inspector General's Office the protesters had "no fear of battling the police" and "it was a battle" on the bridge.
It took until 7 p.m. for the Wasbash Avenue bridge to be cleared and raised.
Lightfoot watched the events from a video feed and told the Inspector General's Office she saw people "fought viciously against the police, hurling objects that were clearly intended to cause harm.
"That was literally like a battlefield, watching what was transpiring, and that's not peaceful protest."
Brown told the Inspector General's Office the furor on the bridge "took too much time away from addressing the looting" happening in the Loop.
CDOT officials said there was "very little understanding" among emergency officials, including Brown, about how complex it would be to raise the bridges. Brown asked if there was one person who could press a button to raise a bridge, according to the report.
The Police Department's own command staff members "held conflicting opinions as to whether raising the bridges helped manage the situation," according to the report.
Many of them thought it actually impended the movements of officers — and some thought raising the bridges should have been part of a broader plan, but that plan did not exist, according to the report.
Read the full report online.
Subscribe to Block Club Chicago. Every dime we make funds reporting from Chicago's neighborhoods.
Already subscribe? Click here to support Block Club with a tax-deductible donation.