BEVERLY — Kenneth and Adair Small have lived in their Beverly home for a decade and never had an issue with snow and ice — until this winter.
As Chicago was bombarded with snow over the past three weeks, along with frigid temperatures that did not allow any snow to melt, ice dams formed on their roof and trapped water from draining, causing it to eventually seep into their 100-year-old home.
"We had a leak in our roof because a lot of ice had built up right near some flashing," Kenneth Small said. "When we looked into it, we realized the water on the roof cannot run off because the roof has these big blocks of ice that formed over the last few weeks."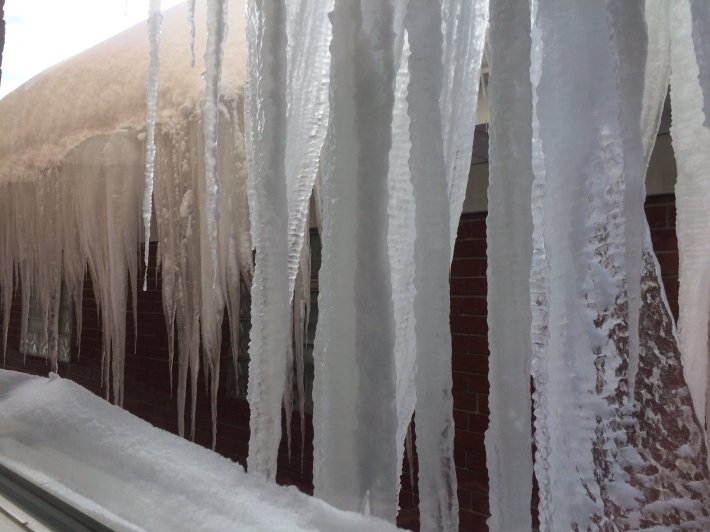 Small tried to fix it by turning down the temperature in his home and using an ice-melt product on the ice. He then found a Minnesota-based company that specializes in ice dams and had crews working in Chicago. The whole debacle ended up costing the family more than $1,000.
Homeowners across the city are also worried ice dams will cause costly damage to their homes. And they fear the weight of the snow on their roofs could cause structural damage or collapse, and icicles will fall and hurt people below.
Experts warn there is a right and wrong way to handle snow and ice from rooftops.
"Try not to break [icicles] off because it can be a massive amount of weight, and, depending on how they are attached, they can take part of the structure down with them," said Mark Hughes, owner of home inspection company Domicile Consulting.
"You're better off if you can get something up on the roof to melt the ice and let them fall on their own. Of course, then you need to get up on the ladder, and that can be hazardous."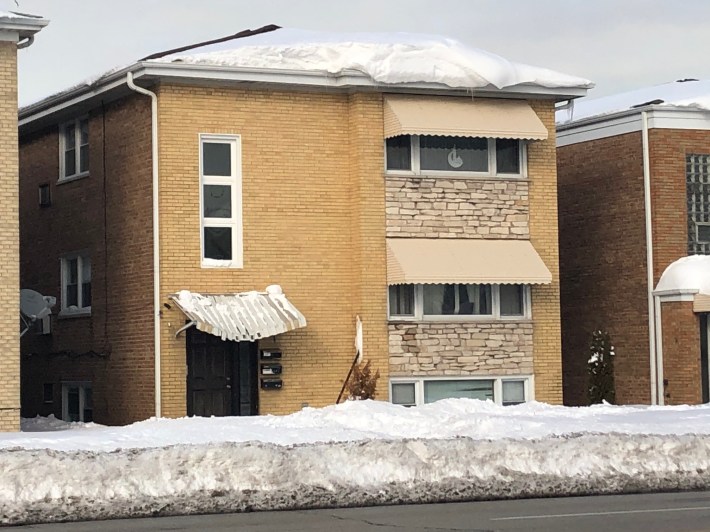 Hughes said homes with a lot of ice usually indicate poor insulation, while having a lot of snow on the roof is a sign of good insulation. There are pros and cons of both.
With so much snow and such cold temperatures, older structures may buckle under the weight, Hughes said. Earlier this month, the historic Aragon Ballroom experienced a partial collapse, and multiple vacant buildings across the South Side collapsed this week.
On the other hand, ice dams can tear off gutters, loosen shingles and cause water to back up and pour into the house, Hughes said.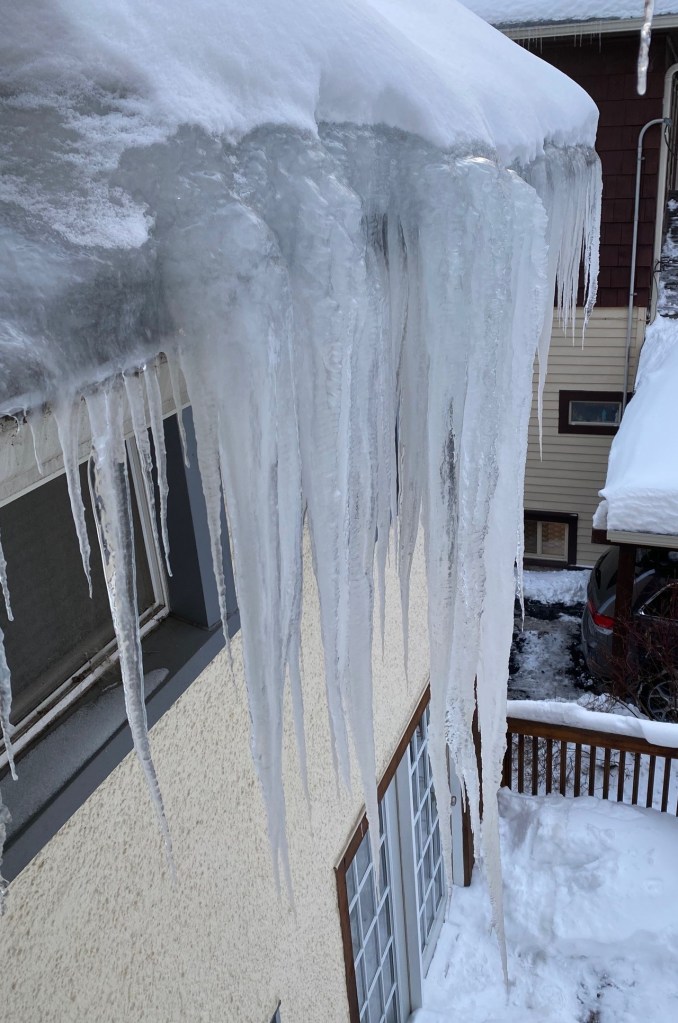 "If the temps warm up in the next few days, you'll see a lot of severe melting and you'll see ice damming and other things happening inside the houses," Hughes said. "If that ice melts it's going to come toward the gutters and the gutters will be frozen solid and that water will back up under the shingles and floods underneath the roof area, so a lot of people will have leakage along exterior walls."
Small said he was advised to reposition some of his gutters and is considering having electric cables installed in his eaves and near downspouts to melt ice. He also said he will have a roofer come out when the weather is a little better to evaluate if any damage occurred.
"There's a couple things you can do right now," Hughes said. "You can buy ice melt pucks that you can put up on your roof, and they would start to do bulk melting of the ice. They are calcium chloride blocks. That's probably the best thing. You can also put heat tape on the roof, but you're going to want to address the insulation when you can."
As for heavy snow on roofs, city officials and industry professionals say it's not worth the risk for people to remove it themselves.
"You don't know what's under that snow," Matt Beaudet, commissioner of the city's buildings department, said Monday. He urged residents not to go atop their roofs for fear of falling off, hitting a soft spot or falling through a vent.
Hughes agreed, saying it's too dangerous.
"I would highly advise against it. It's going to be really slippery. It's not worth it. It's just too risky," Hughes said.
Hughes said to avoid ice dams, residents need to make sure their homes are properly insulated.
"The biggest thing is to improve the insulation inside the house," he said. "Melting happens because a lot of warm air moves up into the attic space and melts everything that's on the other side of the roof.
"If you can keep the attic cold by keeping the heat contained in the house, you'll see houses with more snow on the roof. Those are the ones with really good insulation, but unfortunately those are the ones experiencing more weight, so it's a double-edged sword."
Chris Pasten, owner and operator of Clear Point Home Inspections in Garfield Ridge, said leakage is usually a sign of a faulty roof but agreed it's not wise for homeowners to try and address the issue by themselves.
"Usually it's a sign of a pre-existing issue with the roof, like an improper seal," Pasten said. "There's not a whole lot of risk of snow caving a roof in unless there's a structural issue. It's not really smart to start removing snow. It's not all that safe to get up there."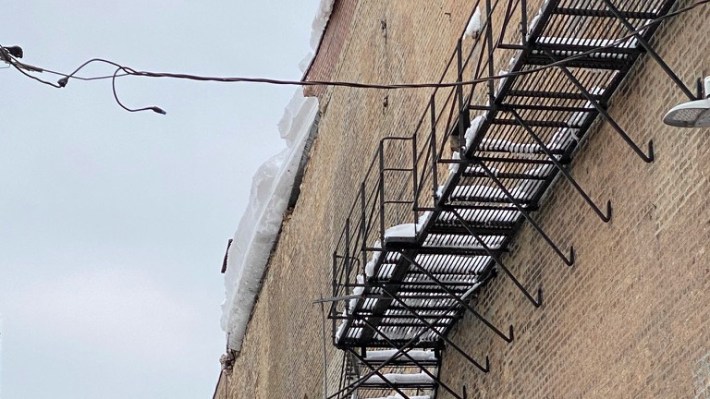 However, Luke Armstrong, who runs RestorationMasterFinder, a commercial cleaning and restoration company, believes snow should be removed from rooftops.
Armstrong said professionals with harnesses should be called in to remove snow once there are 6 inches or more on a roof. Salt should not be used on a roof as it can damage the roof, he said.
Many roofing companies in Chicago said they were overwhelmed with service calls this week. However, one company, Topline Roofing, said they were refusing requests to do roof work at the time because of the amount of snow and ice.
A Topline employee who would only give his first name, Lucas, said, "We are a roofing company, not a snow plow company. It's too slippery, too risky. It's not worth it."
Do stories like this matter to you? Subscribe to Block Club Chicago. Every dime we make funds reporting from Chicago's neighborhoods.
Already subscribe? Click here to support Block Club with a tax-deductible donation.