SIX CORNERS – Residents are pushing for a stop sign and speed camera on Milwaukee and Kostner avenues near Six Corners because drivers have jumped the curb three times since December.
The stretch on Milwaukee between Kilbourn Avenue and Addison Street has been an ongoing problem, neighbors said.
In 2019, 37-year-old Carla Aiello was killed when a driver hit her at Kilbourn and Milwaukee avenues. In response, residents and activists fought for change and got the city to repaint the bike lane lines and install plastic bollards.
But neighbors like Amanda Marien say the area — which includes a day care center and is close to Carl Schurz High School — remains a hazard.
In the past four years, several drivers have gone off the road and onto the sidewalk, sometimes hitting buildings, said Marien, who live in a development called Base Camp at Milwaukee at Kostner Avenues.
They fear the situation will become more dangerous amid more development in the area.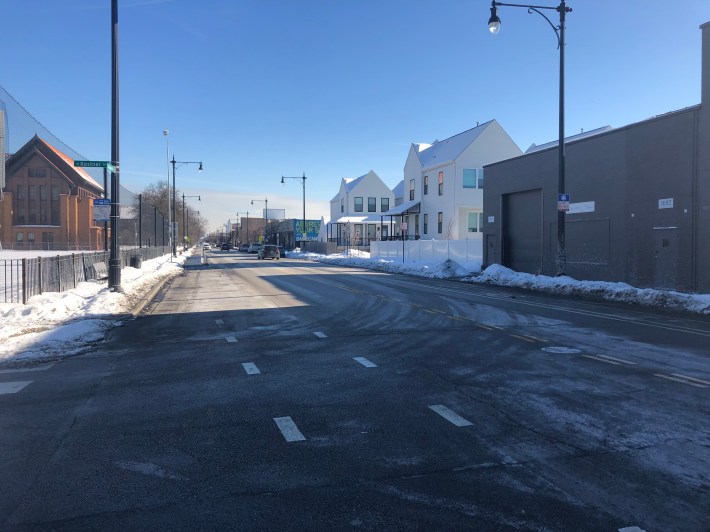 "We're a neighborhood of 48-single family homes and a day care, and Six Corners is going to blow up with a lot of new development. There's going to be an influx of new people," Marien said.
Marien created an online petition Monday, calling for a stop sign and/or a speed camera at Milwaukee and Kostner avenues. The petition has garnered 120 signatures as of Tuesday evening.
Marien said she spoke to then-Ald. John Arena about the issue and he promised to put in a crosswalk at Waveland and Milwaukee avenues. It was installed, but the intersection still does not include a stop sign.
"That was helpful, but still no cars stop," Marien said.
Marien tried to get Ald. Jim Gardner to act when he was elected in 2019.
"When he was first elected, he came to a meeting at Schurz and seemed like he was going to help. He wrote down a list and said he was going to tackle it," Marien said. "A year went by and nothing happened."
The situation has gotten worse, with three drivers hopping the curb on Milwaukee Avenue since December, she said. One driver crashed into the building that houses Concordia Day, a day care at 3696 N. Milwaukee Ave., Marien said. Luckily, no one was hurt in the incident, she said.
In response, Marien got together with neighbors and tried to reach Gardiner for help.
"I emailed his assistant Rita Howard several times, and she keeps saying there is a traffic study and that's the answer I keep getting," Marien said.
Reached by phone Tuesday, Howard said she could not talk to reporters and would ask Gardiner to respond, which he did not.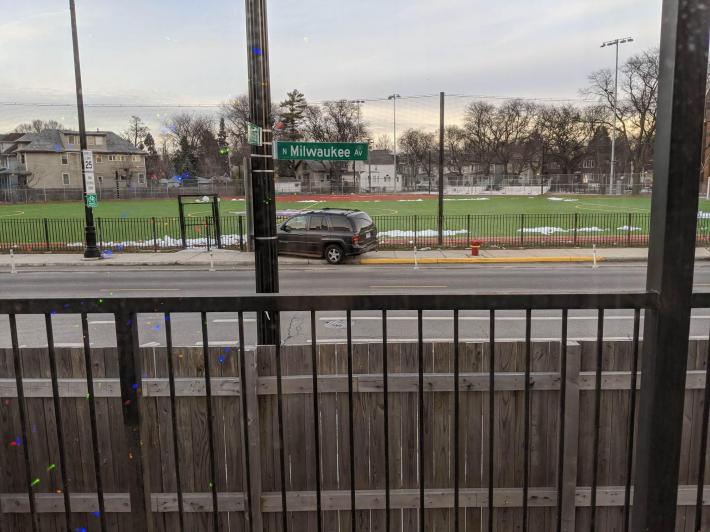 There are no stop signs or speed cameras between Addison Street and Kilbourn Avenue, a stretch of five blocks.
Sue Hofer, Chicago Department of Transportation spokesperson, said another crosswalk has been approved for Milwaukee Avenue near Kostner. That is expected to be installed in the spring.
Hoer said a traffic study is underway to see if the stretch qualifies for a speed camera. She would not say when the study will conclude or what would be needed for approval of a speed camera.
Marien said she and residents of Base Camp would also like a "no outlet" sign posted at Kenneth and Milwaukee avenues, as many drivers turn into it thinking they can bypass busy Milwaukee Avenue. But that street winds through the subdivision and back onto Milwaukee.
"A lot of time we'll see cars racing down the street. We have a park that the day care uses and a lot of the parents have also tried to get the city to do something," Marien said. "They were basically told something really bad has to happen before anything can be done, but I don't think that's fair. Something really bad has happened: a biker was killed in 2019."
Marien said she will continue the campaign for as long as it takes. She said the most frustrating thing for her is the lack of communication from Gardiner's office.
"The last few emails I've sent him, they have not responded. And I send them photos every time there's a new incident but haven't heard anything."
Subscribe to Block Club Chicago. Every dime we make funds reporting from Chicago's neighborhoods.
Already subscribe? Click here to support Block Club with a tax-deductible donation.