GARFIELD PARK — When Denise Cain went into labor with her first child, she wasn't given a wheelchair at the hospital. Despite complaining of severe pain, she had to walk to the triage unit, where she waited for hours.
She didn't fare much better when she went into labor with her second child. When her water broke and she rushed to the hospital, clinicians told her she wasn't far enough along in labor to be admitted.
"They sent me home," Cain said. "My son was born at home in my bathroom because I went to the hospital and they didn't listen to me."
Having her needs ignored by hospital staff "put my life and my son's life in jeopardy," Cain said. But despite being turned away from critical medical care, the Garfield Park mother of two said she benefitted from having a doula guide her through her second pregnancy and postpartum care, something advocates say can help even the playing field in maternal health for women of color.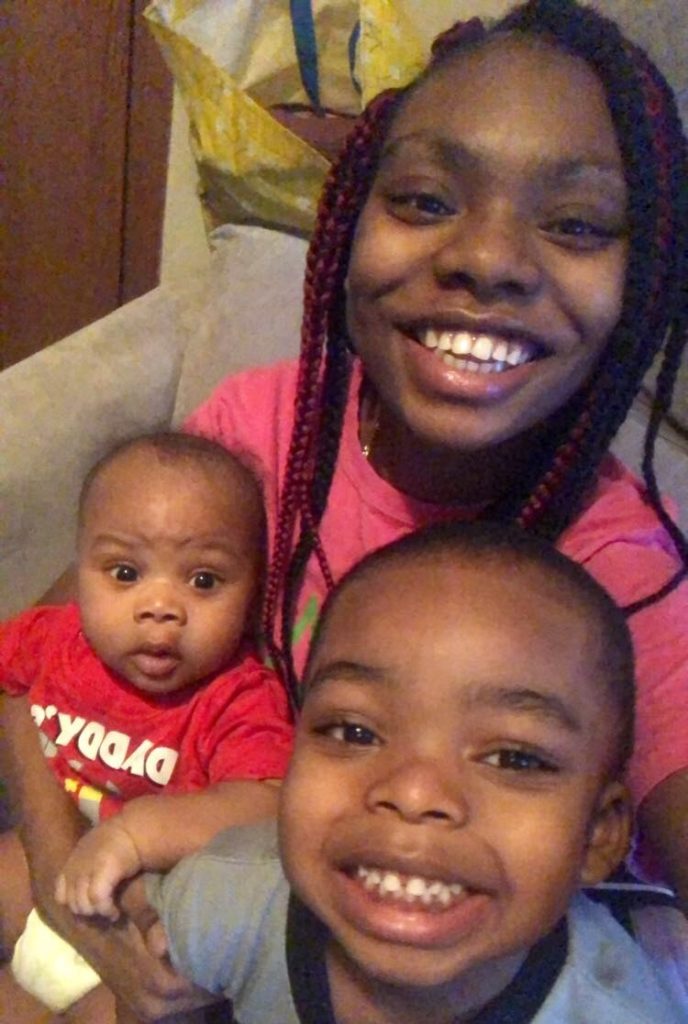 "She gave me a lot of choices," Cain said. "Whatever I ask for, whatever I need, she's on it. She's never questions it, she'll just be on it."
Start Early, an early childhood education nonprofit, is among the groups trying to support moms like Cain. The organization partners with health organizations to provide home visits and doula services for moms in under-resourced neighborhoods in Chicago.
Support from a doula — who is trained to advise and offer emotional and physical support to mothers before and after birth — can make a big difference in the unequal health outcomes women of color face, Start Early Vice President Diana McClarien said.
"While the doulas cannot eliminate individual or institutional racism in the medical system, our doulas can help improve the maternal health experience for our moms and really address the health disparities that people of color face," McClarien said. "They're teaching them to advocate for themselves."
Black mothers in Chicago are six times more likely to die during pregnancy or shortly after childbirth than white women, according to a Chicago Department of Health report.
That same theme has been borne out across the country. A 2017 ProPublica investigation showed the United States has the highest maternal death rate in the developed world. Beyond Black mothers dying at significantly higher rates, data showed no socioeconomic factors protected Black women from dying in childbirth or from pregnancy complications.
There are many reasons for the grave racial disparity in maternal mortality, including income, access to food and the closure of hospitals in Black communities.
But also driving the disparity is a pattern of Black women not being listened to when they say they are in pain, they need help, they need medication or they need to see a specialist, said Patricia Muhsen, a doula with Start Early.
 "A lot of times what I hear from my moms is that they're not being heard," Muhsen said. "Mom is saying this, but the doctor wants to do that. … Their questions are not being addressed, their concerns are not being addressed."
Beyonce and Serena Williams have detailed their own close calls giving birth to their children in 2017 and 2018. In Williams' case, she suffered from shortness of breath shortly after delivering. She described having to repeatedly demand her doctors perform a CT scan to confirm her suspicions she was suffering from a pulmonary embolism, with which she had a history. Indeed, several blood clots had settled into her lungs.
Systemic racism in medicine is well-documented. A 2016 University of Virginia study suggested nearly half of medical students held the false belief Black people don't feel as much pain as whites. Physicians are also 22 percent less likely to give Black patients any pain medications, according to a 2012 analysis by University of Pennsylvania researchers.
"You don't have a choice," McClarien said. "But I think that goes back to that racism, being the driving force for disparities in maternal mortality."
Cain's insurance did not allow her to choose her physician or the hospital her child would be born at. The lack of choice can make it difficult for women to access prenatal care, Muhsen said. Women who can't choose their own providers are more likely to miss appointments due to transportation and scheduling issues, and they won't always have a doctor who they know will listen to them, she said.
Without help navigating the medical options available to them, it can be difficult for women of color to get the care they need when they need it, Muhsen said. That makes it even more important for women's voices to be heard, she said, and for moms to be aware of the choices that are available to them.
"They'll go to a certain hospital and they are not attended to right away. … Or they will be sent home. The doctor will say, 'You're fine. You're OK.' I always tell moms, 'You know your body better and you know what you're feeling better than I do and your doctor does,'" Muhsen said.
Women often don't know which aspects of their care they have control over, Muhsen said. A doula can inform women about all the different choices they can make, and can empower them to have more control over their pregnancy and birthing process. The doula can also make sure doctors listen, address all of an expecting mom's concerns and fully inform the women about their options and the care they are receiving.
"It boils down to advocating for yourself. Knowing your information so when you are questioning your doctor or addressing your concerns, the doctor knows, you know this information," Muhsen said.
Muhsen works with expecting moms to create a birth plan that lays out all of a mother's decisions ahead of time. That way, the women don't have to make stressful decisions in the moment, and they can better communicate their needs to providers. The plan can include who is allowed in the room during labor, whether medical students can observe the delivery and what kinds of medications a patient wants during childbirth.
"A lot of moms are getting really bad headaches and the doctor will dismiss that," Muhsen said. "A lot of times doctors don't take the time to say 'Hey, mom's had an epidural, this could be a side effect.' We're providing mom that education for her to speak up because she's not being heard."
Having a doula during her second pregnancy gave Cain more control over decisions related to her care. Her doula became an a trusted ally as she traversed the labyrinthine medical system, and helped educate her about proper diet, prenatal health and breastfeeding, Cain said.
Cains doula was also a confidant she leaned on even when her experience at the hospital ultimately went awry.
Pregnancy can be a lonely and isolating experience, Cain said. But "when I couldn't talk to anyone around me, I could always call her."
Pascal Sabino is a Report for America corps member covering Austin, North Lawndale and Garfield Park for Block Club Chicago.
Subscribe to Block Club Chicago. Every dime we make funds reporting from Chicago's neighborhoods.
Already subscribe? Click here to support Block Club with a tax-deductible donation.