CHICAGO — As carjackings and stolen cars continue to be reported at a record pace in Chicago, citizens are fighting back — this time, with a Facebook group dedicated to recovering stolen cars.
And the group is a major success, helping to recover more than 200 cars in the last two months from Chicago and surrounding areas in the last two months, founder Matthew Nalett said.
The group, called The Chicago Stolen Car Directory, was started by Nalett, a former food delivery driver who started to notice what appeared to be abandoned cars in locations all over the city over the last few months. Nalett, who previously created groups on Facebook to promote musicians and DJs, started the new group to focus on what he thought were abandoned cars, but soon he found out most of the cars were stolen.
"I changed the name from Random, Ditched Cars Chicago to the Chicago Stolen Car Directory once I found out most of these cars were stolen," Nalett said. He added that the group grew slowly at first but gained a lot of momentum when thieves started cloning key fobs that allow a car to be accessed and started.
"When the Dodge Chargers and Challengers started being stolen with the blank key fobs and cloned on computers — that's when the group blew up a lot," Nalett said. He added that any car with a push-button starter is an easy target — these account for most of the stolen cars he learns about.
"Most are all the push-start vehicles because you can override the computer and reprogram a new key fob for the car, which makes the owner's key fob not work anymore. It takes 5 minutes," he said.
Stolen cars and carjackings soared in Chicago over the past year. In 2020, there were 9,959 cars stolen, up from 8,974 the year before. And carjackings, in a separate category from stolen cars, rose by an even greater percentage, with 1,415 in 2020, up from 603 in 2019.
So far this year, the crimes are continuing to increase. In January 2021, there were 851 motor vehicle thefts, up from 736 in January of 2020. For carjackings, the increase from the year before almost tripled, with 218 taking place in January 2021, up from 77 that took place in January 2020.
In response, some residents are seeking ways to help stop these crimes and acknowledge Chicago police may have its hands full. Some have started taking classes to get conceal-carry gun permits, something law enforcement experts and even gun safety advocates say won't help in most carjacking situations. And more have joined Nalett's Facebook group, which now numbers more than 14,400.
There have been similar groups of citizens banding together to stop crimes in the past, most notably the Chicago Stolen Bike Registry that began in 2014, but this is the first time citizens have come together to address car crimes.
In response to the increase in membership in the Chicago Stolen Car Directory, the Chicago police issued a statement urging residents to leave police work to the professionals.
"As with all crimes, the Chicago Police Department encourages anyone with information on a crime to report it by calling 311 for non-emergency services or by submitting a tip anonymously at CPDTip.com. We ask individuals to be mindful of their personal safety and to not take matters into their own hands," Chicago Police spokesperson Maggie Huynh said.
But Nalett said his group is assisting police, not trying to do their jobs for them.
"We work closely with law enforcement. They know who we are, they know what we do," he said. "We aren't trying to pull cars over, that's their job. We're finding vehicles that have been abandoned or ditched in alleys and places like that. We're a benefit because we're everywhere and also because people feel more comfortable giving us the data rather than calling 911 or 311 because we're totally anonymous."
He added that the group stresses safety and provides tips on trustworthy service providers.
"We post a lot of tips and tutorials on what you can do to prevent carjackings and also have a lot of people who are affiliated with our group who provide different services like towing, GPS setups, alarms, and repair shops," Nalett said.
Nalett said members of the Chicago Stolen Car Directory input the information on a stolen car — make, model, year, color, license plate and VIN number — and that data is shared with the 200 members working in law enforcement that are active in a section of the group for law enforcement only, which is vetted and verified by him.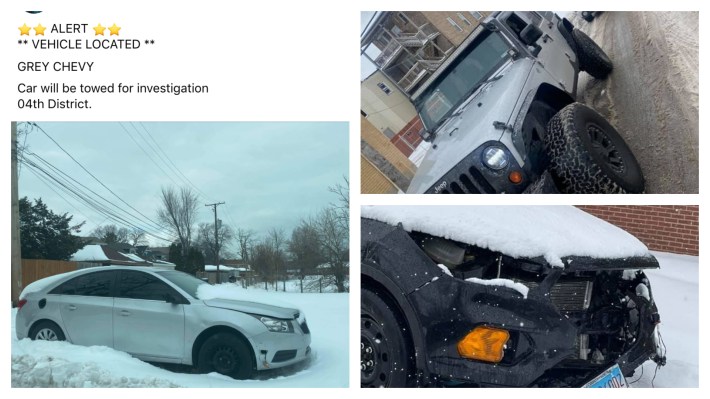 Members also jot down the information from cars that they find parked in different areas and appear to be abandoned and pass on to law enforcement to check on whether they are stolen or not, Nalett said.
"State police, sheriffs departments, IDOT, tow truck drivers, repo drivers, impound drivers, all feed us data and that's how we are able to bridge everything together," Nalett said.
"So, say you work in the 10th District as a police officer, you only know what's going on in your district. But with the chat group that we have set up that normal people in the group can't access, we have over 200 officers in there from all different districts…We're helping everybody. We're finding cars that are in the group and cars owned by people who never heard of the group," he said. He added that since starting the group about three months ago, they have found more than 200 stolen cars.
Nalett, who left his delivery job and is surviving on voluntary donations from group members so that he can focus full-time on tracking down stolen cars, said he's he's developed a sixth-sense when it comes to finding stolen cars.
"I notice some of the temporary tags that are put on cars, license plates with expired tags," Nalett said. "Now that it's winter, sometimes there's a lot of snow on a car that hasn't moved for a while. In summertime, if you see a car that's really dirty."
He also said his radar goes off when sees cars that he doesn't think seem to fit the area. He stressed that the crimes are not specific to any certain neighborhood.
"It's all over the place. There's no discrimination in what neighborhoods they are stolen in, and there's no discrimination for where they end up," Nalett said.
Once a car is verified as stolen, a picture is posted to the group, but sometimes law enforcement asks the group to wait a bit, Nalett said.
"Some can't be posted that are recovered by us because they are under investigation," Nalett said. "If they [law enforcement] are trying to catch the thief when he goes back to the vehicle. They already know where the car is at and they may be watching it and monitoring it for a time before they allow the car to be taken back to the owner."
While it's unknown if the group, the media attention, or extra effort by Chicago police will have any effect on car crimes, Nalett said he stopped trying to make sense out of it a while ago.
But when it comes to finding cars, he's "in it to win it."
Subscribe to Block Club Chicago. Every dime we make funds reporting from Chicago's neighborhoods.
Already subscribe? Click here to support Block Club with a tax-deductible donation.