CHICAGO — An effort to prevent the loss of affordable housing in two gentrifying areas received key committee approval Tuesday.
Two ordinances introduced by Mayor Lori Lightfoot and supported by two of her most frequent critics would make it harder for property owners to convert two- to six-flat apartment buildings in parts of Pilsen and along The 606 trail into single-family homes. 
Those buildings supply the city with so-called naturally-occurring affordable housing, city officials argue, and forcing landlords to gain city approval before turning them into single-family homes is one tool in the city's fight to preserve affordable units across the city.
The ordinances were introduced by Lightfoot in December and received approval from the Committee on Zoning Tuesday.
Daniel Kay Hertz, director of policy for the Department of Housing, said two- to four-unit apartment buildings make up 35 percent of Chicago's housing stock. But those buildings are often converted to single-family homes in gentrifying areas so developers or small landlords can cash in on the area's rise in property values, he said.
The units can be rented at affordable rates, but are not legally restricted in what they can charge and aren't subsidized, making them naturally affordable, Hertz said. Chicago lost 20,000 such buildings from 2010-2016.
From 2013-2018, there were 25 such deconversions in the Pilsen area and another 59 along The 606 trail west of Western Avenue, according to a Depaul University study commissioned by the city.
"We see these ordinances as trying to stem a growing trend of this loss of two- to four-flat buildings," Hertz said. "We want to get this in place before this becomes even more widely held in these areas."
Hertz said the loss of density affects not just affordable housing, but also local school enrollment and foot traffic to local businesses.
Ald. Byron Sigcho Lopez (25th), who represents Pilsen and recently killed a Lightfoot plan to create a large landmark district in the area, approved the anti-deconversion ordinance, saying it's not a "silver bullet" but a step in the right direction.
"This opens the opportunity to have more dialogue, more collaboration and develop policies that can help us" prevent displacement, he said.
The Pilsen district covers an area bounded by Peoria Street, 16th Avenue, Wood Street and Cermak Road, and would block single-family-home deconversions in zoning districts where more than 50 percent of a block is larger than a two-flat.
Existing single-family homes and two-flats would be able to remain.
The measure passed 11-3, with Ald. Raymond Lopez (15th), Ald. James Cappleman (46th), and Ald. Brian Hopkins (2nd) voted no on the measure. The aldermen were concerned the ordinance was legally dubious, and would amount to a "taking" of people's property by lowering the value of their building.
"At the end of the day, this starts to dictate to other neighborhoods that people aren't in control of the properties they own … to make a single-family home if they are so inclined to do so. I think that sets a very dangerous precedent," Lopez said. 
Lisa Misher of the city's Law Department said she was "very confident" the ordinances would stand up to any constitutional challenges, saying the law does not guarantee someone the highest resale value of their property.
City Zoning Administrator Patrick Murphey reiterated that the ordinance does not ban single-family homes in the districts, but requires property owners to first acquire a zoning change, allowing the local alderman and city officials greater influence on the process.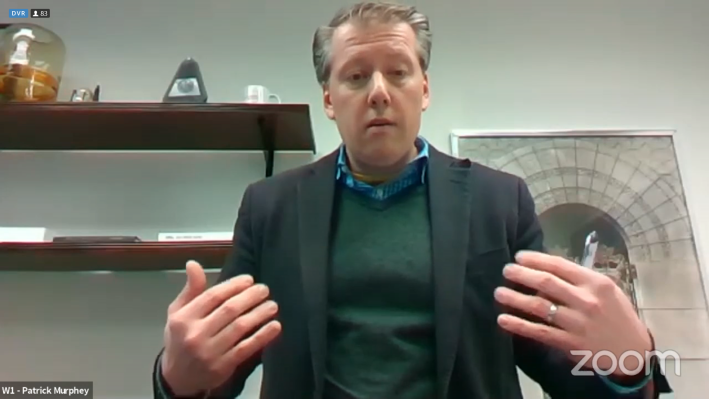 606 Ordinance
The ordinance covering sections along The 606 spans four wards in an area bound by Western Avenue, Kostner Avenue, North Avenue and Armitage Avenue.
It was advanced in a voice vote without opposition. It outlaws single-family homes without a zoning change on blocks where more than 50 percent of the lots have "lawfully established multiple-unit buildings."
Murphey presented two examples from the area.
On the east side of the 1700 block of North Talman Avenue, where there are 10 multi-unit buildings and 13 single-family homes, Murphey said single family homes would still be permitted.
On the north side of the 3500 block of West McClean Avenue, where there are eight multi-unit buildings and only six single-family homes, Murphey said single-family homes would be blocked.
Ald. Carlos Ramirez Rosa (35th) said on Twitter the ordinance is "one component of our strategy to preserve neighborhood character and affordability."
Both ordinances will be voted on Wednesday at City Council.
Subscribe to Block Club Chicago. Every dime we make funds reporting from Chicago's neighborhoods.
Already subscribe? Click here to support Block Club with a tax-deductible donation.