Editors note: This story includes details of alleged sexual abuse.
AUBURN GRESHAM — Weeks after Rev. Michael Pfleger was accused of sexually abusing someone nearly five decades ago, another person has come forward with the same claim.
On Monday, a lawyer for the accusers said the two are brothers who never shared the story of abuse with one another until this month.
The brothers, now 61 and 63, filed separate complaints with the Archdiocese of Chicago this month claiming Pfleger groomed and sexually abused them for years, starting when they were around 12 and 13 years old. The younger brother filed his report Jan. 4 and the older brother submitted his Jan. 22.
In announcing the first complaint earlier this month, Cardinal Blase Cupich shared no details other than to say the alleged abuse took place more than 40 years ago, which would coincide with Pfleger's earliest days as a priest.
Pfleger was ordained in 1975 and became pastor of St. Sabina Church in Auburn Gresham six years later. The brothers, who grew up on the West Side, allege the abuse started when Pfleger was a seminarian at Precious Blood Church in Lawndale and continued into his time as deacon at Our Lady of Perpetual Help Church in the north suburbs and at St. Sabina.
Neither realized the other allegedly had been abused until the younger brother decided to come forward and told his family about the incidents for the first time, they said Monday.
"My brother and I took different paths, but neither of us escaped unscathed from the abuse," the older brother said in a statement through their attorney, Eugene Hollander. "To those in our community who want to support Mike, I would say, we are part of your community, too. Our truth may be hard to accept but it is the truth." 
"Both of these clients went through hell," their attorney said.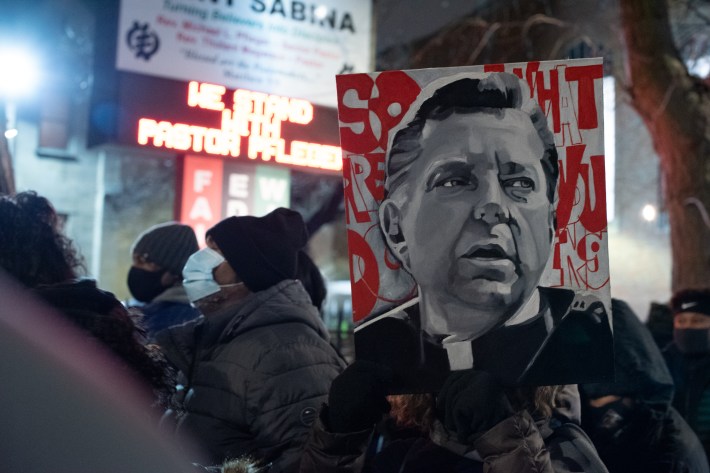 The news shocked St. Sabina parishioners, who staged demonstrations for weeks in support of him. Pfleger has stepped aside from his ministry and is living away from the parish while the archdiocese investigates.
Pfleger has briefly addressed the allegations twice in Facebook posts, though he has not directly denied the claims. He said he was "devastated, hurt and yes, angry," in one post, then said he was "trying to balance the rage and hurt when your life has suddenly been highjacked from you" in another.
After the second brother came forward over the weekend, Pfleger's attorneys called the allegations a "shakedown."
"Father Pfleger has never abused them or anybody else," James R. Figliulo and Michael D. Monico said in a statement. "These allegations are false and are simply being made for money."
For the first time, the brothers shared details of their alleged abuse in an interview with the Tribune. Hollander also detailed their claims in letters to the archdiocese. They live in Texas and their identities are not being made public.
The younger brother alleges the abuse started when he was 13 and Pfleger was the choir director at Precious Blood. Repeatedly, the younger brother claims, Pfleger sexually abused him while on rides home from the church. That molestation allegedly escalated over the years and occurred at the rectories of Precious Blood and Our Lady of Perpetual Help, where the younger brother would take the train to attend. The abuse also continued after the younger brother graduated from Roberto Clemente High School and Pfleger took over ministry at St. Sabina, according to the letter.
The younger brother suffered from substance use disorder for many years but has been sober for 12 years, Hollander said. He works for a non-profit organization providing services to people experiencing homelessness in Texas.
The older brother had been part of the choir at Precious Blood and said Pfleger began abusing him when he was 13, according to the letter.
He told Hollander he slept overnight at the Precious Blood rectory, sharing a bed with Pfleger in his room. During these sleepovers, the older brother said Pfleger sexually abused him more than 20 times.
The same types of attacks occurred for years during overnight visits with Pfleger at University of Saint Mary of the Lake Seminary, Our Lady of Perpetual Help and St. Sabina, the older brother said.
Both brothers said Pfleger routinely gave them money. In the case of the older brother, he alleges Pfleger paid for some of his high school tuition at a school Downtown and gave him spending and transportation money. The older brother also said he remembers Pfleger allowing him to drive his personal cars, as well as cars assigned to the church.
The older brother served in the United States Air Force on active duty and as a reservist from 1979 to 2013, Hollander said, and spent several years working as a police officer.
Both brothers also allege other priests and church staff members frequently saw the boys at the various locations and knew they were staying in the rectories overnight but no one intervened. One of those people, they allege, was Cardinal Wilton Gregory, who was in seminary with Pfleger and also was a deacon at Our Lady of Perpetual Help at the same time.
In a statement, Gregory said he had no memory of the incidents or of the brothers.
'It Triggered Something In Me'
The younger brother had never told his wife or family about the sexual abuse, Hollander said, until he saw an interview with Gregory in November about how the Catholic Church mishandled claims of sexual abuse by priests.
"It triggered something in me," the younger brother said in a statement. "I said out loud, 'Does that include Mike Pfleger? Will you go after him because you saw me as a young kid staying overnight at the rectory with Mike and you never asked any questions.'"
"This has caused so much pain and suffering in my life. I knew then I had to finally tell my truth. I had never told anyone, not even my wife or family members."
The younger brother hired Hollander to represent him. It was only then, they say, the older brother also revealed his abuse and decided to file a report.
"I always hoped that I was the only victim. That perhaps Mike was mixed up at the time but got his act together and did not hurt anyone else. Now I have confirmation that was not the case, and that's why I am speaking out," the older brother said. "We were poor Black kids, small for our age growing up in a very violent neighborhood. There was no father in our house and our mother was struggling to work and raise five kids on her own. Mike targeted us because he knew we were vulnerable."
In response to the allegations, Pfleger's lawyers said one of the brothers sent the priest a note demanding $20,000.
"It is so very disheartening to witness such false attacks on Father Pfleger, which are motivated by greed," the attorneys said.
The younger brother acknowledged having sent the letter, but claimed he did so thinking if the priest paid the money, it would be proof of his guilt when he went public with the accusations.
"This is not about money. If it was, I would have come forward 20 years ago when I was addicted to drugs, homeless and stealing to support my habit," the younger brother said. "Mike has done some good things but he has a very dark side. What I want is for him to take responsibility for what he has done and be accountable."
Subscribe to Block Club Chicago. Every dime we make funds reporting from Chicago's neighborhoods.
Already subscribe? Click here to support Block Club with a tax-deductible donation.