AUBURN GRESHAM — Neighbors share many of the same stories about St. Sabina Church.
Generations of their families have worshipped there or were educated at the school. When violence has struck their communities, they've marched in the streets to demand justice and peace. When fellow neighbors have been in need, parishioners rallied to provide them clothing, meals and other support.
Through it all, Father Michael Pfleger has been their leader.
"I've marched with him, talked with him one-on-one. He put me in a lot of programs to get jobs," said Jajuan Yancy, 26, who has lived up the road from St. Sabina his entire life. "He knows me like the back of his hand. Everybody around here loves him."
Parishioners, neighbors and community advocates were in collective shock this week when Cardinal Blase Cupich announced he'd asked Pfleger to step aside while the Archdiocese of Chicago investigates an allegation of child sex abuse against him dating back more than 40 years.
Cupich provided no specifics about the allegation, but the timeline would date back to Pfleger's earliest years as a priest. He was ordained in 1975 and became pastor of St. Sabina in 1981.
It is not known how long Pfleger will be sidelined or what that will mean for his activism work. He will live away from the parish and Father Thulani Magwaza will step in as temporary administrator, Cupich said.
But Pfleger has been inextricably linked to St. Sabina and to the predominately Black South Side communities he preaches to and organizes alongside. In the aftermath of the explosive announcement, many of those people pledged to support him as the investigation plays out.
"I've been here for 51 years, and he has not changed from the time that I can remember till now," said Priscilla Piper, a lifelong resident who lives a block from the church. She attended summer skate parties and camp there.
Piper said she wants more evidence to be produced to bolster the allegation against Pfleger.
"I can't judge that, and I'm not judging him now," Piper said. "But what I am going to say is that I do stand behind him, the man. The community. The priest, the teacher, the mentor. All of the above. That's what he is."
Pfleger has been uncharacteristically mum in recent days, making one statement on Facebook. He did not explicitly deny the allegation and said the diocese has asked him not to speak out on the issue.
"I am devastated, hurt and yes angry, but I am first, a person of Faith, I Trust God. Please keep me in prayer and the Faith Community of St. Sabina," he wrote. "Pray also for the person, my life is more than a 40 year old accusation, and on that and my Faith I will stand…The Lord is my Shepherd….. I love you…."
RELATED: 'Devastated' Pfleger, Removed Over Child Sex Abuse Allegation, Says He's Angry, Hurt — But Can't Speak Out More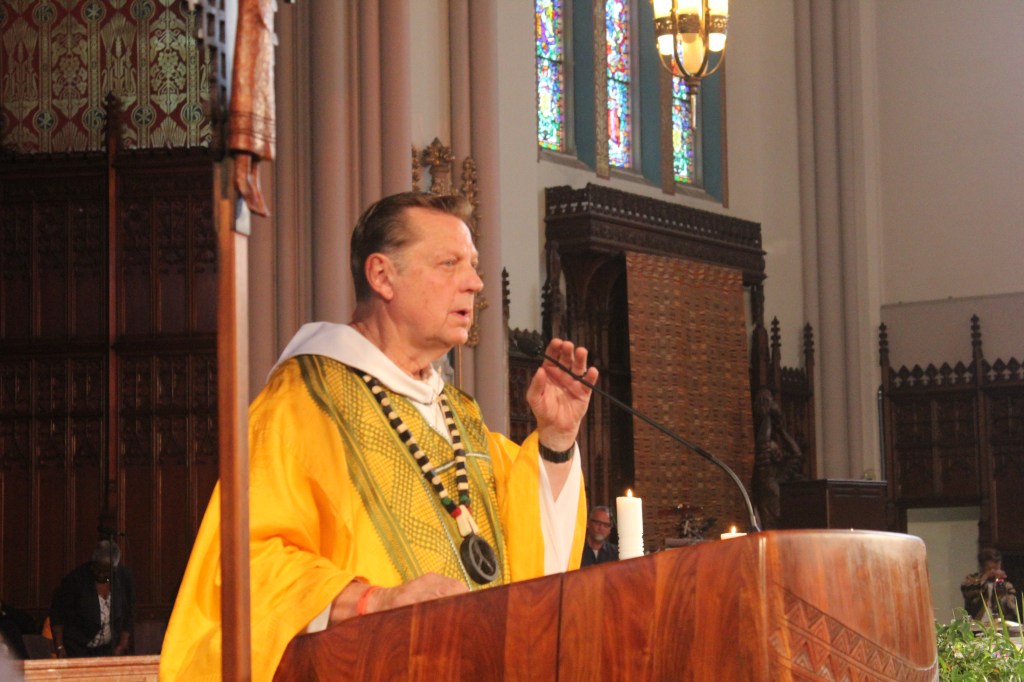 'This Is Way Out Of The Blue'
Though it is typical for the archdiocese to rotate priests among parishes, Pfleger has never left St. Sabina since taking the helm — to the chagrin of church leaders who have repeatedly tried to force his move. The ardent community support he enjoys has been critical to keeping Pfleger at 78th and Racine in the face of diocesan opposition.
Many neighbors and supporters said they doubted the abuse claims, citing Pfleger's longevity and prominent presence for decades.
"I just don't see it. Don't get me wrong; anything is possible. … I just don't see it, I really don't," said Charles Whittaker, who lives several blocks from the church and has been in the area for more than 40 years. Two of his grandchildren attended St. Sabina Academy.
"The people down here respect him highly, and he's done so much down there — back-to-school program, live bands every year. I haven't heard nothing like [the allegations] in all the years I've been around," Whittaker said. "This is way out of the blue."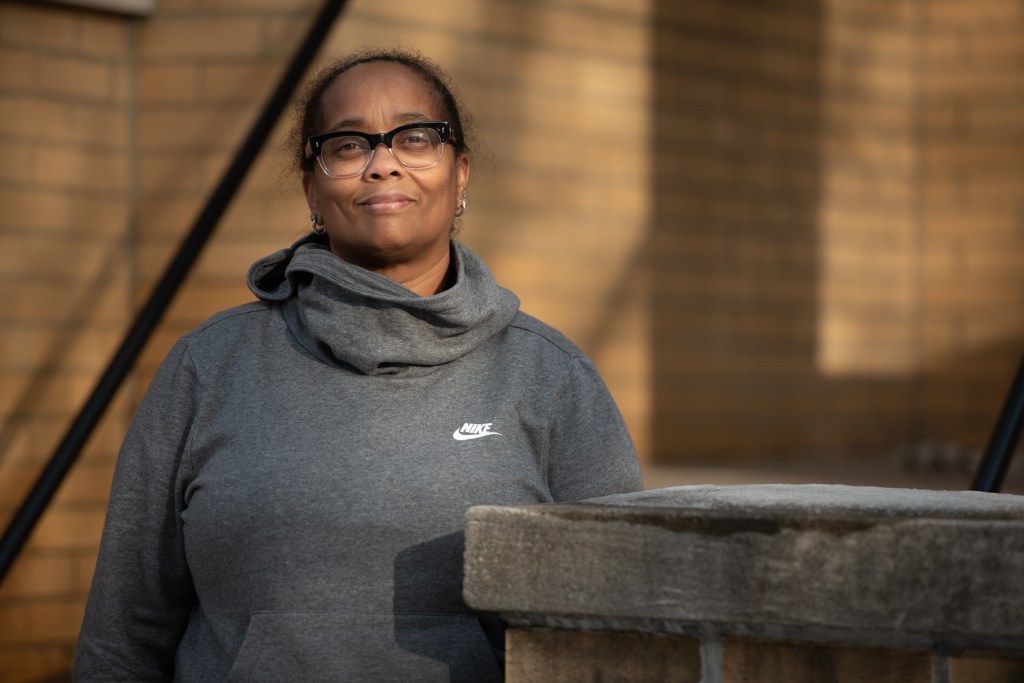 It is not uncommon for survivors not to formally report abuse by a priest until decades later. Since The Boston Globe uncovered rampant sex abuse in the area in their 2002 investigation, journalists, advocates and church leaders have documented numerous confirmed instances of priests abusing of children dating back several decades across the country. That, in turn, has prompted other victims to go public and file reports.
"The average age of an abuse survivor coming forward in the U.S, is 52, so if anything, these allegations fall within the expected time frame for reporting," leaders of the Survivors Network of those Abused by Priests said in a statement about Pfleger.
"This delay is normal and understandable given the fact that the accused is a powerful and well-respected member of the community. We hope that local police, prosecutors and the Attorney General's Office will investigate these allegations fully and release their findings to the public."
Cupich said in a statement the archdiocese has conveyed the allegation against Pfleger to the Cook County State's Attorney's Office and the Illinois Department of Children and Family Services. Church leaders have offered counseling services to the alleged victim, he said.
Even as people defended Pfleger, they said they supported allowing the review process to take its course. Members of the St. Sabina cabinet issued a statement Tuesday in support of Pfleger and pledging to "fully cooperate" in the investigation.
"There is no disputing what Pfleger's legacy is or what he's done for the community," said Darryl Dennard, a broadcaster with V103. "But as a journalist, I'm a truth seeker, and we have to allow for the facts to come to light. The truth will let us know if he's been wrongfully accused or rightfully vindicated."
Ald. Howard Brookins (21st) said people affected by the allegation deserve to have a say.
"I've known Father Pfleger for a long time, and I know him to be a man of integrity," Brookins said. "I hope the allegations aren't true, but we have to let the process play out."
Denyse Misher-Peoples, an Auburn Gresham native who was in the area Wednesday morning, said Pfleger is "very important" in the community but "everyone deserves an investigation."
"… I feel bad for him, but of course everyone needs to know what really happened," Misher-Peoples said.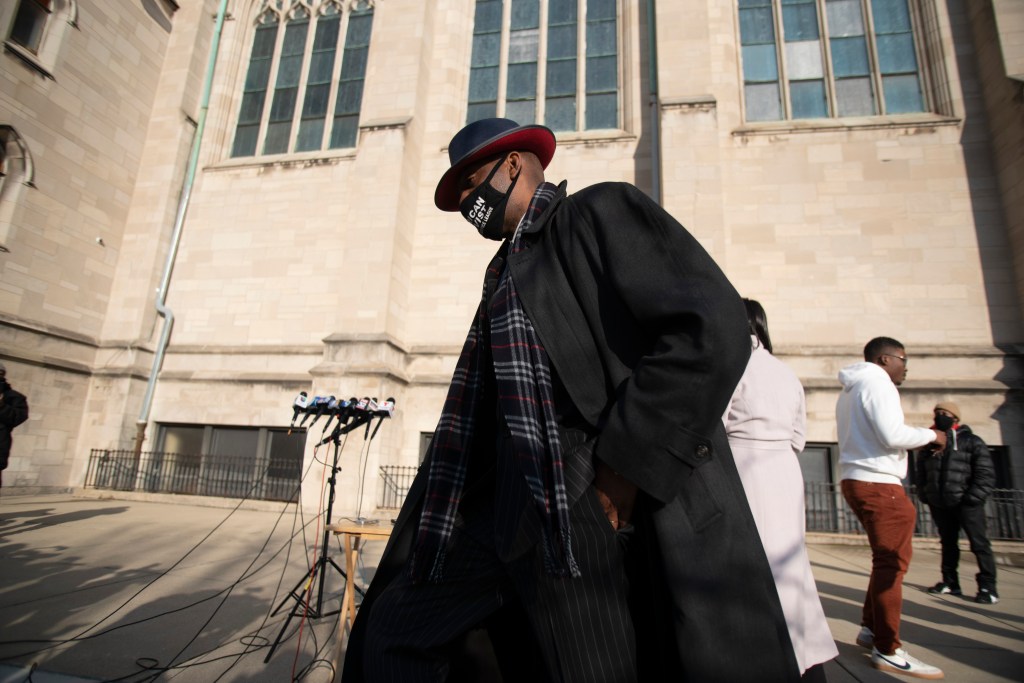 'I'd Hate To See The Man Go'
Still, several in the St. Sabina community said it pained them to imagine the area without Pfleger's presence and influence.
Piper recalled a shooting in the middle of her block. She expressed her concerns to Pfleger and he rallied a roll call with the police and the community to address the violence.
"He's one-on-one; he's not that type of person where he's untouchable. He doesn't just stand for the community; he stands for America. He stands for what's right. He was just rallying last week," she said, referring to an anti-violence march down the Magnificent Mile to protest the sharp increase in homicides in 2020.
"I just want justice for him. I just want justification," she said. "Justification will let us know whether it's right or wrong … . I'm not gonna judge him for that, because that's not that's not my job; that's up to God."
Yancy's mother pointed him in the direction of Pfleger years ago. He has been involved with programs hosted by the reverend since.
"He helped me out a lot, personally," Yancy said. He "treated me regularly, welcomed me in with open arms. He don't look at people's past.
"It's gonna hurt the community real bad. He did so much stuff for us; it's crazy. I'd hate to see the man go."
Subscribe to Block Club Chicago. Every dime we make funds reporting from Chicago's neighborhoods.
Already subscribe? Click here to support Block Club with a tax-deductible donation.