GOOSE ISLAND — A proposal from local music venue owners and a prolific commercial developer to transform the city's iconic Morton Salt building into a concert hall and office building cleared a major hurdle Thursday.
In a unanimous vote, members of the city's Plan Commission approved the creation of a waterway planned development agreement for 1357 Property Owner, LLC. City leaders were required to approve this plan because the 4.2 acre project is within 100 feet of the Chicago River. 
Ald. Walter Burnett (27th), whose ward contains the site, said he appreciated the number of jobs represented by the proposal, from daytime office jobs to evening and weekend jobs for artists and those who work in the entertainment industry.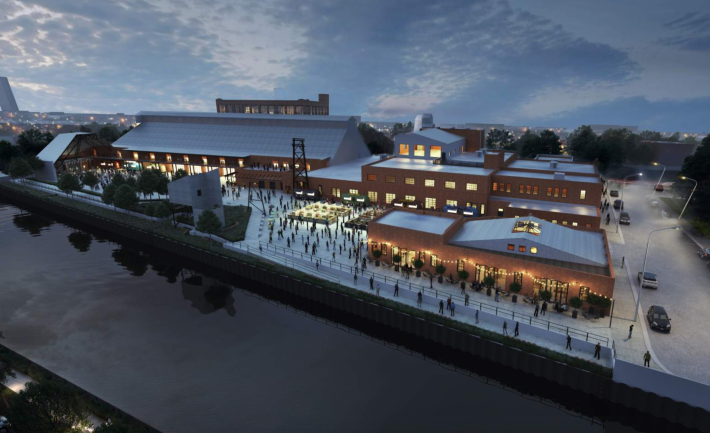 The developers could have pitched a residential high rise in this location and made "goo-gobs of money," Burnett said. However, they decided to keep part of the longtime structure intact and "bring some culture to our city" at a time when artists are suffering due to the pandemic. 
"We don't know what's gonna happen with the pandemic," he said. "We recognize how beneficial tourism is for the city of Chicago and our economy. I know something like this would bring a lot of folks to the community  … help enhance the restaurants … help folks make money at hotels, help folks make money at rideshare programs. … This is a great opportunity." 
Co-developed by Blue Star Properties — the development arm of music venue group 16 on Center — and R2, a Chicago-based commercial developer — the $30 million project would create 200 construction jobs and about 50 permanent jobs and will generate $4.5 million in annual tax revenues, according to plans submitted to the city.
Before voting to approve the project, Commissioner Fran Grossman said she'd like to know the breakdown between full- and part-time jobs. Commissioners Ald. Tom Tunney (44th) and Linda Searl inquired about plans for parking, since the project currently includes only 17 spots.
Craig Golden, of Blue Star, said he couldn't answer the jobs question until future tenants are nailed down, however he did say around 20-30 people will be working in an office space Blue Star is building specifically for the Morton Salt company.
On a given concert night, he added, around 120 music hall employees could be working.
Noah Szafraniec, a planning examiner with the Department of Planning and Development, said the project will not receive licensing until the developers can work out an expanded parking plan.
"They cannot go and have a concert here unless they have a site … that has been approved for parking," he said.
Burnett said there are nearby options for additional parking, but called Elston Avenue a
"ghost town" on weekends, which would offer plenty of street parking. He also expected concert-goers to use rideshare companies to access the site.
He described economic benefits this project could bring to the neighborhood. When Union Park began showing concerts, he said, people began flocking to West Loop to live and eat.
16 on Center owns Empty Bottle, Thalia Hall, Beauty Bar and several other Chicago venues. R2's portfolio includes several recent developments along the riverfront, including Goose Island's 1315 North Branch and the sprawling REI flagship building, 905 W. Eastman St.
Reached by email before Thursday's meeting, both developers declined to comment on the proposal. View their proposal here. Developers signed a letter of intent to landmark the site in the future, as they're keeping the Morton Salt building's brick facade and sign that faces the Kennedy Expy., city leaders said Thursday.
Before Thursday's meeting, the Morton Salt project received approval from several local groups, including Halsted Triangle Neighbors Association, The Wild Mile, Friends of the River, Friends of Goose Island and North Branch Works.
Jonathan Snyder, executive director of North Branch Works, said the project offers an effective re-use for a building and will create needed jobs. Morton Salt operations vacated the building in recent years, but the company may sign an office lease once construction is complete, Snyder said.
The concert hall and offices would maintain the history of the company by keeping the iconic sign and other features, such as original brick.
The project signifies a prosperous future the North Branch area in terms of converting vacant riverfront manufacturing sites into job hubs, Snyder said. However, he said he'd like to see the North Branch maintain as many manufacturing jobs as possible.
"You have an active working area that is building Chicago," he said. "This is an exciting time in a way that people may not realize just seeing some of the larger buildings they either assume are vacant, or are getting ready for their next use."
Developers plan to incorporate various infrastructure improvements into their project, including:
New traffic signal, redesign and pedestrian improvements at the Elston-Magnolia-Blackhawk intersection
Westbound left-turn lane at North and Magnolia avenues
Remove railroad tracks and add sidewalk at west side of Magnolia Avenue
New Divvy station
Signal improvements at Division and Elston streets
Improvements for 500 feet of riverwalk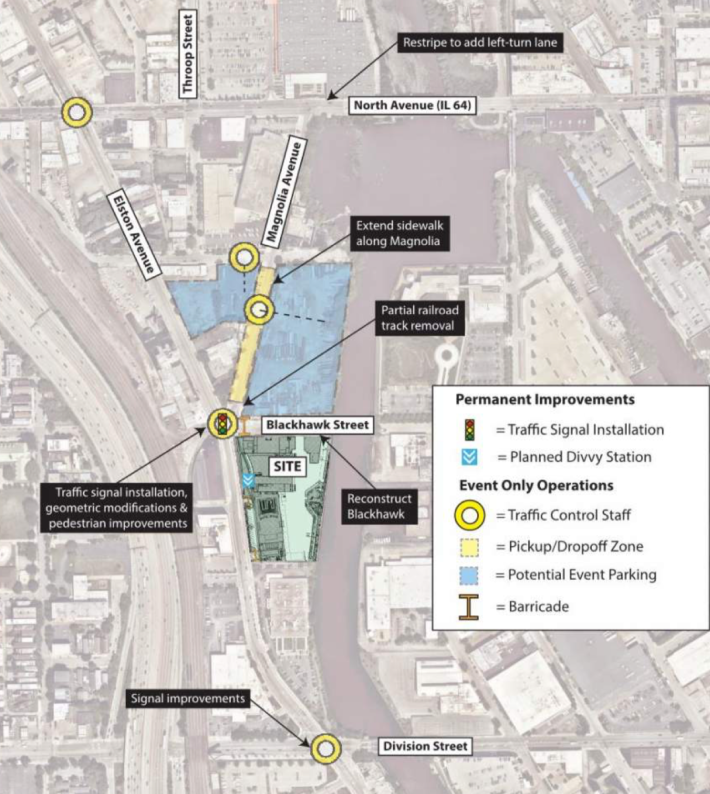 Snyder said he'd also like to see the CTA and Chicago Department of Transportation consider re-instituting the Elston and Clybourn bus lines. Doing so would help Chicagoans from across the city more easily access the North Branch, from Goose Island to the future Lincoln Yards.
"Without quality public transit options, I think it would be a disservice to many communities who have people who are looking for job opportunities," he said. "I see that as an equity issue."
The Plan Commission also approved plans for 43 Green, a 99-unit mixed-use affordable housing project in Bronzeville at 43rd Street and Calumet Avenue, a trail renovation near the Chicago History Museum in Lincoln Park and a micro hotel in Fulton Market.
RELATED: First Phase Of $100 Million Bronzeville Project Will Bring Affordable Housing Next To Green Line
An evolving riverfront
The proposed redevelopment of the Morton Salt building is the latest project to re-envision the North Branch of the Chicago River through Bucktown.
On the neighborhood's north end, Drive Shack will replace Vienna Beef Factory, 2501 N. Damen Ave. The $40 million waterfront driving range will include a bar and restaurant as well as a publicly accessible riverwalk.
RELATED: Plan For Riverfront Driving Range In Former Vienna Beef Lot Approved By Key City Committee
Just southeast of Drive Shack lies Lincoln Yards, a 55-acre mixed-use mega-development from developer Sterling Bay. In 2019 City Council approved $1.3 billion in subsidies for Lincoln Yards. Public funds will be reimbursed to Sterling Bay only after the projects are complete.
Spanning both sides of the Chicago River in Lincoln Park and Bucktown, the project's footprint lies south Webster Street and north of North Avenue. (The Morton Salt project lies just south of Lincoln Yards.)
RELATED: Lincoln Yards Developer To Focus On New Bridge, Life Science Building In 2021 — But A School Will Likely Take Years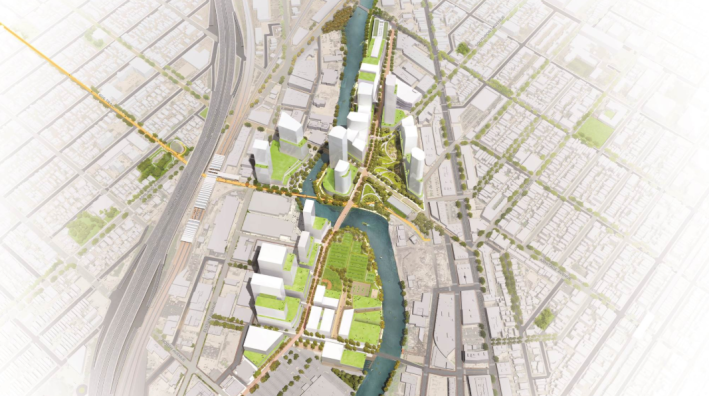 Closer in direct proximity to the Morton Salt project is the Wild Mile: a mile-long floating eco-park that will brighten up the industrial North Branch Canal.
Led by local conservation groups, the project will mostly transform the east side of the river — across from Goose Island — but plans include nature elements in Bucktown at the corner of North and Magnolia Avenues.
RELATED: 'Wild Mile' On Track To Bring Wildlife, Kayaking, Waterfall And More To Chicago River's North Branch, Planners Say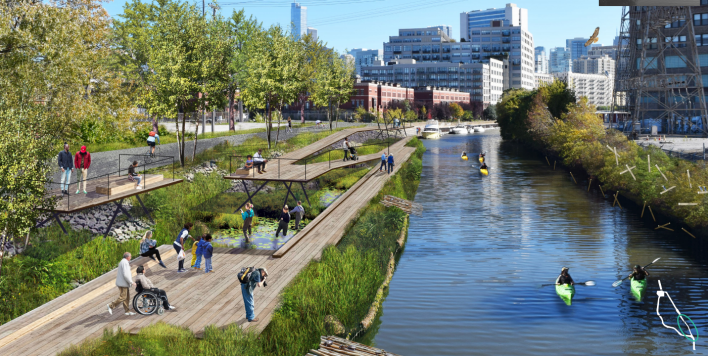 Subscribe to Block Club Chicago. Every dime we make funds reporting from Chicago's neighborhoods.
Already subscribe? Click here to support Block Club with a tax-deductible donation.