SOUTH CHICAGO — A development at 92nd Street and Burley Avenue, in the works for more than a decade, is set to bring dozens of affordable housing units and more retail to South Chicago by 2023.
The S.A.C.R.E.D project will redevelop the mostly vacant properties at 3211–3229 E. 92nd St.. In the planning stages since 2010, the $30 million project is being spearheaded by nonprofit Claretian Associates in partnership with Interfaith Housing Development Corporation. Chicago-based firm Landon Bone Baker is the architect behind the project.
The five-story, 100,000-square-foot building will feature 78 affordable residential units with a mix of unit types. Twelve studio apartments, eight one-bedrooms, 21 two-bedrooms, 28 three-bedrooms and nine four-bedrooms are planned for the property.
About 50 parking spaces, bike parking, a community room and a backyard area with gardens and playground equipment are all planned. Social services will be offered through Claretian to all tenants.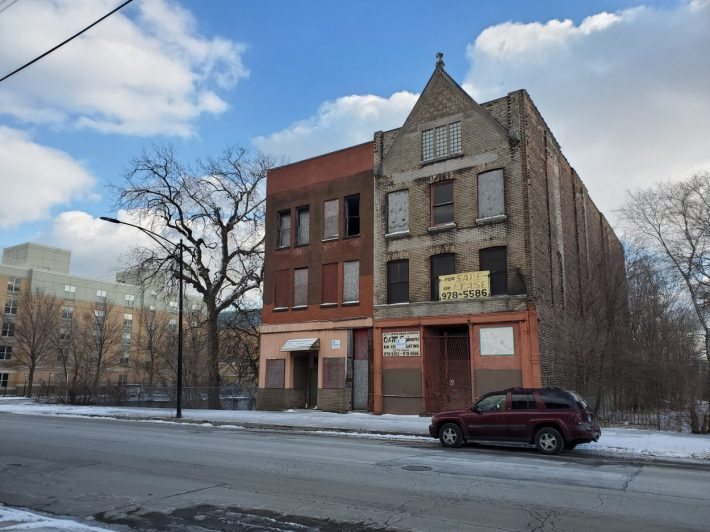 The first-floor retail space is intended to attract a neighborhood grocer. The space could also host several smaller retail tenants but residents at early community meetings have said a grocery store should be the priority.
With the development of the Victory Center of South Chicago senior home and Casa Kirk apartments in recent decades, hundreds of people have moved near 92nd and Burley, Claretian executive director Angela Hurlock said at a Thursday community meeting.
Dozens more families will move onto the block upon the S.A.C.R.E.D. development's completion, continuing the surge in demand for fresh food.
"We have some small grocers [nearby] — this by no means is meant to put anyone out of business," she said. "This is to continue to add to the ability for the community to have access to healthy foods."
The developers are still pursuing the final funding needed to begin construction on the mixed-use structure by mid-2022, Interfaith president Perry Vietti said.
"The majority of money is raised, but there are some gaps still in the financing," Vietti said. "That's why I say we'll need until early next year to get that all together."
Construction will take about 15 months, with the building scheduled to open in 2023.
Residents can fill out a community survey on the S.A.C.R.E.D. project plans here.
A block east, near the 92nd Street cul-de-sac at Buffalo Avenue, vacant lots are to be repurposed into a Calumet River garden.
Residents have said they want the park to be an "intergenerational" space, where kids can experiment outdoors and neighbors of all ages can seek fresh air and solace, according to NeighborSpace assistant director Robin Cline. The nonprofit land trust, whose mission is to create and preserve space for community gardens, is behind five existing spaces in South Chicago.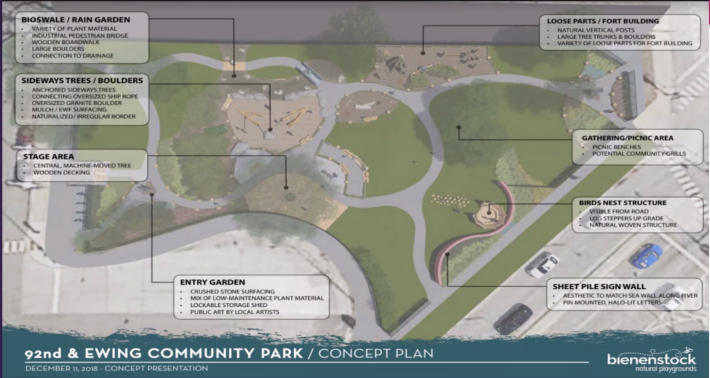 The park's concept plan calls for loose materials allowing children to build forts, sideways trees and rocks for climbing; gathering areas for families, public art and walkways connecting 92nd Street with the Ewing Avenue bridge over the Calumet River.
"The Victory Center has many senior residents that are looking for places to walk and be outside together with other families and younger folks," Cline said. "This particular site was placed in a really ideal way to meet those intergenerational needs."
The city received $500,000 in grant funding to construct the natural area, while NeighborSpace received a $300,000 grant for the design process.
The two projects were part of the neighborhood's submission for last year's $10 million Chicago Prize, which was awarded to a planned health center, urban farm and renewable energy campus in Auburn Gresham.
However, as a Chicago Prize finalist, South Chicago is eligible for a $500,000 matching grant from the Pritzker Traubert Foundation.
Northwest of the project sites, city planners are preparing to develop vacant properties at 89th Street and Commercial Avenue into another mixed-use space, as part of Mayor Lori Lightfoot's Invest South/West initiative. That project is also scheduled for completion by 2023.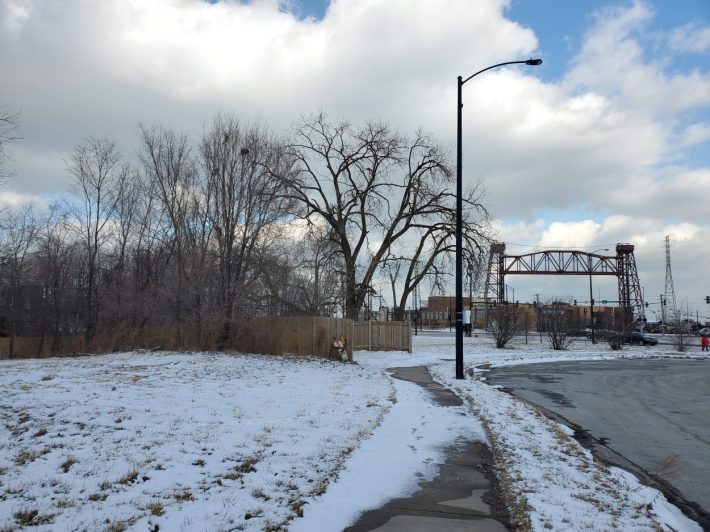 Subscribe to Block Club Chicago. Every dime we make funds reporting from Chicago's neighborhoods.
Already subscribe? Click here to support Block Club with a tax-deductible donation.