SOUTH CHICAGO — City planners plan to bring a mixed-use development with community space to vacant properties at 89th Street and Commercial Avenue by 2023 as part of the city's INVEST South/West initiative.
The site at 8840–54 S. Commercial Ave. hosts one building pending demolition, two vacant properties and two privately owned buildings.
A structure would replace the demolished building and vacant land, and the privately owned buildings would be renovated, city planners said at a Wednesday community meeting.
The city's recommendations for the development include:
About 35 housing units in the new structure and 12 housing units in the renovated buildings.
Three "live-work" units for artists or other entrepreneurs.
About 3,500 square feet of ground-floor retail space and 1,500 square feet for a community center in the new construction.
The KLEO Art Residences at 5504 S. Michigan Ave. in Washington Park — a development of "similar scale" with ground-floor retail and art studios — reflects what planners have in mind for the South Chicago project, said Nicholas Pryor, a designer with architectural consulting firm Gensler.
A request for proposals will be issued Nov. 30, and proposals are due in March. After that, community members will have the chance to review the submissions, which will be tweaked to address community concerns, city planner Erika Sellke said.
Construction and the building's opening to the public are planned for 2022 or 2023.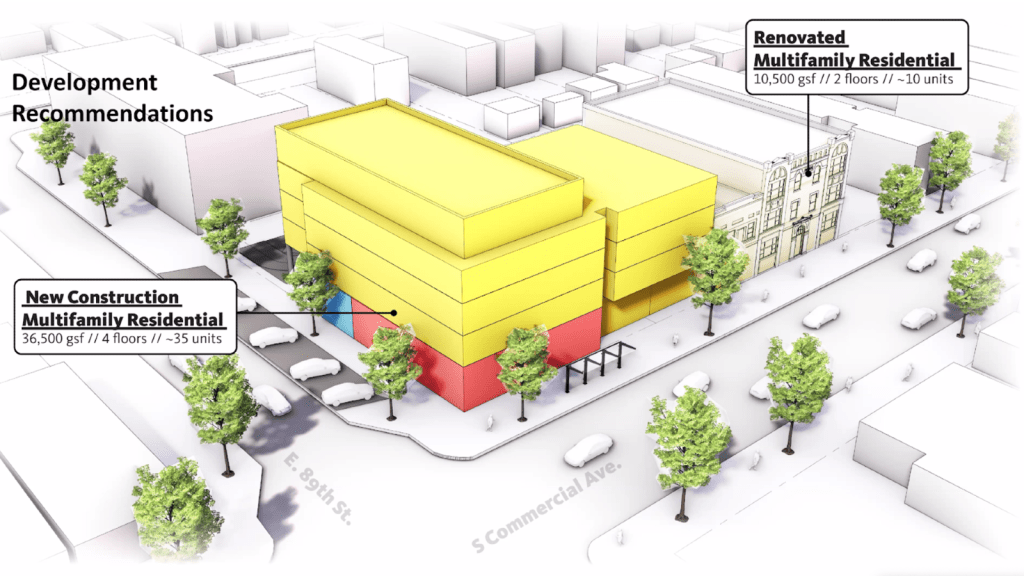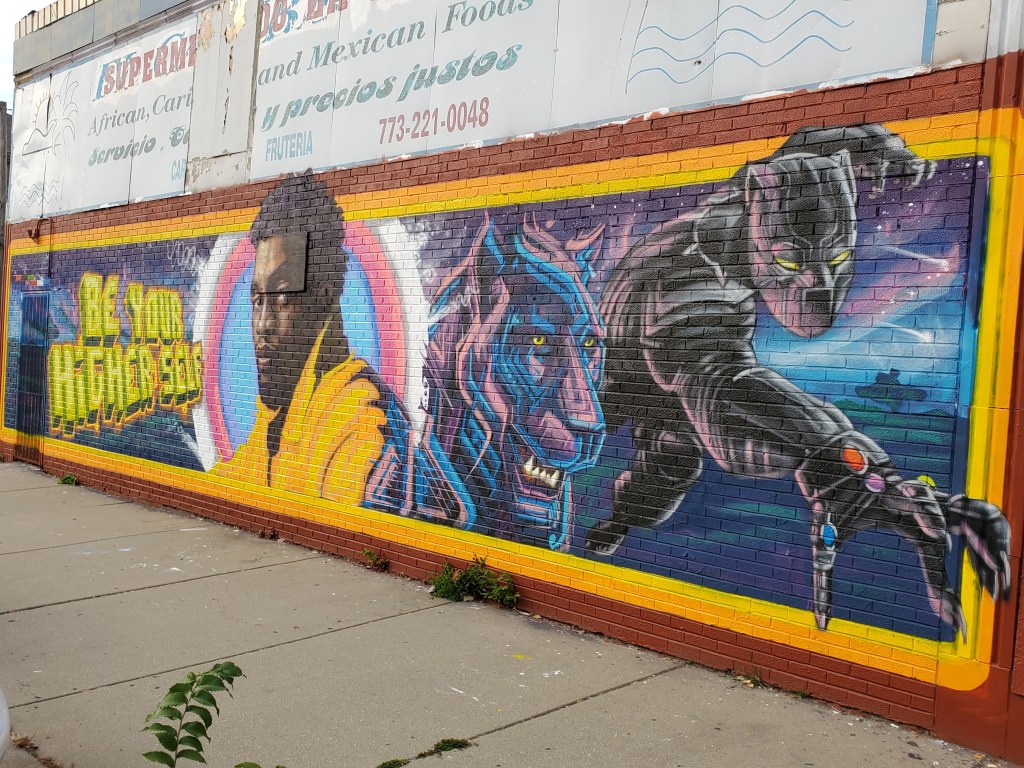 The site was chosen in part because neighbors favored it in a recent survey regarding INVEST South/West projects in South Chicago, said Jasmine Gunn, a planner for the city's Far South Side.
The project would complement "well-established, active businesses," including Cocula Restaurant and the La Fruteria Afro-Caribbean market, Gunn said. This activity makes the site "more attractive to developers" than other proposed sites along Commercial Avenue and 91st Street, which neighbored more vacant properties.
Private property owners along 8840–8854 S. Commercial Ave. are "on board with the process," which wasn't the case for some other proposed sites, Gunn said.
Like other neglected commercial corridors throughout the city, "Commercial Avenue has a lot of absentee owners" who were unresponsive to the city's attempts to gather feedback, she said.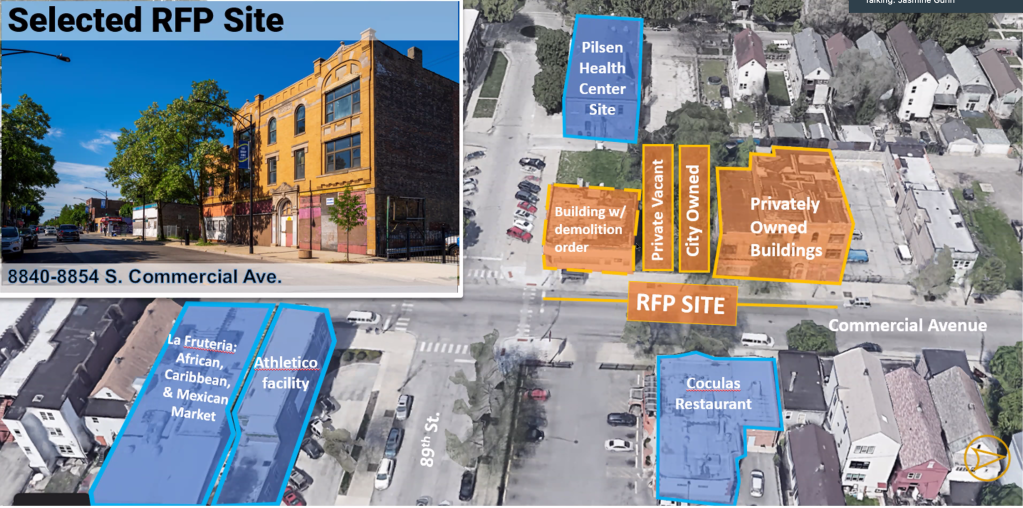 The development must offer community programs, complement the neighborhood's existing aesthetics and encourage further development along the Commercial Avenue corridor, residents said Wednesday evening.
Input at the meeting largely echoed the results of a month-long survey, in which respondents said community programs, pedestrian safety and mixed-income housing along the corridor should be priorities.
Neighbors were concerned about the scope of the community outreach effort and questioned how much the city engaged Spanish speakers in the neighborhood, where one in five residents is Latino.
Sixty-three people responded to the month-long survey, and about 50 people attended Wednesday's virtual meeting.
City officials shared the survey link "widely" and Special Service Area #5 did a "great job" reaching out to existing Commercial Avenue businesses for input, Ald. Susan Sadlowski Garza (10th) said.
In other developments along the Commercial Avenue corridor, the Chicago Department of Transportation is "in the process" of securing $15 million in federal and state funding for streetscape improvements, Sellke said.
Commercial Avenue would be redesigned "to make it more pedestrian-friendly and perhaps bike-friendly," Sellke said. There will be "a full public process" to gauge residents' input on the improvements.
The funding would allow the improvements to be completed without tax-increment financing funds, she said.
The city has received $500,000 in grant funding to construct a Calumet River Garden with a natural play space and stormwater retention area at 92nd Street and Buffalo Avenue, Sellke said. The city is partnering on the project with NeighborSpace, which received a $300,000 grant to start the design process.
The Calumet River Garden was part of South Chicago's submission for this year's $10 million Chicago Prize, which was awarded to Always Growing Auburn Gresham in August.
Subscribe to Block Club Chicago. Every dime we make funds reporting from Chicago's neighborhoods.
Already subscribe? Click here to support Block Club with a tax-deductible donation.