OLD TOWN — Chinese takeout spot and private party venue Lan's Old Town is temporarily closing after facing backlash for hosting a party despite a statewide ban on indoor dining and drinking to prevent the spread of coronavirus.
A video of the party posted on Reddit over the weekend showed a crowd of more than 60 people packed into Lan's, 1507 N. Sedgwick St. with no one wearing face masks, except for co-owner Jimmy Ma, whose mask is around his chin as he pours vodka from the same bottle into guests' mouths.
The video was viewed thousands of times before Reddit removed it from the site Monday. A spokesman for the city's department of Business Affairs and Consumer Protection said it is now investigating the "reckless" incident.
Jimmy Ma confirmed the party seen in the video occurred Saturday night. Neighbors have said Lan's has been the site of many wild parties for years, and Ma said the restaurant has been advertising and hosting private events on the weekends with crowds capped at 35 people.
Such parties are still banned under state regulations.
RELATED: Video Shows Large Maskless Party At Lan's Old Town —And Neighbor Says 'Super Spreader' Parties Are Happening Every Weekend
In a statement Tuesday, co-owner Jeffrey Ma, Jimmy Ma's son, said Lan's hosted the party seen in the video "out of desperation."
"While we recognize that we should not have hosted the party, the decision was made out of desperation. COVID-19 has ravaged restaurants in our community and many are unable to survive," Jeffrey Ma wrote. "It was wrong to resort to these desperate actions."
Jeffrey Ma said they've reached out to city officials in order to reach a resolution. The business, which has operated in Old Town for more than a decade, will temporarily close in the meantime "while we consider our options," Ma wrote.
Outside of the restaurant Monday, Jimmy Ma said two large groups showed up on Saturday, claiming they knew each other and had reservations. He said he felt his hands were tied, so he let in both groups.
"Okay, what can I do? I could kick them out? They're already inside," Ma said of the large crowd in attendance.
Jimmy Ma had not previously seen the video in question, but confirmed he was the one on camera pouring liquor into a patron's mouth. He added that other nearby businesses are ignoring restrictions and hosting private events to keep cash coming in after months of forced closures.
Just last month, 44th Ward Ald. Tom Tunney's Ann Sather restaurant in Lakeview was caught serving customers indoors and violating the state's mitigation rules.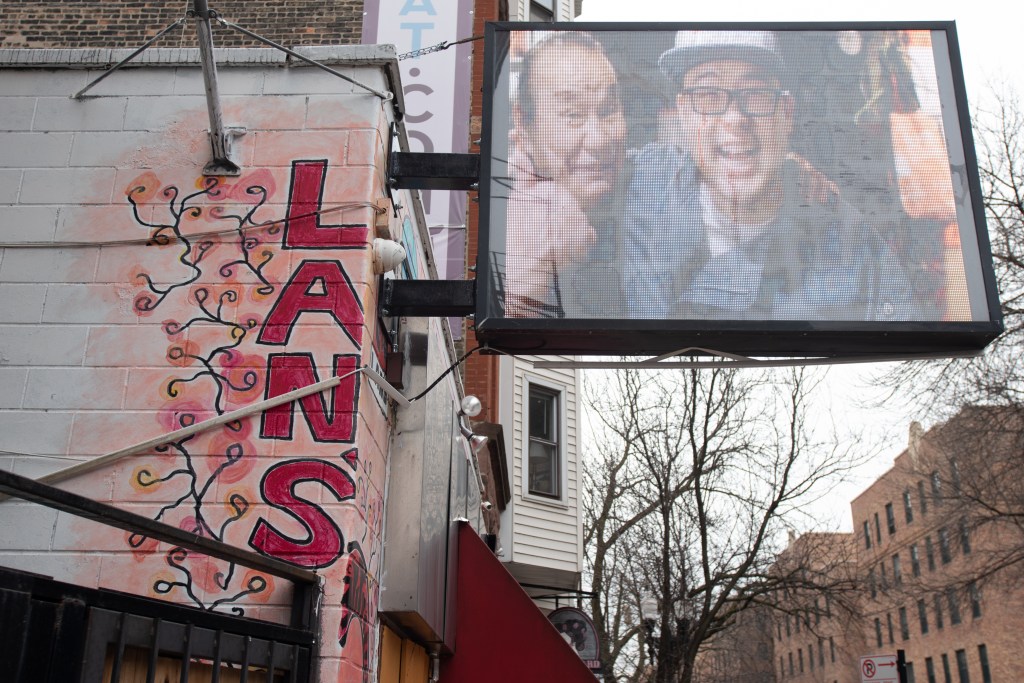 Ma also said the restaurant provided hand sanitizer and conducted temperature checks at the door.
"We try to [have] as much as we can for everybody [to be] safe, be happy, have a good time," Ma said.
In a statement, officials with the city's Department of Business Affairs and Consumer Protection said they were not aware of the party until Monday. No new information was available Tuesday about what penalties Lan's could face.
"This matter remains under investigation, and BACP will continue working hard to crack down on problem businesses that egregiously flaunt COVID-19 regulations and disregard the health of our community," a statement from the department read.
Subscribe to Block Club Chicago. Every dime we make funds reporting from Chicago's neighborhoods.
Already subscribe? Click here to support Block Club with a tax-deductible donation.