CHICAGO — A Northwest Side alderman thinks it's time for the flashy, and at times controversial, Trump Tower sign to be taken down once and for all. 
In the wake of last week's deadly storming of the Capitol that was egged on by President Donald Trump, Ald. Gilbert Villegas (36th) is introducing an ordinance to strip the "Trump" sign from the president's namesake Downtown skyscraper.
"Given what occurred last week, where we had a president incite insurrection against U.S. government, that is something troubling and not worthy of Chicago's values," Villegas said. "This is just insane, to have to discuss this issue where you have a president who has taken an oath to defend the constitution, is inciting insurrection."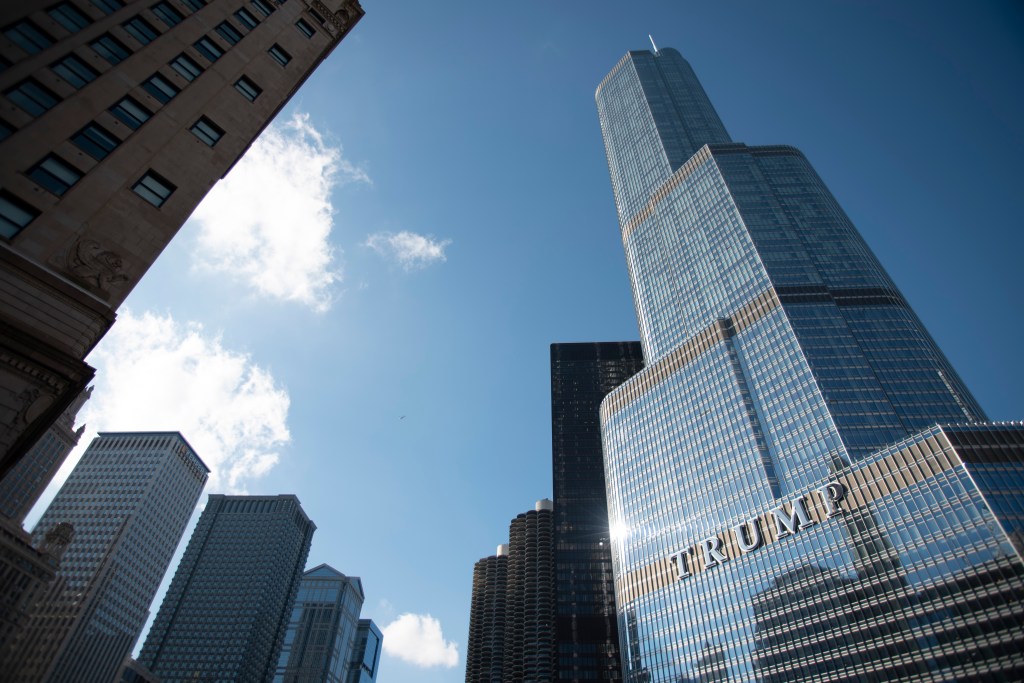 Villegas' ordinance would call on the City Council to deny a permit for the "Trump" sign. Public way use permits for signs like the one that adorns Trump Tower have to be renewed annually. The ordinance would give the City Council latitude to deny or revoke a permit if the applicant or any controlling person of the applicant is "convicted of a crime of treason, sedition and subversive activities," the ordinance states.
It was not immediately clear how much support the ordinance will garner among fellow aldermen. But even if it were to pass, the city only would be able to take down the Trump sign if the president is impeached a second time — which House Democrats plan to vote on Wednesday — and if the U.S. Senate or a court of law convicts him of "treason, sedition and subversive activities."
Even as the House pushes forward with an impeachment vote, it is unclear how — or when — a trial would commence in the Senate, which is due to flip to Democratic control with the new administration.
The 'Trump" sign has long been a source of consternation among Chicago leaders, many of whom are no fans of the outgoing president.
Many praised the design of the building at 401 N. Wabash Ave. when construction was completed in 2009. But when the then-real estate mogul followed up in 2014 with plans to install a backlit, 20-foot-tall sign spelling out his last name on the river-facing side, people recoiled and said it ruined the aesthetics.
Then-Mayor Rahm Emanuel called it "an architecturally tasteful building scarred by an architecturally tasteless sign." Then-1st Ward Ald. Proco "Joe" Moreno called it "extremely tasteless."
Longtime Tribune architecture critic Blair Kamin also blasted the sign, calling it "as subtle as Godzilla" and a "poke in the eye." That in turn touched off a Twitter rant in which Trump said he thought the Pulitzer Prize-winning journalist had been fired and called him a "third-rate architectural critic."
No dice. Kamin kept his job.
Emanuel conceded the sign was technically legal but had asked his staff to consider other options for scaling down the sign more. Trump made the rounds on TV to defend it.
Current city law doesn't have an existing remedy for the Trump sign, according to Peter Strazzabosco, Deputy Commissioner of the Chicago Planning and Development.
"The City's sign ordinances regulate size and location, not content, which is protected by the First Amendment," Strazzabosco said. "The sign on 401 N. Wabash Ave. was lawfully installed according to sign regulations at the time. As long as the sign is lawfully maintained as an advertisement for the hotel or a related entity within the building, there are currently no provisions in Chicago's municipal code that could force its removal."
Ald. Brendan Reilly (42nd), whose ward includes Trump Tower, said in a statement he's co-sponsoring Villegas' ordinance, saying the sign is "a tacky, ostentatious ode to the man's corrupt narcissism."
"I've been interested in getting those five big letters off of the building for years," he said. "Whether this approach works or not, I'm happy to support it because, like a lot of people, I'm tired of the daily reminder of the carnage this man has inflicted upon our country. He's made it clear that he has no love for Chicago and routinely disparages our city and people."
Villegas, who has been in office since 2015 and served in the Marines, said he is confident there will be a bipartisan vote to file the impeachment charges against Trump and said he hopes it sends a message to the Senate there is an appetite for removing the president from office in his remaining days. 
To the critics who say there is not enough time for impeachment, he said that's not true. 
"The reality is if the Senate was able to confirm the Supreme Court nomination by President Trump in eight days, there is no reason why this can't occur a lot quicker," he said.
The alderman said regardless of how the impeachment vote turns out, it is high time the Trump sign gets taken down. 
"To have that sign prominently displayed in the business district is a problem," he said. "There were folks not happy with the Trump sign being displayed but now this took it over the edge."
The Mayor's office did not respond to requests for comments.
Subscribe to Block Club Chicago. Every dime we make funds reporting from Chicago's neighborhoods.
Already subscribe? Click here to support Block Club with a tax-deductible donation.