HUMBOLDT PARK — Depending on who you talk to, extensive renovations at the Kimball Arts Center mean very different things.
For artists and art organizations compelled to leave in recent months, it means losing a treasured, low-cost hub for local creatives, and accelerating gentrification in the rapidly changing neighborhood. For the businesses that remain, it's an exciting opportunity to rejuvenate a building long overdue for maintenance while still being at the center of a vibrant artistic community.
Co-owners Nick Stocking and Greg Robbins bought the building at 1757 N. Kimball Ave. last winter with the goal of attracting new tenants "while maintaining the gritty, creative ethos of the building," according to their website.
Count one tenant — trendy brewery and restaurant Ørkenoy — as among the developers' supporters.
Brewery co-owner Jonny Ifergan said Stocking and Robbins have done everything they can to keep existing tenants in the building and help them get through the coronavirus pandemic.
Ifergan said Stocking and Robbins allowed them to pay just half of their rent for about two months and have promoted Ørkenoy on social media. He credited the developers for bringing the building back to life and opening it up to the community for the first time in decades after years of deferred maintenance.
"I've heard a lot of stories of other landlords in the city that aren't so nice, aren't really playing ball," Ifergan said. "We've been really fortunate, to be honest, to have landlords that ultimately have our best interests in mind."
Ørkenoy joins Archery Bow Range, Dayglow Coffee (owned by Ifergan's brother), woodworker Jon Shaft, pet shop For Dog's Sake, bookseller Kurt Gippert, Tattoos by Serena and Golden Hour hair salon as some of the tenants who have stayed on.
But others have left: Marching band Mucca Pazza, arts organizations Opera-Matic and Maestro-Matic, Quilombo Cultural Center and Manual Cinema have moved out in recent months. Some, like Quilombo, were forced out for reasons specific to their leases. In other cases, the renovation project pushed out tenants whose spaces were overhauled during construction. 
Several artists told Block Club they knew the writing was on the wall with the ownership change and the years of the center being a low-rent haven for studio space were over.
After seven years of making art out of the Kimball Arts Center, sculptor and furniture maker Laura Miracle is leaving the building at the end of December.
"I got to a point where I felt like it's not the right spot for me. We don't know what the makeup or community of the building will be, but it will not have the same character it had by any stretch," she said.
RELATED: As Developers Renovate Kimball Arts Center, Longtime Cultural Center, Other Tenants Move Out
'It Felt Like Walking Inside A Dead Body'
Under Charlie Rizzo, the previous landlord, the Kimball Arts Center was a thriving artist community where people across mediums collaborated on projects big and small, several artist tenants said.
That was by design, he said. Rizzo, founder of the glass and design company Skyline Design, said he kept rents low to accommodate artists who were also his friends.
But some tenants had leases and others didn't, a move Rizzo acknowledged might've hurt some tenants when he sold the building.
Also under Rizzo, the husband-and-wife owners of the Quilombo Cultural Center were living in the building even though the building wasn't zoned for residential use. The family was forced to relocate after Stocking and Robbins took over.
"I wasn't the most efficient landlord," Rizzo said.
Stocking and Robbins bought the timber loft building next to The 606's Bloomingdale Trail for $3.55 million, more than four times what Rizzo paid in 2002.
Rizzo said he sold to Stocking and Robbins because his glass company, Skyline Design, was in financial trouble and he needed the money. He said he was so confident the developers would be good stewards of the building he rejected another offer that was "considerably" more.
Now, with all of the changes Stocking and Robbins have ushered in, Rizzo said he regrets having sold to the pair. He said he doesn't blame them for renovating and trying to bring in new tenants, but he wishes he could've kept the original artist community alive.
"I feel that the building was a great community center and it's not that anymore," Rizzo said.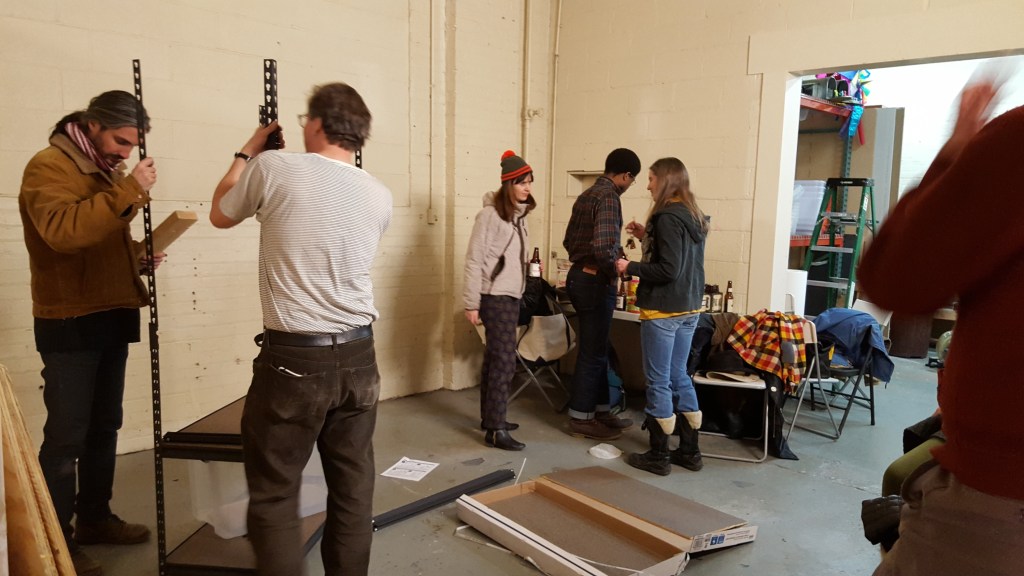 Stocking and Robbins dismiss the idea they are contributing to the gentrification of the area. Rizzo kept rents "artificially low" and didn't keep up with needed maintenance, Stocking said.
"It costs a fair amount of money to get buildings up to code, and so that drives a baseline rent," Stocking said. "And, unfortunately, what a lot of these tenants were paying was well below market-rate — rent that would not justify the cost."
That backlog of building maintenance meant the upgrades Stocking and Robbins pursued were going to be extensive. Even after months of work, the developers say existing tenants are looking at up to another year and a half of construction.
They said they've tried to keep construction-related inconveniences to a minimum while keeping the renovation project on track so they can bring in a mix of new retail, artist and loft office tenants.
"We weren't expecting every single tenant to be able to stay or want to stay," Stocking said. "It's either going to be their decision to leave, or economically they won't be able to afford it. And that's how that's played out, and COVID has certainly exacerbated it."
Artist tenants are leaving the building as disruptive construction continues and rent hikes seem to be an inevitability. Miracle said that is ultimately what drove her to move.
"On multiple occasions I'd find the front door propped open, the door to my space unlocked or even just off the hinges. And having a bunch of tools for my sculpture business, I was really concerned about security," she said. "I tried talking to them a number of times. I really felt that my little tiny amount of rent … wasn't that important to them."
Miracle said the decision to leave was also an emotional one. She said she's watched "all of [her] friends" move out in recent months, and it's been "heartbreaking."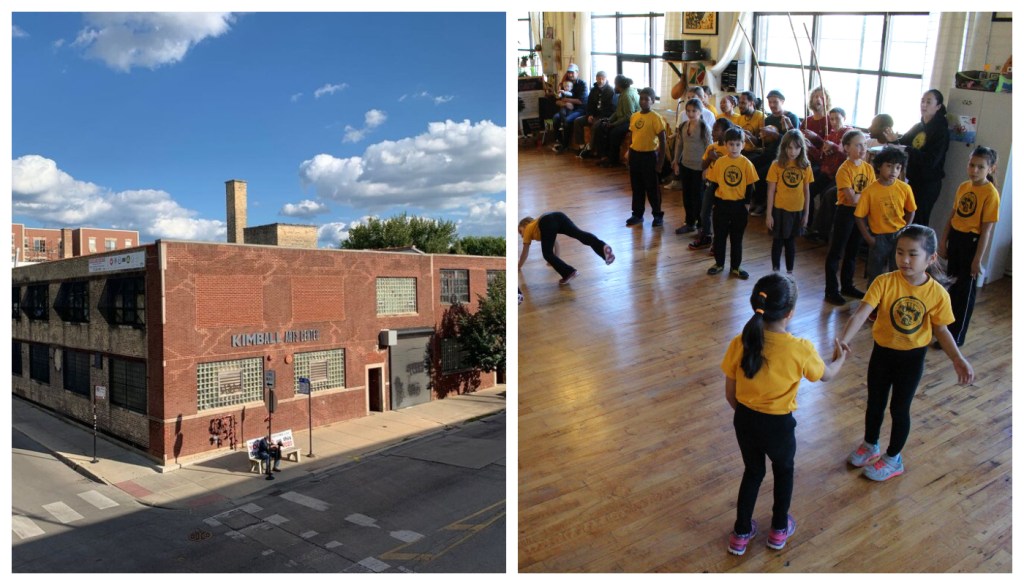 At the end of the month, Miracle is moving into an artist studio in Austin, which she's renting for about $6 per square foot — about half of what Stocking and Robbins are looking to charge for new Kimball Arts Center studios, she said. The developers declined to share specific prices.
Miracle said she's leaving feeling grateful for Rizzo and her artist friends for making an imprint on her career.
"This is not the first time I've had to move because things change, because of new building owners and new dynamics. I've lived in Chicago since 1996 and I've lived in a lot of different neighborhoods. I'm just resigned. This is just how it is," she said.
"What all of us joked about is we caught a wave and we rode it as far as we could in terms of the generosity and the good luck of having Charlie [Rizzo] as an ally."
Ifergan said while it's been sad to watch some tenants move out, he urged people not to dismiss the building as no longer being core to the local artistic community.
"Don't judge a book by its cover," he said. "Just because there are some changes happening, the grates have come off the windows, there are new doors … just because there's a new HVAC system so people can breathe better, new stairs that aren't going to fall on you — just because those things are happening doesn't mean this building is becoming an apartment complex and the neighborhood is changing.
"There is a lot of heart and soul and still a lot of good here."
For Lily Emerson, the transformation of the building is devastating.
Emerson, an artist who worked out of the Kimball Arts Center before Opera-Matic, Mucca Pazza and Manual Cinema moved out, said she visited the building over the summer to find parts of it "gutted."
"It felt like walking inside a dead body that was being picked apart by scavengers, which sounds dramatic, but that's how it felt," Emerson said.
A Block Club subscription is an excellent gift. Get a subscription now and you'll get a free tote bag — and you'll help us reach our goal of 15,000 subscribers by the beginning of 2021. We're almost there! Subscribe or buy a subscription as a gift here.


Already subscribe? Click here to support Block Club with a tax-deductible donation.