LITTLE VILLAGE — The family of an 86-year-old man killed in a hit-and-run in Little Village has raised their reward for information for $25,000 as they continue to seek answers.
Despite canvassing the neighborhood and holding four news conferences, Leticia Torres and her family said they are no closer to tracking down the driver responsible for killing their father, Eliseo Mendoza, just days before Thanksgiving. 
"We are still asking for anyone who saw the truck or has information to lead us to the driver of the hit and run," Torres told Block Club. "Someone had to have seen something."
About 12:30 p.m. Nov. 24, Mendoza was walking in the 3200 block of West 26th Street when a driver in an SUV hit him and drove off, according to police.
Torres said her father was returning from the grocery store. The 86-year-old was taken to Mount Sinai Hospital with head injuries and pronounced dead a short time later, police said.
No arrests have been made and officers are still investigating, said officer Anthony Spicuzza, a police spokesman. 
RELATED: Little Village Family Wants Answers In Father's Hit-And-Run Death: 'We Don't Want This Case To Go Cold'
Earlier this month, Torres and her family held a news conference to try to push the family's case back into the public eye, saying they'd received no communication from police about the investigation. The only thing they've heard was an officer telling them the driver of an SUV who was previously thought to be involved in the crash was ruled out, Torres said.
Now, three weeks later, Torres said the family's numerous calls and voicemails to detectives and Ald. George Cardenas (12th) have gone unreturned.
"We have no support," Torres said. "Where is our representative? We haven't gotten an update from detectives on the case. Can they give us a status? Can they let us know anything?
"We feel frustrated as citizens, taxpayers, living in the area for so many years. We have no support from anyone with authority … or anyone who can help us out. We aren't getting anywhere in this case."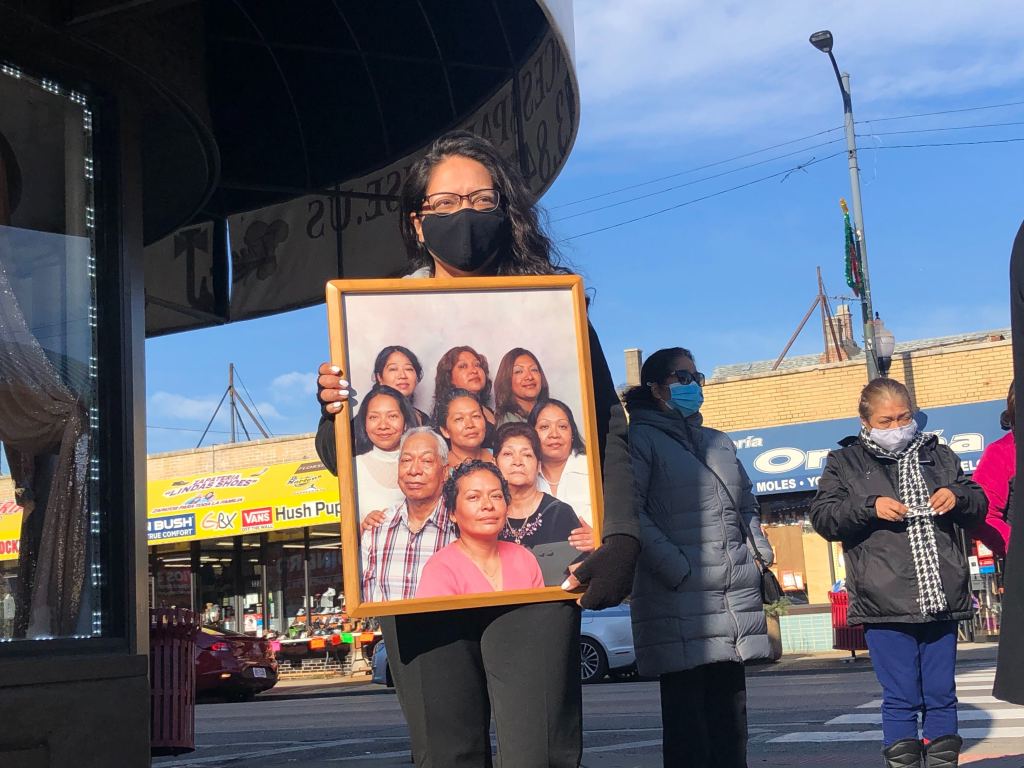 Reached Monday, Cardenas said he had not heard about the hit-and-run crash. Because of some "miscommunication," Cardenas said his office was not notified at the time.
After speaking with the 10th District commander Monday afternoon, Cardenas said they have a few images of cars they are looking into.
"They are trying to put pieces together from different video feeds" located throughout the neighborhood, he said.
During a previous press conference, Montes and Torres called for cameras to be installed on 26th Street to prevent hit-and-runs and other crimes along the busy commercial corridor. 
Cardenas said the police district has worked to install cameras on 26th Street since 2019, when a 7-year-old was shot and seriously wounded on Halloween, just blocks away from the hit-and-run. 
RELATED: Trick-Or-Treating Children Scatter As Gunshots Ring Out In Little Village On Halloween, Video Shows  
Cardenas expressed his condolences and said he would gather more information and work to get in touch with the Mendoza family.
"We need to find the culprit," Cardenas said. "There is some video that [detectives] are combing through. Sometimes they take some time. We aren't going to stop looking for the person who killed Mr. Mendoza."
The family and community organizer Raul Montes are offering $25,000 for any information leading to the arrest and conviction of the driver who killed Mendoza.
Despite a lack of answers, Torres said she is putting her faith in God to bring the driver to justice.
"With time, God is going to bring it to light, and whoever is responsible is going to have to pay the price," Torres said.
"This was a careless driver who killed an innocent man … . They interrupted a man's plans for Thanksgiving, Christmas and New Year's. We need justice."
A Block Club subscription is an excellent gift. Get a subscription now and you'll get a free tote bag — and you'll help us reach our goal of 15,000 subscribers by the beginning of 2021. We're almost there! Subscribe or buy a subscription as a gift here.


Already subscribe? Click here to support Block Club with a tax-deductible donation.