HUMBOLDT PARK — This past spring, husband-and-wife team Huu Nguyen and Beto Defreitas spent a month clearing out their cultural center of nearly 20 years, packing up instruments, old flyers and student art until the light-filled space was empty and the walls were blank.
"It really did just bring this sense of sadness," Nguyen said. "There was so much death starting to happen and so much loss and this sense of mourning that had to do with COVID. And at the same time we're experiencing that sense of loss and mourning for the cultural space."
Nguyen and Defreitas ran the Quilombo Cultural Center out of the Kimball Arts Center in Humboldt Park for 18 years. The Kimball Arts Center has long served as a hub for artists and creatives paying below-market rent, including Nyugen and Defreitas.
But a pair of developers bought the building at 1757 N. Kimball Ave. and are doing renovations that have pushed out longtime tenants whose spaces were overhauled during construction. 
In addition to Quilombo, Opera-Matic, a public arts organization with Humboldt Park roots, recently left the space. A brewery and taproom, called Ørkenoy, is opening in the building soon.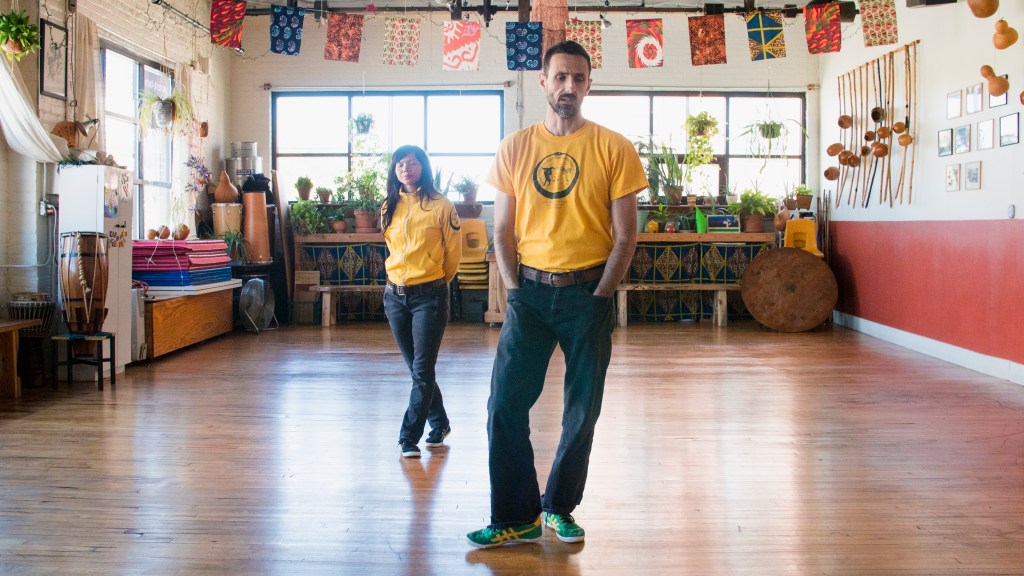 Developers Nick Stocking and Greg Robbins are renovating the building with a goal of opening it up to 606 trail users — the trail runs alongside the arts center — and attracting new tenants, "all while maintaining the gritty, creative ethos of the building," according to the project's website.
The developers said they are trying to help existing tenants and work with those who want to stay in the building.
But Defreitas sees their displacement as emblematic of the rapid gentrification in the neighborhood brought on by The 606 trail.
In addition to packing up their cultural center, Nyugen and Defreitas have had to find a new home for their family. The couple and their two teenage kids also lived in the building, which it turned out was never zoned for residential use — something their previous landlord failed to tell them.
"It was like somebody pulled the floor out from underneath us," Defreitas said. "Our children were basically born in that building. They've never lived anywhere else. We were there way before The 606 existed. We hosted many meetings for the city to talk about The 606 in our place. At first we thought it was a blessing, but it was a curse afterwards because it brought gentrification and displacement.
"We became part of that neighborhood, we became part of that scene and then all of a sudden we see these people who we've never met, who are not invested in the community, who just show up, smiling, waving, taking pictures. It's a pretty invasive situation."
'We Know Our Time Here Is Limited'
Stocking and Robbins bought the Kimball Arts Center last winter for $3.55 million, more than four times what the previous owners paid in 2002, according to Cook County property records. The developers set out to inject new life into the 48,000-square-foot "timber loft" building, which suffers from years of deferred maintenance.
"It checks every single box of the type of project I like to do," said Stocking, who has worked as a developer for more than 20 years.
The arts center was about 60 percent occupied when Stocking and Robbins took over. Several artists and creatives run their businesses out of the building: a woodworker, a photographer, a film production company and an archery range are among the tenants.
Stocking said their plan is to keep existing tenants who wish to stay. They also want to attract new tenants to a mix of creative, retail and loft office spaces, and open the building to trail users and passersby.
He said they're trying to keep rents low for existing tenants, but they plan to charge new tenants market rent. They wouldn't share specific prices just yet.
Robbins, whose background is in risk management, said they've also provided rent relief to some tenants experiencing hardship due to the coronavirus pandemic.
"We were not looking to vacate the building, gut rehab the building … and start over. We were looking to take the baton, get the building up to code, and build on the tenants we already had, knowing that not every tenant is going to be able to or want to stay in the building long-term," Stocking said.
The pandemic has slowed the renovation, but the developers have been able to get started on a few construction projects. They're overhauling the common area on the first floor and putting the finishing touches on their new brewery and taproom tenant, Ørkenoy, and coffee shop tenant, Dayglow Coffee.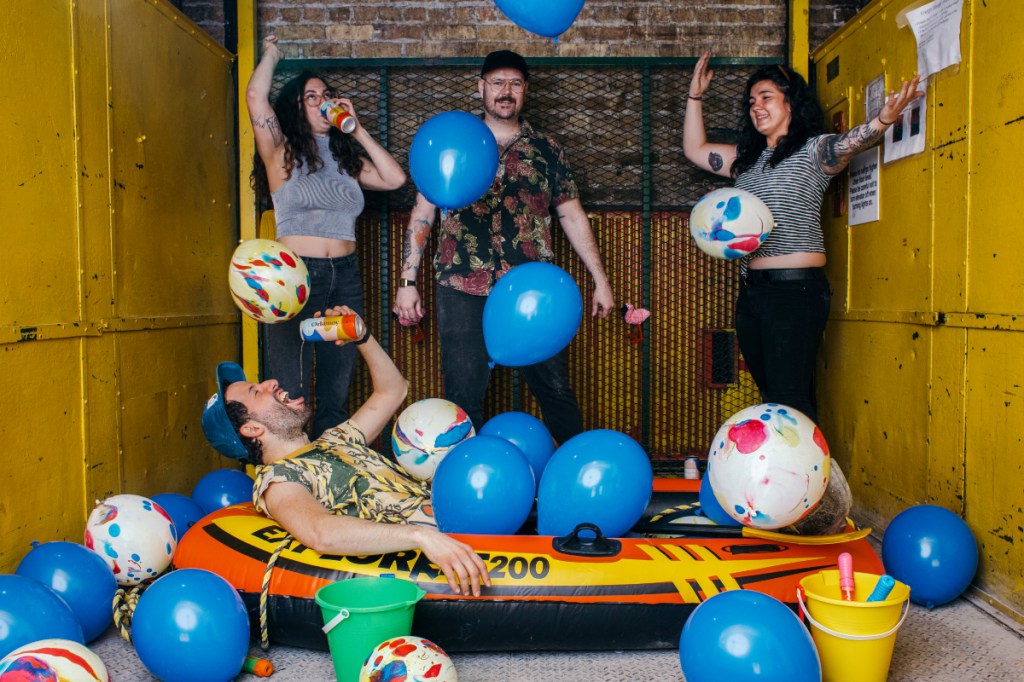 Stocking and Robbins said they asked Nyugen and Defreitas to move out because it wasn't safe for them to live in the building while construction was going on. They were willing to keep the cultural center in place after the work was complete, but couldn't have people living there.
Since the building isn't zoned for residential occupancy, their insurance doesn't cover people sleeping there, Robbins said.
The developers said they gave the family some money to help them relocate, but declined to say how much.
The Quilombo Cultural Center taught capoeira, a Brazilian martial art, and other dance and percussion classes to kids and adults. The center was a "sanctuary," Nguyen said, a place "where folks could express all of these different cultural manifestations and really build a sense of community and a sense of belonging."
Moving out meant the family had to shut down Quilombo. There was no way the family could continue to run the cultural center out of the building without living there, Defreitas said.
"The only reason we were able to have the center was because it was a live/work space. We couldn't afford a house to live and a place to work in the way we had in the past," he said.
That outcome is a sign of things to come, said artist and longtime tenant David Carlson.
For many years, Carlson ran three of his creative projects out of the Kimball Arts Center, but now he's down to just one.
In May, Carlson left his personal studio space in the Kimball Arts Center after a decade. He had to leave because the developers are planning to build a staircase in his space, Robbins and Stocking confirmed.
Carlson is also one of the founders of Opera-Matic, another arts group that recently moved out of the building after several years.
"We know our time here is limited," Carlson said of his last remaining project, recording studio Maestro-Matic, which he still runs out of the building.
Carlson said the developers have been shopping the building to new tenants and investors.
"I think [the developers have] very different ideas about what kind of artists would fit in the center at the rates they're charging for the spaces," Carlson said.
'We're Missing Home'
Stocking and Robbins said they're doing everything they can to keep existing tenants in the building.
Asked about their role in ushering in gentrification, Robbins said, "It needed some investment for it to continue in use. It's a super complex issue. I'm struggling about how to think about it, the deferred maintenance, it not being a residential building,"
Nguyen, Defreitas and their two kids now live in Kenwood. Nguyen said they weren't able to find an affordable apartment that was large enough for their two teenagers in Humboldt Park.
"This was gentrification at play," Nguyen said. "They didn't think about the humans who were a part of the building, who had actually created the community inside that building."
They have no plans to reopen the cultural center, in large part because of the pandemic. Instead, they're focused on settling into their new lives on the South Side, many miles from the Kimball Arts Center.
"When you become a part of that neighborhood, you know where everything is, you have your favorite sports to get food, you know the people who work at those places," Defreitas said.
"We miss all those people, the faces, the familiarity that brings a sense of belonging. … [We're] missing home."
Subscribe to Block Club Chicago. Every dime we make funds reporting from Chicago's neighborhoods.
Already subscribe? Click here to support Block Club with a tax-deductible donation.