LOGAN SQUARE — A key city committee on Tuesday approved most of the Milwaukee Avenue rezoning plan, an anti-gentrification measure crafted by Ald. Carlos Ramirez-Rosa (35th) to block dense development along the stretch.
But one set of properties in line to be rezoned was temporarily dropped from the plan after it was revealed the property owner — prolific landlord Mark Fishman — is threatening to sue the city, the latest in a long-standing battle between him and the alderman.
Ramirez-Rosa set out to slash zoning on 14 properties along Milwaukee Avenue between Kedzie and Central Park avenues.
The alderman's plan, introduced in a series of ordinances, is meant to thwart out-of-scale development and preserve the existing character of the stretch. Ramirez-Rosa previously said property owners and developers in Logan Square and Avondale are "sitting on empty properties that could otherwise be used productively" and waiting for a big pay day.
The City Council's Zoning Committee on Tuesday approved the "downzoning" measure for all but one set of properties: those at 2643-2651 N. Milwaukee Ave.
The properties are owned by M. Fishman & Co., Fishman's real estate company, according to Cook County property records. Committee members voted to defer the ordinance dealing with the Fishman buildings at Ramirez-Rosa's request.
Without naming Fishman, Ramirez-Rosa said the property owner is threatening to sue the city over the rezoning plan.
"This particular property owner is very litigious," the alderman said, pointing to the unsuccessful lawsuit Fishman filed with other property owners this past spring over the all-affordable housing complex next to the Logan Square Blue Line station.
"On this one, I'd like to engage with more review with the (city) law department. I'm pretty confident that everything is in line here. We've done our research. It's pretty clear what's going on there."
Fishman couldn't be reached for comment Tuesday evening.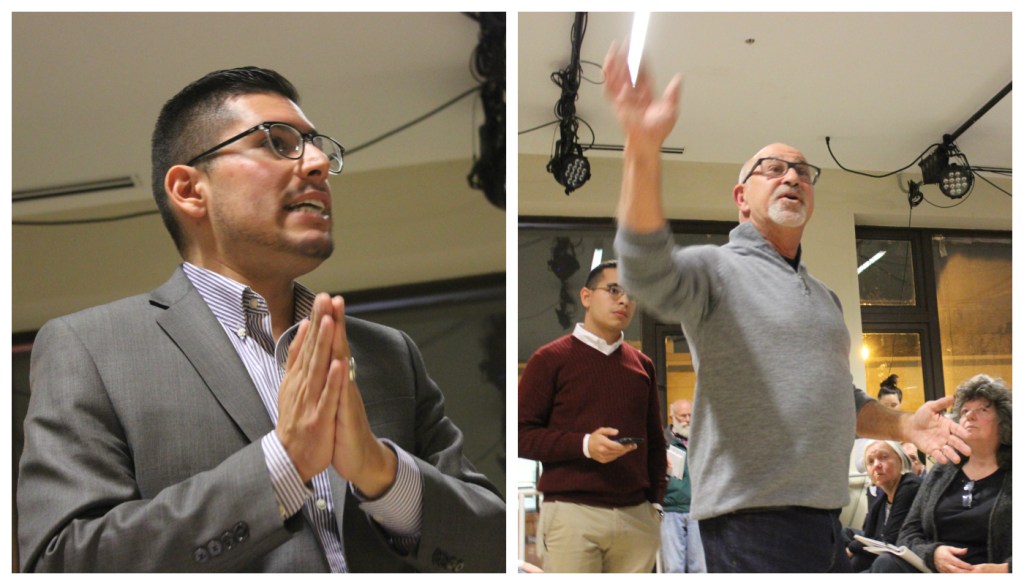 The conflict opens a new battleground in the years-long feud between Fishman and Ramirez-Rosa.
Ramirez-Rosa has been a vocal critic of Fishman since he was elected in 2015. Part of his campaign pledge was to not let the landlord have his run at Logan Square like his predecessor did.
Ramirez-Rosa publicly slammed Fishman in 2016 for imposing rent hikes on the tenants living above his ward office. Last year, the two got tangled up in a legal dispute over the alderman's ward office. Ramirez-Rosa said the landlord manufactured a dispute to "bully and buy him," while Fishman alleged the alderman skipped out on his office lease.
Fishman donated around $100,000 to Ramirez-Rosa's challenger in the 2019 election in an unsuccessful effort to oust his longtime foe.
A chaotic hearing
Though much of it was ultimately approved, Ramirez-Rosa's rezoning plan prompted confusion and questions among committee members on Tuesday, requiring a city attorney to step in.
The chaos started when Ald. Brendan Reilly (42nd) moved to defer Ramirez-Rosa's entire plan.
"It doesn't sound like there's an imminent threat to these properties this month," Reilly said. "Would it not be prudent to hold this item to make sure there's consensus and make sure the city not be sued?"
At the same time, Ald. Roderick Sawyer (6th) moved for a vote on the plan, setting off a debate over which motion would advance with at least one committee member blaming Ald. Tom Tunney (44th), Zoning Committee chairman, for the snafu.
Amid the chaos, Ald. Raymond Lopez (15th) raised a concern about letting the threat of a lawsuit defer a vote, to which Tunney replied, "It's not setting precedent." Ald. Carrie Austin (34th), piggybacking off Lopez, questioned Tunney for saying there is "potential litigation" around four of the six ordinances.
In the end, all 19 committee members unanimously approved six of the seven ordinances, meaning Ramirez-Rosa's plan is just one step from reality. The plan still needs approval from the full City Council.
It's a win for Ramirez-Rosa and his supporters, who see the measure as a tool to block unwanted development and preserve affordability. But for neighbors who have spoken out against the plan, it's not the desired outcome.
Two local residents used the public comment portion of Tuesday hearing to slam the plan — and Ramirez-Rosa.
"Ald. Rosa's mantra is we need to give the community a voice, however the only voice he recognizes are those who agree with him," said local developer Nicholas Katsafados, a frequent critic of the alderman.
"It is super important to note that none of the impacted property owners on this agenda or the [Logan Square] chamber were included in any meetings. They also did not receive any phone calls or correspondence from the alderman. He dismisses his obligation to the Logan Square economy and basically only serves those who agree with his very skewed agenda."
Another resident noted the Milwaukee Avenue stretch is already home to "a lot" of empty storefronts and suggested the rezoning measure could lead to more.
"We're concerned that the downzoning would be prohibitive for density, which we think would be incredibly important for vitality," the resident said.
Ramirez-Rosa has long maintained, however, the rezoning measure will not hurt existing or new businesses. The alderman said it will only limit future developments to three stories.
"The rezoning of these parcels promotes the rehabbing and immediate use of existing properties," Ramirez-Rosa said.
The alderman sent the rezoning plan to City Council after years of gathering community input, most of which has been positive, he has said. A majority of the residents who gave feedback at a well-attended community meeting in 2017 said they supported the plan.
In a letter last week to constituents, Ramirez-Rosa said his plan has the support of Chicago Department of Planning and Development Commissioner Maurice Cox.
"Commissioner Cox agreed with our ward office assessment that the existing built environment is ideal for present and future economic development of the corridor," the alderman said.
RELATED COVERAGE:
Milwaukee Avenue Property Owners Leave Buildings Vacant While Waiting For Big Pay Day, Alderman Says — And He Wants To Stop Them
Ald. Ramirez-Rosa Scales Back Controversial Milwaukee Avenue Rezoning Plan In Logan Square & Avondale
Logan Square Building Boom Has Neighbors In Avondale Looking For Control
Ald. Rosa Flexes Muscles On Milwaukee: No New Developments Without Approval
Tensions High As Neighbors Debate Milwaukee Avenue Rezoning Plan
Subscribe to Block Club Chicago. Every dime we make funds reporting from Chicago's neighborhoods.
Already subscribe? Click here to support Block Club with a tax-deductible donation.
A Block Club subscription is an excellent gift. Get a subscription now and you'll get a free tote bag — and you'll help us reach our goal of 15,000 subscribers by the beginning of 2021. We're almost there! Subscribe or buy a subscription as a gift here.