LOGAN SQUARE — Nearly two dozen affordable apartments would be built in rapidly gentrifying Logan Square — including some inside a church sanctuary — under a plan that advanced this week.
The City Council's Zoning Committee on Tuesday unanimously signed off on the plan, which calls for transforming the 92-year-old Humboldt Park United Methodist Church at 2122 N. Mozart St. into a 22-unit affordable housing complex.
Under the plan, the church would leave its home of nearly a century to make way for the affordable apartments. The project is a partnership between church leaders and affordable housing developer LUCHA.
The church currently houses 12 affordable apartments managed by the congregation. LUCHA plans to renovate the church's existing apartments and convert the church's sanctuary and fellowship space into 10 more apartments for a total of 22 units. The church's exterior would mostly remain as-is.
Ald. Daniel La Spata (1st), whose ward includes the church, said at Tuesday's committee hearing that while there's a lot of work left to be done in the fight to preserve affordability in the development-heavy 1st Ward, this project is a "step in the right direction."
The goal of the development team and church leaders is to bring more affordable housing to Logan Square, which has seen the most gentrification-fueled displacement of any neighborhood in the city in recent years.
"We as a congregation have lost our Latinx families who have been displaced out of this neighborhood through the evils of gentrification," Paula Cripps-Vallejo, Humboldt Park United Methodist Church's reverend, previously said.
"Our church council made the decision to sell to someone who would maintain our current affordable housing work."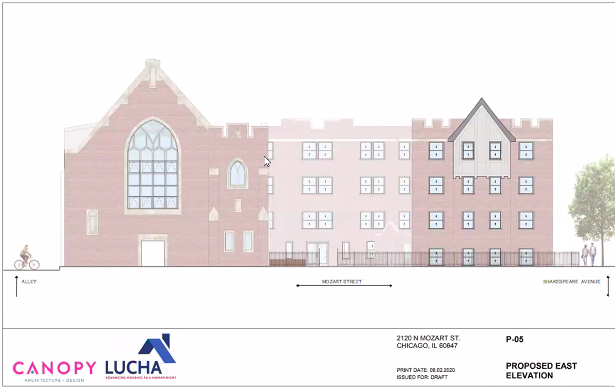 Under LUCHA's plan, the apartments — a mix of studios and one-, two- and three-bedrooms — would only be available to renters who meet the city's requirements under the Affordable Requirements Ordinance. Green space would be added to the right side of the building for families to enjoy.
If all goes according to plan, construction on the church will begin in the summer and leasing will begin the following year.
Tuesday's vote is a step forward for the project, but LUCHA still has a long road ahead to secure the necessary financing.
The church has been an anchor in the community since 1928, when it was built for a German congregation. The Spanish-speaking Humboldt Park United Methodist congregation took over the church in 1968 after years of white flight.
Over the years, the church has become a community hub, offering free counseling and support to victims of domestic violence, as well as free legal aid to immigrants.
The congregation launched an outreach ministry called Humboldt Park Social Services in 1989 to help residents experiencing homelessness, which went on to become the Center for Changing Lives. And church leaders maintained the 10 affordable housing apartments as displacement pressures continued to mount.
"Humboldt Park United Methodist and LUCHA have been outstanding community development organizations in our ward. Both the church and the [Center for Changing Lives] have been real forces for equity and justice in our community," La Spata said.
"And while there's a certain sadness to see [Humboldt Park United Methodist Church] leaving this building, the purpose that we are putting it to — through the work of LUCHA, through the work of this zoning change — really honors their legacy."
Subscribe to Block Club Chicago. Every dime we make funds reporting from Chicago's neighborhoods.
Already subscribe? Click here to support Block Club with a tax-deductible donation
A Block Club subscription is an excellent gift. Get a subscription now and you'll get a free tote bag — and you'll help us reach our goal of 15,000 subscribers by the beginning of 2021. We're almost there! Subscribe or buy a subscription as a gift here.


RELATED COVERAGE:
After Losing Latino Congregants To 'Evils Of Gentrification,' Logan Square Church Could Become All-Affordable Housing