LOGAN SQUARE — A long-standing feud between Ald. Carlos Ramirez-Rosa (35th) and controversial landlord Mark Fishman boiled over this month when Fishman evicted Ramirez-Rosa and State Rep. Will Guzzardi out of their shared office on Sawyer Avenue.
Fishman alleges Ramirez-Rosa and Guzzardi (D-Chicago) owed more than $42,000 in back rent — a dispute stretching back to December 2015 when Fishman bought the building at 2708-2710 N. Sawyer Ave.
But Ramirez-Rosa contends Fishman manufactured the dispute in an effort to have power over him, to "bully and buy him," as he describes it.

"It's clear to me that he hasn't been dealing with me in good faith and he sought to use his money and ownership of the building to bully and buy me to continue to get whatever he wanted," Ramirez-Rosa said. "But I don't work for Mark."

According to the alderman, Fishman wasn't getting paid because he was unwilling to fill out simple paperwork.
Guzzardi was added to the lease in July 2015, roughly six months before Fishman bought the building. The previous landlord, FY Property Management LLC, signed off on the amended lease, stipulating that 60 percent of the rent for the shared office would come from the city and 40 percent would come from the state, according to Ramirez-Rosa. Attempts to reach FY Property Management LLC were unsuccessful Thursday.
When Fishman bought the building, he was asked to fill out additional paperwork to ensure the state send proper payments to him — but he never did, Ramirez-Rosa said.
"For you to get paid, all you have to do is fill out the paperwork with the state," Ramirez-Rosa recalls telling Fishman. "He'd be like, 'I can't do this for XYZ reasons. I can't have two different occupants in the same office.' Lots of reasons that didn't make sense. What landlord doesn't want to get paid?"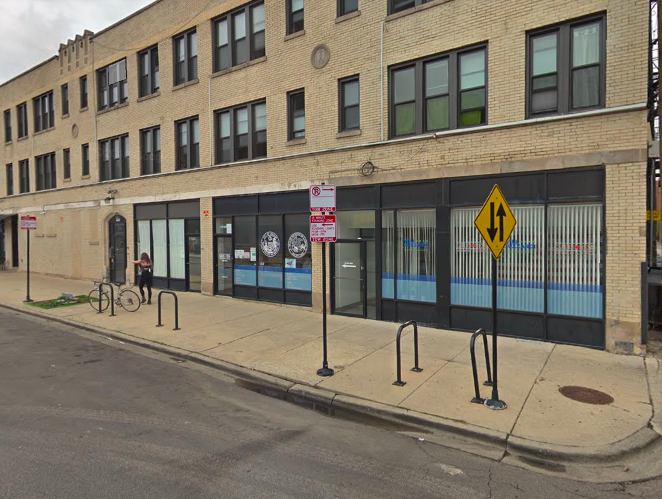 Fishman didn't respond to requests for comment Thursday. But in a Dec. 12 letter to Ramirez-Rosa shared with Block Club, he defended his position, saying Guzzardi was never formally added to the lease. Yet Fishman also pointed out he wouldn't have added Guzzardi anyway.
"We already have a lease with your office for the space Mr. Guzzardi is using, we could not execute a second lease with his office for that same space," Fishman wrote in the letter.
Before letters were exchanged, the two met in mid-November to try and hash things out. Ramirez-Rosa said the meeting didn't go well.
The way the alderman describes it, Fishman spent a considerable amount of time saying they could "figure something out" — remarks the alderman said came off as underhanded.
"He said, 'We can figure something out. I wanna help you.' I told him, 'I'm uncomfortable with that,'" Ramirez-Rosa said.
"He made it clear that he wanted to use that lease agreement as a point of leverage, that I had to stop treating him like he's a bad guy, but he wanted to work something out with me."
At one point, when Ramirez-Rosa said he asked Fishman to be a "good actor" in the community, Fishman said he views Logan Square as his canvas, "that he's really just this artist and everyone confuses what he's trying to do."
Then, as the meeting was wrapping up, Ramirez-Rosa said Fishman kept repeating, "I want to help you." In reply, the alderman said he told Fishman he was being "inappropriate."
Everything came to a head in early December.
In a letter dated Dec. 12, Fishman ordered Ramirez-Rosa to pay the $42,265.86 he owed within 15 days or risk legal action. Unwilling to negotiate any further, Ramirez-Rosa set out to find a new ward office.
It was the second office Ramirez-Rosa lost in a conflict with Fishman.
Early on in their landlord-tenant relationship, Fishman had threatened to significantly raise Ramirez-Rosa's rent next door at the roughly 900-square-foot, $800-per-month storefront the alderman was using as his campaign office.
Ramirez-Rosa said Fishman wanted to charge him between $2,000 and $3,000 per month for the storefront, which the alderman described as a "concrete box."
"At that point, I was like he clearly wants me to go with my hat in my hand, like, 'Please, Mark, let's work something out.' And then he gets to say, 'Now you help me out.' So I immediately moved out of that space," Ramirez-Rosa said.
Ramirez-Rosa has been a vocal critic of Fishman since he took office in 2015. In fact, part of his campaign promise was to not let the landlord have his run at Logan Square like his predecessor did.
Fishman is largely seen as the face of gentrification in the neighborhood. The landlord's practice of buying large multiunit apartment buildings, rehabbing them and significantly raising rents has never sat well with Ramirez-Rosa who has allied himself with anti-gentrification groups like Logan Square Neighborhood Association.
In March 2016, the tenants living above Ramirez-Rosa's now-closed ward office at 2710 N. Sawyer Ave. were facing significant rent hikes imposed by Fishman, and the alderman jumped in to broker a deal on behalf of the tenants.
"I had been calling him out, we were pushing back against him," Ramirez-Rosa said of his contentious relationship with Fishman.
"He was one of [then-Ald. Rey] Colon's biggest supporters and essentially had a blank check to do whatever he wanted, and he was very used to that arrangement. I think that when I came in he no longer had that power or that blank check he used to have. I don't think it's a coincidence that he purchased the building where my office is located. I thought that was pretty interesting."
Guzzardi, too, is openly critical of Fishman. In November 2017, when Fishman moved to evict dozens of tenants at 2936 W. Palmer St., Guzzardi led a protest in front of the landlord's office.
Guzzardi, who couldn't be immediately reached for comment Thursday, was once quoted as saying, "My impression is that [Fishman] is engaging in a more aggressive and egregious version of what's happening everywhere in the neighborhood. He engages in this behavior with little regard for the immediate consequences."
In February 2018, Fishman tripled the rent on beloved grocery store and deli Half Italian at 2643 N. Milwaukee Ave., forcing them to close. Like he did with Ramirez-Rosa and Guzzardi, Fishman argued with Half Italian over a lease amendment. The storefront has sat vacant since the deli moved out.
Though he did not respond to Block Club Chicago's requests for comment, Fishman defended his investment in Logan Square in a letter to DNAinfo in 2016. 
"I believe the fundamentals of real estate were (and are) as good as it gets: excellent building stock, plentiful green space and transportation," he wrote. "I have the same feelings and excitement that I did 26 years ago when I purchased my first building — the boulevard system in Logan Square truly sets it apart from any other area in the city. This reinvestment in Logan Square building stock is important toward the continued growth and vibrancy of our neighborhood, but also speaks to the pride that we take in our community."
Ramirez-Rosa's new office is at 2842 N. Milwaukee Ave. It's now open during regular office hours: 9 a.m.- 5 p.m. Monday – Friday.

Reflecting on the ordeal, Ramirez-Rosa said he won't treat Fishman any differently going forward.
"I will continue to ensure that any person seeking a zoning change goes through a fair process where they have the ability to make their case but the community has the ability to weigh in and see what is being granted in an inclusive and democratic manner," the alderman said.
Ramirez-Rosa added that any issues Fishman has in the community are issues he created for himself.
"I tried to explain early on, I said, 'You have some work to do,' but he hasn't done that," the alderman said.
"He's continued to displace families, continued to close small businesses. In a world where I'm alderman, and there's a community process, any process Fishman would seek to participate in would bring a lot of people out that would be very upset. That has nothing to do with me. That's the community."
Do stories like this matter to you? Subscribe to Block Club Chicago. Every dime we make funds reporting from Chicago's neighborhoods.