LOGAN SQUARE — With the coronavirus pandemic and the economic crisis, it's more important than ever to shop local this holiday season.
The decisions holiday shoppers make in the next few weeks will have a tremendous impact on Chicago's struggling mom-and-pop shops.
"You say a lot with how you choose to spend" your money, said Colin Brennan, co-owner of Record Breakers in Avondale. "Sometimes it's easy to forget, or it seems like you're not as impactful as you really are."
Luckily for folks in Logan Square, Humboldt Park and Avondale, there's no shortage of independent stores to choose from. We rounded up unique gift ideas from some of them below.
And if you want your local shop to be featured, please fill out the Google form at the bottom of this page. We'll gladly add it to our list.
Avondale
Record Breakers, 2935 N. Milwaukee Ave., recordbreakerschi.com
Looking for gifts for the music lovers in your life? Record Breakers has you covered. The Avondale record shop, which is under new ownership but has been around since the '80s, is fully stocked with used vinyl and new releases.
Consider "Inlet," the fifth album from alt-rock band Hum ($34.89), Vince Guaraldi's "A Charlie Brown Christmas" ($24.89) — a classic holiday pick — or, if you're splurging on someone special, Tom Petty's "Wildflowers & All The Rest" 9xLP super-deluxe vinyl edition ($249.89).
"Whatever you do, whether you're shopping with us or with someone else, just keep it local," Brennan said. "It's what makes where you live interesting … if you're not supporting [local businesses], that won't exist."
Record Breakers is open noon-5 p.m. daily and offers delivery and contactless pickup.
Bucket O'Blood Books & Records, 3182 N. Elston Ave., bucketoblood.com
If you have any sci-fi, fantasy, horror or graphic novel fans in your family or circle of friends, Bucket O' Blood Books & Records is the place to go.
In addition to vinyl, the quirky shop sells a wide array of new and used books that center on everything from monsters to punk music.
The owners recommend "Monster, She Wrote: The Women Who Pioneered Horror & Speculative Fiction" ($19.99) and Choose-Your-Own-Adventure books ($6.99) for the young adult crowd.
An assortment of illustrator Edward Gorley items could also make a great gift for someone who loves gothic art. The shop has an 1,000-piece puzzle ($19.99), a coloring book ($14.99), the "Twelve Terrors of Christmas" tiny book ($9.95) and a coffee table book ($40) — all dedicated to Gorey.
Bucket O'Blood Books & Records is offering pickup and delivery only.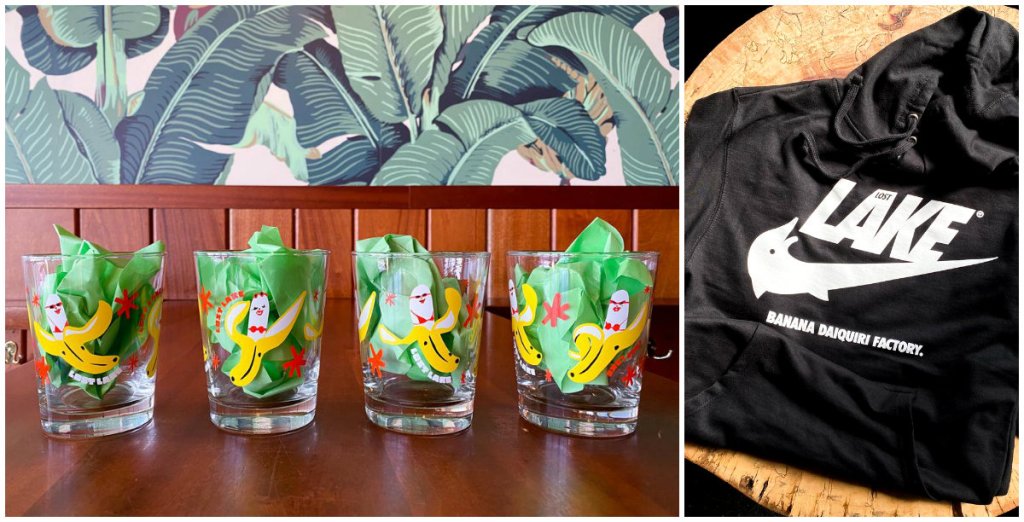 Lost Lake, 3154 W. Diversey Ave., Website
Chicago's favorite tropical cocktail spot typically turns into Jingle Bell Square over the holidays, but the pandemic has forced Lost Lake to get more creative than ever in an effort to stay open — and the team is pulling out all the stops. You can get a cocktail subscription ($32-$125 per month) for the rum lover in your life, order Jingle Bell Square cocktails to go ($13-$20) to sip while watching holiday movies or gift a whole new slate of swag to your long-lost bar buddy. We love the bananas in bikinis rocks glasses ($20 each) illustrated by Kristina Micotti and the Banana Daiquiri Factory hoodies and sweatpants ($45-$50) since elastic waistbands are the biggest trend to come out of 2020.
Lost Lake's takeout window is open 4-8 p.m. Thursday-Friday and 2-6 p.m. Saturday-Sunday. For special appointments Monday-Wednesday, send a direct message here. Cocktails and merchandise available for pickup. Delivery available on all merchandise and limited menu items. Click here for more details.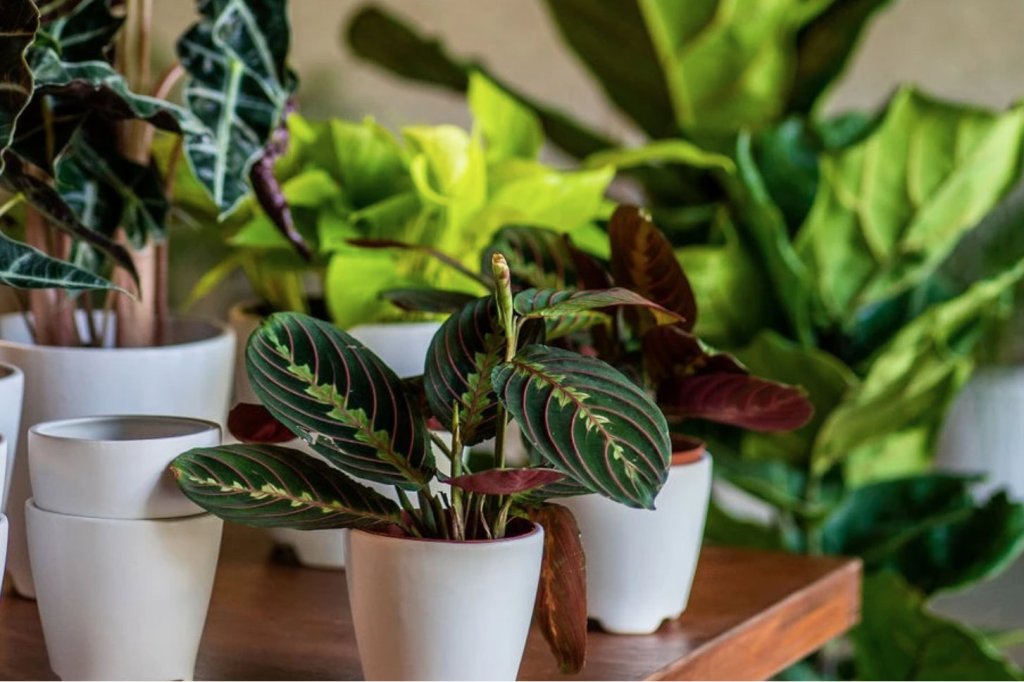 Rooted, 2918 N. Milwaukee Ave., Website 
Specializing in plants, planters and other gifts, Rooted opened in the middle of the pandemic in June.
Check out their Mini Christmas Tree Kit for $45, complete with everything you need to create a mini tree — a Norfolk Island pine in a 4-inch pot, decorative cover pot, mini ornaments, bow and more.
Looking to green up your space? Rooted's prayer plants ($12) are perfect for your shelfie.
Rooted is currently closed to walk-in shoppers because of coronavirus. The shop offers online shopping with curbside pickup or delivery within 4 miles. Private shopping appointments available.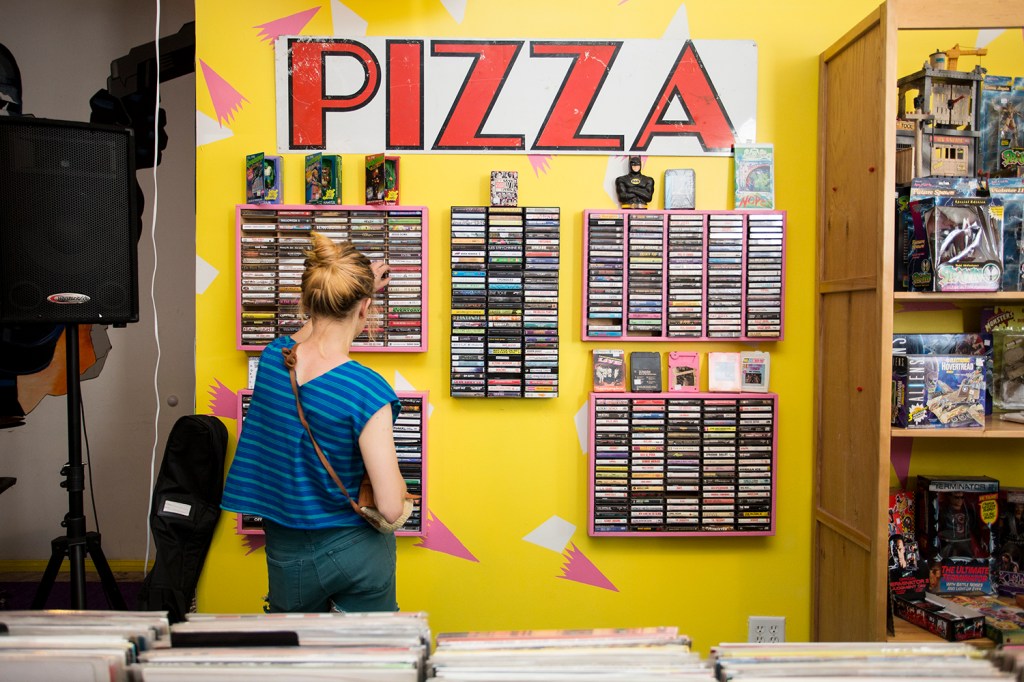 Bric-a-Brac Records & Collectibles, 3156 W Diversey Ave., Website
In business for seven years, Bric-a-Brac Records & Collectibles calls itself a "one-stop shop for all the necessities that no one really needs." Their merch includes new and used vinyl and cassettes, VHS tapes, vintage movie posters, '80s and '90s toys and other collectibles.
Gifts this holiday season include a Pee Wee's Reaction Figure on sale for $12 or a Keith Haring art book for $55. 
Bric-a-Brac Records & Collectibles offers curbside pickup and local delivery. Operating online only.
Sleeping Village, 3734 W. Belmont Ave., Website
Want could be better than enjoying live music from the comfort of your own home during quarantine?
Avondale's Sleeping Village is selling tickets to livestreamed performances by artists Andrew Bird, Parquet Courts, OSEES, Oso oso, Sunflower Bean, Charly Bliss, and more for $10 and up.
Monarch Thrift Shop, 2866 N. Milwaukee Ave. Website 
For almost 5 years, Monarch Thrift Shop has collaborated with One Heart One Soul to sell quality thrifted merchandise. Proceeds from the shop benefit programs for those recovering from addiction and facing homelessness.
This holiday season, you can shop their finds online, include this patent leather cherry red handbag for $35.
Monarch Thrift Shop offers curbside pickup, local delivery, free shipping and in-store shopping through appointments.
Humboldt Park
Humboldt House, 1045 N. California Ave., humboldthouseco.com
The rad feminist in your life will surely swoon over anything from Humboldt House. The trendy shop, a Humboldt Parks staple since 2013, is filled with everything from colorful Turkish pillows and rugs to ceramics and wall hangings — all befitting your coolest friend's apartment.
This holiday season owner Claire Tibbs recommends the "Boobiful Blanket" ($160), colorful taper candles ($6 for a pair of 6-inch and $10 for a pair of 13-inch candles), a pair of "Form" earrings by Ohio-based jeweler Oceanne ($40) and acrylic mask chains ($12).
Humboldt House is open noon-6 p.m weekdays and 11 a.m.-6 p.m. weekends. The shop offers delivery and contactless pickup.
Peach Fuzz, 1005 N. California Ave., littlepeachfuzz.com
After you're done shopping at Humboldt House, you can hit up Tibbs' second shop, Peach Fuzz, for all of your kid gift needs. Peach Fuzz, just down the street from Humboldt House, is Chicago's first intersectional, LGTBQ-friendly children's shop.
Kids and their parents will love the hot dog onesie ($20), the book "Antiracist Baby" by Ibram X. Kendi and Ashley Lukashevsky ($9), a wooden doctor kit ($55) and a "Little Feminist Surprise Puzzle" ($7), Tibbs said.
Peach Fuzz is open 11 a.m.-6 p.m. Wednesday-Sunday. The shop offers delivery and contactless pickup.
West Town Bikes, 2459 W. Division St., westtownbikes.org
If you're looking to surprise someone special with a big gift this holiday season, head to the nonprofit West Town Bikes' retail shop, Ciclo Urbano.
"Winter is a great time to get a new or used bike from a bike shop," said Alex Wilson, executive director of West Town Bikes. "You'll usually have the greatest choice of what's in stock and staff will give more time and attention to you during the slow season."
The shop carries lights, fenders and other bike accessories for the cyclist in your life who already has a bike. Gift cards start at $10 and can be used for bikes, parts, accessories and labor.
Like many independent businesses across Chicago, West Town Bikes has struggled to survive the pandemic. Wilson said sales will help the organization stay afloat and continue offering programs to youth.
Ciclo Urbano is open 11 a.m.-7 p.m. Tuesday-Thursday, 11 a.m-6 p.m. Friday-Saturday and 11 a.m.-5 p.m. Sundays.
An Orange Moon, 2418 W. North Ave., http://anorangemoon.com/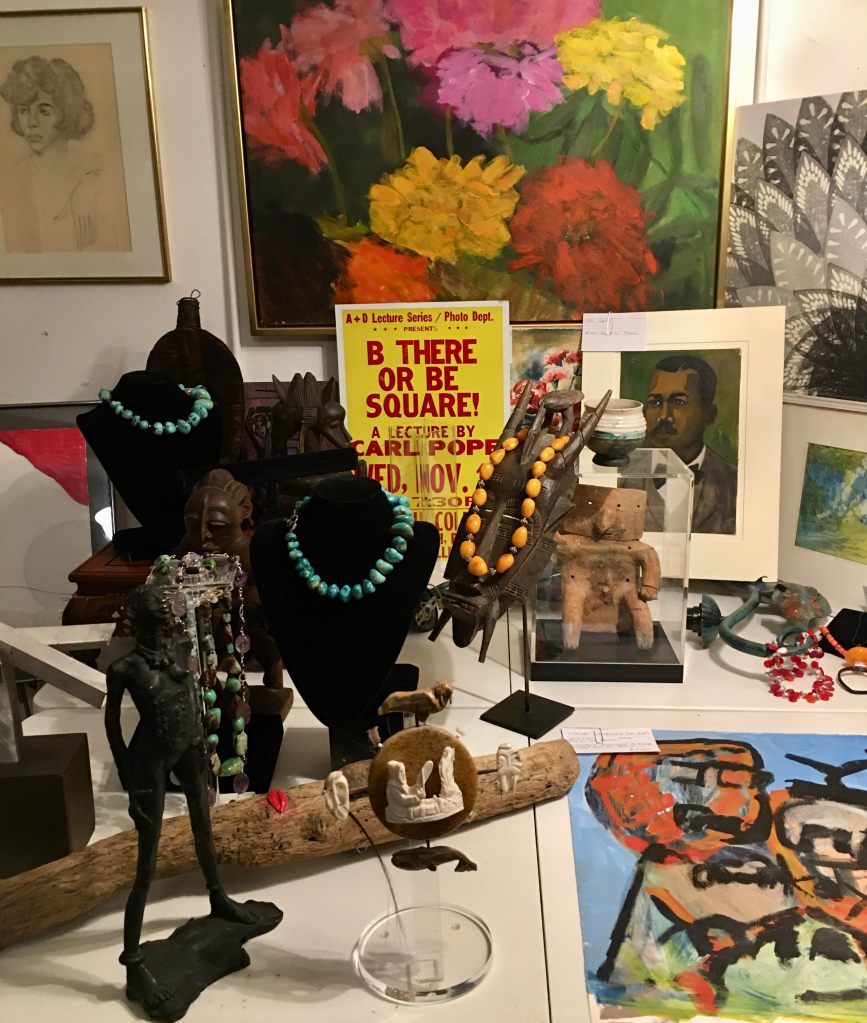 Ty and Lynne McDaniel have been selling gorgeous vintage furniture, local art and other rare finds out of their Humboldt Park store for 11 years. This holiday season, the Black-owned business is selling Madeline Murphy Rabb's custom jewelry collection. Rabb is a renowned art collector and curator and was appointed by Mayor Harold Washington in 1983 as executive director of the Chicago Office of Fine Arts (COFA), which became a division of the Department of Cultural Affairs, which she helped create.
The collection includes sterling silver necklaces, earrings, bracelets and cufflinks. You'll find turquoise, carnelian, butter amber and fresh water pearls as well. You can contact Lynne directly to see the catalog, or take a peek here. Curbside pickup and delivery is also available. Call 773-276-6726 or email lynne@anorangemoon.com for more information.
Vintage Quest, 1105 N. California Ave, Humboldt Park, Instagram
Looking for a unique find for the vintage lover in your life? Vintage Quest in Humboldt Park features a rotating selection of vintage furniture, rugs and other unique finds.
Vintage Quest is open by appointment only. Call 773-787-5890 or message on Instagram to set up an appointment. Curbside pickup and some delivery available for large items.
Logan Square
Fleur, 2651 N. Milwaukee Ave., fleurchicago.com
Fleur is so much more than a flower and plant shop. The shop, which has called Logan Square home since 2001, is lined with beautiful home goods, handcrafted jewelry, candles and apothecary sets.
Owner Kelly Marie Thompson has curated a selection of gifts sure to delight everyone. This year, Thompson's staff recommends a Himalayan Trading candle ($40.95), the book "Plantopedia" ($40), a riser propagation station ($28.95) and a pair of double rainbow earrings by Pretti Cool ($52.95).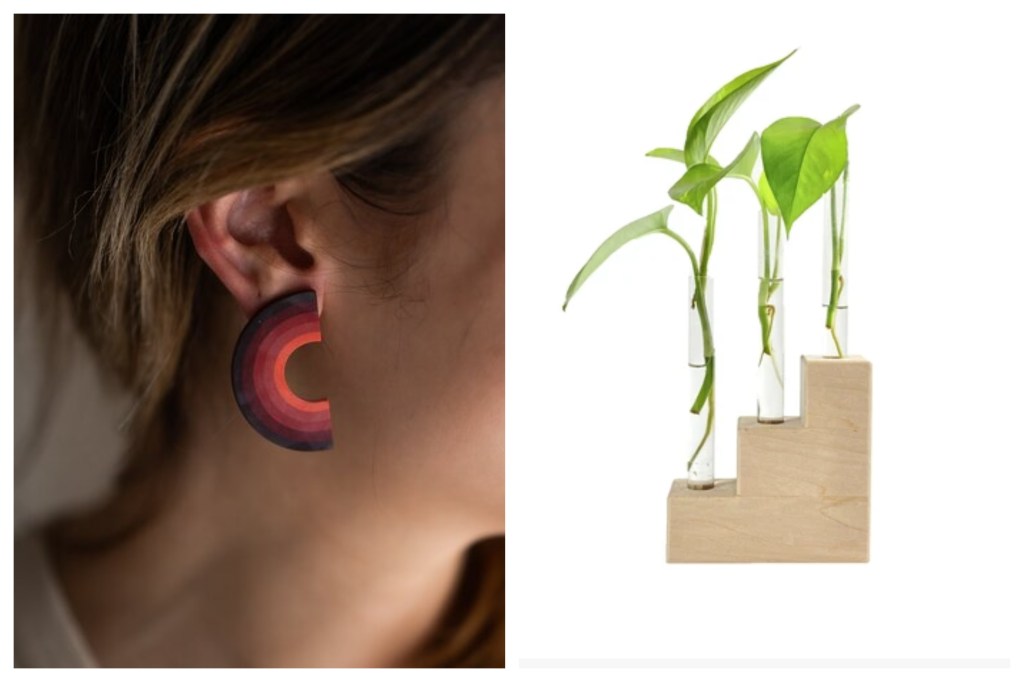 Wolfbait & B-girls, 3131 W. Logan Blvd., wolfbaitchicago.com/giftshop/
Another Logan Square mainstay, Wolfbait is loaded with locally-made ceramics, candles, art, handcrafted jewelry and clothing.
Everything in the shop is made locally; owners Shirley Kienitz and Jenny Stadler top each wrapped gift with a "Made in Chicago" bow.
This year, the Wolftbait crew created holiday gift boxes that can be shipped across the country, including the Homesick Gift Box ($50), which contains a glass Chicago flag coaster, koozies from Haha Hot Dogs, a Malort enamel pin from Reppin and Lemaster Family Kitchens BBQ spices. The Chicago Baby Gift Box ($40) is filled with a Chicago flag onesie and a Boo-Boo buddy doll.
Torres Omar Jewelers, 2624 N. Milwaukee Ave., torresomarjewelry.com
This year, family-owned jewelry shop Torres Omar Jewelers turned 40.
Locals can help the Torres family keep the store open another 40 years by shopping their jewelry this holiday season.
The shop has a wide range of jewelry for sale, from a 14-karat solid yellow gold nameplate necklace with an 18-inch chain ($297) to a 14-karat gold flower pendant and earring set ($137.50).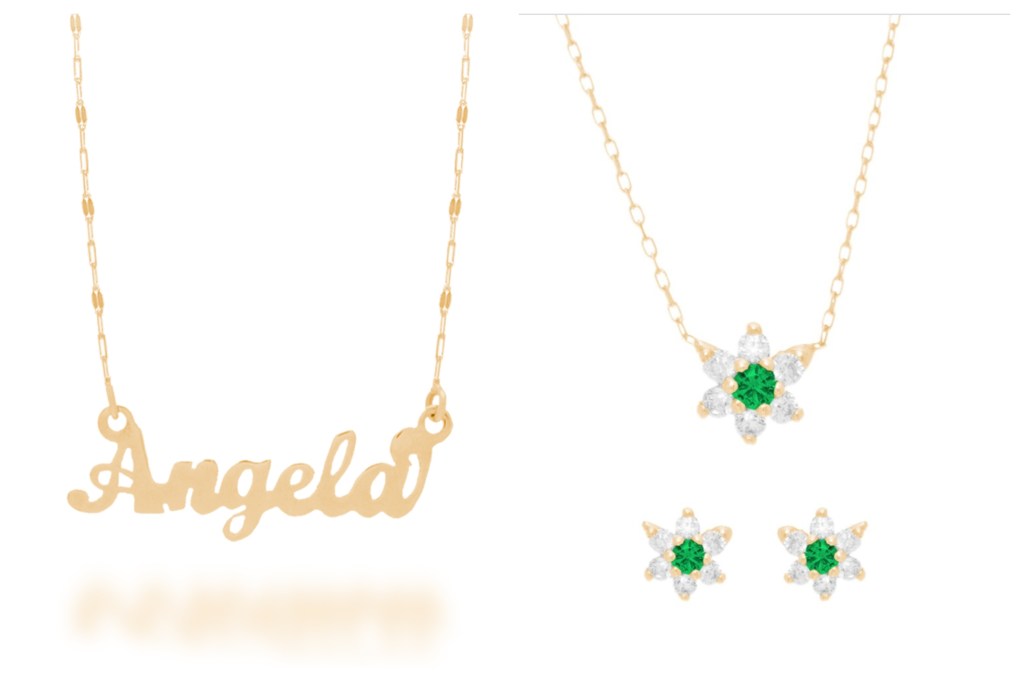 The support will allow the Torres family to continue their tradition of sponsoring community events and scholarships.
"By shopping small, you are helping us help others," the family said in an email.
The family-owned shop sits in the heart of Logan Square, which has changed in recent years due to gentrification.
"Being in Logan Square, you don't see a lot of Latino-owned businesses like ours anymore," Cynthia Torres said in a Tribune video.
Torres Omar Jewelers is open 10 a.m.-5 p.m. Monday-Saturday. The shop offers free insured shipping for purchases over $200.
Adornment & Theory, 2644 N Milwaukee Ave., adornmentandtheory.com
Adornment & Theory, which opened in 2017, sells pieces from emerging designers, as well as watches, custom wedding bands, engagement rings and more. The shop is run by jewelry designer Viviana Langhoff.
Consider studded earrings in rose gold ($200), the Aurora pendant ($245) or the Gold Petal jacket earrings ($125) for the jewelry-loving family members in your life.
Adornment & Theory is open 11 a.m.-6 p.m. Tuesday-Saturday and noon-5 p.m. Sundays. The shop offers delivery and contactless pickup. All holiday orders must be placed on or by Dec. 16 to be received by Dec. 25.
Lost Girls Vintage, 2710 N Sawyer Ave., lostgirlschicago.com
Last but certainly not least is Lost Girls Vintage, which opened in Logan Square this summer.
Similar to Humboldt House, Lost Girls Vintage is a cool girl's paradise filled with vintage clothing and hip accessories and home goods. It's the owners' second shop; their first shop, in West Town, is known for selling some of the best vintage finds in town.
The Logan Square shop is packed with fun holiday gifts. The owners recommend wavy scented candles from Anure ($35), tie-dye fuzzy slippers ($34) and a pair of sculptural Able Shop earrings ($48).
Lost Girls Vintage is open noon-6 p.m. Wednesday-Friday and 11 a.m.-6 p.m. Saturday-Sunday. The shop offers free shipping over $50.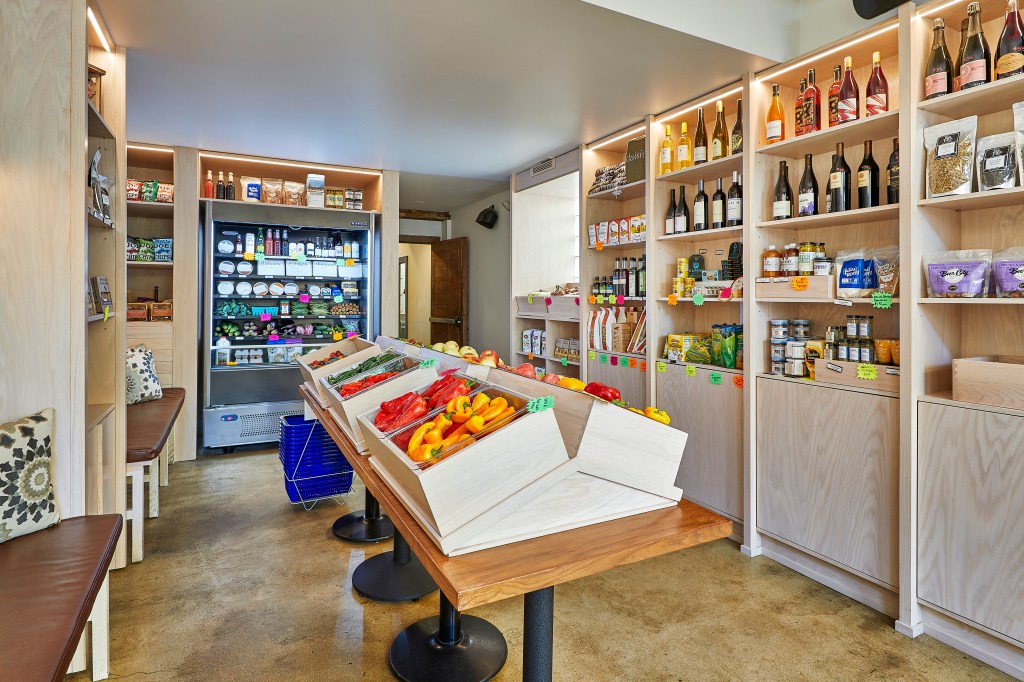 Daisies, 2523 N. Milwaukee Ave., daisieschicago.com
Pasta restaurant Daisies converted part of its space into an Italian market to survive the pandemic — and all of its "bundles," which launch in early December, would make really nice gifts.
You can get the "Chef's Gourmet Pantry" box (approx. $90), which comes with Etimo capers, Za'tar from Galit, Mieli Thun French Honeysuckle honey, mussels escabeche, mackerel filet and DeCarlo extra-virgin olive oil. There are also pasta-making kits, or "Home Pastaio" boxes, ($50-$150) which come with specialty flours, specialty pasta making tools and Daisies house favorite pasta recipes.
Daisies' market is open 10 a.m. – 9 p.m. Wednesday – Sunday, but will be closed Nov. 27 – Dec 4. The restaurant is offering delivery and curbside pickup.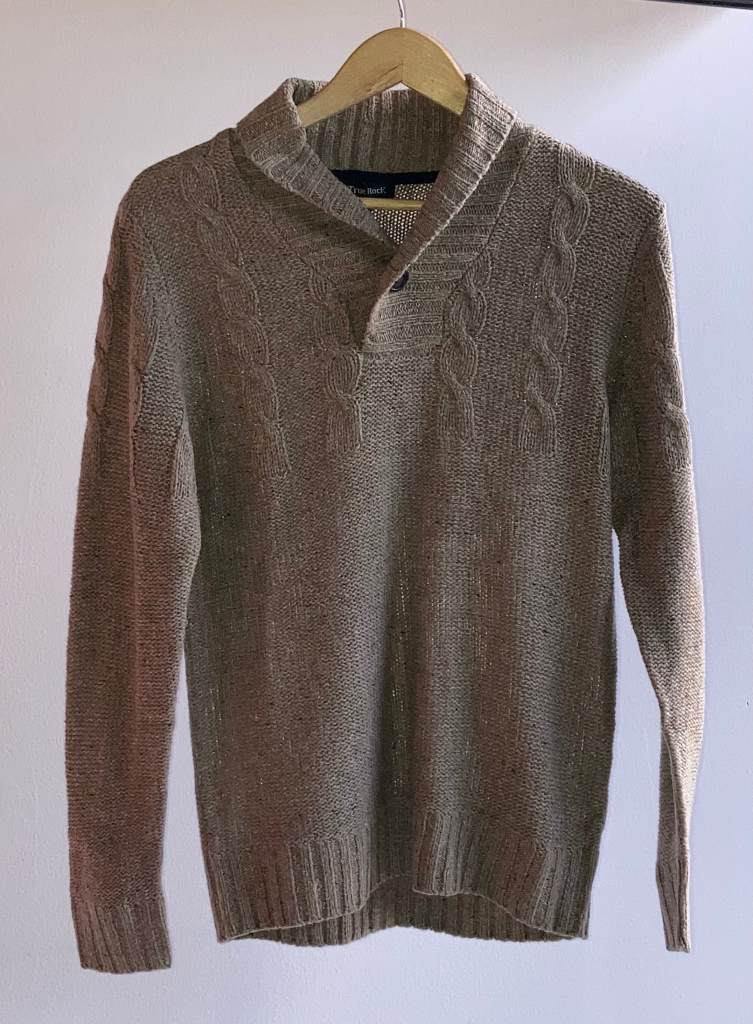 Phayes, 2501 N. Milwaukee Ave. Website
For more than 4 years, Phayes has been offering stylish clothing for men and women in Logan Square.
It's sweater weather, and Phayses has a True Rock 1 button shawl collar pullover ($38) to help keep your significant other warm. For the candle connoisseur in your life, check out their Acadian Expressions candles ($20) with cheeky phrases. 
Phayes offers curbside pickup, free local delivery, and free shipping if you spend over $100. Contact HEIDI@PHAYES.SHOP or 773-687-8549 for special accommodations or to schedule a personal appointment.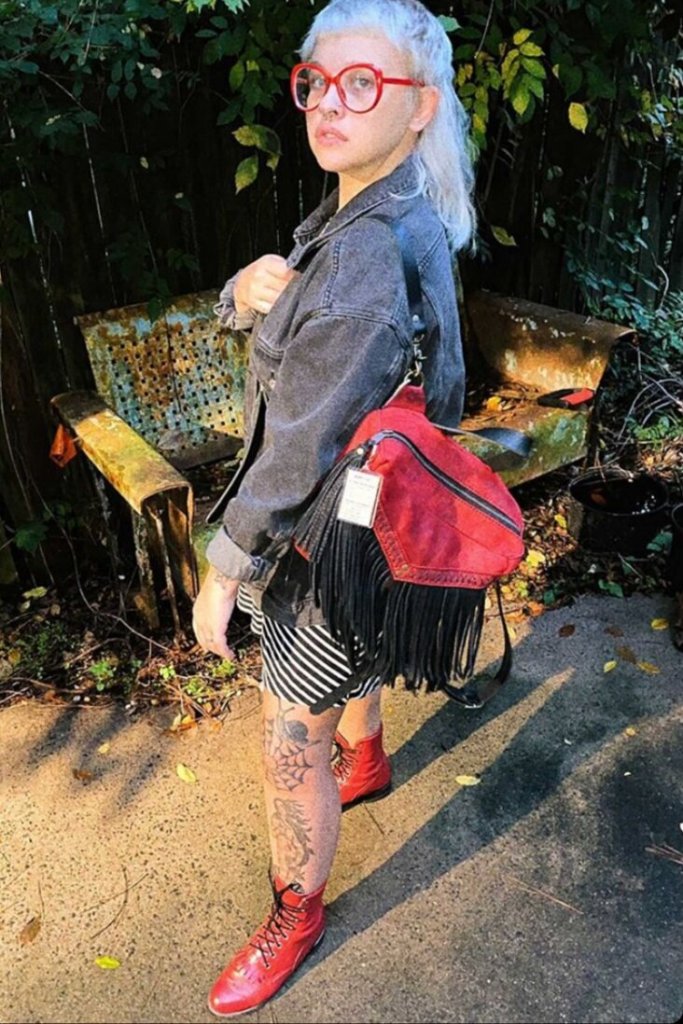 Bird Trouble, 3743 W Armitage Ave, Website
Bird Trouble leather bags and goods are handmade in Logan Square by owner Alexz Sandoval.
The shop's functional designs include the Mini Melissa Convertible Backpack and Crossbody ($305) — big enough to store your tablet! — and the Large Wallet ($122) — a clutch-sized wallet big enough to fit all of your night-out necessities.
Bird Trouble offers curbside pickup and free gifts with all orders.
Subscribe to Block Club Chicago. Every dime we make funds reporting from Chicago's neighborhoods.
Already subscribe? Click here to support Block Club with a tax-deductible donation.