GARFIELD PARK — Small businesses everywhere have been hit hard, and the holiday season can give shops the boost they need to stay afloat.
But on the West Side, commercial areas were struggling even before the recent crises. Some areas like the Madison Street corridor in West Garfield Park suffered from decades of disinvestment punctuated by the 1968 riots following the assassination of Dr. Martin Luther King Jr.
The area never got the support needed to recover, and businesses were again set back by this year's civil unrest. Along the main stretch of Madison, about half of the shops are still closed.
Due to the area's reputation, West Side businesses, artists and entrepreneurs are often forgotten and overlooked, owners say. Because of the myth there's nothing going on out west, people from other areas in the city typically don't even think to patronize shops in the area.
"It's because they don't know the West Side," said Marie Henderson, who has run businesses with her husband along the Madison corridor since 1964.
But those familiar with the West Side know there is an abundance of local entrepreneurs to support this holiday season. Here are some shops and retailers to consider as you start your holiday shopping.
If you want your local shop to be featured, please fill out the Google form at the bottom of this page. We'll gladly add it to our list.
Austin
Forty Acres Fresh Market, Website
Health-minded holiday shoppers can gift a weekly subscription of fresh produce from a West Side market as a local alternative to other trendy food box services.
In an effort to improve access to fresh produce and end food apartheid on the West Side, Forty Acres is working become the first Black-owned, full-service grocery store in Austin.
Subscribers can get a customizable assortment of fruits and veggies delivered weekly, bi-weekly or monthly in various sizes costing $5-$30.
"You could get kiwis, apples, an orange, a mango and some bananas and a pack of raspberries for five bucks," owner Liz Abunaw said.
For $35, the grocery startup is also offering a holiday veggie box that includes all the seasonal produce needed for upcoming holiday dinners. You also can order gift cards.
847-497-5435 or info@fortyacresfreshmarket.com.
Garfield Park
Out of the Past Records, 4407 W Madison St., Facebook page
This record shop is a treasure trove of vintage music for those willing to dig through piles stacked high of records, cassette tapes and 8-tracks.
"Most people like coming in just to search," said Marie Henderson, who owns the store with her husband. "You may not be looking for anything, but you'll find it."
Henderson has an eclectic mix of music in the decades-old record collection. Many of the older people on the West Side come to the store looking for jazz, gospel and blues. But Out of the Past has everything from classical music to soul to hip-hop.
"If they're looking for something they can't find anywhere else, they come to us," Henderson said. "We really cater to people who love music. If you're a vinyl lover, you'll love the store."
The shop also sells gift baskets stuffed with toys for kids in the holiday season.
Open 11 a.m.-5 p.m. Monday-Friday and 11 a.m.-6 p.m. Saturday.
Justice of the Pies, 135 N. Kedzie Ave., Website
Justice of the Pies is a social enterprise bakery that makes pies, quiches and tarts while fighting food insecurity across the city.
Owner Maya-Camille Broussard created Justice of the Pies, based out of the Hatchery Chicago, in honor of her father, whose upbringing on the West Side was mired by food insecurity, she said.
"The emotional trauma of growing up with those food insecurities were very evident … it can be passed down from generation to generation. So that's why I wanted to do what I could fight food insecurities," Broussard said.
The artisanal baked goods available to ship include a caramel apple baked pie ($75), a salted caramel peach pie ($75) and a bourbon pecan pie ($75).
Justice of the Pies also sells various merch.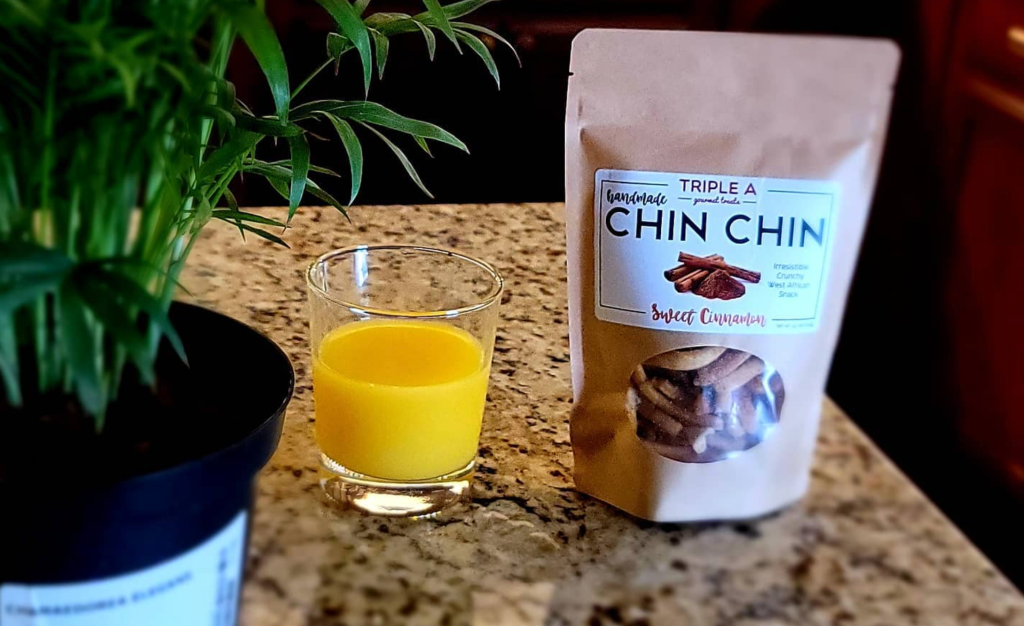 Triple A Gourmet, 135 N. Kedzie Ave, Website
A West African sweet snack known as chin chin is the specialty of Triple A Gourmet Treats. The company makes the fried snack in three flavors: original, cinnamon and sweet and spicy.
773-609-4538 or tripleagourmettreats@gmail.com.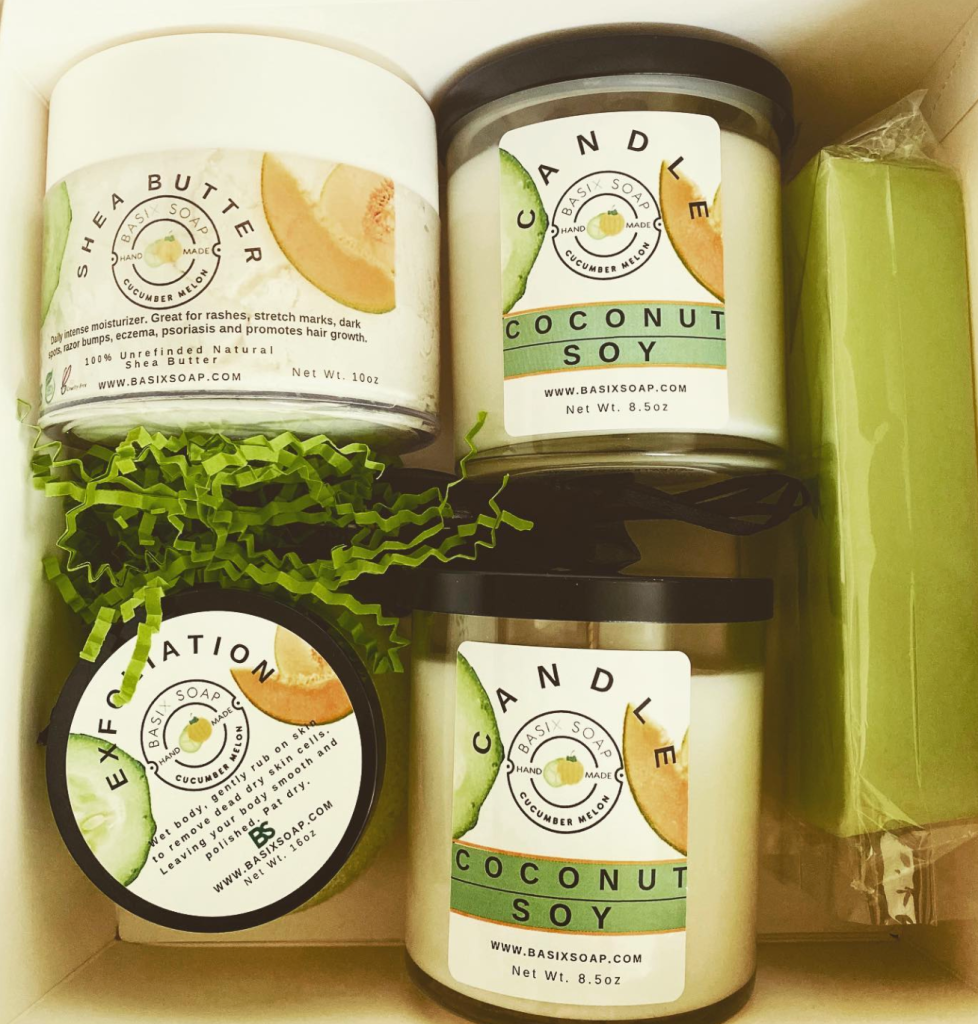 Basix Soap, Online shop
Basix Soap is a favorite at the Garfield Park Neighborhood Market.
The company produces handmade soap, liquid soap, body cream, candles and alkaline water using organic, natural and cruelty-free ingredients.
The Art of Soap Collection ($25) bundles together loafs of handmade soap scented with essential oils.
Their all-natural African black soap ($7) is made using traditional methods in West Africa with ingredients like palm kernel oil and burnt cocoa pod ash.
Basix Shea Butter ($24.99) is a bestseller for dealing with dry skin, eczema and skin inflammation.
702-825-0452. In-store shopping is available 9 a.m.-5 p.m. Monday-Friday, 11 a.m.-3 p.m. Saturdays and 11 a.m.-1 p.m. Sundays. Email info@BasixSoap.com. Free shipping is available for orders over $100.
Tubby's Taste, Online shop
The vegan baked goods made by Tubby's Taste are inspired by the Jamaican roots of founder Danielle Tubbs.
Many of the recipes for Tubbs' specialty cookies are tied to her memories of her mother, her grandmother and her upbringing in Miami. Her Speakeasy Cookie adds a splash of rum to a typical oatmeal raisin cookie, inspired by the secret ingredient to her mother's signature fruit cake.
Tubby's Taste offers a holiday sampler box ($20), which comes with a variety of cookies, including ginger molasses cookies and hibiscus, ginger and lime cookies.
The vegan bakery also has a cookie club subscription ($20) that will deliver a batch of cookies in a different flavor each month.
779-324-3392 or hello@tubbystaste.com.
North Lawndale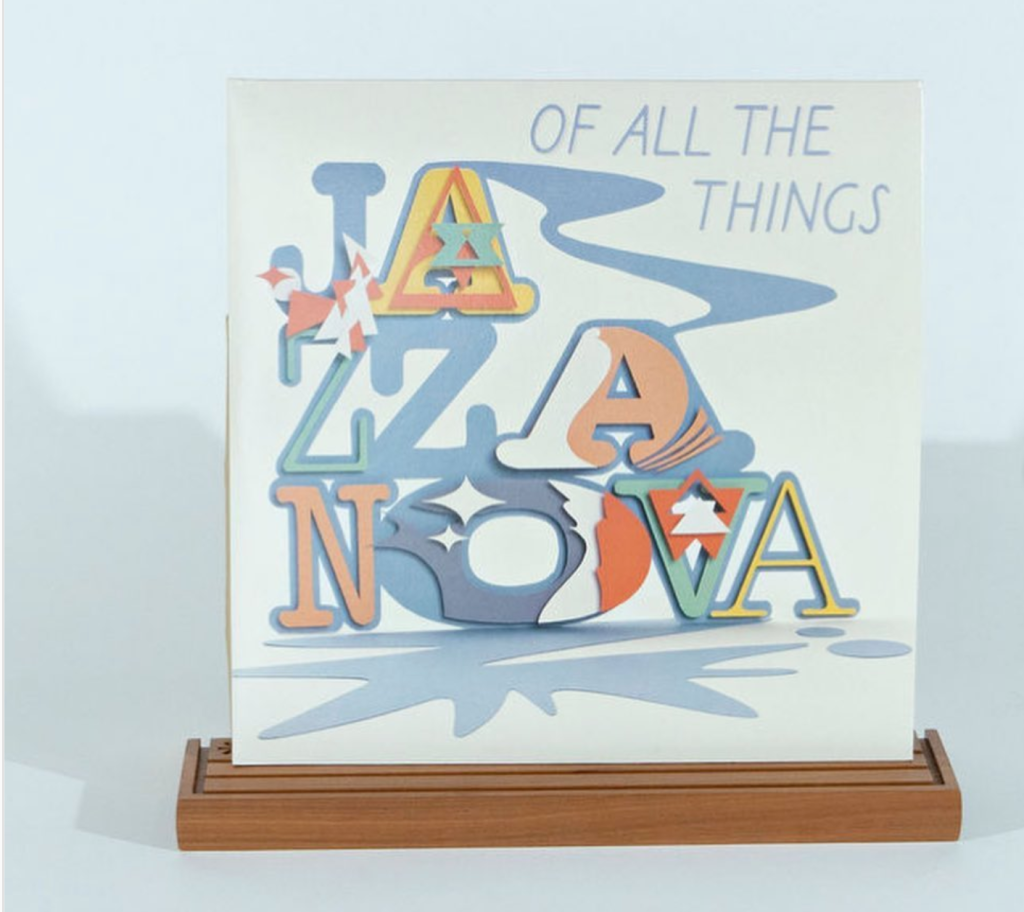 Groove Shelf, 3820 W. Ogden Ave., Website
Principle Barbers is known as a great place to go for a polished haircut. But owner Bobby Price developed Groove Shelf as a side project out of his passion for music, which is evident in the vinyl records displayed around the barbershop and the musical events hosted at the shop after hours.
Groove Shelf ($59.00) is a mid-century inspired floating shelf designed to display vinyl records or other art in style.
The high-quality wood shelf is manufactured in North Lawndale, just a few blocks away from the barber shop.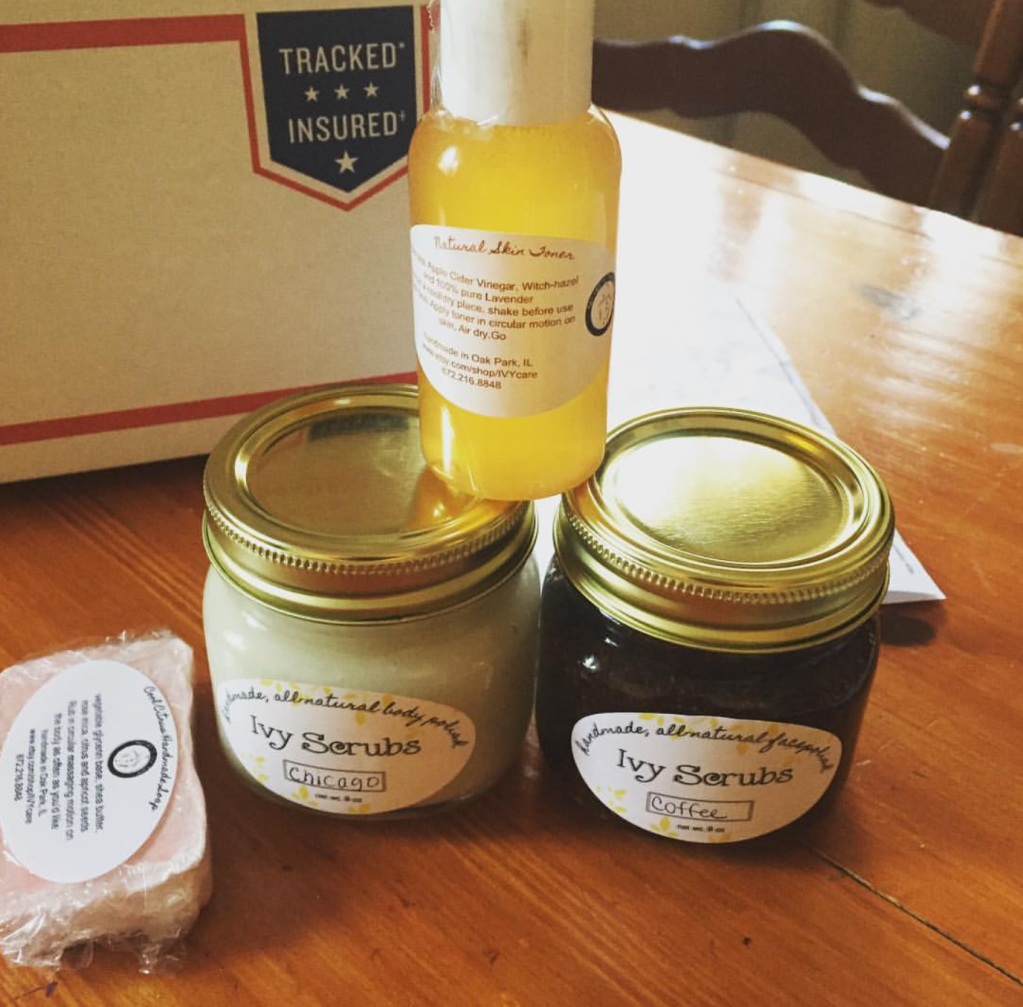 Ivy Care LLC, Facebook page
Ivy Care's bath and body products are created in small batches using natural ingredients aimed at imbuing skincare routines with a "huge emphasis on radical self-care," founder Apriel Campbell said.
Campbell views self-care as an empowering experience. She developed Ivy Care after a traumatic experience as a way to create healing within her own mind and body and to share a feeling of "balance and transformation" with others.
Her recipes are derived from the homemade remedies Campbell's grandmother brought with her from the rural South during the Great Migration.
"Growing up, she had a solution for everything," Campbell said. "As an adult, I found out that the herbs and essential oils she would point me to … they have these wonderful benefits."
Best-selling products include the Rejuvenating Lip Scrub ($10), made with pure cane sugar, and the Lavender Refresher ($14) toner, made with witch hazel, apple cider vinegar and essential oils.
All Ivy Care products can be customized to suit a person's specific needs. Customers can reach out to Ivy Care on Instagram or Facebook to arrange a consultation with Campbell.
Sweet Beginnings, 3726 W. Flournoy St., Website
Sweet Beginnings is the social enterprise of the North Lawndale Employment Network, a work readiness and job training organization that empowers people returning from incarceration to become productive members of their community.
The Beelove skin products are made using honey and beeswax from local apiaries. Formerly incarcerated people make the products by hand as a way of learning entrepreneurship skills and building up work experience.
"It's really about them working collaboratively and finding what their own strengths are," said Daphne Williams, chief growth officer of Sweet Beginnings. "Things that they maybe didn't know were inside of them. They're discovering new skills and possibilities for what they can do."
The company sells raw honey in 12-ounce ($15) and 8-ounce ($9) jars.
Customers can buy the Beelove spa collection ($65), which includes lip balm, body cream, protective body balm and a honey sugar scrub. Individual body products are also available, like the shower gel ($17) and the body lotion ($20).
Sweet Beginnings honey and body care products can be found at all Mariano's or at their online shop.
Art West, 750 S. California Ave, Website
Art West recently launched a gallery to showcase creative talent on the West Side. Founder Alexie Young said Art West is all about creating opportunities for emerging artists in an area where artists are often overlooked.
"We don't complain about what we don't see. We create the amenities that we don't see," Young said.
The gallery sells original works of art, as well as prints.
Art West also offers Made Out West merchandise such as hoodies ($40), mugs ($20) and T-shirts ($27) for those who want to celebrate their West Side roots.
Pascal Sabino is a Report for America corps member covering Austin, North Lawndale and Garfield Park for Block Club Chicago.
Subscribe to Block Club Chicago. Every dime we make funds reporting from Chicago's neighborhoods.
Already subscribe? Click here to support Block Club with a tax-deductible donation.