LINCOLN SQUARE — Dan O'Conor woke up June 13 and decided he'd head over to Lake Michigan and clear his head.
It was a Saturday and O'Conor had been stressed since coronavirus first hit Chicago hard in March. Every day, the news had updates on a pandemic with seemingly no end in sight and there was social unrest across the country after police killed George Floyd in Minneapolis.
Plus, he was hungover.
O'Conor rode his bike to the lake, locked it up and walked along the wall facing Lake Michigan near Montrose Harbor. On a whim, he dove in.
It was the start of a daily pandemic plunge that's now lasted five months.
"It was so enjoyable. I just kept doing it," O'Conor said. "Going down there every day and having some peace of mind when I jumped in. It's almost meditative." 
As of Tuesday, O'Conor has jumped into Lake Michigan from the wall at Montrose Harbor for 157 straight days. He's been documenting his trips to the lake on Twitter for weeks.
"I didn't have a goal in mind when I started this. It's just something fun I've been doing. Sometimes I've had my kids go with me," O'Conor said.
O'Conor is an artist who lives in Lincoln Square and runs a clothing company called Dtox Designs. He's lost business during the pandemic, in part because he's been a vendor for six years at summer music festivals like Lollapalooza.
"But with everything canceled, that was another reason I think I started diving. Just to go out and do something. To get out of the house," O'Conor said.
O'Conor has been in the spotlight before. Four years ago, when the Cubs were on the cusp of their first World Series title since 1908, Fox cameras focused on him and his handlebar mustache in the stands, wagging his finger to signal there was just one out to go. He was a symbol of anxious anticipation — one that got a lot of air time during and after the game. He was "getting more screen time than John Cusack," his wife, Margaret, said at the time.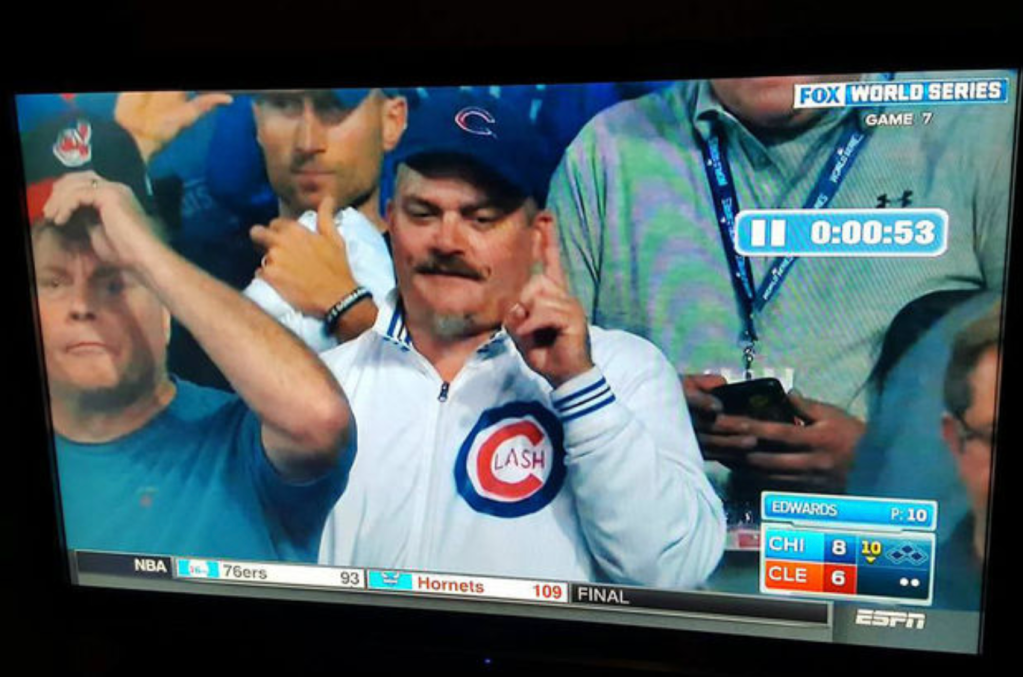 Those were happier times, O'Conor said. But at least he has the lake.
There were several days the weather almost made O'Conor break his streak. One particular day, he arrived and saw the waves were more aggressive than ever. In the distance, he saw a low-flying helicopter circling the same spot over the lake. Police and fire officials were parked on the grass near his wall.
With all the activity, O'Conor was about to pack it in without diving, but then he saw someone heading down to the wall to join him.
"A 70-year-old guy walks over, takes off his shirt before walking up to the edge and jumps in," O'Conor said. "I was like, 'Well, looks like I'm going to keep this streak going.'"
Typically O'Conor tries to dive in the late mornings, but one day he ended up taking a dip just as the sun was setting. When he climbed out of the lake, he was greeted by the locals. 
"There's a raccoon the size of a small bear climbing out of a garbage out there and there's skunk like within 10 feet of me," he said. "All this wildlife."
O'Conor's phone was in reach and he turned on its flashlight to scare away the critters. 
The temperatures keep dropping, but O'Conor plans to keep jumping in for at least the rest of November. He hasn't picked a final date to end his streak, but he knows he won't be diving once the lake is freezing. 
"I'm not going all the way to the full year. It's interesting going in when it's 40 degrees out and the water is 47 degrees like it was last week," O'Conor said. "But I've got this great lake in my backyard and I want to take advantage of it."
Subscribe to Block Club Chicago. Every dime we make funds reporting from Chicago's neighborhoods.
Already subscribe? Click here to support Block Club with a tax-deductible donation.