WICKER PARK — Before heading to another overnight shift, a nurse at Chicago's Rush Hospital stopped by Wicker Park's Gurgoyle Fountain, where a half-dozen other hospital workers and activists gathered to mourn.
Holding candles in somber silence, the masked group stood around the fountain listening to a recording of the names of health care workers across the United States who died after contracting coronavirus on the job. At least 1,375 U.S. health care workers have died from the virus, according to Kaiser Health News.
At the time of the late October vigil, coronavirus hospitalizations were already starting to creep back up at Rush, bringing back memories of the height of the spring surge, the nurse said.
Now, the crisis has exploded to levels not seen even in the spring. Hospitalizations are up a staggering 176 percent compared to just one month ago.
As of Sunday night, a record 5,581 people were hospitalized with coronavirus in Illinois, including 1,144 people in the ICU and 514 people using ventilators.
"Our hospitals are on their way to being overwhelmed," Dr. Ngozi Ezike, director of the Illinois Department of Public Health, said during a Monday news conference. "Our doctors, nurses and health care workers are already being stretched beyond their limits."
The hospital workers in Wicker Park agreed.
"We do not get hazard pay. We are zero percent motivated for this pandemic to continue," one Evanston-based ER employee told Block Club. She asked to remain anonymous for fear of repercussions at work. "We are devastated it has resurged because every position feels the extra workload and stress for personal risk and to those we love."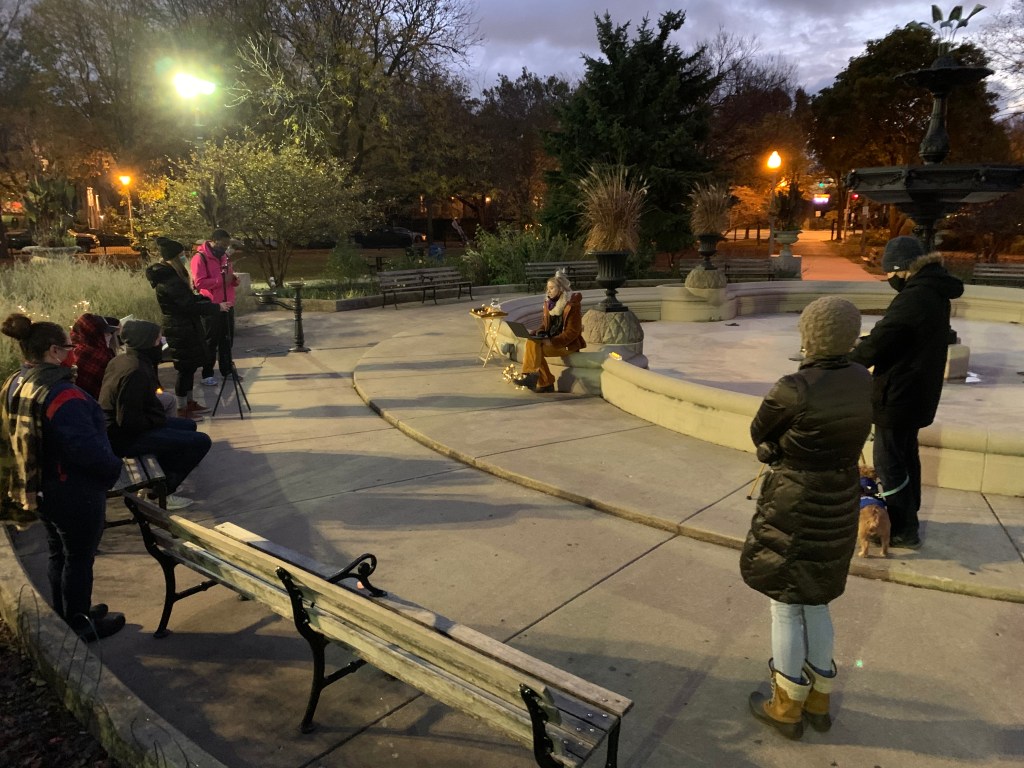 'Completely Burned Out'
Dr. Ruth Colby, president and CEO of Silver Cross Hospital in suburban New Lenox, joined Gov. JB Pritzker for a news conference Monday to talk about the dire situation at her hospital, where 60 workers are out with COVID-19 as hospitalizations surge.
"The pandemic has taken its toll on our community and on our health care workers," Colby said. "Every time someone in the community does not wear a mask or observe the other safety precautions … that creates the potential for a health care worker to contract COVID."
Officials have said a potential shortage of hospital staff is their biggest concern since the entire country is grappling with an outbreak. In March and April, nurses and doctors traveled to "hot spot" cities to help — but that will not be possible this fall and winter since the entire country is a hot spot.
"Believe me, health care workers are completely burned out," said Dr. Richard Novak, head of the University of Illinois at Chicago Medical School's Infectious Diseases division. "They are dispirited to go through this all over again. It's gonna be bad. It's gonna be a bad winter."
RELATED: Chicago's Coronavirus 'Catastrophe': City Could See 1,800 More Deaths By End Of The Year, Top Doc Says
A nurse in Wicker Park said it's impossible to find someone to cover for you if you do get sick, and workplace coronavirus testing is limited to workers who have symptoms — even if they've been exposed. Several workers expressed frustration at the myths about coronavirus they've heard from people who won't take it seriously. She said the idea that only the "old and sick" fall ill to coronavirus was "way off."
"People have struggled to survive this disease at 50," she said. "The 'health issues' are typically common things our parents might have, like high blood pressure or diabetes. Be careful because we will all be 'old,' middle-aged and not 100 percent healthy one day. They are still essential members of our society, often still in the work force."
While there has been good news about vaccines recently — vaccines from Moderna and Pfizer were found to be more than 90 percent effective in trials — Novak, who is the Moderna trial's lead investigator at UIC, warned the widespread distribution of these vaccines is months away.
In the meantime, hospital beds are filling up.
Pritzker said there are plans to divert patients to further-away facilities if hospitals run out of beds or staff, but he would like to avoid getting to that point.
"We do not want to get to a point where our hospitals are literally over-full, and then you will have somebody come and they just don't have personnel or a bed to treat them," he said.
Without some "personal responsibility," the situation will get worse, Ezike said last week.
"If we keep doing everything we're doing and not changing, no measure that we can do at the state level is going to allow us to have enough beds," Ezike said. "Everyone is saying, 'What are we gonna do?' What are YOU gonna do?"
Dr. Michael Kulisz, of Kishwaukee Hospital in DeKalb, also joined Pritzker at Monday's news conference. He had advice for those looking to help.
"Our part isn't that difficult. It's simple," he said. "It's masks, it's physical distancing, it's washing our hands and it's staying home and avoiding gatherings when you can."
Block Club Chicago's coronavirus coverage is free for all readers. Block Club is an independent, 501(c)(3), journalist-run newsroom.
Subscribe to Block Club Chicago. Every dime we make funds reporting from Chicago's neighborhoods.
Already subscribe? Click here to support Block Club with a tax-deductible donation.