CHICAGO — The hardest months yet of the coronavirus outbreak are ahead for Chicago and the rest of Illinois, officials warned Tuesday.
Coronavirus hospitalizations are surging and deaths rapidly rising, and officials said they're worried about how much worse things could get this winter. With hospital beds quickly filling up, new cases surging and health care staff in demand and spread thin nationally, the state is "locked in a struggle with this virus as winter approaches," Gov. JB Pritzker said Tuesday.
"We all want this to be over, but we need to gird ourselves for winter because [the pandemic is] not over yet," Gov. JB Pritzker said during a Tuesday coronavirus briefing. "Neither has winter come, nor is the pandemic over. We have potentially months of the fight ahead of us."
Illinois has already had more than 10,200 deaths, and thousands more are expected to die this winter.
Chicago's top health official, Dr. Allison Arwady, said she's most worried about November, December and January.
Across Illinois, the number of people hospitalized with coronavirus is already almost back at the peak the state experienced in the spring. As of Monday night, 4,742 people were hospitalized with coronavirus in Illinois. Deaths are quickly rising, too, with dozens dying per day.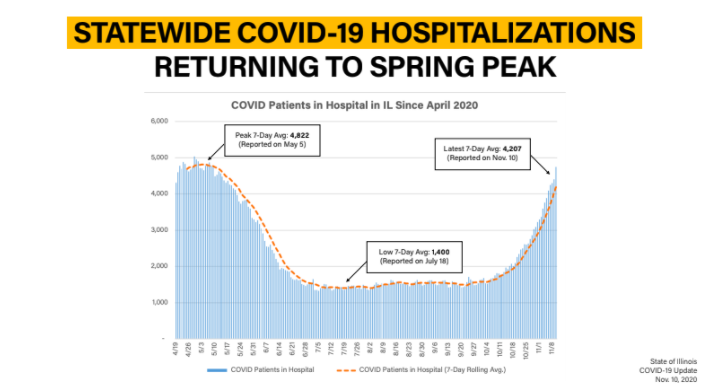 That paints a grim picture for the winter, when the COVID-19 surge is expected to worsen even further and when hospitals already tend to be busier dealing with other illnesses and emergencies, officials said.
The number of people hospitalized with coronavirus has already surpassed the spring peaks seen in regions 1-7 of the state. In regions 8-10, which cover the suburbs around Chicago, hospitalizations are also quickly rising.
Hospitalizations in Chicago are only at about half of what they were during the spring peak — but they are growing rapidly.
Chicago's hospitals have about three times the number of coronavirus patients hospitalized, in the ICU and using ventilators as they did at the start of October, said Arwady, the commissioner for the Chicago Department of Public Health.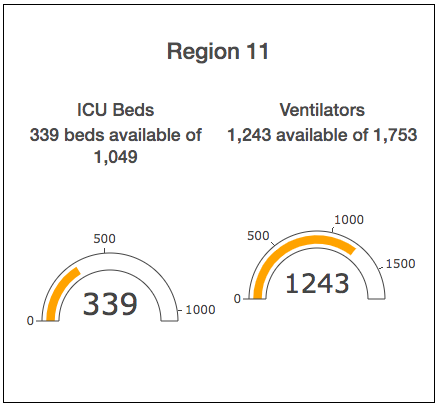 It's possible Chicago will soon hit and surpass its spring peak for people hospitalized with COVID-19, Arwady said.
"… With the numbers increasing the way they are, we're really concerned," Arwady said.
Chicago's uptick in hospitalizations comes as the city has seen an enormous surge in new cases of COVID-19 and in its positivity rate. New cases in the city are up 400 percent since the start of October, and Chicago's positivity rate hit 13 percent Tuesday; it was at 5 percent in early October.
More cases means more people hospitalized and, eventually, more people dying from coronavirus, officials have said. Deaths are already on the rise in Chicago, with dozens dying every week.
The surge also means more health care workers and hospital beds will be required in the months ahead — and that's easier said than done.
In the spring, when it looked like hospitals in Chicago and the suburbs could be overcome by the first coronavirus surge, officials built up hospital capacity and stockpiled equipment like ventilators. McCormick Place was turned into a field hospital, though it was barely used.
That kind of capacity could be built up again in Chicago, and the city's hospitals now have "lots" of ventilators, Arwady said.
But with the entire United States facing a COVID-19 surge and doctors and nurses unable to come to Illinois from other states, it will be much harder to get enough health care workers to care for all the people who will become sick, Arwady said.
"When this whole country is breaking records for COVID, which is what is happening every single day, I'm less concerned about ventilators …," Arwady said. "I'm concerned but not as concerned about beds.
"But I'm very concerned about staffing. … There is less room for error here in terms of not taking this seriously."
Pritzker expressed a similar concern, pointing out there's no extra staff available for Illinois if every state is demanding extra workers.
There is hope for a vaccine in the months ahead — but it's still not expected to be widely distributed until later in 2021, long after this winter.
"We are starting to see real increases in the really serious outcomes," Arwady said. "And I think people are also excited to be hearing good news about vaccine. … But vaccine is not November. Vaccine is not December. Vaccine is not January in terms of any significant amount of vaccine available.
"And November, December and January are what I'm the most worried about here in Chicago."
To slow the virus's spread and prevent hospitals from being overrun, people need to wear masks, social distance, cancel all non-essential travel, stop gathering and wash their hands, officials have said.
Pritzker said he's spoken with health care administrators from across the state and heard their concerns about how quickly hospital beds are filling up.
"We must not let them become overrun," Pritzker said. "… They have a message for everyone listening: They implore you to make sure everyone wears a mask and stops gathering with a large number of people in your homes. They need your help."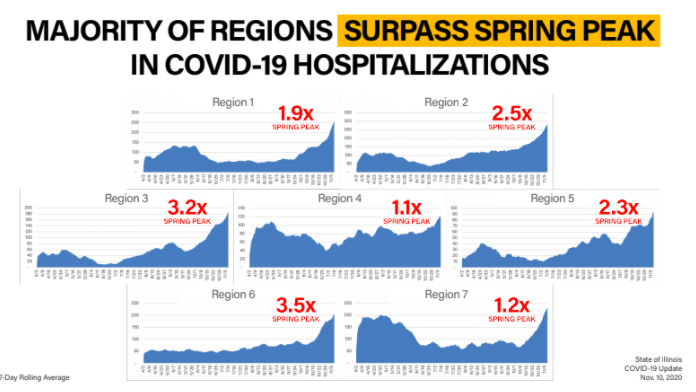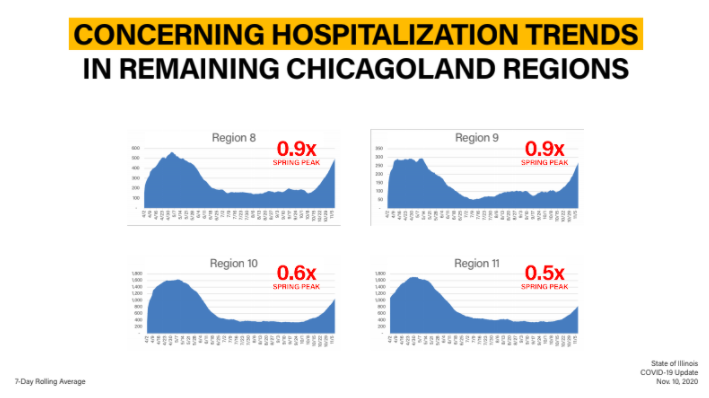 Block Club Chicago's coronavirus coverage is free for all readers. Block Club is an independent, 501(c)(3), journalist-run newsroom.
Subscribe to Block Club Chicago. Every dime we make funds reporting from Chicago's neighborhoods.
Already subscribe? Click here to support Block Club with a tax-deductible donation.