NORTH LAWNDALE — A library has opened in North Lawndale — but instead of books, this one loans out bicycles.
The bike library is a project of the Young Men's Educational Network, known as YMEN, designed to strengthen community in the area. The library will have a bicycle repair shop to offer simple bike repairs so neighbors have a place to go for flat tires, brakes and handlebar adjustments.
The bicycle library operates out of a repurposed shipping container on a formerly vacant lot at 13th Street and Pulaski Road in the K-Town neighborhood. The shipping box is outfitted with about 20 donated bicycles that can be borrowed by community members and neighborhood groups.
The rentals are free. YMEN is working with groups on rentals, but solo trips can also be set up by calling the group at (773) 522-9636.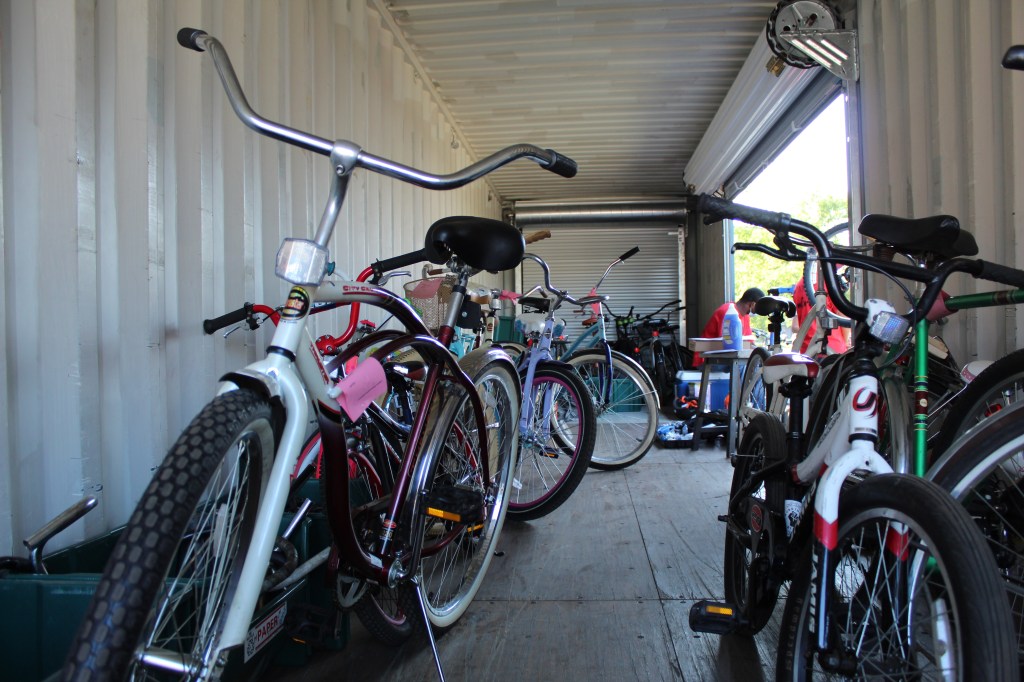 Making the bikes and tools to maintain them available can give residents a greater sense of freedom and autonomy to get around the city in an affordable and sustainable way, said Marcus Throne, executive director of operations for YMEN.
"I want our young people to know that this neighborhood is more than just the two or three blocks they live on," Thorne said. "It's the idea of having a young people feel like they own the city, the city belongs to them."
YMEN emphasizes job training and entrepreneurship among youth. The bike library will give young people in the neighborhood a paid opportunity to learn mechanical skills to help community members fix their bikes. Even though the teens may not pursue a career in mechanics, Thorne said it will give the young people a sense of accomplishment and an interest in engineering.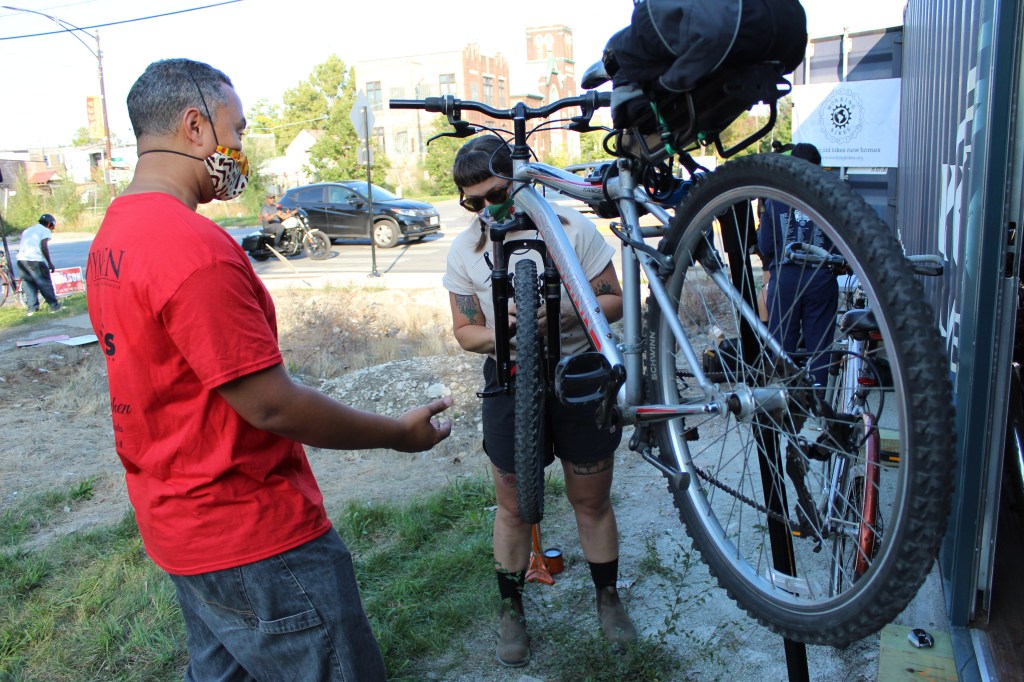 The bike library is supported by donations and the expertise of local groups such as Working Bikes, which is developing the on-site repair shop, and Equiticity, an organization that uses biking to promote kinship and advance racial equity in the community.
Other partners on the project include UCAN, the neighborhood's greening committee GROWWS, Boxing Out Negativity and the Chicago West Side Christian School.
The partners are working to build a culture of cycling in the neighborhood, where residents rely on bikes for transit and leisure.
"We think of bikes as tools of empowerment and really focus on getting people who need bikes sustainable transportation," said Trevor Clarke, of Working Bikes. "We're really hopeful that it will be recognized as a resource that people can use and rely on into the future."
The bike box debuted as a pilot through the fall to build interest in the bike sharing program. Over the colder months, YMEN will work with partners to to streamline the bike-borrowing process, hours of operation and the bike repair program.
Through the fall, Thorne expects the bicycle library to be used by local churches, neighborhood groups and after-school programs. Those groups will easily be able to contact YMEN to access the bike box to borrow as many bikes as they need for recreational activities or community bike ride events, Thorne said.
The pilot will allow "organizations [to] be able to come and get the bikes, to tour North Lawndale, to take bike rides to do things in the neighborhood. So it's kind of almost like a shared community fleet of bikes," Thorne said.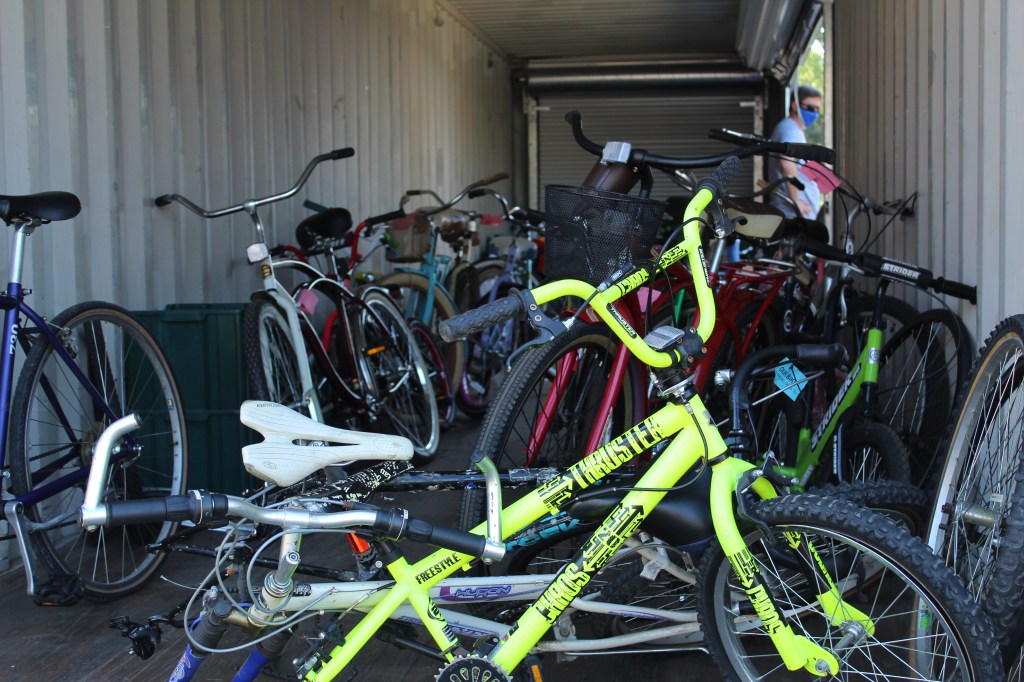 Recreation groups Boxing Out Negativity and Equiticity regularly host community bike rides to promote fellowship between neighbors and give young people safe activities.
Having more biking events will improve people's physical health and create job opportunities for young people, and it will strengthen trust among residents, which can make the neighborhood safer, said Equiticity founder Olatunji Oboi Reed.
"When more people walk and bike in our neighborhoods, then our streets are more vibrant," Reed said. "We're confident that should we achieve vibrant streets in out neighborhood we'll have an impact on reducing violence."
Pascal Sabino is a Report for America corps member covering Austin, North Lawndale and Garfield Park for Block Club Chicago.
Block Club Chicago's coronavirus coverage is free for all readers. Block Club is an independent, 501(c)(3), journalist-run newsroom.
Subscribe to Block Club Chicago. Every dime we make funds reporting from Chicago's neighborhoods.
Already subscribe? Click here to support Block Club with a tax-deductible donation.