PILSEN — A coalition of housing activists and organizers from across the city are calling on Gov. JB Pritzker to lift the ban on rent control to help families struggling to pay rent amid the ongoing coronavirus pandemic.
On Thursday evening, a local alderman and a group of housing rights activists held a rally at Plaza Tenochtitlán in Pilsen, calling the governor to use his executive authority to help struggling renters and homeowners stemming from the economic downturn.
Pilsen Alliance Director Moises Moreno called on the governor to cancel rent and cancel mortgages as the pandemic continues to plague Chicagoans.
"We are seven months into the pandemic, and we are still suffering as a community," Moreno said. "The people can still not afford to pay their rent,… or pay their mortgage. Why? 
"Where is the help coming from our governor and our elected officials? We don't see it," he said. "…We want to make sure no one gets displaced from our communities."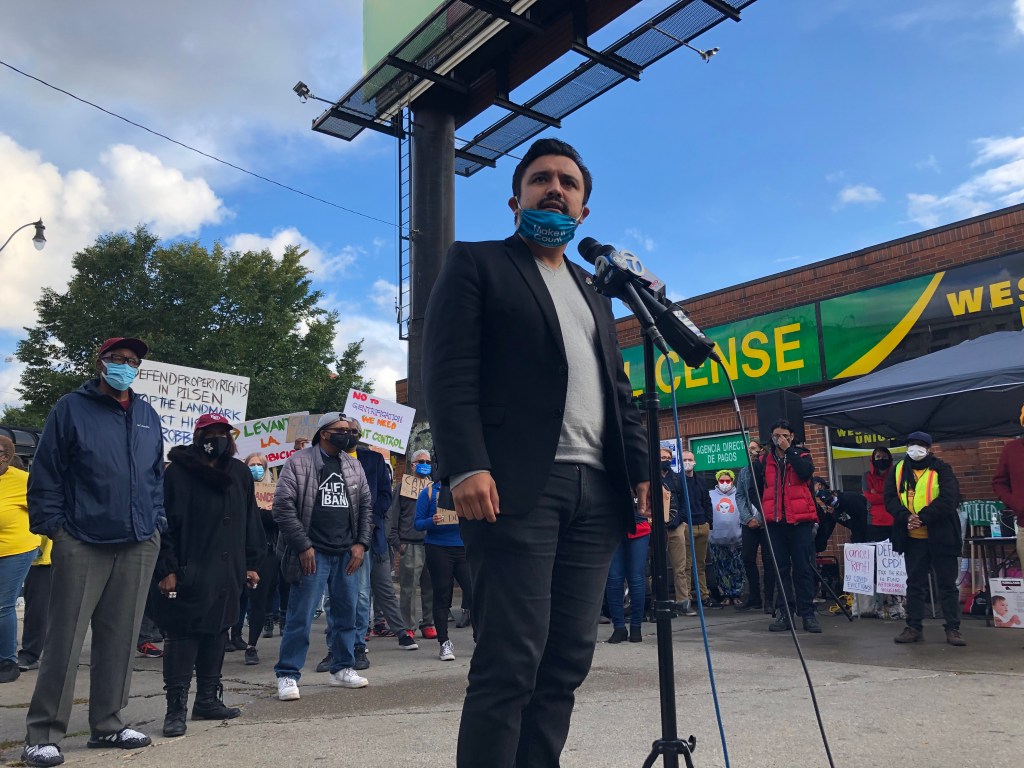 Ald. Byron Sigcho-Lopez (25th), who has previously called for on rent control to help struggling families, said out-of-work residents are struggling. The city and state need to act now, he said.
The governor campaigned on rent control and he needs to "honor that promise," Sigcho-Lopez said.
"What we're talking about here is stability in housing…in our neighborhoods," he said.
In 2018, Pritzker told Crain's Chicago that he supported repealing the statewide ban on rent control. "Any future plans for our communities need to include plans for the people already living in those communities," he said at the time.
During a press conference in April, Pritzker said he couldn't lift the ban with an executive order.
"That state law can only be repealed by the state legislature," he said. But the state legislature was unable to act due to the coronavirus outbreak, he said at the time.
RELATED: State Needs To Act Now On Rent, Mortgage Relief, Aldermen Say — But Rent Control Ban's Power Is 'Startling'
The governor said his office instead is "doing an awful lot of other things to make it easier for people during this crisis to stay in their homes," including ordering sheriffs in all 102 counties to halt evictions during the crisis and stopping utility shutoffs.
Despite the moratorium on evictions, housing rights groups have reported an increasing number of illegal lockouts in Chicago, according to the Sun-Times.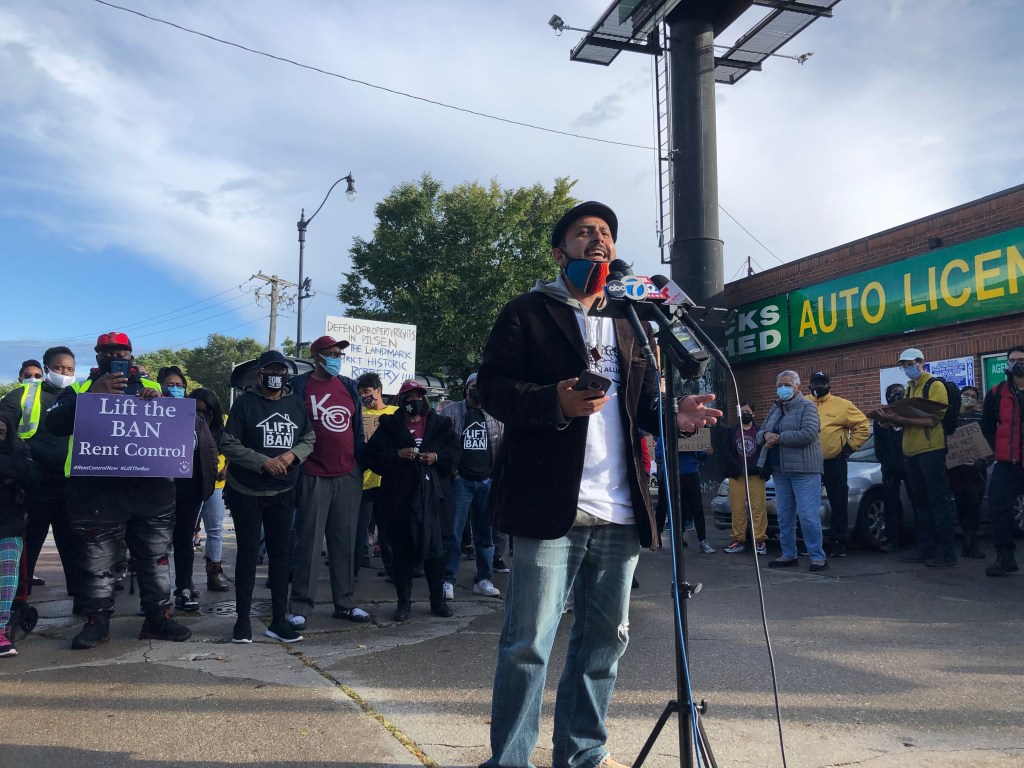 With the lingering financial burden piling up on families who have been out of a job for months, Moreno said the statewide eviction moratorium is "simply not enough." He said many mutual aid groups have popped up to feed and provide rent assistance to families, support the government has failed to adequately provide.
Luz, a Little Village resident who said she's had to rely on loans to pay the rent, agreed.
"Help us," she urged. "Many of us are going to be evicted. Don't let that happen to us."
Block Club Chicago's coronavirus coverage is free for all readers. Block Club is an independent, 501(c)(3), journalist-run newsroom.
Subscribe to Block Club Chicago. Every dime we make funds reporting from Chicago's neighborhoods.
Already subscribe? Click here to support Block Club with a tax-deductible donation.