ANDERSONVILLE — Andersonville's newest piece of public art features a powerful message — Black Trans Lives Matter — in a colorful presentation and prominent setting.
The mural was painted on Catalpa Avenue between Clark Street and Ashland Avenue, just off of Andersonville's commercial district. Twenty-two artists or art groups collaborated on the project, which was painted Sunday with finishing touches added this week.
The project was spearheaded by the Andersonville Chamber of Commerce and Ald. Andre Vasquez (40th). The chamber has recently worked on several trans-inclusive efforts, including a trans/gender nonconforming symposium for business owners and a trans visibility takeover of Clark Street in Fall 2019.
"The mural is one step in a series along our journey to be a more understanding and inclusive neighborhood," said Joelle Scillia, director of marketing for the Andersonville chamber.
The chamber, with Vasquez's help, got city approval to paint the street mural last week. That set off a last-minute call for artists to paint the mural over Saturday and Sunday.
More than 40 artists applied to participate in the mural painting, Scillia said, and 21 artists and collaborators were selected. Rachel Myers of StudioUs Chicago in Andersonville stenciled the letters.
The chamber sought artists of color and of all genders and sexual orientations for the project. Andersonville neighbors donated nearly $4,000 to pay the artists for their time and materials used on the mural, Scillia said.
Logan Square-based artist Tattianna Howard painted one of the "T's" in "Matter." Howard, who described herself as a painter and "aspiring muralist," said she was happy for the opportunity and the ability to help in an important social justice effort.
"I was honored to be included," Howard said. "It's a big step for me because it's a part of history."
Andersonville's mural is the latest in prominent, pro-Black Lives Matter street art to pop up throughout the country during the nationwide protests against systemic racism.
A similar street mural was recently unveiled in Uptown. The first Black Lives Matter street mural in Chicago debuted late July in South Shore, where activist William Calloway and artist Quentin Crockett collaborated on the mural along Jeffrey Boulevard.
Vasquez said he pushed for the mural in his ward because, as a former hip-hop artist, he knows the impact art can have on social justice movements.
"I understand the value and power in art," Vasquez said. "It brings communities together … and it helps get messaging across."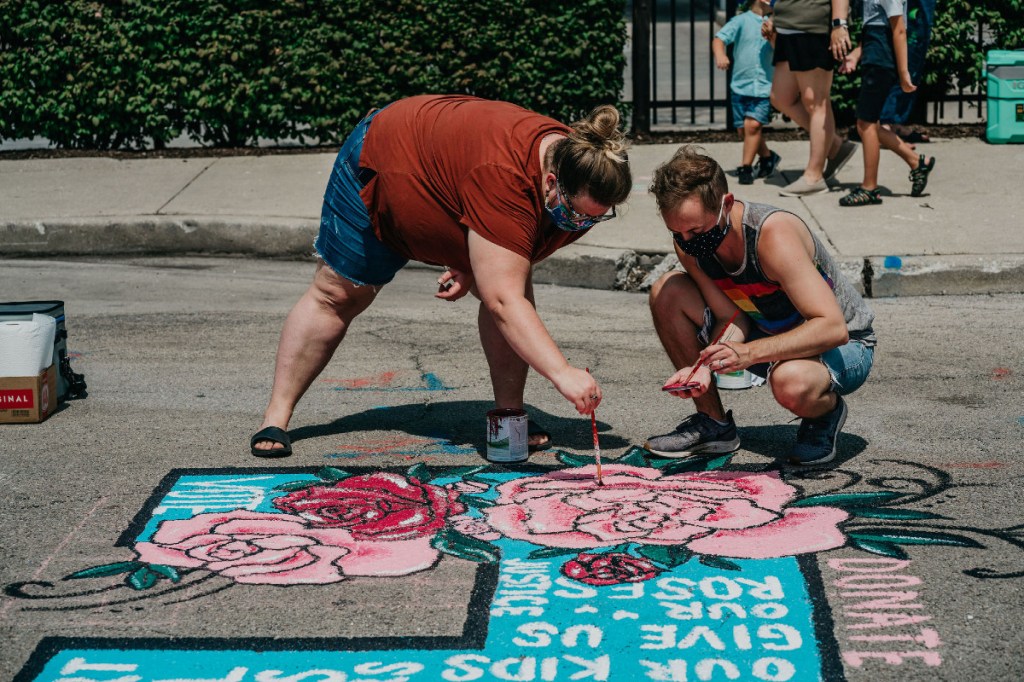 Vasquez said he received the city's approval to keep Catalpa closed all of this week so people can more easily check out the street mural. The alderman is also asking the city to turn Catalpa into a shared street — similar to the setup on nearby Leland Avenue — so neighbors can more easily enjoy the mural.
Howard said she is glad artists like herself are able to use their work to forward an important cause.
"The message is clear and outstanding," Howard said. "Art can help."
Artists who worked on the project:
B: Bailey @baileys.funky
L: Molly Costello @mollyccostello
A: Joycelyn Wynter @beautyonthabeatz_
C: Grae Rosa @grae.rosa and Monica Trinidad @itsmonicatrinidad
K: Chi N. @itschinwosu & Yo Y.
T: Jes Scheinpflug
R: Mary Fedorowski @overbitestudio
A: Adam Polak @braverspaces
N: Tiffany Favers @epiphsfromtiff
S: Ivan Vazquez @thechicagolago.
L: Laura Kaucher @laurakaucher
I: Daniel @heronhilldesigns
V: Chi N. @itschinwosu & Yo Y.
E: Owen Karcher @owenkarch
S: Melisa @peacecosour & Elisa @e_roar
M: Alex Mendez @always_make_art
A: Touly Phiachantharath @uptowndesignstudio
T: Sam Kirk @iamsamkirk
T: Tattianna Howard @tattigram
E: Shala. @followshala 
R: Renisha James @reneweddesigns
Subscribe to Block Club Chicago. Every dime we make funds reporting from Chicago's neighborhoods.
Already subscribe? Click here to support Block Club with a tax-deductible donation.