SOUTH SHORE — It took six years for South Shore to get its grocery store back, and residents proved Wednesday they aren't about to let a few bad actors take it away from them just months into its tenure.
Dozens came out to a cleanup and defense of the Local Market in Jeffery Plaza Wednesday afternoon, as part of a "community policing" effort organized by the South Shore Chamber and Neighborhood Network Alliance.
During a weekend of unrest, looters breached the Local Market roof and damaged the liquor department, South Shore Chamber executive director Tonya Trice said.
In response, residents loaded piles of trash and debris behind the Local Market into dumpsters. Included in the mess were theft-deterrent tags, broken liquor bottles and unused packets of disposable towels from inside the store.
Due in part to the cleanup effort, the grocery store — closed since Sunday — re-opened Thursday morning. Traffic control will be in place in the Jeffery Plaza parking lot and the store itself, and armed security will protect the perimeter of the store, Trice said.
"This is a food safety initiative for us," Trice said. "Right now they are the only grocery store in the community where residents can have access to food and basic life essentials."
Local Market owners Eva and Cezary Jakubowski have shown a commitment to the neighborhood, backing efforts like SSA #42's grocery delivery service during the coronavirus pandemic, Trice said. The owners have had direct contact with the Chamber throughout the re-opening process, she said.
"They came to South Shore when no other grocery store wanted that location," Trice said. "They stay engaged, and we appreciate that. That's the type of partnership we need from all of the businesses in South Shore."
With the store reopening and the plaza cleaned, the South Shore community policing effort will continue in the coming weeks, said Val Free, lead steward of the Neighborhood Network Alliance.
Neighbors have requested block cleanups following the week's unrest, for which more details are forthcoming.
To get involved with the ongoing effort, you can email Free.
Youth Get Involved
Young people joined their guardians for the cleanup day Wednesday, saying they understood how important the grocery store was to South Shore.
Edward Briscoe joined his sister Elise and mother Cheetah Farrar in the effort. The South Shore residents moved to the area a couple years ago, when the neighborhood was still a food desert, so they understand the importance of easy access to food and other essentials, Farrar said.
"I want to help because it's been a long time since we had a grocery store," Edward said. "I want to make sure it stays there so that people don't have to go out of our community to get what they need."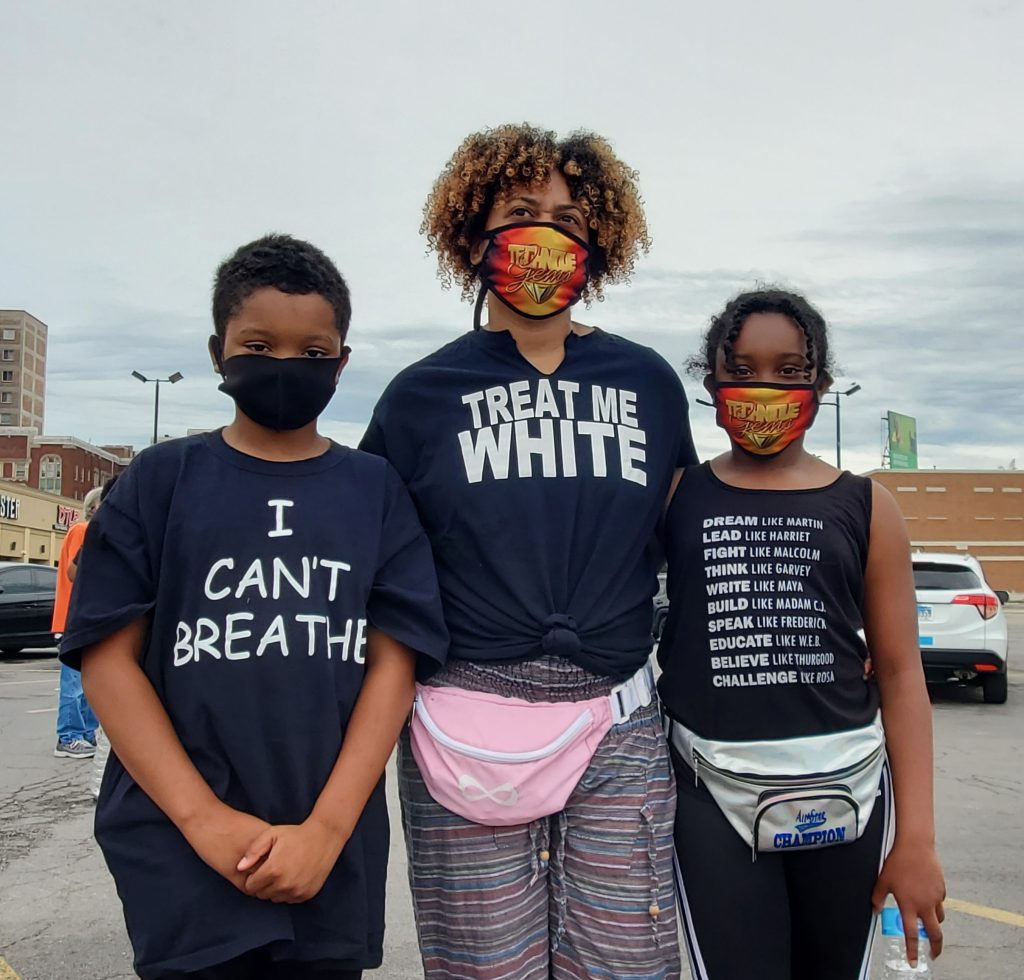 Arrington, Autumn and Clarke Blackburn joined Renee Blackburn in gathering debris behind the store. It's important for young people to clean up the community they're going to grow up in, Autumn said.
"It's really important to support Black communities … and make sure that we all have a chance to live the life we deserve to live, instead of one that is being forced on us from being put into food deserts," Arrington said.
"Some of are living in communities that have been devestated, ruined; that may not be rebuilt for God only knows how long," Renee added. "The Loop will be taken care of, but those of us on the South Side we're not so sure. We have to do whatever we can to help."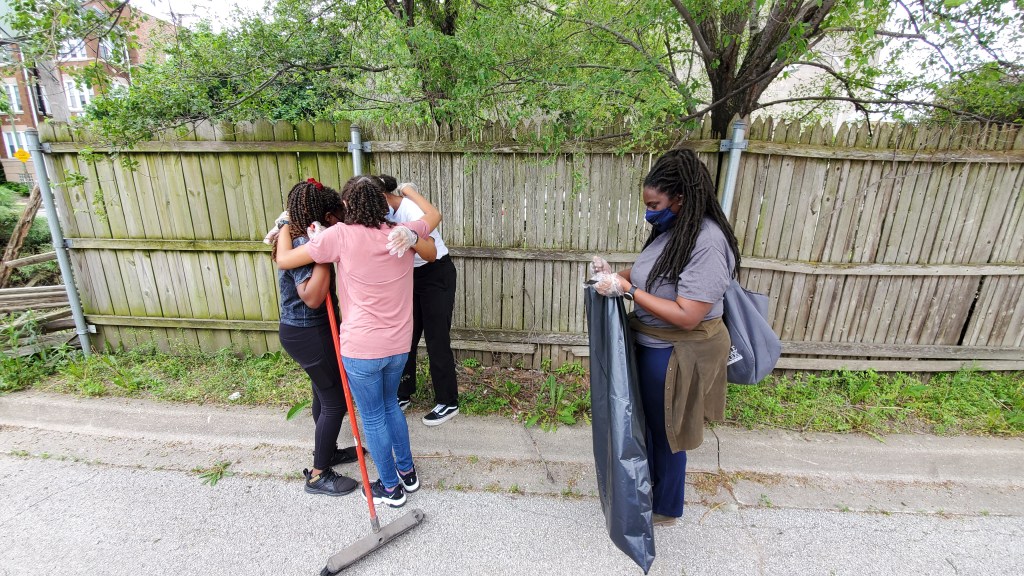 As the cleanup went on, attendees became aware of the death of civil rights activist Conrad Worrill, who died Wednesday at the age of 78. When the debris was cleaned, they huddled for a prayer circle in Worrill's honor led by Rev. Adonna Reid of South Shore United Methodist Church.
The youth activism embodied by the Blackburns, the Briscoes and all the young people at Wednesday's cleanup is a "wonderful tribute to [Worrill's] legacy," which will continue past his death, Reid said.
"The community is not monolithic," she said. "There are many people who want justice, but they want to bring it about in peaceable ways."
It's a "false narrative" that young people were solely responsible for the looting at Local Market and other areas around South Shore, Free said. More important than assigning blame is the effort of all residents to move the neighborhood forward, she said.
"It wasn't just the youth [looting]; it was adults and youth," Free said. "At the end of the day, it's the community that's going to come together. We the people are going to save ourselves; just like we fought for this grocery store to get it, we're going to fight to keep it."
Subscribe to Block Club Chicago. Every dime we make funds reporting from Chicago's neighborhoods.
Already subscribe? Click here to support Block Club with a tax-deductible donation.