SOUTH SHORE — Nearly six years to the day after Dominick's closed for good, the Local Market in Jeffery Plaza opened for business in the same spot Wednesday morning.
A wide variety of fresh produce, desperately needed in the former food desert, is the first thing customers see upon entering. Nearby, a large hot foods section with pasta, chicken and other ready-made meals rivals that of the Whole Foods in Hyde Park.
From packaged goods to fresh meats and seafood, it all adds up to something South Shore hasn't had in more than half a decade: A full-service grocery store.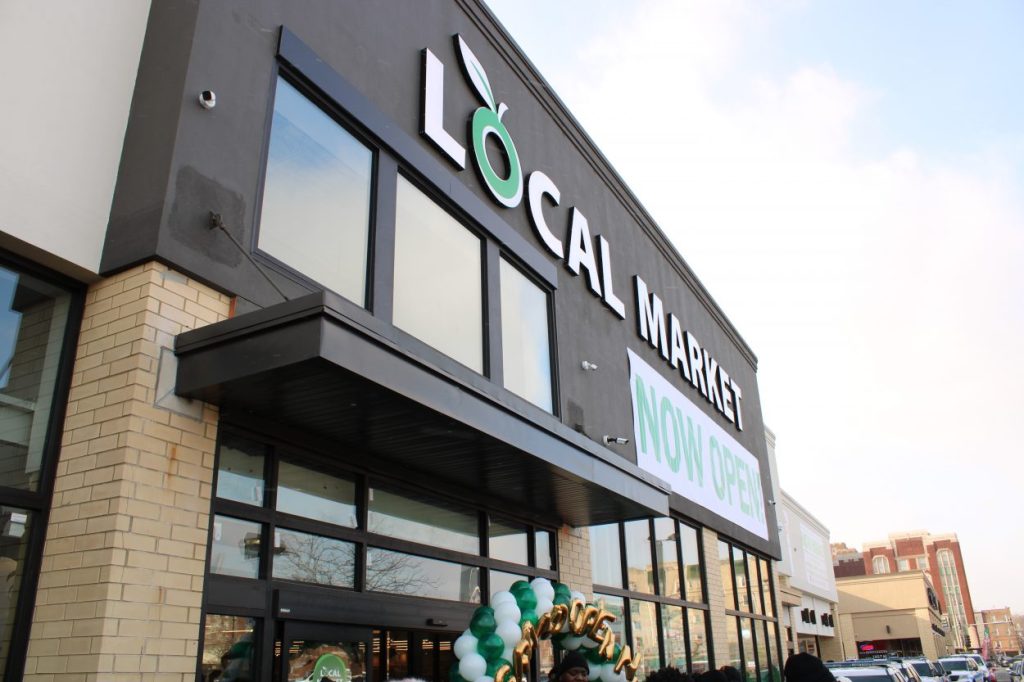 "We listened to the community and tried to incorporate all of the amenities residents said they wanted," store owner Eva Jakubowski said in a statement. With her husband Cezary Jakubowski, she purchased the Jeffery Plaza shopping center in February.
Residents came out in droves to the store at 7131 S. Jeffery Blvd. on a freezing December morning to get their first impression of the long-awaited store, a new concept from Shop & Save's owners. Tickets for a free bag of groceries were given to 500 attendees.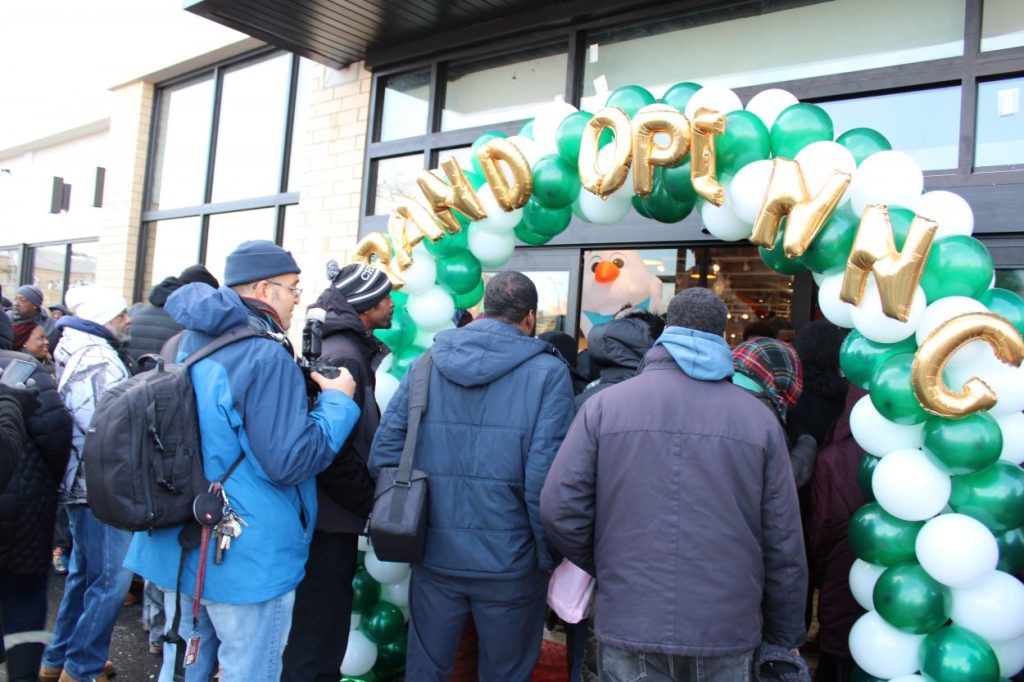 Numerous small businesses — like Egg Rolls Etc. of Pullman, Tame Beauty of the Southwest Side and CrazedCurlz and Simply Sweeter of Oak Park — offered samples as they awaited placement on the store's shelves.
South Shore is lucky to have the Local Market, Tame Beauty owner Lana Glover said.
Many neighborhoods are "missing the natural element — natural products, people giving the community knowledge" about healthy living, Glover said. "We need that on the Southwest Side as well."
Thirty minutes before the store opened, hundreds were already in a line stretching around a corner from the entrance, down to 71st Street.
Antonio Thomas was near the front of the line and lives down the street from the new store. There's plenty of food in his neighborhood, he said — it's just not healthy or fresh.
"It's already like 14 gyro places on this one strip," Thomas said.
South Shore's kids and families deserve a diet of more than just fried foods, so having the Local Market within "walking distance … is a big help to our community," he said.
Though nearby residents are excited for easier access to fresh foods, many said quality customer service was just as important to the neighborhood.
Thomas said he doesn't visit a nearby Walgreens because "everything's always locked up" or out of stock.
Kevin Salley, who also lives near the Local Market, said he's seen mistreatment and harassment at the South Side grocery stores he's frequented since Dominick's closed.
He wants to see Local Market workers respect neighborhood residents, and those same residents take care of the grocery store that took so much time and effort to secure.
"We want to be able to spend our money happily, without any confrontations or side looks," Salley said. "We're hoping for the best."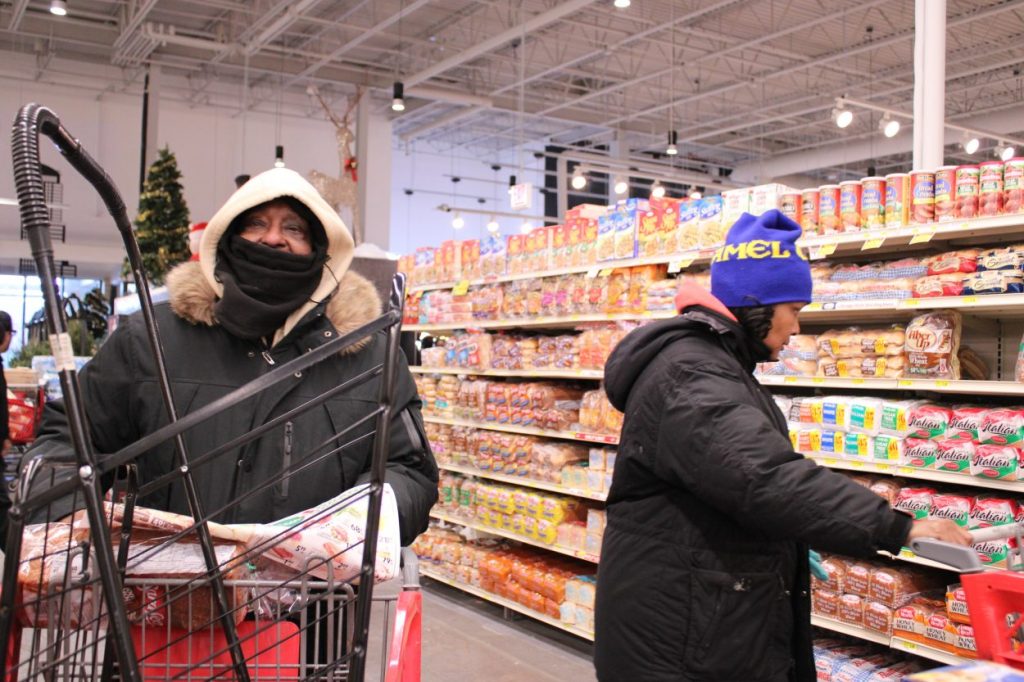 Residents also hoped the Local Market's opening would ease transportation and accessibility concerns — especially for seniors and those without elevators in their buildings.
"It's smooth" to no longer have to spend money on Lyfts and Ubers for access to fresh foods, Tahj Wright said as he shopped for ingredients to make guacamole and pico de gallo.
A chef and former Plum Market employee, Wright was one of about 180 people hired at recent Local Market job fairs. He will start in the hot foods department in January.
"Once Dominick's closed, we didn't have no stores," Wright said. "Either you've got to go to Jewel, or you've got to go to Save-A-Lot — that's far from here. How are you going to get there?"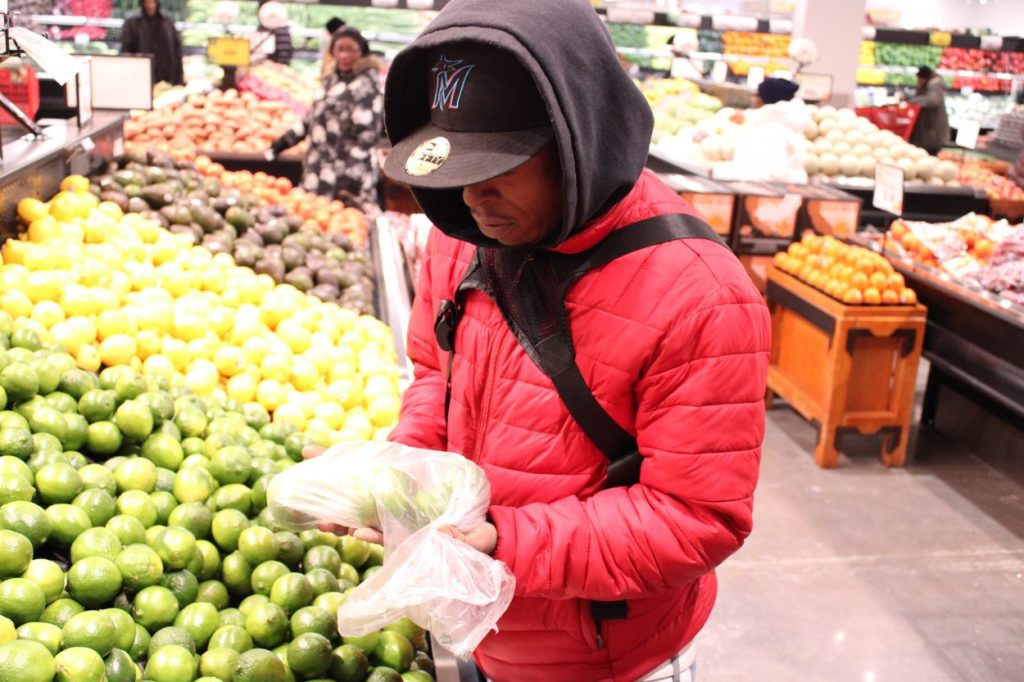 Burnette Johnson, who has lived in South Shore for 18 years, mostly depended on rides from family members to pick up groceries once Dominick's closed.
Johnson said she "can't lift a lot of stuff," so trekking home with bags on the bus wasn't an option when she needed many items. Working around others' schedules and paying them gas money just to eat healthy was "a real inconvenience," she said.
Small convenience stores are within walking distance, but their prices are much higher and the selection is limited, Johnson said.
While she hasn't heard anything about the quality of Local Market's food and customer service, she's hoping it will prove itself a worthy successor to Dominick's.
"Dominick's was the place to shop," Johnson said.
Its replacement has been a long time coming, and the long delay in the store's rollout "really angers me," Johnson said.
Ald. Leslie Hairston (5th) said the store's opening was hard fought.
"I cold called grocery chains. I threatened grocery chains. I wrote editorials about the inherent racism," Hairston said in a statement. "I left no stone unturned…"
To make the deal happen, the city approved $10 million in tax-increment financing to developers in October 2018. The Chicago Development Fund granted an additional $12 million in New Market Tax Credit funding in February.
But that's in the past now, and Johnson and her children — who are also South Shore residents — are hopeful the Local Market will become their go-to grocer.
"My son called me and said, 'Ma, don't be lifting too much stuff today,'" Johnson said. "I just want to see if the prices are going to be decent, and that way we won't have to go all over the world to shop."
Do stories like this matter to you? Subscribe to Block Club Chicago. Every dime we make funds reporting from Chicago's neighborhoods.
Already subscribe? Click here to support Block Club with a tax-deductible donation.
Our goal is to reach 10,000 subscribers by the beginning of 2020. With just a few weeks left in the year, we're pretty close to that goal. Can you help us get across the finish line? Subscribe here or buy a subscription as a gift here.