BRIDGEPORT — Amid a week of unrest around the city, a group of mostly white men flooded a Bridgeport street corner Wednesday night wielding baseball bats, lead pipes and two-by-fours.
It was a scene that alarmed many residents and drew a rebuke from Mayor Lori Lightfoot, who said Chicago cannot tolerate vigilantes.
"It is absolutely not appropriate for people to take up arms, bats, pipes, whatever in … patrolling neighborhoods," the mayor said when asked about the scene in Bridgeport.
"We're not about to allow that practice here in Chicago. If there's an issue, call 911. I absolutely support neighbors being vigilant as to what's going on in their streets, on their blocks, but taking up arms — that leads to chaos. We're not supporting vigilantism."
Over the last several days, looting, fires and violence erupted in neighborhoods across the city, and some have taken to the streets to enforce vigilante justice. In Little Village, there have been several instances of Black drivers attacked by Latin King gang members wielding bats for coming into the neighborhood.
On Wednesday night in Bridgeport, there were no reports of attacks by the self-appointed guardians at 31st Street and Princeton Avenue, but several people say they were illegally harassed and intimidated by men with weapons while the Chicago Police did nothing about it.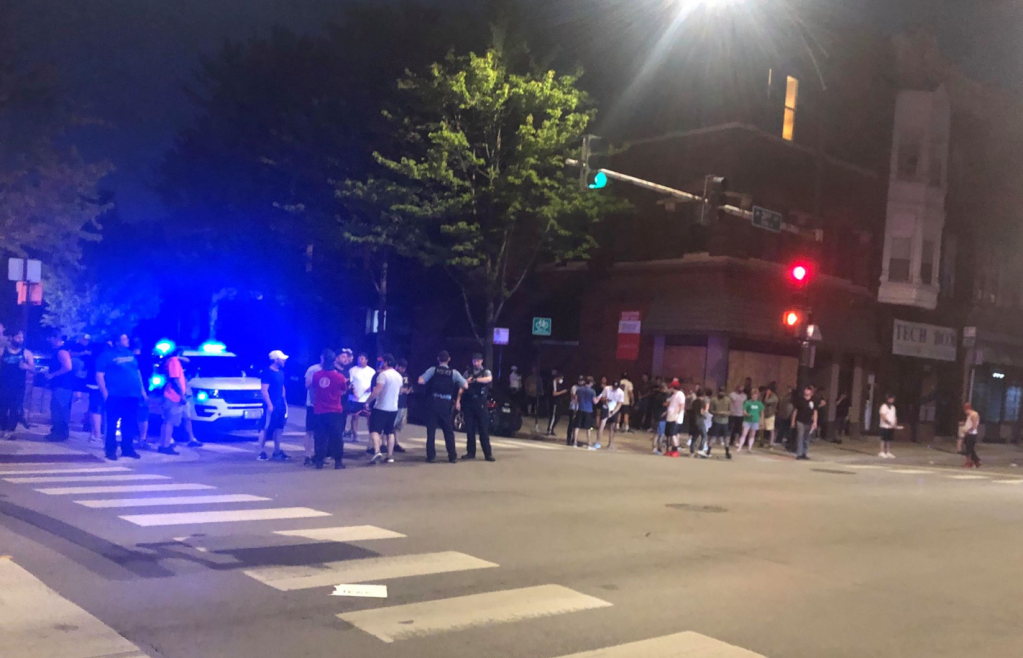 Tanya Rosin, an attorney who lives on the border of McKinley and Brighton Park, said she was driving home from a peaceful protest in Bronzeville with Black Lives Matter signs on her car when she was cut off by a BMW with lights on the top and forced to pull over at 26th Street and Shields Avenue.
"Two of them got out and blocked our path forward with their bodies. One stood only a few inches away from the front of my car while screaming at us to turn around and leave and the other one stood a couple of yards away from the driver side of the car," Rosin said. 
"I told them we were just trying to get home and they screamed at me that I didn't live here. Their actions made it very difficult to turn around as there were vehicles behind us," she said.
When Rosin turned her car around, she tried to go south on Shields but was blocked by a silver pickup truck flying the Chicago flag. A white man with brown hair and wearing a hat was driving, she said.
"We finally managed to start going the opposite direction on 26th and were able to turn south on Canal and get home safely. As we we turned around we saw a police squad a few cars behind where we had been," Rosin said. "They did nothing to intervene."
Asked about the incident, Chicago Police spokesperson Kellie Bartoli said "there was no report made or arrests from this incident and further police service was not necessary."
In response to the allegations some officers were working with gangs in Little Village, the department said "the Chicago Police Department does not condone any type of violence."
"There is no truth to the rumors that the Department is coordinating with gang members, who terrorize their neighborhoods daily, in an effort to somehow safeguard communities," the statement read. "Gang members need to put their guns down. We do not and will never tolerate attacks against anyone."
Whitney Rosier, an art therapist who lives in Bridgeport, said she and her husband attempted to walk to a peaceful protest in Bronzeville but were blocked from crossing under the Dan Ryan Expressway by Chicago Police, who had most streets barricaded. The couple tried to cross further north when they saw men with bats and were followed by a car full of men, she said.
"Just so you know, my husband is Black and I am white," Rosier said. "So, a car came up behind us but we kept walking and they stopped because it was on a street with a cul-de-sac. By the time we got to 31st and Princeton there was a massive crowd of white men, most of them had bats. Some had pipes. I've never seen anything like it. The police were there and wouldn't let us cross and this was all to stop the quote-unquote 'riots' but there was nothing going on," Rosier said.
Although the men did not say anything to her and her husband, Rozier said she burst into tears. 
"It was overwhelming to see how segregated it was. Bronzeville is mostly Black, Bridgeport is mostly white. There's a huge police barricade, we're on one side and we can't cross over. There's a large crowd of white men carrying weapons and the police are there like, 'no problem,'" Rosier said. She added that they met another woman from the neighborhood who walked her and her husband home without incident.
Late Wednesday, Ald. Patrick Daley Thompson (11th) posted on Facebook asking people to go home but did not address the issue of the men at 31st and Princeton.
"Tensions are very high, I know. We need to be respectful of one another. Per my previous post, I have encouraged everyone to stay home due to heightened activity in the neighborhood.
"It is now past curfew, per the Mayor's order. At 9:00, I came home. I am asking anyone still out to do the same. We all love our community and want to see it safe. Most importantly, we want to see our neighbors safe. In order for the police to be able to do their jobs effectively, please follow this directive. Stay home and stay safe. #11thwardstrong."
Thompson did not respond to emails and calls on Thursday.
On Thursday afternoon, there was no sign of any groups with bats and people from a variety of races were in the neighborhood going about their business.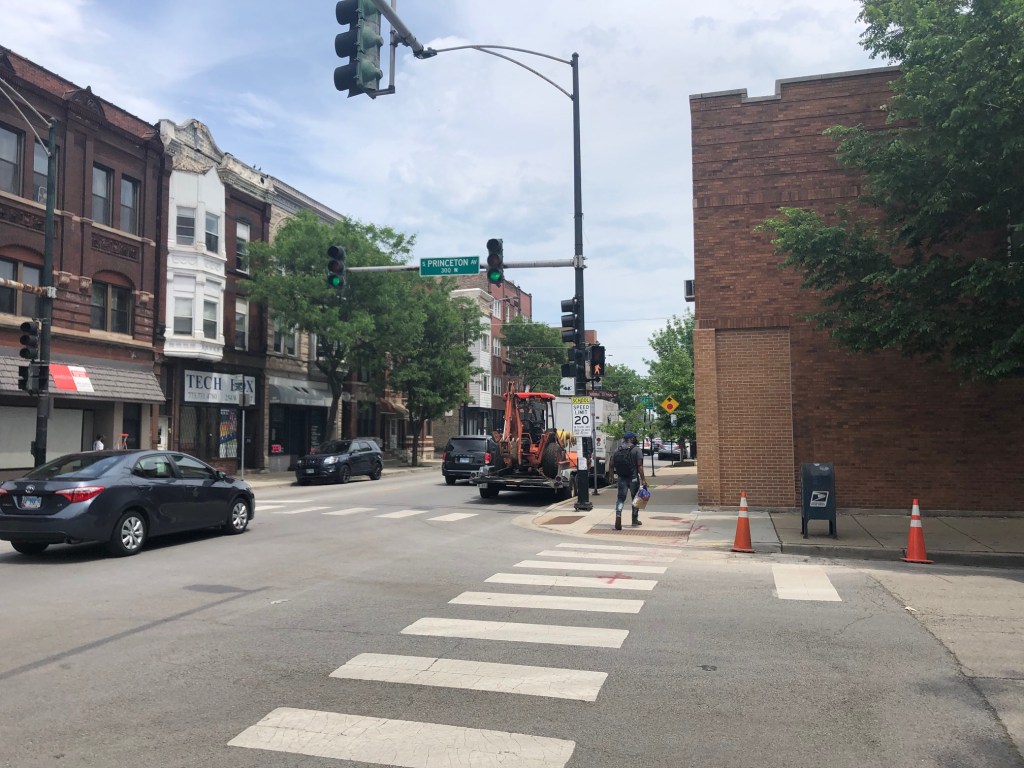 Walking with her grandchildren near 31st and Wells streets, 57-year old Emelia, who did not want to give her last name, said she welcomed the vigilante men roaming the streets, saying they were needed because the police response to the looting has been poor.
"First off, we have every type of nationality in Bridgeport, so to say it's a Black and white thing is wrong. I'm Hispanic and I've lived here 50 years. We have low-income people here and we have the right to protect what is ours. The police were told to stand down while stores got looted all over. The mayor is sitting on her hands, not letting the police do their job," she said. "… We're not going to let what happened in Englewood happen here. I give these guys a thumbs up, I'd like to buy them dinner."
Lawrence Booker, a 44-year-old Black man who was walking at 31st and Princeton Thursday afternoon, said he was not aware of the group of men the night before. He said he's never had a problem in the area.
"I've been walking through this area for 11 years and never had a problem. I thought that racism here was a thing of the past," Booker said.
Matthew Williams, another Black man walking through Bridgeport on Thursday, said unlike Booker, he has experienced issues in the past. 
"I was called the n-word just a week ago. I usually don't come here much but all the stores in my area are closed and I had to go to Walgreens," Williams said.
Most others in the area on Thursday didn't want to comment, with one man at 31st and Shields saying, "I mind my own business."