CHICAGO — At least 1,000 people marched through Boystown and Uptown on Monday to protest police brutality and the murder of George Floyd — an overwhelmingly peaceful demonstration that largely dispersed before some instances of trouble were reported. 
It was the first day of Pride Month in Chicago and the protest started in Boystown, a historically queer neighborhood. Some protesters pointed out the gay liberation movement was started by queer Black people and it was important to them to recognize what people of color have done for the LGBTQ community and to try to help Black Chicagoans.
Still, organizer Tatyana Sampson stressed, "This isn't the Pride Parade."
"This is not a fun celebration, and I don't want to be here," Sampson said. "I want to be inside, quarantining and staying safe, but I think me and everyone else here feels it's our obligation to be here right now."
Sampson, a 23-year-old Lakeview resident, decided to organize the protest after watching a weekend of unrest across Chicago.
The protest started near the Belmont Red Line station before snaking through Uptown and Wrigleyville, with more than 1,000 protesters taking to Lake Shore Drive and sitting in near the corner of Wilson and Sunnyside avenues. Much of the event was peaceful.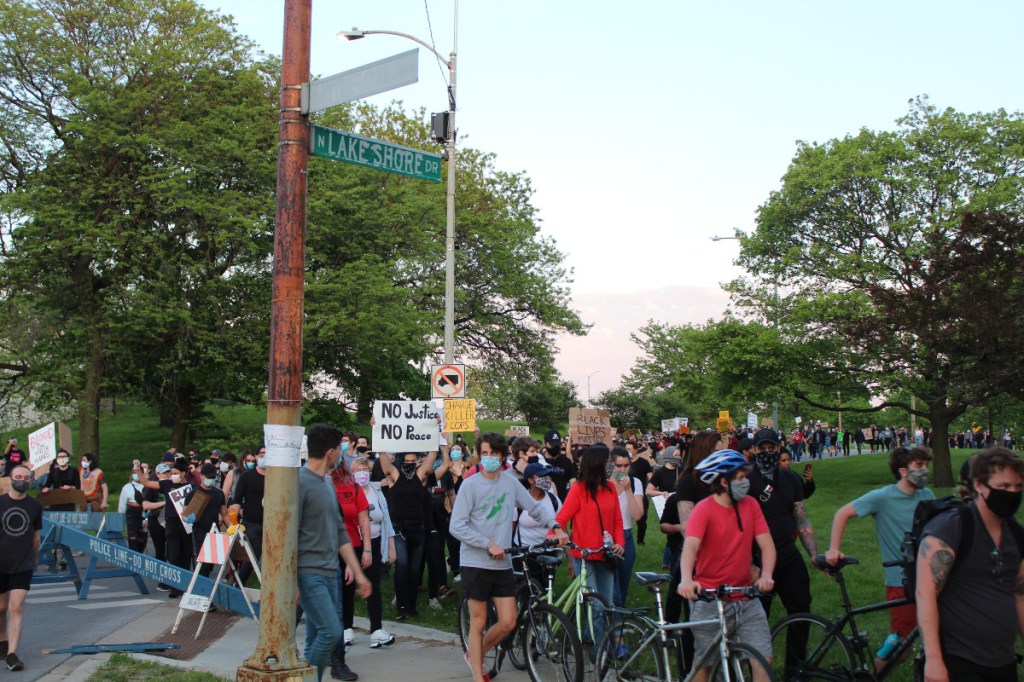 "The success and lack of confrontation earlier this evening was because of the presence of your organizer team … the temporary mercy of a violent militarized force, and the extraordinary privilege of a large, mostly white North Side Red Line gathering," co-organizer Himabindu Poroori said of the event on Facebook. 
Sampson said the parade's route — running through Boystown toward Uptown — was intentional, evoking the spirit of New York City's Stonewall Uprising in June 1969, which is considered a catalyst for the gay liberation movement.
"Today is the first day of Pride Month, and the reason we are marching through Boystown is because a lot of people have forgotten that Stonewall was a riot started by Black trans women," Sampson said.
The protest began with a large gathering outside the Belmont Red Line Station. Neighbors — including a man who was handing out free masks — cheered marchers on from across the street.
Drivers, including a woman helming a moving truck who got stuck within the crowd at one point, honked their horns and raised fists into the air to show support.
After kneeling in a moment of silence to honor George Floyd, the protesters marched onto Halsted Street, chanting, "Black Lives Matter!" and, "Say his name! George Floyd!"
Residents of the Center on Addison waved and cheered at the protesters from the LGBTQ senior living facility's rooftop. At the Center on Halsted, which had boarded up its windows over the weekend, protesters passed out posters and markers so people could create more protest signs.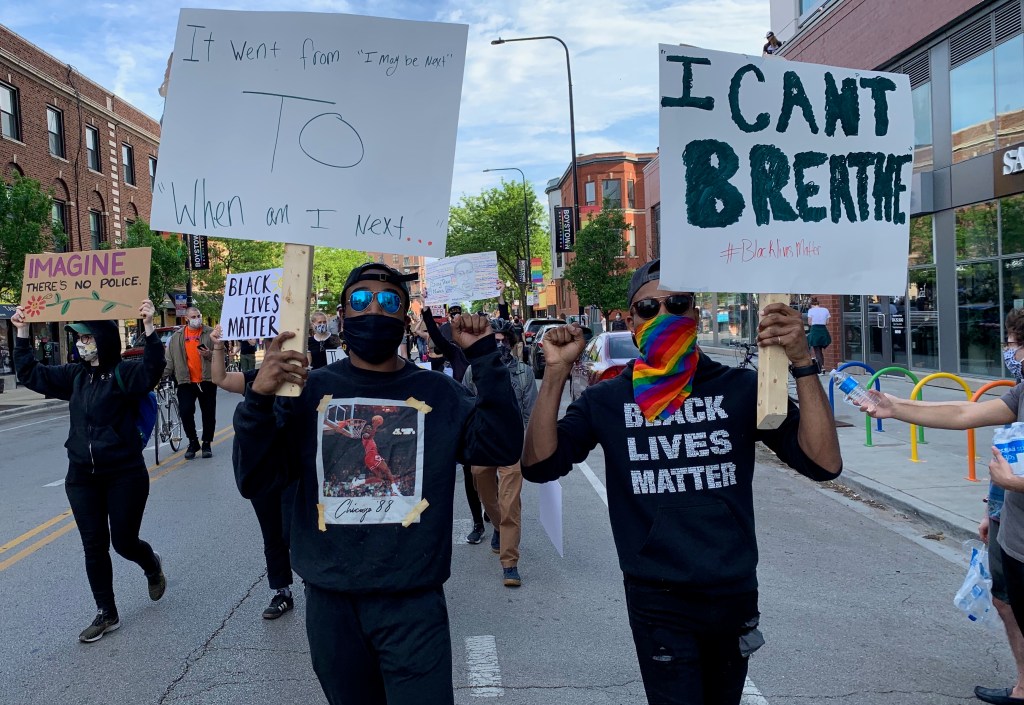 Lakeview residents Johnathan Sims, 27, and Lance Ewing, 29, said it was significant to them to march through Boystown.
"This is my home and I want to protect it," Sims said. "I should be able to walk around the street and be a proud Black man in Chicago without having to worry if I'll be attacked."
Ewing said Black people shouldn't have to "walk outside not sure of their safety. The people who we're supposed to call for protection — there's a chance they might hurt me, too."
Sims said they were participating in "the movement of our generation."
"I want to be a part of breaking the systemic curse that our other generations have had to go through, and we are making it happen," Sims said.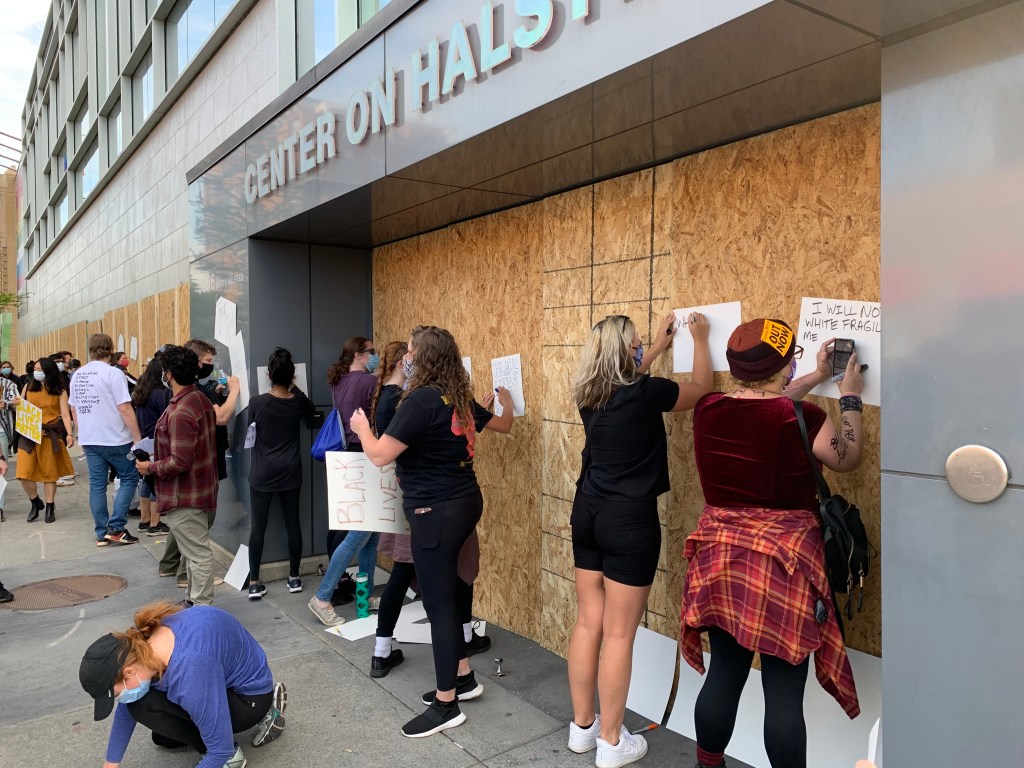 The protesters, having grown into a group of at least 1,000 people, continued marching north into Uptown.
The march stopped near Uptown's Stewart School Lofts — a controversial luxury apartment building built in a shuttered Chicago Public Schools building. Sampson said they wanted to "hopefully wake people up on the North Side" to the issues Black people are facing.
"It's a tale of two cities in Chicago," Sampson said. "Many people up here are going about their day as if this country isn't on fire and Black people aren't fighting for their lives, and we need them to be angry and passionate like us."
The protesters were disbursed by a large group of Chicago Police officers.
As Chicago's 9 p.m. curfew settled in and as the protest wrapped up, however, some unrest appeared to take place in Uptown. 
A large police presence was seen in the intersection of Broadway and Wilson Avenue, where at least three people were detained. Organizers learned of one arrest and a number of injured protesters, they said on the event's Facebook page.
Looting was seen at City Sports, a longtime Uptown business that had just moved into a new location near Broadway and Wilson Avenue, according to Uptown Update. 
Ald. Tom Tunney (44th) expressed support for the protest while visiting the Belmont Avenue Ann Sather restaurant earlier in the day.
"Let's pray for our businesses, residents and a peaceful protest because there's a strong message that needs to be sent, and we're hoping to get through this safely as one city," Tunney said.
In a 46th Ward public safety alert, Ald. James Cappleman also expressed support for the protest and condemned any violence.
Sampson stressed the protest was intended to be a peaceful one.
"The first time that anything violent starts happening during this protest, do you know who are the first people the cops will run to? Us," Sampson said.
Block Club Chicago's coronavirus coverage is free for all readers. Block Club is an independent, 501(c)(3), journalist-run newsroom.
Subscribe to Block Club Chicago. Every dime we make funds reporting from Chicago's neighborhoods.
Already subscribe? Click here to support Block Club with a tax-deductible donation.