CHICAGO — As the city continues its battle against coronavirus and tries to emerge from months of lockdown, it is now grappling with widespread damage from a weekend of vandalism, theft and destruction.
What began as peaceful protests of the killing of George Floyd in Minneapolis led to scores of other people around Chicago causing damage to large and small businesses. It was a scene that played out all over America.
Block Club reporters are following what's happening in neighborhoods all around the city. We'll post updates here. Have a tip? Email us at newsroom@blockclubchi.org.
MONDAY
9:30 p.m.: South Siders Clean Up Weekend Damage, Even As Some Property Damage Continues
With broken glass crunching under their feet, South Side residents of all ages turned out to help start neighborhood recovery after widespread looting.
Many volunteers didn't need to be asked or persuaded to help. They heard through the grapevine more people were needed, and they showed up.
"A few people did something bad, but a lot of good people came out to make it better," Ald. Michelle Harris said. –Maxwell Evans
8:30 p.m.: Neighbors Turn Out In Force To Clean Up Wicker Park, Bucktown
Dozens of local businesses were damaged in Wicker Park and Bucktown but neighbors needed little prompting to head out and start cleaning up.
Residents grabbed household tools to sweep up glass and help business owners board their doors. They even went to different neighborhoods to help out.
"I felt like cleaning up was the little I could do and it reminds me that there are still people that care about our city and our communities," one neighbor said. –Hannah Alani
7:45 p.m.: CTA Shutting Down at 9:30 p.m.
The entire Chicago public transit system is closing down Monday night and for the second night in a row.
All trains and buses will stop running at 9:30 p.m., after operating on a very limited schedule throughout the day.
A citywide curfew still is in effect between 9 p.m. and 6 a.m.
6:45 p.m.: Chicago Public Schools To Resume Free Meals On Tuesday
CPS suspended its free meal program Monday, leaving thousands of families and children without critical meals and prompting community organizers and restaurants to help fill the void.
But CPS said Monday that the program would start again Tuesday. –Kelly Bauer
6:30 p.m.: Protesters, Aldermen Demand City Crack Down On Police Brutality
Protest organizers are demanding major structural changes to local policing in response to the police killing of George Floyd in Minneapolis.
Black Lives Matter and other activist groups are demanding a moratorium on arresting marchers, the firing of officers using excessive force against protesters and the defunding of the police. They also called for detained demonstrators to be released.
"Until our demands are met, you can find us in these streets," Kristiana Rae Colón, co-founder of the Let Us Breathe Collective, said Monday. –-Joe Ward
6:00 p.m.: Albany Park Jeweler, In Neighborhood For 25 Years, Loses $50,000 In Merchandise In Break-In
As community leaders surveyed damage in Northwest Side neighborhoods, Bernard Jewelers looked to be among the worst hit.
Someone broke into the family-owned business sometime Sunday night, and broke open display cases holding jewelry. Owner Gabriel Martinez estimated that $50,000 worth of watches and jewelry were stolen.
His store opened in Albany Park in 1994.
"We've always been in the Albany Park area. It just sad to see this," daughter Itzel Martinez said. "When I heard about this last night, it's pretty scary. He worked really hard for this."–Alex V. Hernandez
5:30 p.m.: State, City Shut Down Coronavirus Testing Sites
Gov. J.B. Pritzker said all city- and state-run testing sites are closed because of looting and vandalism in Chicago.
The governor said officials are evaluating day-by-day when they can reopen.–Kelly Bauer
5:25 p.m.: Pritzker Issues Disaster Proclamation For Cook County
Gov. J.B. Pritzker said the proclamation, issued Monday in Cook County and eight other counties, will allow the state more flexibility as officials try to help Chicago and other cities respond to widespread vandalism.
As part of the move, Pritzker called up more National Guard members and Illinois State Police officers to assist local police in Chicago and its suburbs.–Kelly Bauer
5:00 p.m.: Logan Square Business Owner Camps Out To Prevent Looting
Esam Hani owns seven businesses in Logan Square. But as looting spread through the neighborhood, not one of his businesses were touched.
Hani said that's because he and some friends staked out his block — even using his van to block one of his store entrances — to keep watch over his restaurants, bars and liquor stores.
"You have to protect what's yours. That's all you have to do," he said. –Mina Bloom
4:15 p.m.: Amid Mass Protests and Gatherings, Health Department Warns Coronavirus Still A Risk
Local health officials warned it's still possible to spread and contract deadly coronavirus as thousands of Chicagoans have gathered for demonstrations and volunteer efforts.
City and state officials for weeks have banned large gatherings in order to prevent spread of the disease. Rates of infection slowed enough for the state and city of Chicago to begin opening more businesses and services this month.
But Dr. Allison Arwady, head of the Chicago Department of Public Health, said such large demonstrations could provide more opportunities for people to get sick.
"And that's because COVID-19 is caused by a virus, and that virus does not care what else is going on in the city." –Kelly Bauer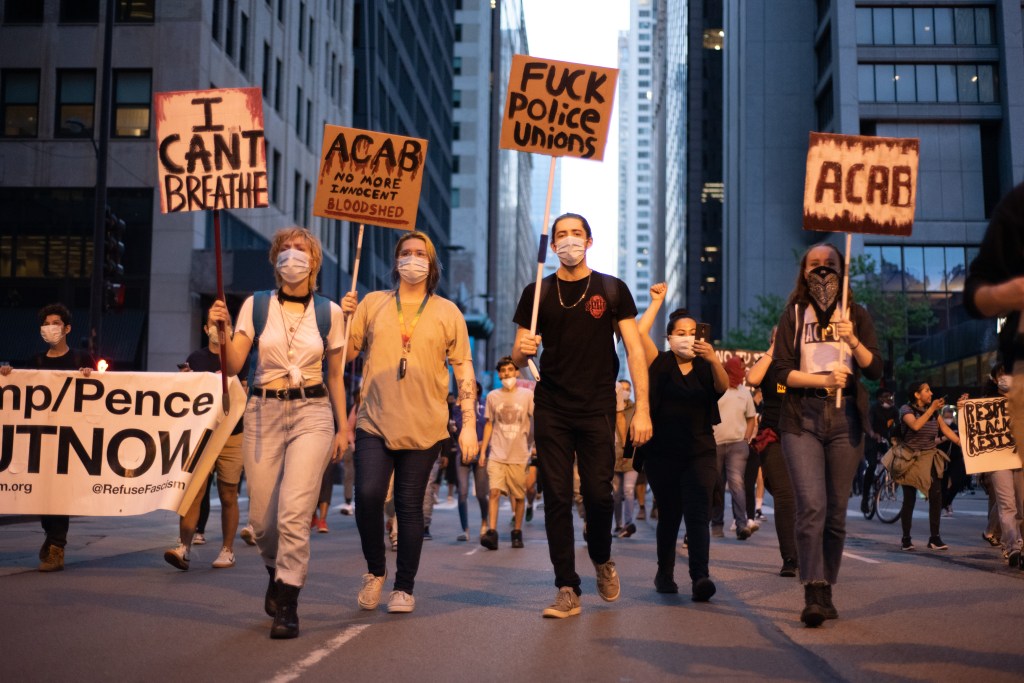 3:00 p.m. Black Lives Matter Plans Peaceful Protest On North Side
Demonstrators plan to march on the North Side on Monday, starting in Lakeview–and Black organizers are urging white protesters to remain peaceful.
The march continues the fourth straight day of demonstrations throughout Chicago protesting the killing of George Floyd in Minneapolis.
Previous demonstrations have been peaceful but separate groups and individuals have damaged property, stolen merchandise from local businesses, and injured people on the heels of the protests. An organizer warned any such behavior will disproportionately put Black people in danger.
"As a Black person, if violence erupts, we will be the first to get hurt; you are risking the safety of everyone," Tatyana Sampson said. –Jake Wittich
2:45 p.m. Man Shot In Logan Square, Neighbor Says He Was Part Of Group Trying To Prevent Looting
A man was shot in the arm in Logan Square on Sunday night, according to police, which occurred as he and other neighbors were trying to stop looting at a local Binny's.
The group was guarding another local store and rushed across the street when they saw Binny's being looted.
The man is in good condition after being taken to Illinois Masonic Hospital. No one has been arrested. –Mina Bloom
2:30 p.m.: Police Arrest 3 Protesters In South Shore
A large group of protesters and police clashed in South Shore on Monday afternoon as community leaders tried to calm the atmosphere.
Around 100 protesters and 100 police officers gathered on East 71st Street. As tensions rose, police arrested three people. –Maxwell Evans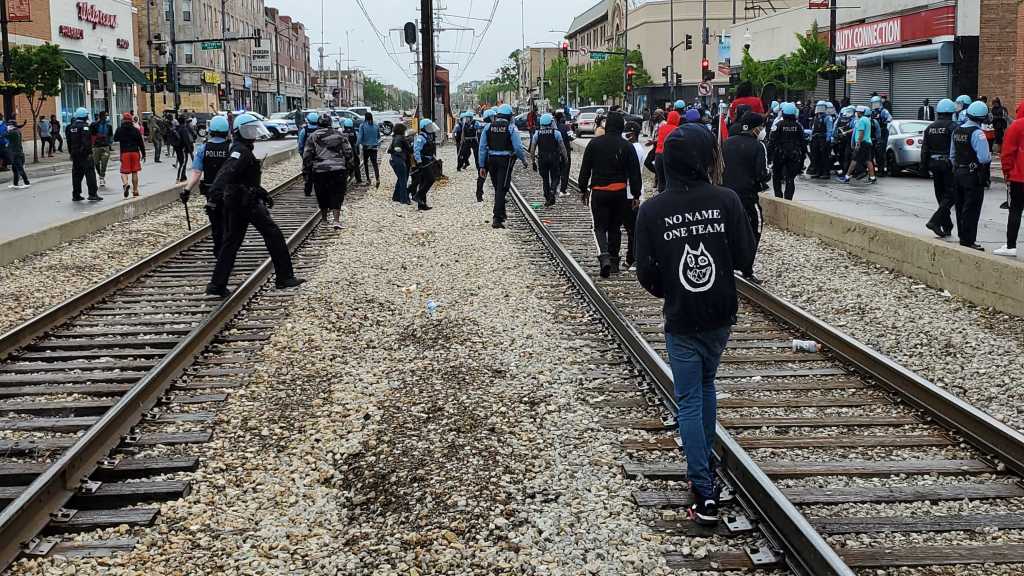 1:30 p.m.: National Guard Won't Enter Neighborhoods, Top Cop Says
The Illinois National Guard still has soldiers surrounding the Downtown area and limiting who can go into the Loop and River North.
Chicago Police Supt. David Brown said the city would continue to focus on using police, rather than National Guard soldiers, to patrol in residential neighborhoods and work with residents.
"We built the community trust and it's fragile," Brown said. "We don't want to take it for granted."
Some aldermen told the Sun-Times they were frustrated by the decision to keep the Guard Downtown. –Kelly Bauer
1:15 p.m. West Humboldt Park Resident Leading Neighborhood Cleanups
Charles Pickett, 25, whose family has lived in West Humboldt Park for decades, is helping to organize cleanups and raise money for local businesses damaged after protests this weekend.
A few intersections in the area — Kedzie and Chicago avenues, North Avenue and Pulaski Road and Madison Street and Pulaski Road — were hit particularly hard, according to Pickett.
"If we can give them $100-200 to help fix their windows, that's something that helps relieve pain on their end," Pickett said. –Mina Bloom
Read more about how to get involved here.
If you want to volunteer to cleanup South and West Side neighborhoods, check out our guide to those opportunities here.
12:30 p.m.: Protesters Should Report Police Misconduct, Lightfoot Says: 'We Will Hold Them Accountable'
Mayor Lori Lightfoot urged protesters who were mistreated by police over the weekend to report misconduct Monday.
Protesters say they were knocked over, hit with batons and pepper sprayed during demonstrations over the weekend.
"Now, there have been some reports of misconduct on the part of our personnel," Lightfoot said Monday. "If that is so, we will investigate and we will get to the bottom of it. We will not spare any resource to do so."
"If you think you've been mistreated by police, file a complaint with COPA by calling 311," Lightfoot said. "We are not gonna abandon our values around police reform and accountability and holding officers responsible." –Kelly Bauer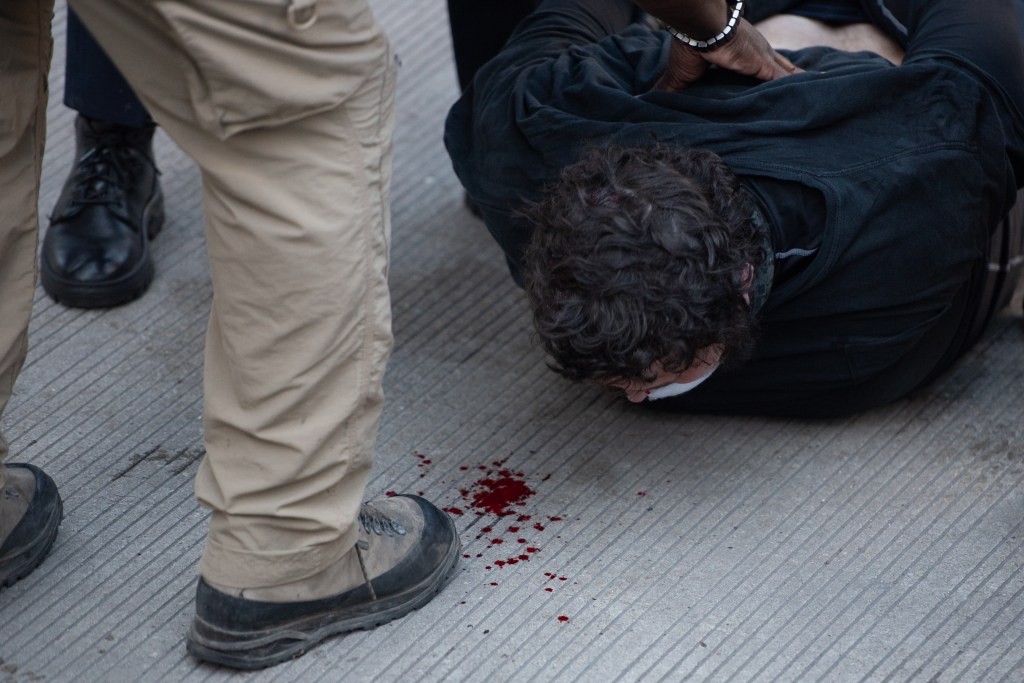 12:30 p.m.: City Will Rebuild Vandalized Neighborhoods On South, West Sides And Beyond, Lightfoot Says
The city is moving to protect and make repairs in neighborhoods, which were hit hard by vandalism and looting Sunday.
Chicago saw peaceful protesters throughout the day Sunday, with people marching and chanting in honor of George Floyd, a Black man killed by police in Minneapolis. But separate groups of people used the weekend as an opportunity to steal, smash store windows and burn down buildings.
The South and West sides of the city faced the worst of the damage.
Hoping to help with repairs and curb further incidents, the city is keeping police on patrol throughout residential neighborhoods and city workers are pouring into commercial corridors to start fixing the damage.
Police officers will continue to work 12-hour shifts, patrolling neighborhoods and arresting people for vandalism and theft, said Supt. David Brown. The Illinois National Guard still has soldiers surrounding the Downtown area and limiting who can go into the Loop and River North. – Kelly Bauer
12:28 p.m: Don't Take Matters Into Your Own Hands, Wary Top Cop And Mayor Tell Chicagoans After Days Of Looting, Shootings
Chicago Police Supt. David Brown said 699 people were arrested Sunday, primarily for looting. Of those arrest, 461 took place on the South and West sides, Brown said. Police officers found 64 guns during the course of those arrests, he said.
Aside from the property damage, the city saw its most violent weekend of the year. There were 48 shootings and 17 people killed on Sunday alone, Brown said, adding that 132 officers were also injured.
The city's 911 dispatchers fielded 65,000 calls for service Sunday — at times getting 1,000-2,000 calls every 30 seconds, Lightfoot said.
Neighbors in Wicker Park complained about not being able to get through to 911, and others said they would take matters into their own hands when confronted with looters. Lightfoot urged people to keep calling 911 — and not open fire on people. – Kelly Bauer
12:00 p.m. Help Clean Up in Englewood, Chatham And Auburn Gresham
Community organizers are launching clean ups throughout hard hit South Side neighborhoods — and they need your help.
You can donate supplies or volunteer to work in a team of people. We'll update as we find out more. –Jamie Nesbitt Golden
11:06 a.m. Protesters Should Report Police Misconduct, Lightfoot Says: 'We Will Hold Them Accountable'
Mayor Lori Lightfoot urged protesters who were mistreated by police over the weekend to report misconduct Monday.
Some protesters said police were violent Saturday. A former Block Club reporter was pepper sprayed while covering the protest and reporters witnessed demonstrators being beaten with police batons.
"Now, there have been some reports of misconduct on the part of our personnel," Lightfoot said Monday. "If that is so, we will investigate and we will get to the bottom of it. We will not spare any resource to do so."
Meanwhile, police say they've been attacked in the neighborhoods as well. Brown said 132 officers were injured Sunday alone. – Kelly Bauer
9:27 a.m. West Side Neighborhoods That Never Recovered From '68 Riots Decimated By Looting, Fires: History Is 'Repeating Itself'
Mayor Lori Lightfoot's move to restrict access to Downtown moved both peaceful protests and looters to the neighborhoods Sunday, leaving West Siders to fend for themselves, leaders said.
In Black communities on Chicago's West Side, the police, city officials and residents "lost total control of the situation," said State Rep. La Shawn Ford. Police were nowhere to be seen, he said, and businesses were left to fend for themselves. Fires and looting destroyed longtime businesses. — Pascal Sabino
9:08 a.m. Wicker Park Shops Decimated By Looting: 'It's Total Destruction … I Just Want This To Stop'
 Wicker Park businesses along Milwaukee Avenue were decimated by looting Sunday — and police caught some looters in the act.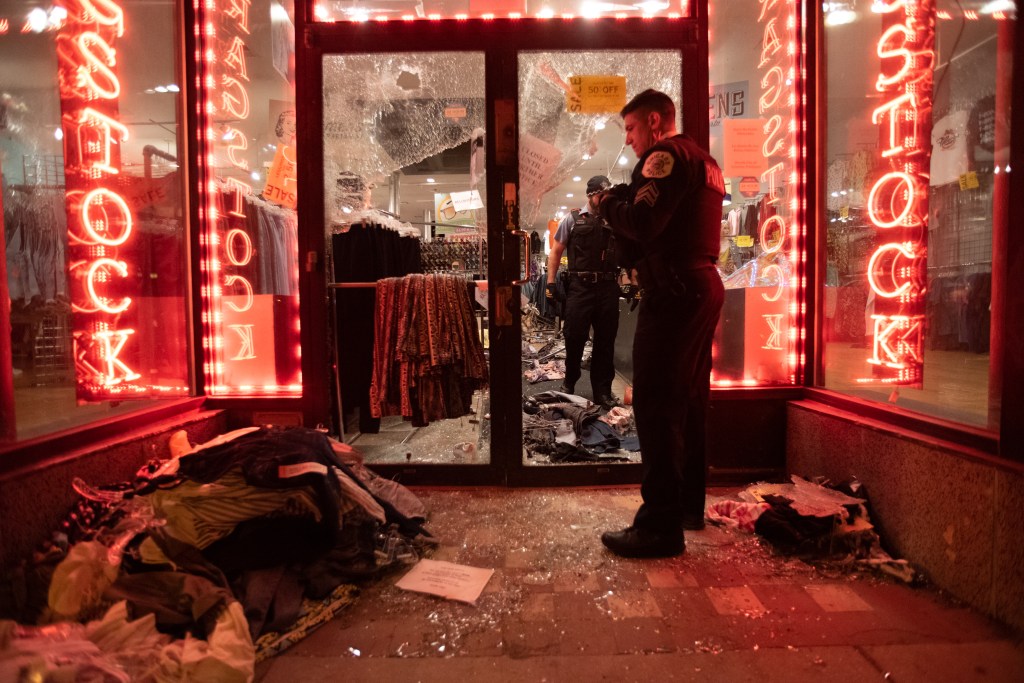 Groups of people drove up the boutique-lined street in cars, hopping out to steal clothes by the bundle from stores with already busted-out windows.
At Ragstock, 1459 N. Milwaukee Ave., police officers made a woman return clothing she stole from the business. —Colin Boyle, Hannah Alani
8:18 a.m. Here's How You Can Help South, West Side Businesses Hit Hard By Looting, Vandalism
My Block, My Hood, My City is looking for volunteers to help repair businesses damaged this weekend on the South Side.
The South Side has been hit hard by people who broke into, stole from and vandalized businesses over the weekend. Jahmal Cole, founder of My Block, My Hood, My City, is now collecting funds and signing up volunteers to help those businesses make repairs.
"Out-of-state looters have taken hammers and batons to our communities, breaking windows of small businesses and spraying graffiti, using this crisis as an opportunity to tear down Black communities," the organization wrote on its website. "Funds raised will go directly towards the repair of small businesses." — Kelly Bauer
7:30 a.m. South Shore Cleanup From Looting Starts Monday Morning: 'It Is Imperative We Do Not Decimate Our Own Communities'
After Sunday's looting and damage along 71st Street, the South Shore Chamber and the Neighborhood Network Alliance have organized a cleanup of the area Monday morning.
The cleanup runs 8 a.m.-1 p.m. and will start in the parking lot of the South Shore Chamber headquarters, 1750 E. 71st St. Social distancing will be practiced.
Donations of heavy bags, brooms and shovels are needed, according to organizers. —Maxwell Evans
6:50 a.m.: CPS Not Giving Out Free Meals For Kids Monday
Chicago Public Schools suspended its free meal program Monday.
The district has been handing out meals since school was canceled due to the coronavirus pandemic, hoping to helps families in need. But the district will temporarily stop the program Monday.
"Based on the evolving nature of activity across the city, we are suspending grab-and-go meal sites and all other school and administrative activities" for Monday, the district announced in a tweet on Sunday night.
It was not immediately clear if meal giveaways would continue after Monday. — Kelly Bauer
6 a.m. CTA Resumes Some Service, But Transit Remain Shut Down In Large Swaths Of City
After being shutdown citywide Sunday evening, the CTA resumed some service Monday, but in a limited capacity.
As of 6 a.m., Bus service not running between Western Avenue and the lakefront, from Fullerton to 47th Street.
Red Line service is suspended between Belmont Avenue and 47th Street. —Kelly Bauer
SUNDAY
11:45 p.m.: Mayor Lori Lightfoot Addresses The City, Says CTA Service Updates Will Resume 5 a.m. Monday. (Thread)
11:30 p.m.: Little Village Residents Turn Out To Protect Neighborhood Businesses
With reports of looting throughout the city, community members stood watch in Little Village to stop anyone damaging property.
At least two stores were damaged Sunday when people smashed windows and stole merchandise, according to a local pastor. But then hundreds of people showed up to help guard businesses on 26th Street, a major commercial corridor.
"COVID has really rocked our community, any more damage to our community is the last thing we want now," said Pastor Matt DeMateo, executive director of New Life Centers. — Mauricio Peña.
10:50 p.m.: Abrupt Public Transit Shutdown Strands Chicagoans
Trains and buses throughout the city and suburbs were halted on Sunday, leaving Downtown open only to some essential workers and residents.
But that meant lots of people out in the city had no way to get home Sunday.
The CTA, Metra, Pace and Divvy all cut and eventually stopped service. It is not clear when any will resume.
"I have no idea how I'm going to get home," one man in Hyde Park said. –Jonathan Ballew
10:40 p.m.: Huge Protest March Streams Past Mayor Lori Lightfoot's Home
With Downtown inaccessible for much of Sunday, demonstrators found a new route: the mayor's neighborhood.
Hundreds gathered in Logan Square, which appeared to be one of the largest gatherings in the city Sunday. The group gathered at the Logan Monument earlier in the day and then marched throughout Logan Square, waving signs and chanting.
"Say his name! George Floyd!" protesters chanted as they marched by the mayor's block. –Kelly Bauer
9 p.m.: Police, Protesters Clash In Lincoln Park
8:45 p.m.: Protesters March Toward Mayor Lori Lightfoot's Home
7 p.m.: Activists Beg People Looting Chicago: Please Don't Destroy Our Neighborhoods
South Side community leaders said they understand the frustration protesters feel over police abuses and systemic racism in America. But they cautioned marchers that their actions could undue years of work to build up the South Side.
Asiaha Butler, executive director of Resident Association of Greater Englewood, said she watched looters on Sunday target stores near 66th and Halsted. As she watched protesters pick over retail stores in Englewood, Butler said she was thinking of the children and elderly residents of the neighborhood who have already been traumatized by police abuses and decades of disinvestment.
"I know they're desperate," Butler said. "This puts trauma on the very people that help individuals. Our communities are already disinvested, struggling to get jobs. This is going to set us back further behind. We've already been rebuilding.
"It's not right, the way people have chosen to express themselves. I've never seen it in my life." – Joe Ward, Jonathan Ballew
5:45 p.m.: CTA Shuts Down All Trains And Buses Sunday Night; Metra Service Cancelled Through Monday
All service on the CTA was suspended Sunday night — and the city announced the move just 45 minutes before halting service.
The CTA previously stopped service for trains and buses headed to the Loop, as officials tried to block crowds and prevent further destruction in the area. Buses were not running between Fullerton Avenue and 47th Street, and between the Lakefront and Western Avenue.
But after 5:15 p.m., it announced all service would be suspended as of 6:30 p.m. Sunday.
Later on Sunday night, Metra announced its entire system would be halted for all of Monday. It is unclear when train service would resume.
1 p.m.: As Chicago Cleans Up From Fires And Theft Following Protests, Shop Owners Pick Up The Pieces
The day after protesters and police clashed downtown Saturday, Chicagoans were picking up the pieces.
Among the shops damaged was Central Camera, which was destroyed in a fire. The iconic shop at 230 S. Wabash Ave. has served photographers since 1899.
Central Camera owner Don Flesch started a GoFundMe to help rebuild the shop and it had raised more than $33,000 as of Sunday at 2 p.m.
"Although this is a tough time for the store, it doesn't compare to the loss of George Floyd's life and the countless other Black lives lost," Flesch wrote. "We stand with the African American community in solidarity."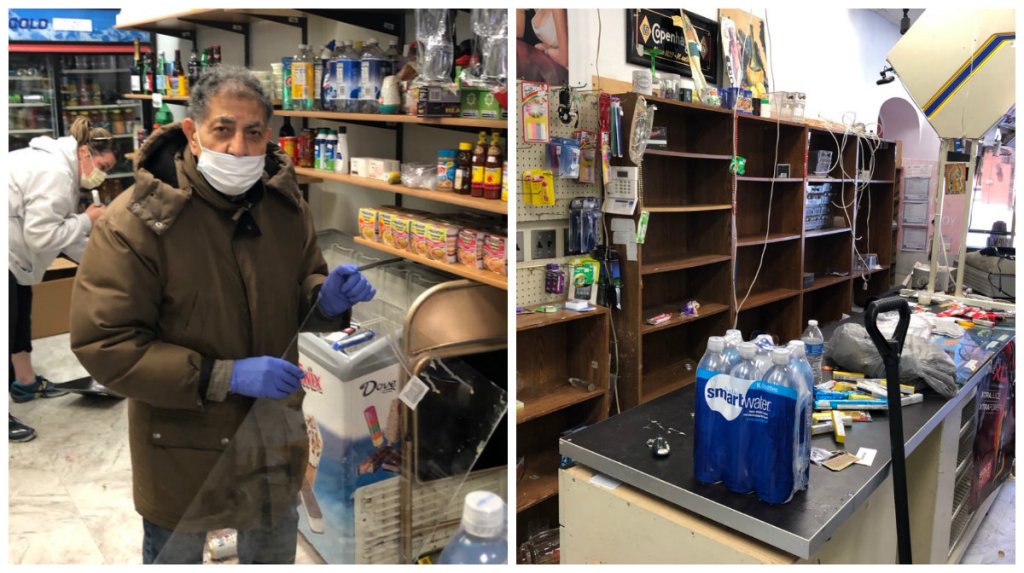 Convenience store Tuts, in the 100 block of West Illinois, was "a total loss," owner Adel Elbiadi said as he surveyed the damage Sunday. People stealing busted through the shop's glass door.
Todd and Megan Toborg, who run a design studio nearby, helped him sweep up the glass. Megan Toborg said it was "heartbreaking."
"This is an independent store. These guys have had to deal with lack of business because of COVID and now have to deal with this," she said. "Plus, the owner's wife has been stuck in Egypt for the last two months because of the travel restrictions. She's going to return home to learn that her husband's business has been destroyed." – Bob Chiarito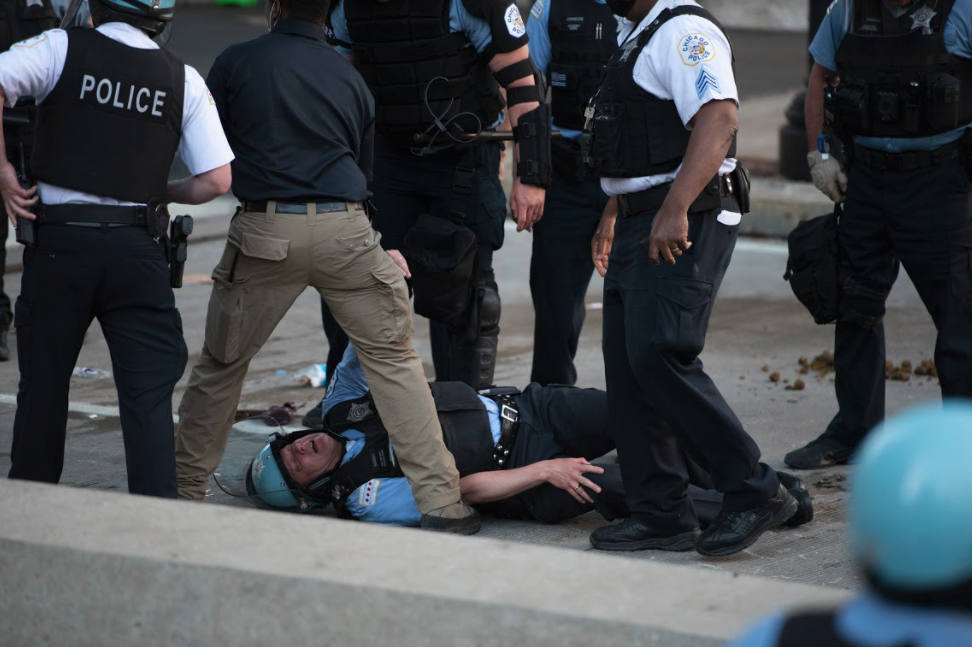 1:30 p.m. Downtown Chicago Shut Down: CTA Stopped And Roads Blocked As City Tries To Deter Protesters
The Loop and surrounding areas were effectively cut off from the rest of the city most of Sunday, with roads blocked, the bridges raised and train and bus service shut down.
Officials cancelled CTA trains and buses throughout a large swath of the city. Bus service was stopped Downtown, between Lincoln Park and Kenwood, and as far west as Western Avenue. Officials were using city vehicles — including salt trucks and garbage trucks — to block roads Downtown and prevent further destruction in the area.
The Downtown closures:
Division Street from Lake Shore Drive and North Halsted Street
North Halsted Street from Division Street to Milwaukee Avenue and Grand Avenue
Milwaukee Avenue from Grand Avenue to Kinzie Street
Canal Street from Kinzie Street to 26th Street
26th Street from Canal Street to Lake Shore Drive
Mayor Lori Lightfoot has also instituted a 9 p.m.-6 a.m. daily curfew and called in the National Guard.
11:34 a.m.: Chicago Calls In National Guard After Night Of Protests, Damage Downtown
Mayor Lori Lightfoot said the National Guard has been called in to help the Chicago Police Department prevent riots and vandalism Downtown after Saturday protests in the Loop.
"This wasn't an easy decision; I did it at the request of and in consultation with Supt. Brown. But it's surely the right decision in this moment," Lightfoot said Sunday morning.
Gov. JB Pritzker sent 375 Illinois National Guardsmen and -women to the city after Lightfoot's request, Pritzker said in a statement. About 100 State Police officers will also help Chicago officers.
"This is an immensely challenging moment for our city, our state and our country, one born from decades and centuries of systemic racism," Pritzker said. "To those peacefully expressing the pain, fear and rage of this moment, I hear you. Your voices matter. We must address the profound injustices in our society and bring about real and meaningful change."
The National Guard will "be primarily providing perimeter line support" and will not patrol the city, Lightfoot said. Pritzker said the soldiers would help "so the center of the city doesn't get overtaken the way it seemed to certain times" Saturday night. – Kelly Bauer
Saturday at 8:30 p.m.: Chicago Curfew Set At 9 P.M. Amid Protests For George Floyd
Mayor Lori Lightfoot imposed a 9 p.m. daily curfew on the city amid protests over the killing of George Floyd.
Lightfoot set the curfew during a Saturday press conference just about a half hour before it was set to go into effect. She said the curfew would run 9 p.m.-6 a.m. daily "until further notice," though essential workers are exempt.
An emergency alert about the curfew was sent to people's cellphones throughout the city.
The curfew is meant to help police, who are facing large protests, particularly in the Downtown area. Lightfoot said they'd be able to use the curfew to "clean out and clear out" Downtown.