UPTOWN — Large red signs that read "now leasing" and "move-in now" border the building that once was Graeme Stewart Elementary School in Uptown.
The school's name is still inscribed on the top of the entrance at 4525 N. Kenmore Ave., but now a black fence with an intercom system and cameras line the perimeter of the property.

The building is seeing a new life as Stewart School Lofts, which opened in April 2018 after sitting vacant for three years when Stewart was shut down by Chicago Public Schools in 2013, one of 50 schools shuttered that year.
The landmarked building currently has rentals available for $1,655 to 3,955 a month, a price point that reflects just how much the neighborhood has changed. The apartments incorporate parts of the shuttered school, including floors from the school gym, marked with lines from a basketball court and chalkboards serve as wall art in bright, spotless living rooms.
For those living in the lofts, they feel like they're experiencing a piece of Chicago history in a hip neighborhood. But those critical of the school closings — and those being priced out of Uptown — say the lofts are a perfect example of how their neighborhood is no longer theirs.
"To take what was once a very important institution in the community — I know so many adults who went to Stewart school — and turn it into a place that is inaccessible to basically everybody who called that community home is really egregious," said former Stewart student Matt Harvey.
Harvey grew up in Uptown, attended Stewart School and graduated in 2012. He moved away for college and his family could no longer afford to live in Uptown, he said.
He remembered feeling shocked when he went back to visit the school building in August for an article in the Chicago Reader, where he interned last summer. Walking through the space, he was hit with classroom memories and said he felt upset that his old school was now a luxury apartment complex.
"I felt like there were better things that could have been done with it," Harvey said. "I was frustrated that to [developers] the school was just a commodity and a gimmick."
'On The Verge Of Something That Is Changing'
When Stewart closed, there were 17 kids in the school's eighth grade class. Despite community protests, pleas and public meetings, CPS said it couldn't keep the under-enrolled school open.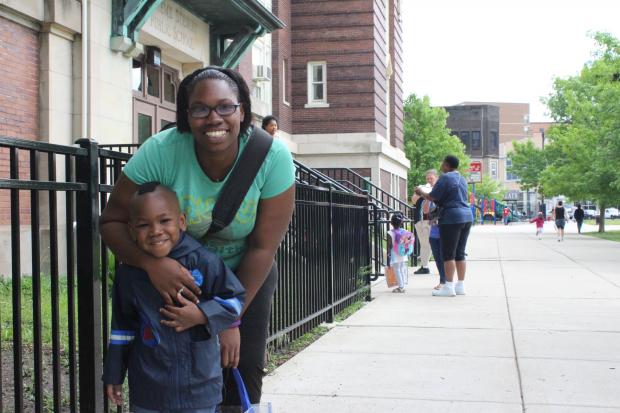 After the spot became vacant, workshops were held to determine what would take the place of the school. Some residents hoped for a community center with youth training programs, a new school and affordable housing mixed with market-rate options. But the highest bidder of the space's redevelopment went to Morningside USA, a Chicago developer with 20 years of experience in upscale developments.
Morningside purchased the school in 2016 for $5.1 million.
Morningside transformed the four-story, 90,400 square-foot building that was constructed in 1905 by architect Dwight Perkins, while maintaining its landmark status. The redevelopment added a fifth floor from the unused attic space and turned classrooms and gym space into 64 residential units ranging from $1,655 to nearly $4,000.
Alison Solway, marketing manager at Morningside USA, said keeping the history and integrity of the building was important to the company, who brought the building up to code to preserve its original splendor.
"The history of the neighborhood is what makes [the building] unique and special and what makes it a landmark in the community," Solway said.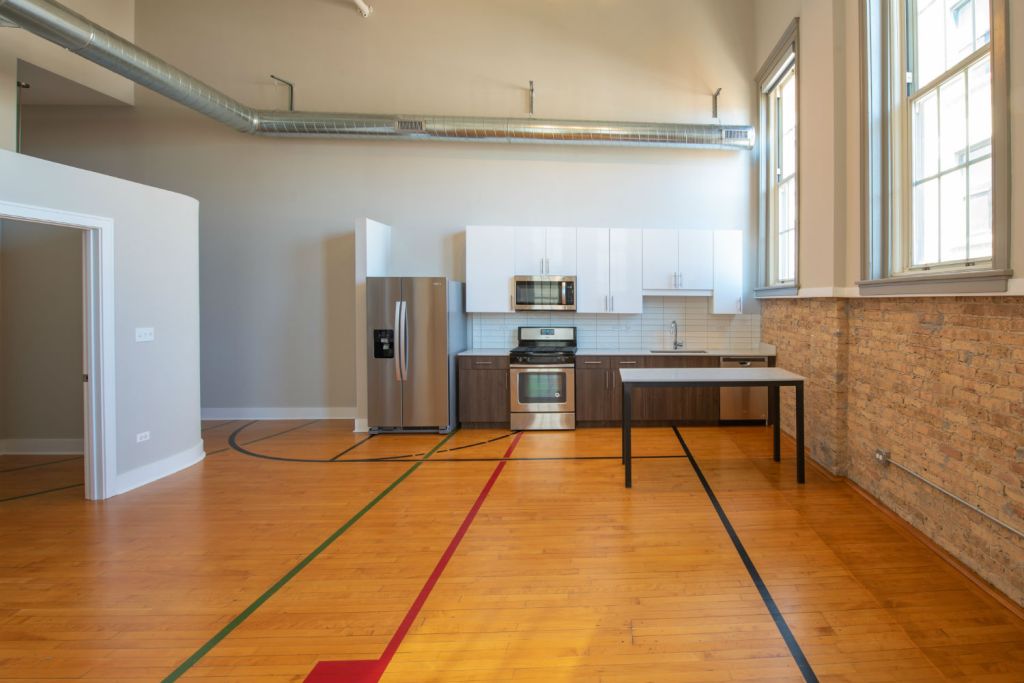 The building's history appealed to Kara Thomas, who moved to the former Uptown school last month. Thomas, who works remotely for a technology company, has lived elsewhere in the city for 10 years, but was drawn to the unique features like old brick walls and original flooring, ample natural light and its dog-friendly environment.
Thomas said the neighborhood vibe is what she was looking for, and added that Uptown is in a state of revival all around her, from the school's repurposing, to Double Door coming to its new location to the Uptown Theatre renovation.
"It's a funny feeling when you live here: you feel like you are on the verge of something that is changing and getting exciting," Thomas said.
'It's Not Fair To Put It On Us'
To community activists and political aspirants, Uptown is indeed on the verge of something that is changing: it's no longer affordable to longtime residents.
Uptown resident Erika Wozniak Francis, a 15-year CPS teacher and education activist running for 46th Ward Alderman, has been a vocal opponent of the Stewart School Lofts since the school's closure (which she also opposed).
When the lofts were being developed, the company had put up a sign advertising them as "best in class," which Wozniak Francis shared on Twitter,  urging Ald. James Cappleman (46th) to condemn what she felt was exploitative marketing of the closed school.
Her campaign to remove the sign was successful, with Cappleman tweeting that "it was insensitive to the many students and teachers from this school."
But the closing of Stewart and Cappleman's support of it ultimately inspired Wozniak Francis to jump into the aldermanic race.
"I was horrified that we were devastating communities by disinvesting in the public education and the anchors of a community, which I believe are our neighborhood public schools," Wozniak Francis said. "We have seen since than that it has not done anything good for our city."
Professor, author, essayist and activist Eve Ewing agrees. Ewing has been critical of Chicago's education system and its history of targeting black and brown, low-income communities.
Her most recent book, "Ghosts in the Schoolyard" explores racism's hand in the CPS closings and its aftermath effects on mostly South Side neighborhoods. But Uptown's aftermath reminded Ewing of what it used to be: a diverse community home to immigrants, refugees, African Americans and Latinos. Ewing taught in the neighborhood as part of After School Matters when she was 19 years old.
She remembered documenting the neighborhood change with her students.
"The city is becoming less and less friendly and more uninhabitable for poor people and poor people of color," Ewing said. "The school closings were one fork in the road contributing to that trajectory we are now on — which for the city is a very depressing, logical next step."
The lofts are a visual example of neighborhood displacement, sending a message to longtime residents saying: this community is no longer for you.
"What we are replacing [the school] with is habitation that is for the people who are going to replace you," she said.
Solway said Morningside had nothing to do with the decision to close schools, and added that the developer supports quality public education. She said there are people in the community who "truly value the project and are supportive," she said.
"We are not immune to [the criticism] but it's not fair to put [gentrification] on us," she said.
'More Profoundly Unequal'
The Institute for Housing Studies at DePaul University recently analyzed neighborhoods facing displacement due to higher housing prices. According to their report's heat map, Uptown has experienced rising prices since 2016 that are contributing to emerging displacement in an area that was previously price-stable.
This increase amplifies "affordability challenges and displacement pressure for the vulnerable populations living in these communities," the report said. Affordability concerns have been a hot topic in the 46th ward aldermanic race, where Ald. Cappleman faces a five challengers.
Wozniak Francis, Angela Clay, Justin Kreindler, Marianne Lalonde and Jon-Robert McDowell have all criticized Cappleman for making the neighborhood less affordable and pushing longtime residents out.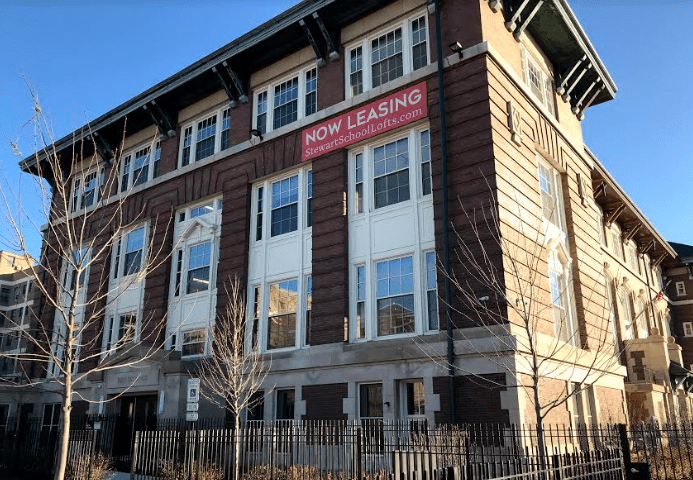 "Two terms under Cappleman has really threatened the integrity and character of our community in a way that we can't afford four more years of," Lalonde said at a recent forum.
The alderman has defended his record, however, saying he has gone above and beyond to bring affordable housing to the ward.
But to former students like Harvey, seeing pricey apartments in his old school feels like a nail in the coffin in terms of neighborhood gentrification.

Harvey said he talked to renters at the lofts who mean well and love being in a landmarked Chicago building, but said the whole thing just felt wrong.

Ewing said developers definitely play a role in these issues, but the accountability rests on the leaders in city government who "invite and entice those developers" to build in the desirable inner city plots.
"We live in a city where city council members and the mayor have a lot of power and dictate what they want to see in terms of the changing face of the city," Ewing said. "The greater blame lies on the shoulders of our political leadership, who are saying, unapologetically, this is what we want Uptown to look like."
Ewing said solutions to problems plaguing neighborhoods harmed by school closures will take a lot of work and creative thinking, but for now, people can speak out about education and housing inequity — and make sure their elected officials are listening.
"We are sitting on the fulcrum of potentially becoming even more profoundly unequal than the city has already been," Ewing said. "With the elections, we have a lot of opportunities to hold our leaders accountable."
Do stories like this matter to you? Subscribe to Block Club Chicago. Every dime we make funds reporting from Chicago's neighborhoods.