CHICAGO — Neighborhood hair salons and barbershops could reopen as soon as next month — but when you show up to get your overgrown hair done, don't expect the experience you're accustomed to.
Georgia reopened salons April 24 with some social distancing restrictions. Indiana salons reopened last week at reduced capacity. New Hampshire reopened salons last week, too, but with no blow drying allowed.
Across the country, similar scenes are playing out: 6 feet of distance between chairs, masks and gloves for staff and clients and jugs of hand sanitizer. 
Chicago shops are already making similar plans, figuring out how they can rearrange salon chairs to allow for more space between clients while budgeting hundreds if not thousands of dollars for gowns, masks and gloves.
Joe Caccavella Jr. owns Joe's Barbershop, 2641 W. Fullerton Ave. in Logan Square. His father founded the business in 1968. For the first time in history the shop will book clients ahead of time as opposed to accepting walk-ins. Caccavella will also raise the price of cuts by $5 in an effort to offset his new overhead costs.
Caccavella told Block Club he hopes Gov. JB Pritzker lets him open his doors sooner rather than later. 
"Barber shops such as ours are staples in the community," he said. "People have been coming here to get their haircuts and feel better about themselves for generations. It's not Supercuts. It's not a chain. It's real and that's hard to come by nowadays." 
Quicker Service, Quieter Experience 
In addition to preparing for heightened sanitation protocols, salon owners are preparing themselves and their clients for a very different experience. 
Rahni Michael Flowers is the owner of Van Cleef Hair Studio, 1255 S. Halsted St. in University Village. He's been in business for 40 years and had some high-profile clients — including former First Lady Michelle Obama.
Before the pandemic, Flowers' salon saw about 150 clients per week. Many clients come in once a week and have been loyal to their stylists for years, he said. 
Even though conversations will take place through face masks and though there will be no more hugging, Flowers hopes his clients can maintain the familial relationships they've built with their stylists.
"It's very cathartic, the relationships we have with one another, and they stretch over generations," he said. "It's a really beautiful thing. We will try to still engage in terms of the conversations we have. We won't have the tactility with being able to touch people, but we can still touch people with words."
Across Chicago, salon owners plan to ditch waiting room chairs, magazines and refreshments. Some owners plan to ask clients to wait outside until they receive a text or phone call letting them know their stylist is ready to see them. Others plan to take clients' temperatures at the door. 
Clients will likely be asked to wash or sanitize their hands upon arrival and departure. 
Once inside, clients will be required to wear face masks. If they don't have their own mask, salons will be required to provide a mask — or risk having to reschedule appointments.  
Jamie DiGrazia, owner of Logan Parlor, 3251 W. Fullerton Ave. in Logan Square, is thinking about switching to a touchless payment system to reduce the potential spread of the virus. 
DiGrazia is also considering having dedicated hours for clients who are immunocompromised or elderly. 
"We want to get people in and out in a safe way that gives everybody the space they need," she said.
Bobby Price owns Principle Barbers, 3820 W. Ogden Ave. in North Lawndale. Like Van Cleef and Joe's, his barbershop is more than just a place for haircuts. 
It's a gathering spot where neighbors enjoy birthday parties, movie screenings, table tennis. Some neighbors come by to sit and hang out or to watch TV with Price's young children. None of that can happen when Price reopens. 
Price said he's not looking forward to having to hang a sign that says, "Do not enter without an appointment." 
"My space is made for comfort, relaxation. … That's probably what my clients will miss, being able to come to a safe space," he said. "I have friends who come through and ask if they can come and just listen to music. … It's like an escape. I do believe my clients will miss that." 
Wear Your Own Mask
Mary Rector is the founder of BehindTheChair.com, an international resource for the hair industry based in Chicago. The organization is tracking reopening strategies and sharing daily updates on salon rules throughout the country.  
In a recent Behind the Chair survey of more than 2,500 salons owners, 14.5 percent said they had enough savings to sustain their businesses through three months without revenue. About a third said they could survive just one month. 
Nearly half — 41.6 percent — said they had no emergency fund at all. 
People in the beauty industry are trained in sanitation protocols and are able to reopen safely, Rector said. She feared salons in places like New York, Illinois and California will close forever if they cannot reopen soon. 
"We just don't have any good news in the salon industry," she said. 
Sustaining a business without revenue isn't the only financial barrier salon owners are facing; before reopening, they must invest in masks, gloves and gowns for themselves and their clients. 
DiGrazia, of Logan Parlor, said she expects to spend at least $2,200 on reopening costs, including hundreds on disposable protective gear and hand sanitizer. One of her employees is hand-sewing reusable face masks for the staff.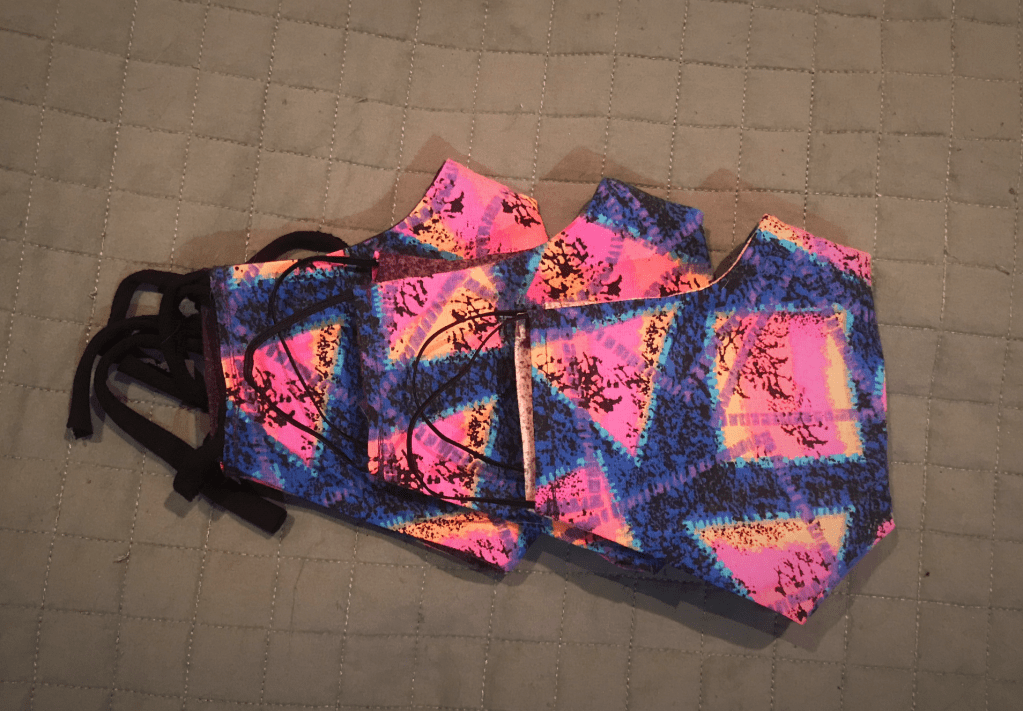 Price, of Principle Barbers, said he's already stocking up on barbicide as he plans to clean his cutting tools more frequently. He's having a hard time finding all the masks and disinfectant he'll need to reopen, however.
"I can't find a bottle of Lysol. None of this stuff is available," he said.
Anita Monteggia, owner of Taglia i Capelli Salon and Boutique, 1804 N. Halsted St. in Lincoln Park, is worried, too. She plans to ask clients to show up in their own masks.
"I don't know how to get this hand sanitizer that's not gonna cost a fortune," she said. "It's sold out everywhere, and when you try to get it, they're asking five times the value." 
Some salon owners are toying with the idea of passing these costs onto their clients. Flowers said he's not inclined to do that — he's worried about his clients' ability to pay for services if they lost their jobs during the shutdown. 
"I know everybody's trying to find a way to navigate economically during tough times," he said. "You can only charge so much for a hairdo before it becomes impractical." 
Wet Or Dry Hair? It's Not Clear 
Some states are banning blow drying because it is possible the virus can survive on hair and risks being spread through the air via the dryer, Rector said. 
New Hampshire, for example, reopened salons and barbershops this week but banned blow drying, according to the Professional Beauty Association. 
Meraki Room, 2028 W. Division St. in Wicker Park, will not offer blow drying services when it first reopens, said owner Diana Monteleone. 
"We are asking clients to come in with clean and dry hair so that we can cut it dry," she said. "If clients receive color services, we will wash it out but they will have to leave with wet hair." 
A possible ban on blow drying worried Flowers, though. 
Black hair typically should not be washed more than once a week, Flowers said, and many clients come in that often for professional wash and style.
Appointments can last as long as two hours and include shampooing, conditioning, blow drying and curling.
"Black hair is unique," he said. "Shampooing as well as blow drying are essential parts of what we do. … That [rule] is not gonna work for salons that service predominantly African American women."
Planning Your Visit
Before the pandemic, salons double- or even triple-booked clients to maximize their time and their profits. A single stylist might have cut one client's hair while a second client's color treatment was setting. 
That won't happen for a while due to occupancy constraints.
To maximize her team's appointment times, DiGrazia said her staffers will likely call or video chat with clients ahead of time to discuss their immediate needs and budgets. 
Some services may be more expensive than they were pre-pandemic, she said. For example, a root touchup covering 2 inches of outgrowth versus 1 inch requires double the product. 
"We might just be at an even standstill for a while before we profit again," DiGrazia said. "I just wanna make sure the salon can stay open and that everyone keeps their job." 
Just because they'll have the legal go-ahead in a couple weeks, not all Chicago salons are rushing to reopen.
The owners of Logan Square-based Barbara & Barbara, 2925 W. Diversey Ave., announced in an Instagram post Monday they do not feel comfortable reopening May 31 because social distancing is not possible while cutting hair.
"We are anxious and we feel it's too soon," the post said. "For now we are going to hold off on rebooking until we know when we will reopen. We are too afraid to come back, and our fear could prevent of us from providing our best service. You all deserve the best and to be protected."
Block Club Chicago's coronavirus coverage is free for all readers. Block Club is an independent, 501(c)(3), journalist-run newsroom.
Subscribe to Block Club Chicago. Every dime we make funds reporting from Chicago's neighborhoods.
Already subscribe? Click here to support Block Club with a tax-deductible donation.