NEAR SOUTH SIDE — Two local designers have switched from high fashion to protective masks as part of the city's effort to provide 1 million reusable cloth masks to Chicagoans.
Fashion designer Jermikko and Barbara Bates Designs on the Near South Side have contracted with the city to provide masks. The Will Group, an Austin-based electrical company, and Silk Screen Express of suburban Tinley Park are also a part of the program.
Of the 1 million masks, 250,000 will be distributed to aldermen's offices and 750,000 will be distributed through the city's Racial Equity Rapid Response Team.
The four contracts, totaling $2.2 million, will help the city build up its stockpile of masks through the pandemic while allowing the companies to continue working.
"We have been able to provide bonuses of over $50,000 for our essential workers while also donating additional masks, sanitizer, disinfectant, gloves and more to those in need," Joshua Davis, vice president of The Will Group, said in a statement.
Shifting to mask-making has allowed Jermikko to keep "the people that I'm with" employed. Her designs have been worn by Beyonce and Angela Bassett and were featured on the Fox TV show "Empire."
For Jermikko's 375,000-mask contract, she outsourced production to other design companies she's worked with over the years. Her company has experience making protective masks for the U.S. military more than a decade ago, she said.
These aren't exactly the same masks, as Jermikko used MERV-18 fabric for the military and must follow the city's request for high-thread-count cotton masks now. But the past experience has been useful as she's delegated tasks and performed quality control, she said.
Jermikko recommends residents keep at least five masks, with one for each day of the work week. Experts estimate the virus survives on clothing and fabrics for about 24 hours.
"My main focus here is supplying masks and giving instructions on how to stay alive," Jermikko said. "I just want people to be safe — I figured that's one of my assignments from the big guy."
Barbara Bates "didn't want to switch" to making masks at first, but she decided to apply for the city's contract after a few colleagues recommended it.
Bates plans to supply about 40,000 masks to the city, with 5,000 made every week. Her masks are also being handed out as part of South Shore resident Genesis Emery's Curbside Community Care Packages.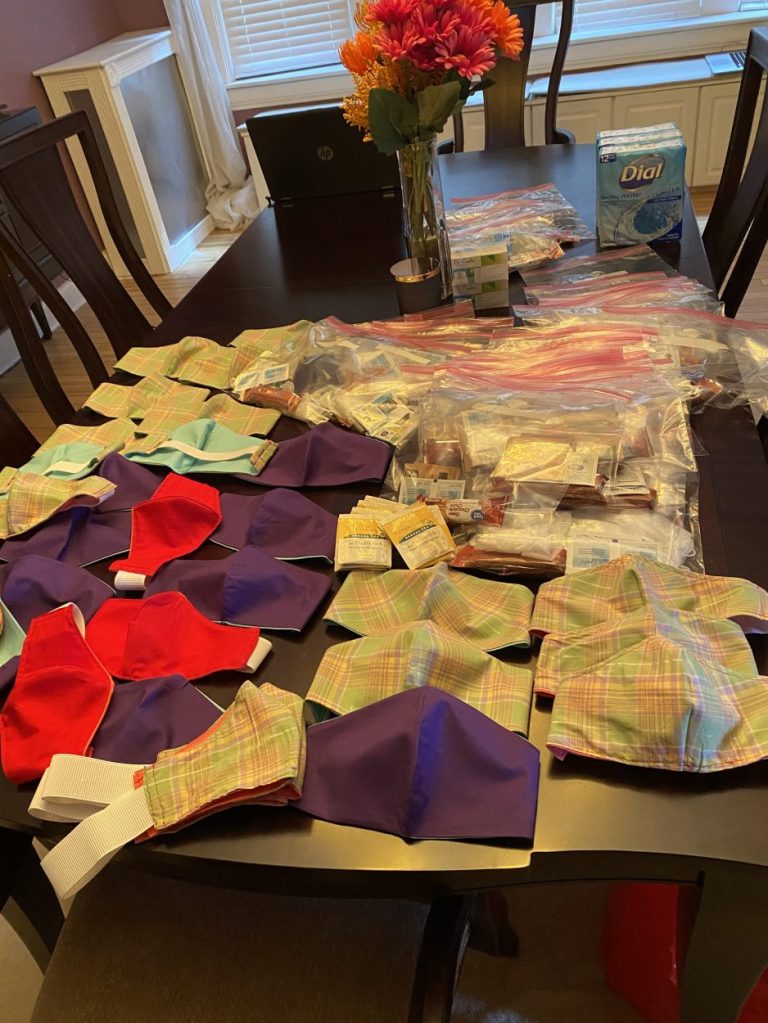 Her production has increased dramatically after a "bust" of a first week where she only created five masks, she said.
"I'm so used to high-end [work] that an easy mask was hard for me," Bates said. "Every week I change the style and get better. I want it to look like a dress. … If you're going to give away something to somebody, make it worth having."
Programs like the city's hopefully can discourage a heavy dependence on China for much-needed protective equipment and instead allow local businesses to shine, Bates said.
"This shows us we need to have manufacturing back in the States again, and that small companies really matter," she said. "I'd rather spend more money, as much as it hurts. I'd rather keep the dollars flowing in our community."
Block Club Chicago's coronavirus coverage is free for all readers. Block Club is an independent, 501(c)(3), journalist-run newsroom.
Subscribe to Block Club Chicago. Every dime we make funds reporting from Chicago's neighborhoods.
Already subscribe? Click here to support Block Club with a tax-deductible donation.