LINCOLN SQUARE — First came the "Where's Lightfoot?" memes, with a stern Mayor Lori Lightfoot photoshopped into photos, guarding the lakefront she closed down to stop the spread of coronavirus.
Lincoln Square's Josh Fontenot then took it to next level, inserting the mayor and her steely gaze into some of the most famous Impressionist paintings housed at the Art Institute of Chicago.
His works have become a hit, getting shared all over as a little slice of levity amid the COVID-19 outbreak.
Fontenot and his friends had joked about Lightfoot enhancing Georges Seurat's "A Sunday on La Grande Jatte" after she closed down the city's lakefront, The 606 trail and other too-crowded spots last week. The social distancing being practiced by the visitors of the Island of La Grande Jatte would not likely meet the mayor's approval.
"My friend Ann McGregor posted the original Georges Seurat painting on Facebook Saturday. She threw it up as a challenge to photoshop Lightfoot into it," Fontenot said. 
Fontenot first career was as a graphic designer and art director for newspapers and trade magazines. Accepting McGregor's challenge, he added photo of a displeased Lightfoot to Seurat's famous 1884 painting Saturday.
"My practical skills in photoshop were honed in those days," he said. "But now I just dust them off if I'm going to do band promotion or the occasional photoshop challenge."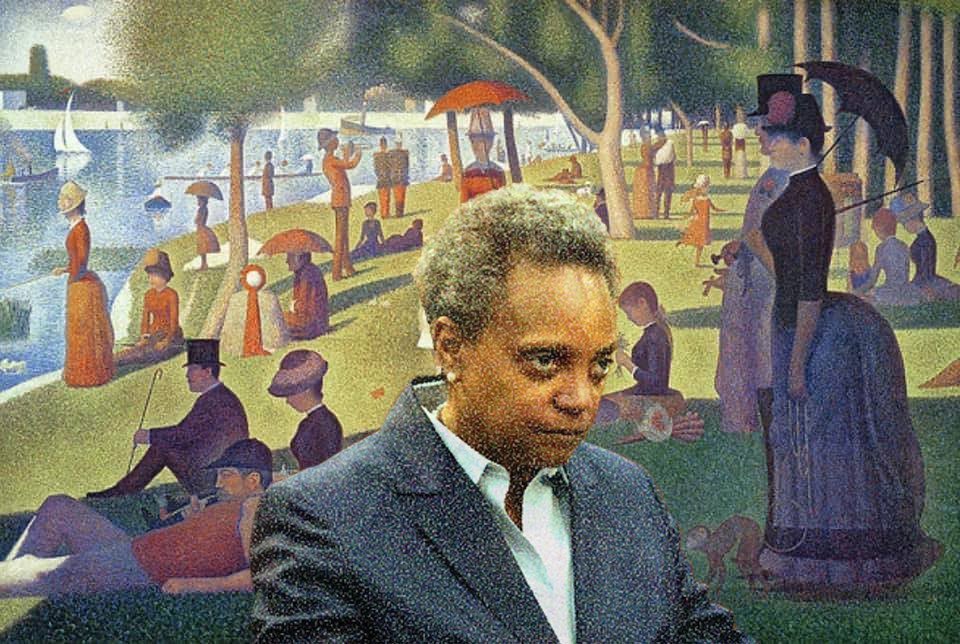 "I'm glad to add any levity to our situation right now and I'm behind Lori Lightfoot on this particular issue all the way," said Fontenot, who bartends at Louie's Pub, 1659 W. North Ave., and The Grafton Pub & Grill, 4530 N. Lincoln Ave.
"And her disapproving glare is the best."
Lightfoot was asked Monday about getting Photoshopped into scenes. She did not disapprove.
"Like in any difficult time, I think we've gotta have a sense of balance, and humor is a part of it," she said.
"I've actually enjoyed them," the mayor said. "What it shows is the creativity of people in this city, in this region, that despite these dire circumstances … we can also see the lighter side of life, what makes us a vibrant and interesting and innovative and creative community. So I love 'em."
McGregor posted a second impressionist painting, "Luncheon of the Boating Party" by Pierre-Auguste Renoir on Sunday and again asked Fontenot to add Lightfoot to it.
Fontenot not only put the mayor in the painting but also had her say, "Get out of here stupid sh–!" in French.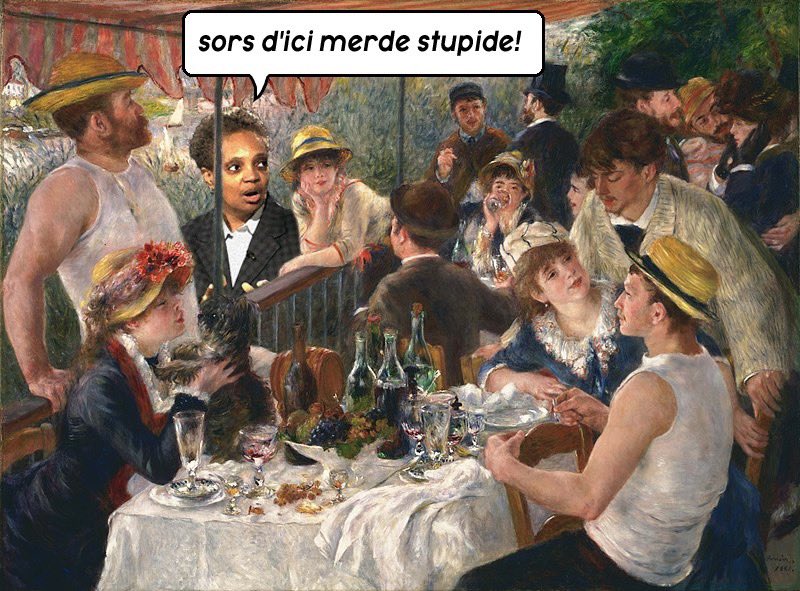 RELATED: Mayor Lori Lightfoot Loves The Memes Showing Her Sternly Protecting The City From Coronavirus
After seeing how hilarious his friends thought the images were he decided to upload his Seurat COVID-19 remix to Reddit. That's when it went viral with over 1.1k upvotes. 
The popularity of Fontenot's post led to someone else using his remix to make their own meme. In that one someone added another image below Fontenot's. Apparently listening to the mayor, the park is empty.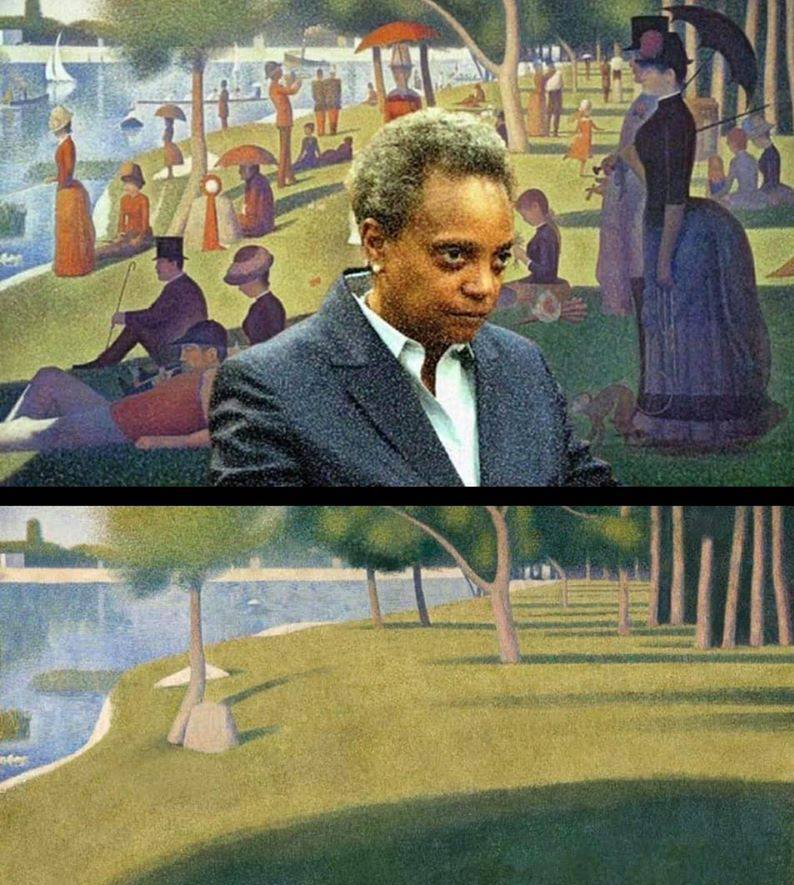 Since the dine-in ban and stay at home order, Fontenot has been at home waiting to see when he'll be able to go back to work. He's applied for unemployment. 
"The outcome of how long this will last is looking worse by the day," he said. 
In the meantime, the staff at the Grafton have launched a GoFundMe to help cover their rent, utilities and meals while they wait to get back to work.
"I'm waiting to hear from unemployment and whenever this stimulus relief money is coming," he said.
Block Club Chicago's coronavirus coverage is free for all readers. Block Club is an independent, 501(c)(3), journalist-run newsroom.
Subscribe to Block Club Chicago. Every dime we make funds reporting from Chicago's neighborhoods.
Already subscribe? Click here to support Block Club with a tax-deductible donation.