CITY HALL — Mayor Lori Lightfoot campaigned on a promise to reverse decades of disinvestment on Chicago's South and West sides — and when she took office, she found a nearly $57 million pot of money earmarked for just that purpose.
Stung by accusations that Chicago's neighborhoods languished on his watch, Mayor Rahm Emanuel created the Neighborhood Opportunity Fund in 2016 in an attempt to capitalize on the boom Downtown and in the West Loop by giving developers the green light to build taller and denser projects — for a price.
Emanuel said the city would use those funds to boost economic development on the South and West sides by offering small business grants — but the effort faced criticism from business owners that the application process was overly complicated and the selection criteria was inconsistent.
Even as developers flooded the fund as cranes dotted Chicago's skyline, Emanuel awarded 156 grants totaling only $890,000.
"To be blunt, people have told me that the way the program was previously administered was a lot of smoke and mirrors," Lightfoot told The Daily Line and Block Club Chicago in an exclusive interview. "That it wasn't really putting money in the hands of entrepreneurs. That's not the kind of program we want to run."
Emanuel picked 191 entrepreneurs and businesses to receive grants from the Neighborhood Opportunity Fund, but 35 grant winners never saw a dime, according to city data.
Nearly nine months into her term, Lightfoot is remaking the program to boost efforts to breathe new life into the South and West sides — without worrying about the city's otherwise dire financial condition, as the deficit is expected to be approximately $1 billion for the second year in a row.
"We are being responsive to what we've heard from small business people all across the city," Lightfoot said. "We are going to be carefully watching whether or not these changes are moving the needle."
Lightfoot's administration has awarded $1.1 million in grants — and the mayor said she is confident the changes to the program will spur a cascade of funds to struggling businesses on the South and West sides, where capital and investors are scarce.
The Neighborhood Opportunity Fund will be used to "make a difference in the economic viability of neighborhoods" on her watch, Lightfoot said.
Since May, another $10.2 million has been paid into the Neighborhood Opportunity Fund by developers, according to data provided by city officials.
In all, $202 million has been committed to the fund, with $53.8 million coming just from the approved but not yet started redevelopment of the River District/Tribune properties.
Lightfoot claimed ownership of the program in October with the launch of the Invest South/West initiative, which will devote $30 million from the Neighborhood Opportunity Fund to boosting 10 neighborhoods that each have "at least one well-developed community plan with a commercial component" and "at least one active commercial area at a specific node or intersection," according to the Department of Planning and Development. 
Invest South/West will focus on Austin, Humboldt Park, North Lawndale, New City, Greater Englewood, Auburn Gresham, South Shore, South Chicago, Roseland/Pullman and the Quad Communities of Bronzeville, including Oakland and Kenwood, according to the mayor's office.
South and West side businesses and entrepreneurs can apply online for $10 million in grants through Feb. 29, as part of the first application period since Lightfoot took office. Officials can award grants of up to $250,000, while bigger projects have to win approval from the City Council.
Those who apply should get a decision by the end of March, officials said.
Lightfoot acknowledged some business owners might be reluctant to take the time to apply for a grant from the Neighborhood Opportunity Fund when success stories have been few and far between.
"I think and I hope what people see is an administration that is committed to not just saying but doing," Lightfoot said. "The proof is going to be in the pudding. When people see that folks have applied and have actually gotten money to start businesses, success breeds success."
In addition, Lightfoot asked aldermen to change the program to allow the city to reimburse 50 percent of a project's construction expenses. The current rules cap that amount at 30 percent for grants of $250,000 or less, even though a project can be reimbursed for 50 percent of the cost of rehabilitating an existing building under the current rules.
Lightfoot has already moved to allow grants from the Neighborhood Opportunity Fund to be used to cover 100 percent of a project's total cost — if both the owner and their employees are residents of the South or West sides. Otherwise, the grant is capped at 65 percent of total costs.
In addition, applicants can ask for as much as $25,000 before the project breaks ground to pay for appraisals, environmental surveys and architectural services. Under Emanuel, funding was limited to projects that were under construction.
Lightfoot has also changed the rules to allow more projects to qualify for grants up to $250,000 to reduce the need for bridge loans during construction. The new rules also permit the funds to be held in escrow for large projects in an effort to help entrepreneurs qualify for other loans.
But aldermen will no longer be allowed to approve — or reject — grants from the Neighborhood Opportunity Fund, Lightfoot said, as part of her larger effort to root out aldermanic prerogative.
RELATED: At 6-month mark, Lightfoot's effort to scale back aldermanic prerogative a work in progress
Another application period is set to open in July, the mayor's office announced. Under Emanuel, businesses had to apply in person by submitting applications on paper at City Hall. Application periods opened and closed irregularly, making it difficult for business owners to plan ahead.
"I knew that I couldn't depend on the grant," said Bobby Price, owner of Principle Barbershop at 3820 W. Ogden Ave. in North Lawndale.
Price applied for a grant from the Neighborhood Opportunity Fund in fall 2017 after getting commitments from other investors to help him open a barbershop in one of Lawndale's major commercial corridors that has seen something of a revival in recent years.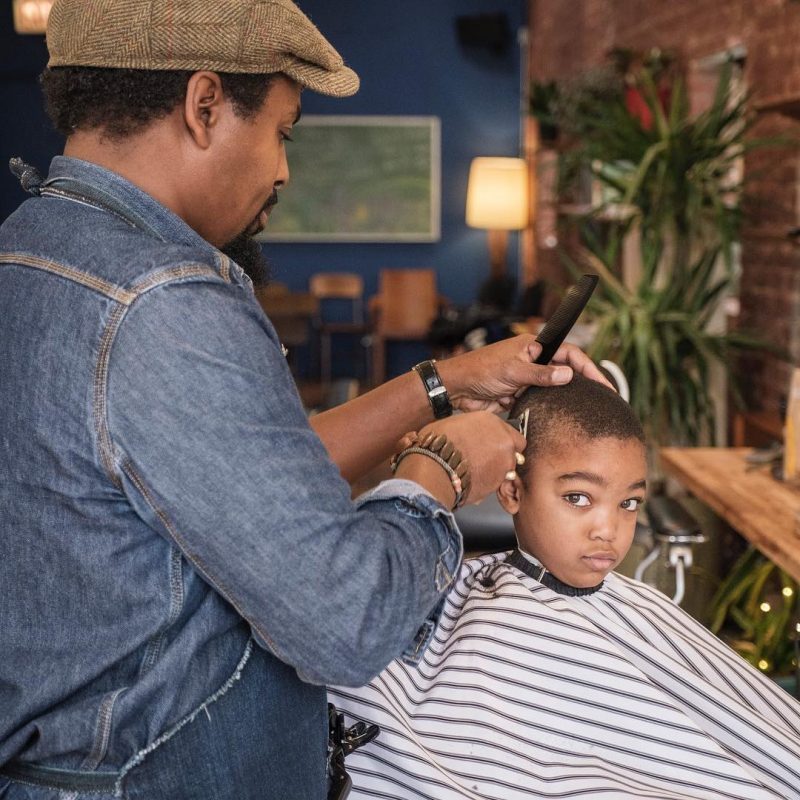 Price wanted to use the funds from the city to improve the lighting in his shop, restore the façade of the building, shore up the building's electrical wiring and widen the store's entrance to accommodate wheelchairs before his grand opening.
But Price said he was never given a date for when he would hear if he would receive the grant. After months of radio silence, Price decided it wasn't worth it to delay his opening, so he moved ahead and planned to launch his business in February 2018. 
On the day Price celebrated the shop's grand opening, Chicago planning officials called him to check in on his application for the grant from the Neighborhood Opportunity Fund, telling him he was a top candidate to get the funds. But when they learned he had already moved forward and opened his shop, Price said they told him he was no longer eligible since much of the work on his store had already been completed. 
Price said if he had known when the grant would have been available to him, he would have delayed his opening to finish those extra construction projects, he said. 
Price's application for the grant was assisted by North Lawndale Chamber of Commerce head Rodney Brown, who at first tried to get as many Lawndale businesses as possible to apply. But after a couple years of trying, Brown said he stopped encouraging North Lawndale Businesses to apply for the Neighborhood Opportunity Fund because the barriers were impossible to overcome. 
Brown said the biggest obstacle was that the program required that businesses finance construction projects upfront, with the grant flowing only after construction had been started. Few North Lawndale businesses could get projects off the ground without the grant money upfront.
"If they did, we would've already spent that … trying to get them started," Brown said. "Our clients, if they have those kind of resources, they use them."
That locked out the businesses that would have benefitted the most from the funding, Brown said. 
"This is not money upfront," Brown said. "Well, that stopped a lot of people from trying to go after it."
Lightfoot's changes are designed to address the problems that left Price tangled in red tape.
Entrepreneurs who apply for the grant will now be offered intensive support for business at all stages, and a city official will be assigned to serve as a "concierge" to ensure nothing falls through the cracks, said Planning and Development Comm. Maurice Cox.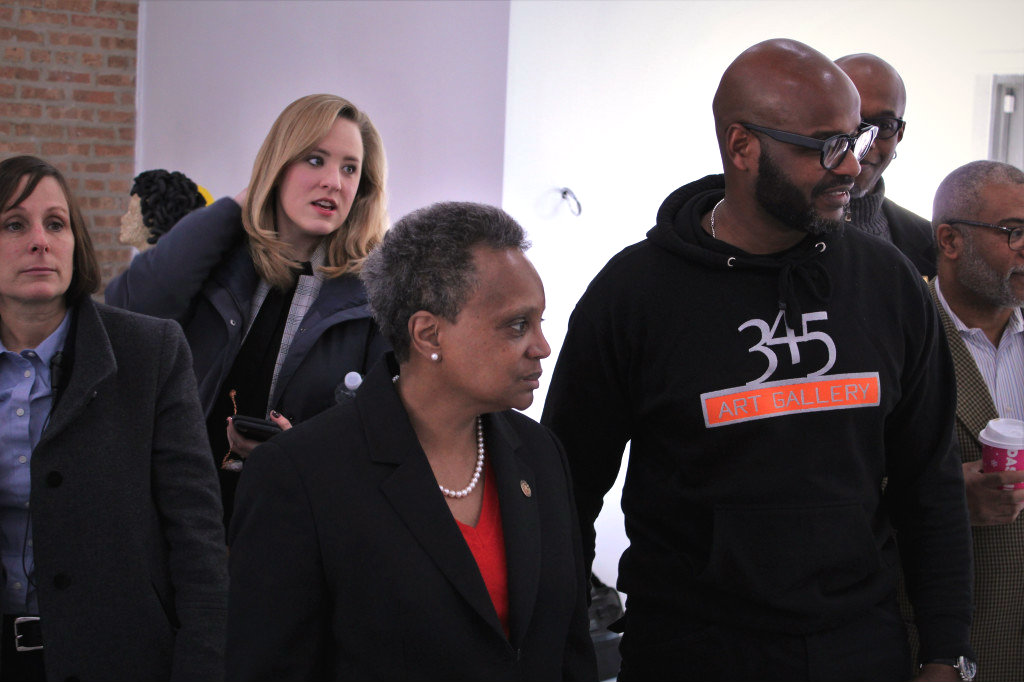 And to help finalists for the grant navigate financing for the project, they will now have access to a pool of technical advisers to help them to bring together the capital and manage contractors. The Neighborhood Opportunity Fund would cover up to 95 percent of the cost of construction project managers and project lending coaches.
But the city still won't offer entrepreneurs the funds upfront — and some who struggled to take advantage of the program under Emanuel are skeptical the rules put in place by Lightfoot will actually help small businesses in areas that need it the most on the South and West sides. 
Take for example Majestic Florist, a Chatham business that applied and was awarded the grant in 2019 but could not accept the funds. 
Clarence Glover, the shop's owner, planned to use the grant to completely remodel his 30-year-old store. His vision included a more spacious storefront as well as new signs, windows and bathrooms. With the blessing of his alderman, Glover hired an architect and a contractor to draw up plans for the construction — which was expected to cost about $250,000. 
Glover was thrilled when he got the grant — but did not realize until he received the award letter that he wouldn't get the cash until long after he had already paid for the remodel. 
And even though Glover lives in the same area as his business, the grant at the time was limited to funding only 65 percent of any project, leaving him to fill a gap of nearly $100,000 that he could not afford. 
City officials urged Glover to borrow from a local bank to cover the upfront costs. But Glover, 76, said taking out a loan just to be able to accept the grant that he won wasn't really an option since he would have to put up his building as collateral to get the funds. 
"They gave us a list of banks to go to, but the interest rates were so high," Glover said, adding he could not use the promised grant as collateral for the loan. "They weren't any low-cost loans."
Glover decided the grant wasn't worth the trouble. 
But some of the business owners burned by the old system said they are willing to give the grant another try.
Price said he still wants to do some remodeling at Principle Barbershop, and with the new rules he'll be able to plan ahead so his business decisions can align with the selection process of the grant. 
Likewise, the North Lawndale Chamber of Commerce will begin directing entrepreneurs and business owners to apply for the grant once again. Brown said with up to $25,000 available upfront, the grant will be a much more realistic option for local business owners who have rock-solid business plans but still lack access to capital. 
"We would certainly be interested in directing more folks to look at the NOF grant now that they get the money upfront because that puts them in a position where they can actually make something happen," Brown said. 

The "Lens On Lightfoot" project is a collaboration of seven Chicago newsrooms examining the first year of Mayor Lori Lightfoot's administration. Partners are the BGA, Block Club Chicago, Chalkbeat Chicago, The Chicago Reporter, The Daily Line, La Raza and The TRiiBE. It is managed by the Institute for Nonprofit News.