UPTOWN — After years of planning and raising funds, work to restore the historic Uptown Theater could finally begin in a few months.
The last remaining funding needed for an overhaul of the long-dormant movie palace will likely be in place by late spring, Ald. James Cappleman (46th) said in an email to residents. Work on the building could begin shortly after that, the alderman said.
The work would represent one of the biggest steps taken thus far to renovate and re-open the Uptown Theater, 4816 N. Broadway, which has been closed since 1981 and has seen many fits and starts to its rehabilitation.
In 2018, city officials unveiled a $75 million plan to renovate the theater. The project is to receive about $40 million in public financing, including $13 million in TIF funds and $14 million through a state clean energy fund, Block Club previously reported.
At the time, officials said construction on the theater would start in summer 2019, but that timeline came and went as theater owners sought additional funds.
Theater co-owners Jerry Mickelson and Scott Goodman still needed to come up with $40 million, Mickelson told the public in April 2019. By November, the co-owners needed to raise $26 million, the Chicago Tribune reported.
Mickelson and Goodman founded a non-profit, called the Uptown Theater Foundation, that would oversee the theater's operation and be able to receive grants and donations for its revival. Mickelson, the JAM Productions co-founder, and Goodman, a developer, bought the theater in 2008.
On Friday, Cappleman said funding will likely be in place by late spring. Construction is expected to begin shortly afterwards, the alderman said.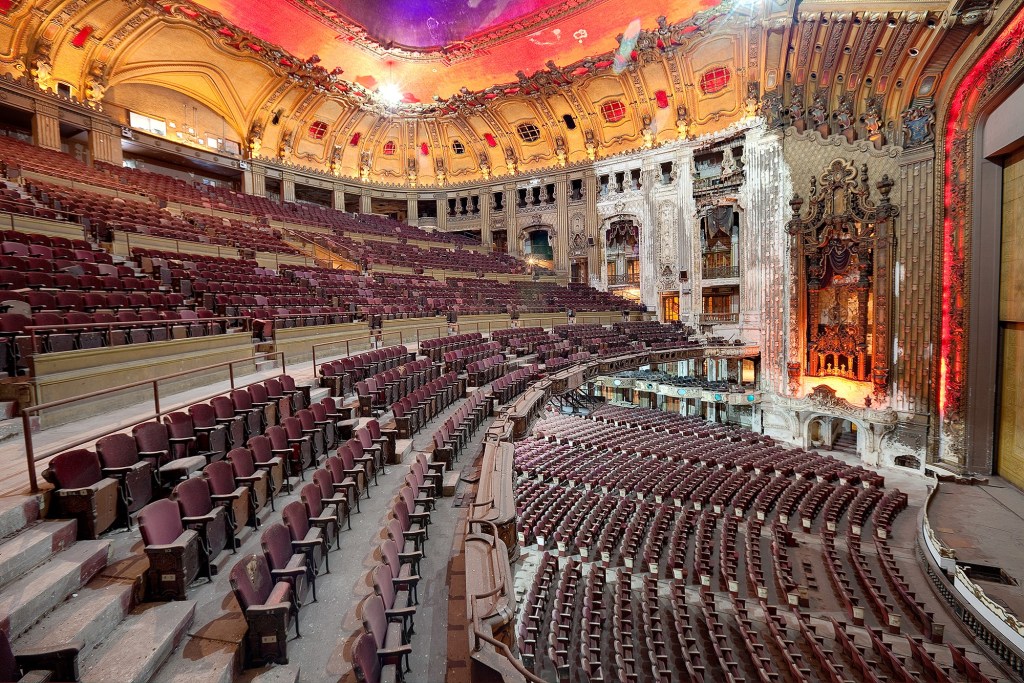 Plans for the Uptown Theater include renovating it to more closely resemble the grand movie palace it was for much of its life. One of the major changes calls removing seating for a first-floor general admission or dance floor area. The theater could host 100 shows a year, create about 200 jobs and include a community arts outreach effort that gives local kids access to the theater for programming.
"We are trying to restore what I call the eighth wonder of the world," Mickelson previously said at a panel discussion.
Built in 1925, the Uptown Theater was the largest freestanding theater ever built in its time. With a seating capacity of 4,351, it is larger than both the Chicago Theater and Radio City Music Hall. It has three marquees, a kid's playroom and over 17,000 light bulbs in the auditorium.
The theater was built to show movies but later moved to hosting live concerts. From 1975 to 1981, acts like Bruce Springsteen, Bob Marley and the Grateful Dead played shows at the theater.
Since 1981, the building has largely been maintained by a dedicated group of volunteers, who spent their own money to make sure the theater didn't crumble.
Andy Pierce has volunteered to help preserve the theater since 1998. Pierce said he is excited to see the Uptown Theater project moving forward, but will be even happier when construction crews get in the building.
"I am optimistic," he said of the plan. "I am eager to hear details, see plans and see action.
"It will be exciting to have it back," Pierce said.
Mickelson, who did not respond to requests to comment for this article, previously told the Tribune he is hoping the theater will open for its first show in early 2022.
Do stories like this matter to you? Subscribe to Block Club Chicago. Every dime we make funds reporting from Chicago's neighborhoods.
Already subscribe? Click here to support Block Club with a tax-deductible donation.