RAVENSWOOD — The senior housing project at the former Ravenswood Hospital will preserve some parts of the historic building, the developer announced Friday.
Evergreen Real Estate Group is converting the vacant 10-story hospital at 4501 N. Winchester Ave. into 119 supportive living apartments and 74 independent living apartments for seniors.
While the former hospital is not an official historic structure, it is an important local landmark and Evergreen plans to revitalize and maintain much of the original structure, said Evergreen's CEO Jeff Rappin.
Crews have been working a the site since last month. Rappin's announcement was made during a ceremonial ground breaking for the project Friday.
It is one of the first developments in the country to offer both independent living and supportive living for low-income seniors in a single location, allowing residents to age in place as their needs and lives change, according to developers.
RELATED: Construction Begins On $81 Million Overhaul Of Former Ravenswood Hospital
The preservation plans for the former hospital include cleaning up the building's facade and getting it tuckpointed. Windows will also be replaced using the original frames and a small addition on the building's north side will feature a facade of colorful metal panels to mirror the design of the adjacent Lycée Français de Chicago, a private French international school.
Planned structural changes to the former hospital also include the addition of an elevator and staircase at the entrance of the independent living community to improve accessibility for residents and guests.
Elevators inside the building will be modernized, and the entire building will be revamped to be converted to apartments, which will include new walls, HVAC and some new window openings.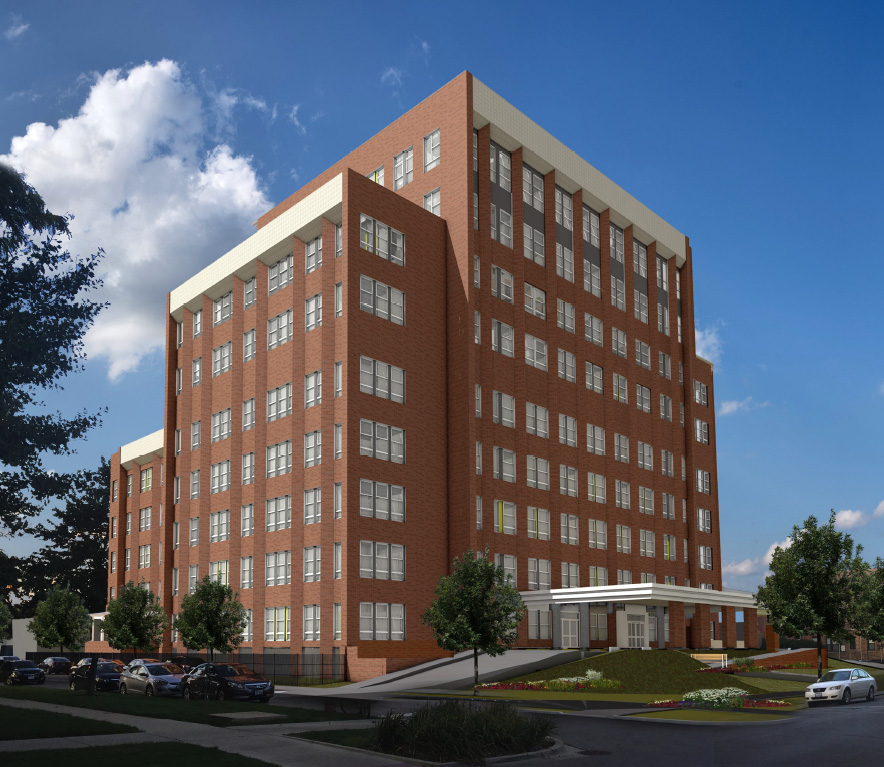 Both the independent and supportive living communities will share the existing parking garage, which also is utilized by Lycée Français de Chicago and other commercial and residential buildings on the block.
Founded in 1907, Ravenswood Hospital eventually grew to encompass several buildings, including housing for nursing school students.
Following the hospital's controversial closing in 2002, two of the buildings were converted to apartments and medical offices. Another part of the campus was taken over by Lycée Français to build its $35 million, 3.8-acre campus.
Evergreen, which specializes in affordable development, announced plans to redevelop the vacant hospital in 2016, but needed a state law changed in order to move forward with having the supportive living and independent housing exist in the same building.
That law changed in 2018. Last month, construction crews began prepping the site for the $81 million redevelopment.
"In the case of Ravenswood Senior Living, we used financing tools that weren't necessarily designed to be used together, such as public housing tools, tax credit programs and the Medicaid waiver program," Rappin said. "Using two of these together is fairly common, but all three is very unusual, which underscores the creativity required to get projects like this off the ground."
The Ravenswood Senior Living project is the third affordable senior housing community that Evergreen has developed on Chicago's North Side over the past year.
In 2019, the firm partnered with the CHA, Chicago Public Library and Chicago's Department of Housing on a pair of co-located developments – Independence Apartments and Library at 4022 N. Elston Ave. and Northtown Apartments and Library at 6800 N. Western Ave.
Do stories like this matter to you? Subscribe to Block Club Chicago. Every dime we make funds reporting from Chicago's neighborhoods.
Already subscribe? Click here to support Block Club with a tax-deductible donation.