LINCOLN PARK — Bike commuters and lakefront joggers on Chicago's Lakefront Trail between Navy Pier and Fullerton Avenue faced a series of obstacles on Monday — leftover debris from weekend storms that battered Chicago's shoreline from Rogers Park to South Shore.
Pictures and videos of the storm flooded social media. By Monday afternoon, Chicago Park District maintenance crews had largely cleared the debris, but commuters will likely deal with hardest hit areas until the spring.
Park District spokeswoman Irene Tostado said the trail is open but users should remain cautious.
"The lakefront trail is currently open, but users should heed the warning signs as crews will be working to remove debris from the trail, as needed. Users should be aware of missing asphalt south of Fullerton Ave. and also between Ohio St. and Oak St. We are currently assessing damage along the entire lakefront," she said, "… It will take some time to provide a timeline for repairs."
Chicago Department of Transportation spokesman Michael Claffey clarified that the Park District will repair the trail, but not in the winter.
"The asphalt plants that produce hot asphalt are not open until the weather warms up," he said.
Monday morning, the southbound entrance to the partially complete Navy Pier Flyover was blocked by a mound of asphalt, though the flyover itself was not damaged.
Just north of the flyover, the trail had been upheaved by waves in large chunks. Police barricades blocked passage, although more bikers chose to evade the barricade and ride where the asphalt was missing rather than ride closer to the lake.
Ron Olson, who lives just west of Wrigley Field, said he has commuted to the Loop along the Lakefront Trail for 12 years.
"This is absolutely the worst I've ever seen and last year was pretty bad," he said, "…this is the first time I've seen actual piles of asphalt."
That stretch of trail sits at a slight incline, rising up from the lake. Olson said it's dangerous even without the ripped up asphalt because it can become slippery in the winter. Last year the city put up a chain link fence around a break in the trail and it and it nearly caused him to plunge into the lake, he said.
It was one of the last days of freezing temperatures and as he rode around the fence he didn't see a patch of ice.
"This bike hit it, went out from underneath me and right into the water, and I slid and I actually got my feet in the water, but I was able to hold myself down," he said.
Further north along the trail the issue was heaps of sand that had washed onto the trail.
"There was a fair amount of sand at the Oak Street Beach area. I've run into that kind of stuff before, so even on this [mountain bike] I was like, 'not having any of that.' So I walked it," he said. "But another dude actually tried to charge through and he almost wiped out. … He definitely fishtailed because the sand was like maybe two or three inches deep."
Beginning at North Avenue beach heading north, the trail separates, creating a separate path for bikers. The bike path along this stretch, which for much of the stretch sits at a higher elevation, was largely unaffected by the storm.
Sand had decimated the lower portion of the trail dedicated for walkers or runners. In some areas the sand was piled a few feet high on either side of the trail, creating a path that looked more like a riverbed.
Rising water levels and dangerous storms are creating an ongoing crisis along Chicago's waterfront.
Olson, who was wearing shorts for Monday's commute home, said he only takes the train when his wife presses him to avoid bad weather. He was layering up during last year's Polar Vortex before she intervened.
He said he's worried about the environmental damage happening on the lake, but as long as there's a path, he'll continue to commute by bike.
"I'll be honest, this is a hell of a lot safer than dealing with the streets, even on the bike lanes," he said.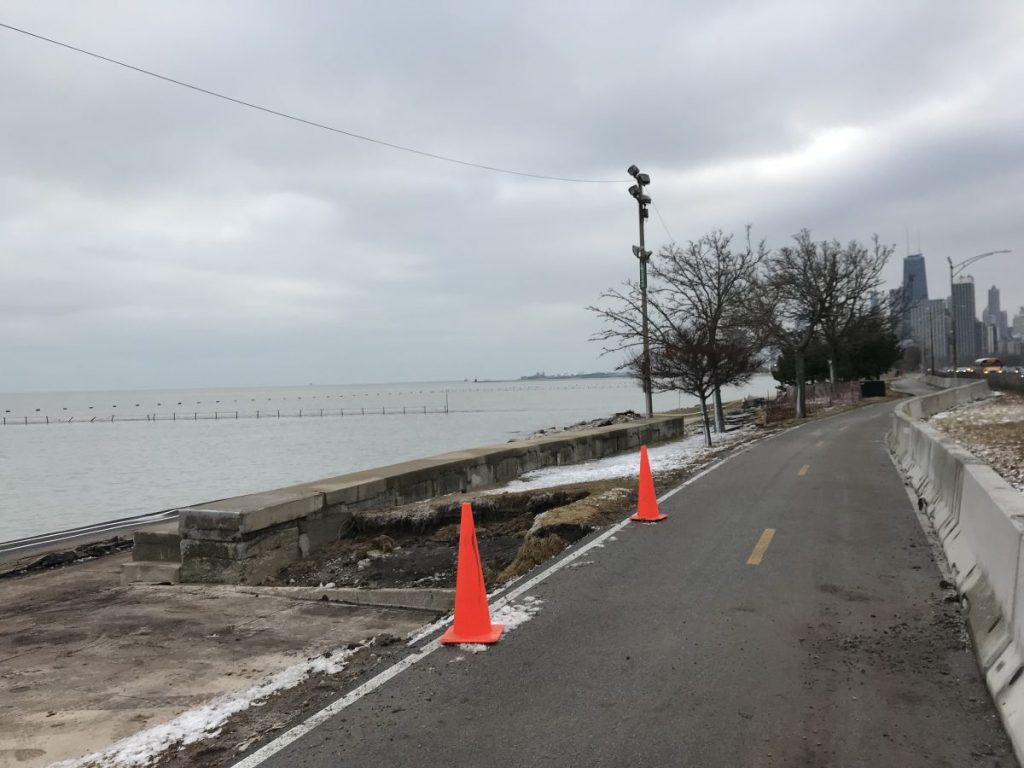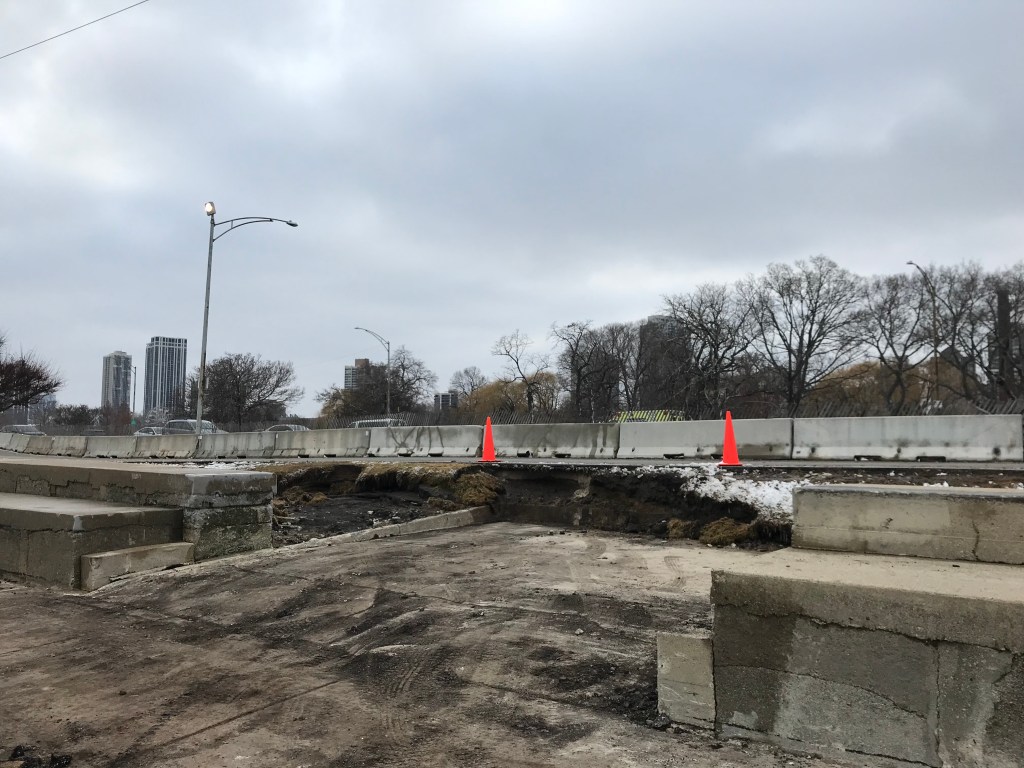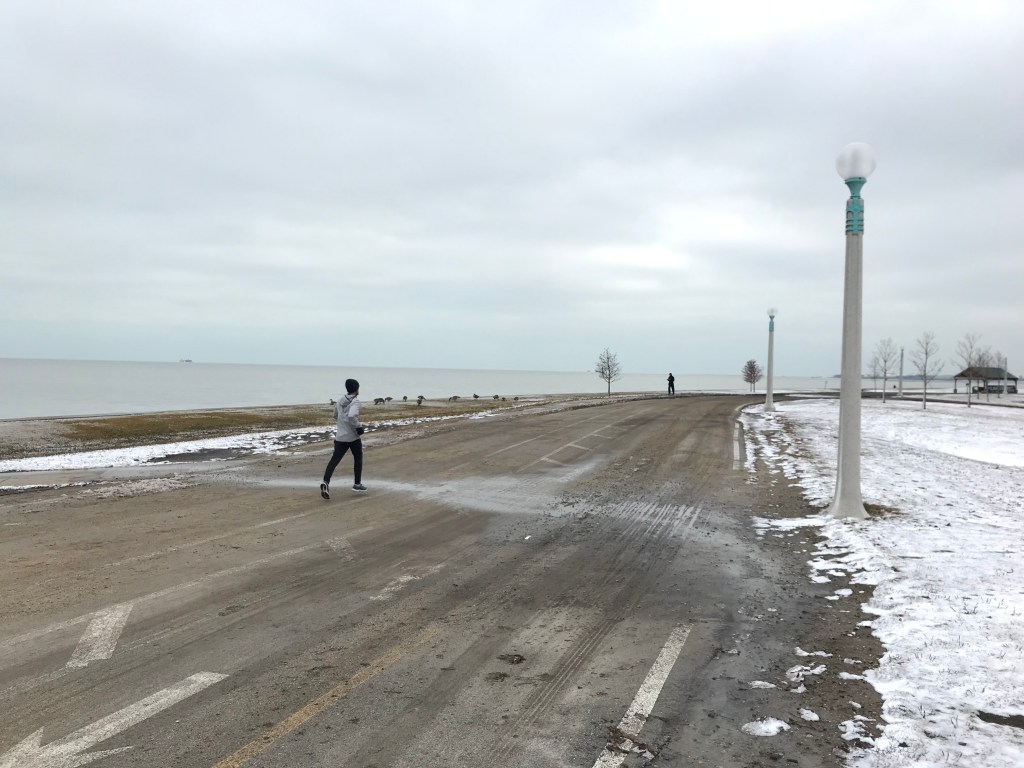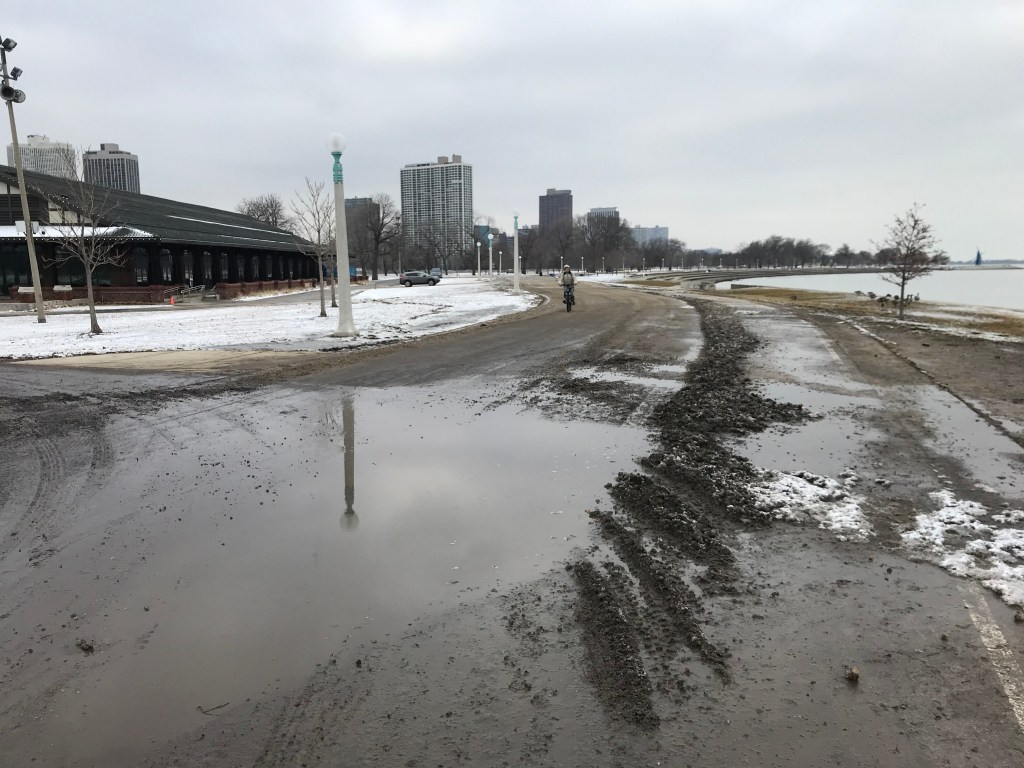 Do stories like this matter to you? Subscribe to Block Club Chicago. Every dime we make funds reporting from Chicago's neighborhoods.
Already subscribe? You can make a tax-deductible donation to support our nonprofit newsroom here.