ROGERS PARK — The redevelopment of the former Heartland Cafe site has gotten smaller, with the developer saying he will cut the number of apartments in half and only build up to five stories.
The beloved The Heartland Cafe at 7000 N. Glenwood Ave. was demolished in April to make way for a new development adjacent to the Morse Red Line stop.
In June, developer Sam Goldman unveiled his plans for the site: a six-story, 60-unit apartment building with ground-floor retail.
Those plans have now changed, with Goldman now looking to build a five-story building with 30 units, Ald. Maria Hadden (49th) said in an email to residents.
The reason for the change in plans was not given. The earlier plan, however, would have required a zoning change if Goldman was to build a six-story, 70-foot-tall building. The new plans do not require a zoning change, Hadden said.
Some residents who attended the unveiling of the Heartland site plans said the proposed development was too big. Others said prospective rent prices were too expensive for the neighborhood.
An updated range of the building's rental prices was not given by the alderman. Goldman previously said that rents would range from $800 for a studio to $2,858 for a three-bedroom.
Apartments will be constructed on the building's second-through-fourth floors, according to Hadden's office. The fifth floor will contain a 467-square-foot party room with an outdoor deck overlooking Glenwood Avenue.
Plans for the first floor remain as originally proposed, with over 2,500 square feet dedicated to retail and the rest for lobby and amenity space for apartment residents.
A 15-space parking lot with storage for 30 bicycles will also be included.
The developer wants to get started by the end of February or early March, Hadden said. While construction is underway, Glenwood will be closed to traffic between Lunt and Greenleaf. Alley access will remain open for nearby residents.
Opened in 1976, The Heartland Cafe has been a favorite hangout of poets, musicians, artists and activists, as well as Rogers Park locals. The restaurant became a place for political and social organizing, and has held rallies for Barack Obama and Harold Washington.
The Heartland Cafe closed in late December 2018 after being sold to Goldman and his family for $1.3 million.
After announcing the closure, Heartland Cafe owner Tom Rosenfeld said there's a chance the restaurant could return, if the right opportunity came along.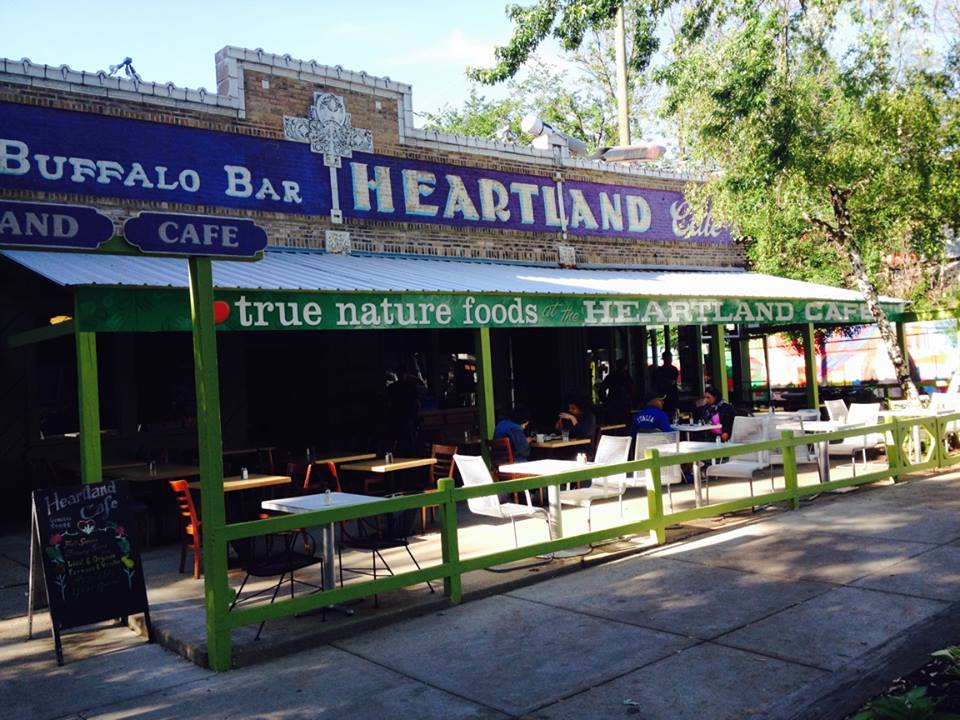 Do stories like this matter to you? Subscribe to Block Club Chicago. Every dime we make funds reporting from Chicago's neighborhoods.
Already subscribe? You can make a tax-deductible donation to support our nonprofit newsroom here.