FULTON MARKET — Born on a sweltering August summer night in 2011, La Sirena Clandestina garnered accolades over the last seven years. But now the independent restaurant will serve its "Last Sirena Supper" on New Year's Eve.
It's the latest small business in the booming Fulton Market to get swallowed up by the success it helped bring to the neighborhood.
Chef John Manion still remembers lights strung inside the breakfast and lunch spot called Dodo at the corner of Morgan and Fulton Market streets in 2011. A friend DJ'ed and guests sang and danced at the pop-up inside the eatery. 
For an evening, Manion served up a menu inspired by his childhood spent on the beaches of Brazil. He and his team decided to do the pop-up after a deal to open a El Che restaurant in West Town fell through. But what began as a pop-up steamrolled into something more.
"It was magic," Manion remembers.
The following year, Manion and partners converted Dodo into La Sirena Clandestina, a 40-seat restaurant at 954 W. Fulton Market St. Opening it was a "crime of opportunity. … It was a different world over here," Manion said, recalling idling semi-trucks in front of the restaurant waiting to load and unload at a large cold storage facility where Google headquarters now stands. 
"There was no streetlights. It was really rundown … and that was part of what made it cool. …There were house parties, raves, knock knock bars and all this clandestine s— that just existed and thrived.
"It felt like we were on an island over here," he said.
Now, the bustling meatpackers have packed up and office towers and apartment high-rises have risen in their wake. And Manion is set to close his independent restaurant on Tuesday. Manion initially announced plans to close La Sirena in November, citing skyrocketing property values in the area.
He said the decision to close was plain and simple: "The math had just changed" and it was difficult to make any money on a 40-seat restaurant.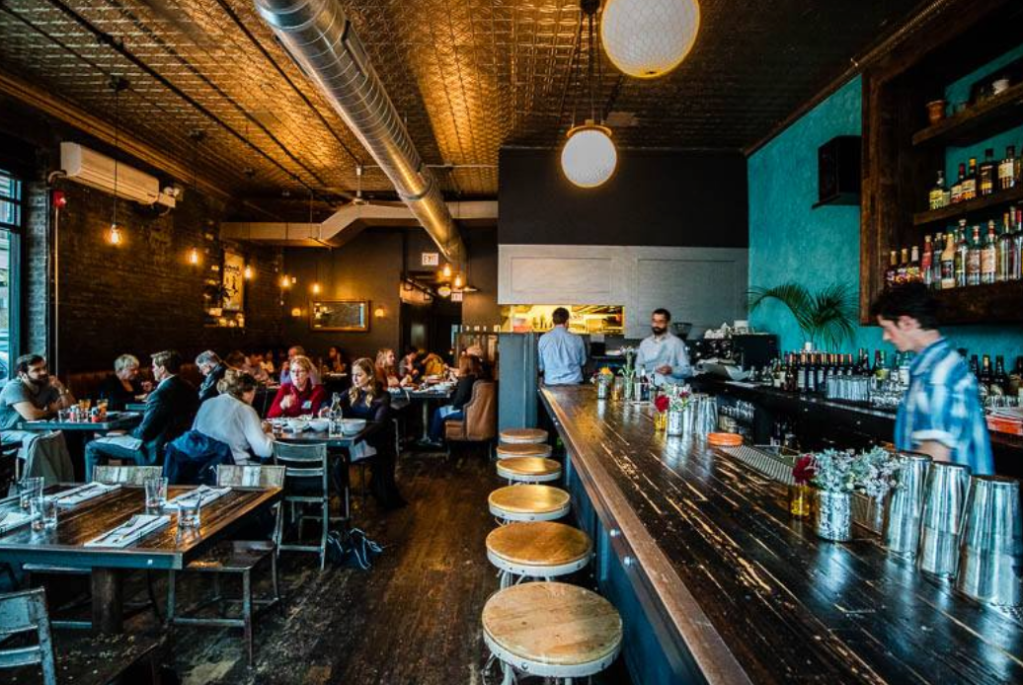 Instead of renewing the lease set to expire in 2020, Manion said he knew La Sirena had a shelf life. 
Ahead of the announcement, Manion and partners considered finding another location but decided against it. He said the magic of the restaurant was in the "DNA of the room."
"This was never going to be forever," Manion said. "Things change, city's change and it's OK. We always knew 2020 would be the end."
Last month, Manion joined TimeOut Market's massive food hall just blocks from La Sirena Clandestina, where he describes his offering as a child of La Sirena Clandestina and his other West Loop restaurant El Che.
"It's a child of the two … and it draws from what I grew up eating and what I like," he said.
The chef, who was recently nominated as Chef of the Year at the Jean Banchet Awards, said he has no "definite" plans for another restaurant in the immediate future. 
In reflecting on the changing neighborhood, Manion said Fulton Market has lost the grit and character over the last eight years.
"It's an entertainment district [now]. It's the opposite of what it used to be," Manion said. "It's gentrification on steroids." 
Despite those changes, Manion has no hard feelings. Instead, he sees it as an evolution of a neighborhood like he'd witnessed in Wicker Park.
Asked if there's still a place for independent restaurants in Fulton Market, Manion said "no."
As new office towers and hotels come to the Fulton Market, it has become more of a Downtown neighborhood, which has pushed rents upwards, he said.
Manion said independent restaurants tend to be a chef's personal expression. With a growing neighborhood like Fulton Market, "you have to cast a wide net" to appeal to a broader group, he said.
Manion's restaurant is the latest in independent restaurants and shops closing in the neighborhood. Earlier this year, Jupiter Outpost and Mars Gallery closed after the building was sold.
Ald. Walter Burnett Jr. (27th), who has advocated for affordable housing in his ward, has called on developers to add affordable retail space in their new buildings for independent mom and pop shops.
"The rents are getting too expensive over there," Burnett said. "I have to work on it with the" city's Department of Planning and Development.
"I can get developers to voluntarily make spaces affordable but I can't force them to do it legally unless there's some policy in place," Burnett said.
Armando Chacon, president of West Central Association, the West Loop Chamber of Commerce, said it was "unfortunate" to lose a neighborhood treasure like La Sirena. 
Chacon, who acknowledged independent restaurants and shops faced a big challenge with rents, said in the new year, a newly created hospitality committee would be exploring ways to keep smaller restaurants and businesses that helped "make the neighborhood what it is.
Manion said he's "sad" to close the shop.
"This has always been about the people who work here. That's been the secret to the success and why we have stayed relevant. …The saddest part is seeing disbanding this group of people," Manion said. 
"I met my wife here. We hosted lots of Thanksgivings here. I have so many great memories in this room," Manion said.  "There will always be La Sirena in my heart."
Do stories like this matter to you? Subscribe to Block Club Chicago. Every dime we make funds reporting from Chicago's neighborhoods.
Already subscribe? Click here to support Block Club with a tax-deductible donation.