SOUTH SHORE — Marcus Hammonds' grandmother, Sophie Austin, used to make strawberry wines for her family and friends.
Hammonds is following in her footsteps with his Kat Direksyon winery, which specializes in strawberry wines. Now he's looking to expand his operation to a South Shore wine lounge.
"My grandmother wasn't in business, so I wanted to see if [strawberry winemaking] could be one," Hammonds said. "You can't will a job to somebody, but once you have a business or property, that's something you can pass on."
Hammonds kicked off an online fundraiser Dec. 2, and is hoping to raise $35,000 of the $207,000 he estimates his business plan requires online.
Kat Direksyon is Haitian Creole, roughly translating to "Four Directions," which is Hammonds' beverage company. He chose the name to honor Jean Baptiste Point du Sable, a Haitian and Chicago's first settler.
Hammonds makes four wines for each of the seasons, all with Haitian Creole names:
Prentan (spring), made with golden nugget mandarin oranges
Dous ("sweet," in summer), made with orange liqueur
Lotòn (fall), made with cranberries and cherries
Hammonds also hopes to partner with black-owned wineries around the country to offer "more familiar" grape wines. Some people have asked him to add them to Kat Direksyon's lineup, but he'd prefer to stay in his lane.
"I want you to be able to come to our space, enjoy our wines and be able to support these other businesses so we can all be successful together," he said.
Hammonds is eyeing a property at 75th Street and Phillips Avenue, across from the Quarry Event Center.
If the $35,000 fundraising goal is met, it will fund the space and winemaking equipment. He'll still receive all money donated even if the goal isn't met.
Storefronts at the site are still available, and the one he hopes to secure is on the corner, which could allow for outdoor seating.
Hammonds compared his plans for the site to the former 694 Wine & Spirits in West Town. Continuing the Haitian-Chicagoan theme, he'd like to partner with Kizin Creole Restaurant in West Ridge to offer food options.
The space at 2440 E. 75th St. is "pretty raw" but can accommodate his plans, he said.
Kat Direksyon has offered samples at the Junior League of Chicago's Perfect Pairings fundraiser and the River North Wine Fest.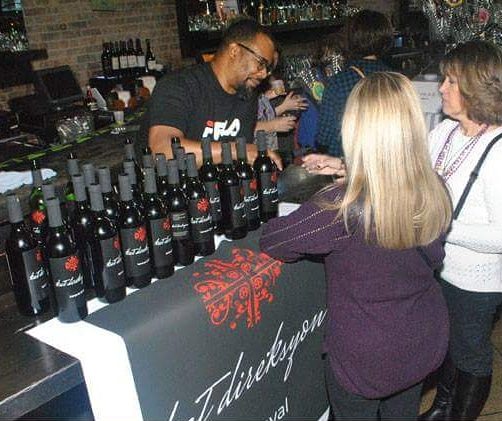 Arianne Richards of South Shore first found out about Hammonds' winery idea online, after he reached out on Instagram.
They connected as "two South Shore folks being supportive of each other," she said. "We all want our neighborhood to be thriving; we all know the potential exists."
The Jackson Park Highlands resident said she only visits the 75th Street corridor "when there's something I need to go there for," as is the case with other areas of the neighborhood.
"That's the thing with South Shore — you have to have a reason to go somewhere," Richards said. "None of these business corridors are necessarily streets you want to go and walk down."
It's a point Hammonds, who lived at 74th Street and Paxton Avenue before moving across town to Andersonville, agrees with.
"There's no reason why, with the quality of the people in the neighborhood, we should have a commercial district that looks like Beirut," he said. "South Shore has transportation infrastructure that can bring people to the area — all they need is a reason."
A winery could change that perception, Richards said, as another local gathering space would encourage neighbors to get to know each other.
"I would probably see many people from our community that I wouldn't see otherwise," Richards said. "It's already happened at [the new Local Market], where I saw like three people I knew in 15 minutes."
Richards' circle of friends thinks a South Shore winery would be a great idea, though her older neighbors in the Highlands may be less enthusiastic, she said.
She's concerned they may hear of plans for a winery and incorrectly associate it with liquor stores or other spots where people may loiter.
In fact, South Shore needs to attract those who will "stick around" — not to loiter, but to patronize neighborhood businesses and explore beyond the lakefront, Richards said.
She thinks a winery could help do just that.
"I think people need to be open to new, innovative ideas in our neighborhood," Richards said. "You get a winery down there, it will inspire other business owners to be like, 'Hey, this is a welcoming and thriving place.'"
Do stories like this matter to you? Subscribe to Block Club Chicago. Every dime we make funds reporting from Chicago's neighborhoods.
Already subscribe? Click here to support Block Club with a tax-deductible donation.
Our goal is to reach 10,000 subscribers by the beginning of 2020. With just a few days left in the year, we're pretty close to that goal. Can you help us get across the finish line? Subscribe here or buy a subscription as a gift here.